Exploring Central America – one month tour
Central American countries are wonderful travel destinations, with variety of different environments from perfect beaches and pristine jungles to high mountains and active volcanoes. In this post we sum up our tour through Belize, Honduras, Guatemala and El Salvador in November – December 2019, and introduce an itinerary for a trip through these beautiful countries. This route includes some popular must-see sights and some less-known, but equally amazing destinations, and we also also provide tips for planning your travels in Central America, for crossing the borders and using public transportation. If you are interested in traveling on a budget, check out also our cost summary post about this trip.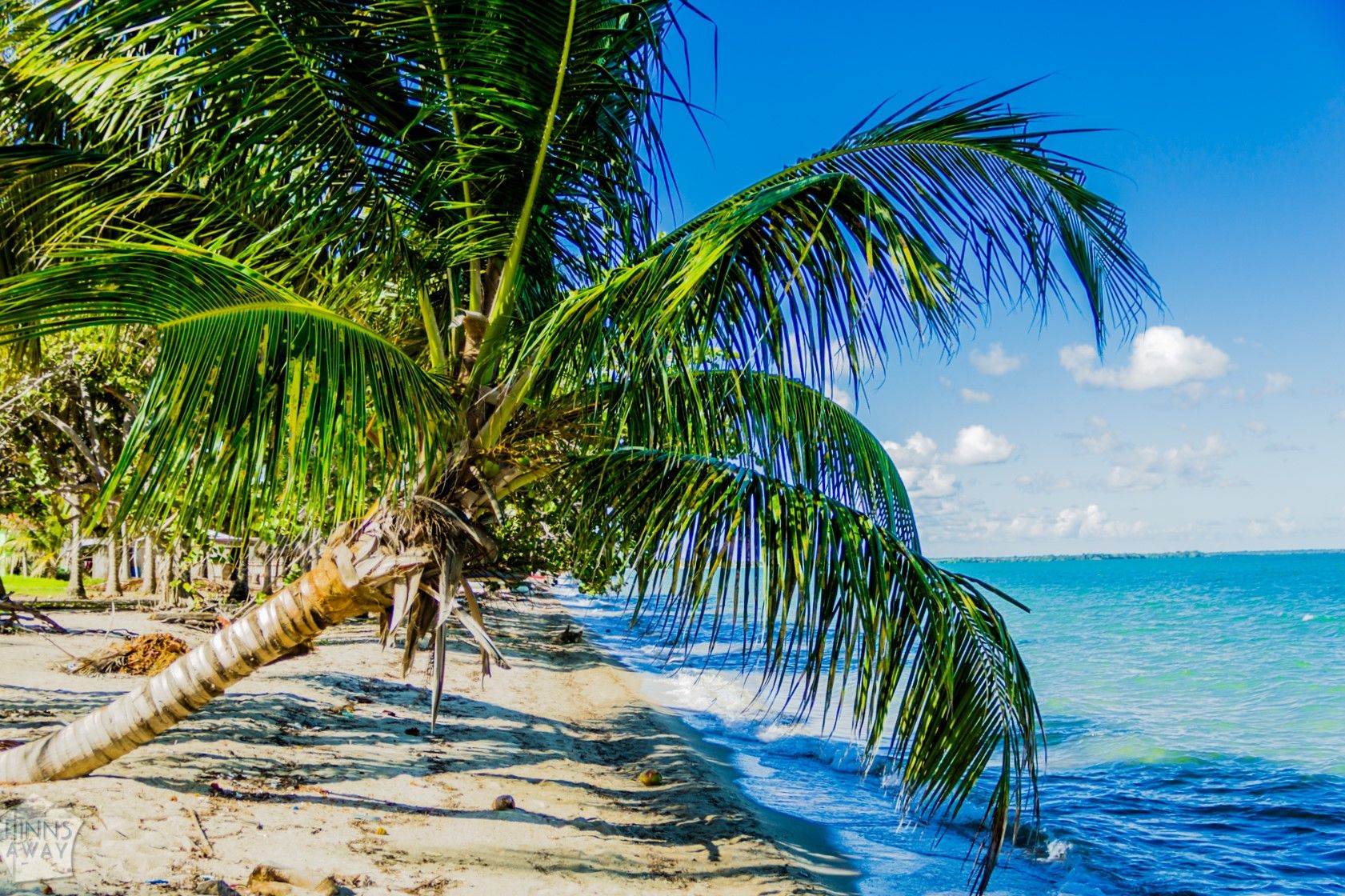 Belize advertises itself as a curious place and as one of the few unspoiled places left on earth. This small country by the Caribbean Sea surely has a lot to offer, like tropical islands with white beaches and a long barrier reef with a string of small islands called cayes, offering outstanding diving and snorkeling possibilities. There are also untouched rain forests and ancient Mayan cities, as well as vibrant cities and quiet coastal villages. Tourism in Belize has grown, but it still isn't among the most visited countries in Central America. Bad news for budget travelers though – Belize is a rather expensive country, at least compared to its neighbors. Good news for those who don't speak any Spanish – the official language of Belize is English, so communicating should be easy also outside the tourist spots.
Crossing the Mexico – Belize border
We entered Belize from Chetumal in Quintana Roo, Mexico. The cheapest way to cross, as usual, is to take a chicken bus to the border, walk over and take another bus on the other side. Buses to the border leave from the New Market (Nuevo Market) in Chetumal, and the ride should cost around 15 pesos per person, so less than 1 USD. However, when we crossed in November 2019, the first bus left at 10 am, so as we wanted to leave early in the morning, we had to take a taxi instead, and payed 100 pesos (under 5 USD) for the 13-kilometre ride to the border, specifically to the older crossing point, not to the new highway bridge crossing. Drivers may ask up to 20 USD for this ride from tourists, but you should say quick no to such ridiculous prices. There are also both first and second class buses from Chetumal (from new and old ADO bus stations) going all the way to Belize City.
Word of warning related to the border crossing itself – you need to have proof if you have already paid the Mexico Tourist Tax. This fee is included in international airline tickets to Mexico, so if you came to Mexico via air, you don't need to pay this fee when exiting the country. The amount of the fee should be 20 USD, but in the border the officials nowadays may ask 575 pesos, which is almost 30 USD. Unfortunately, we have heard many stories how travelers were forced to pay this fee when crossing the Belize border, even if they had come via air to the country and thus paid it already. There is no exit tax on top of this tourist tax, so whatever amount they ask you in the border, it is a scam! To avoid this situation, you need to have a receipt from your airline, with a breakdown that shows the tourist tax. Also, you of course need to have the immigration card (FMM) that you have filled when entering the country. With these documents, plus your passport of course, you should be able to cross without a hassle.
In Belize side of the river, there is first the so called free zone, and the immigration office is roughly 1 km away along the road. There are eager taxi drivers ready to take you there, but you can also choose to walk. In case you need to change some Belize Dollars right away for a bus ticket, there are money changers near the immigration buildings, and their rates were quite fair. After getting stamped and exiting the immigration office, there is a small parking lot from were old minivans regularly leave to Corozal. Price of the ride was 5 Belize Dollars (2,5 USD).
Bus transportation in Belize
Traveling around Belize using buses is simple and affordable, though not always very comfortable or fast. We were heading to Hopkins in south, and managed to get there from the border via Belize City and Dangriga within the same day. If you try the same, note that the last bust that goes all the way to Hopkins leaves from Dangriga at 5:15 PM, so you'll need to leave from Corozal in the morning (we took 9:30 bus to Belize City). Regarding bus schedules and routes in Belize in general, the best source is Belizebus website, that is regularly updated and very informative.
Laid-back Garifuna town Hopkins
Our only actual destination in Belize was the tranquil coastal town of Hopkins in the southern part of the country. Main reasons for us to choose Hopkins were budget-related – we wanted to find a beach holiday destination with reasonably priced accommodation and easy access using buses – so not on the islands. Hopkins has grown from a small fishing village to a quite popular tourist destination, but in mid November it was quiet – the Christmas season that brings bunch of travelers in town begins in early December. The main draws in Hopkins are the beautiful beaches and day trips to coral reefs and to surrounding places of interest, like wildlife parks, Mayan ruins and waterfalls.
Read more: Postcards from Hopkins
Caribbean side of Guatemala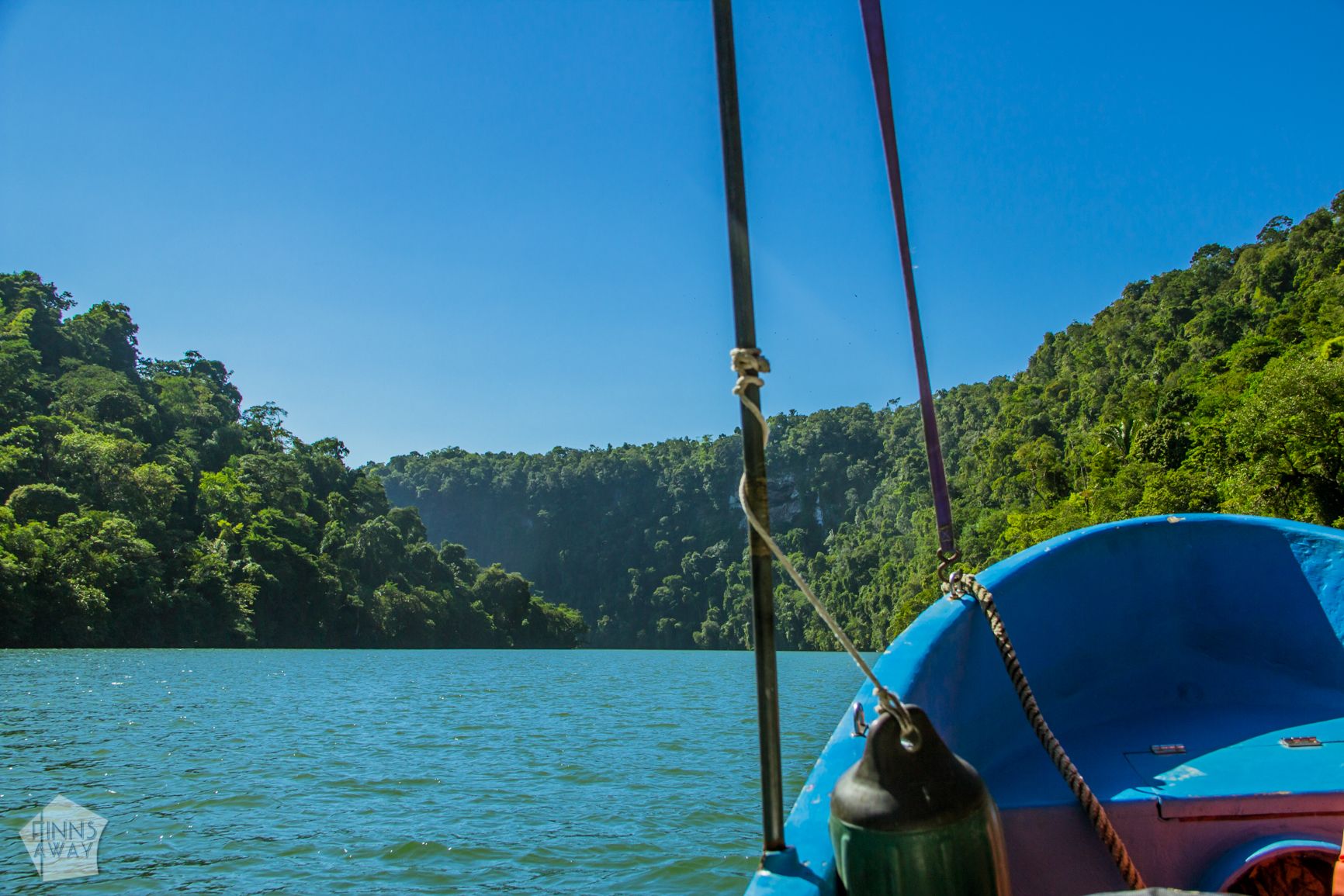 From Belize to Guatemala by boat
The main tourist route goes from Belize through the western border to Guatemala, and to the famous Tikal Mayan ruins. We decided to head south instead, as we wanted to see the Caribbean coast of Guatemala, and to take a boat along the beautiful Rio Dulce. There are no roads between south Belize and Guatemala, so there obviously is no land border either. Instead, there are boats running from Punta Gorda in the south coast of Belize to Livingston and Puerto Barrios in Guatemala. It's not a very cheap way to travel, as the roughly one hour boat ride to Livingston cost 60 Belize Dollars, which is 30 USD, per person. On top of that, to exit Belize, you need to pay 20 USD exit fee before hopping into the boat.
There is no border office at the docks in Livingston, so travelers coming from Belize need to go to the immigration office in the town center to get the entry stamp to Guatemala (or the exit stamp if you do this trip the other way around). Many travelers, like us, just shortly pass through Livingston on their way to Rio Dulce, but it would surely have been great for at least a couple of days stay!
The easternmost parts of Guatemala see a lot less visitors than the highlands, and thus it can be said that Rio Dulce area and Livingston are still somewhat hidden gems. The town called Rio Dulce is not much more than a dusty village along a very busy road, but the Rio Dulce river, that runs from Lake Izabal to the Caribbean Sea, offers some spectacular landscapes. Livingston at the mouth of Rio Dulce is a lively Garifuna town surrounded with lush, green nature. There are some nice beaches not far away from the town, and the town center itself climbs up a hill offering nice views to Amatique Bay and jungle covered coastline. There are no roads leading to the town and no airstrip either, so the only way to get elsewhere in Guatemala is along Rio Dulce river. The boat trip to Rio Dulce town (125 GTQ, roughly 16 USD) was amazingly scenic, and our stay in Casa Perico resort in the jungle was very relaxing.
Read more: Livingston and Rio Dulce in Guatemala
Exploring western Honduras
Honduras is one of the least visited countries of Central America, and people tend not to know much about it before their visit, us included. Tourism in Honduras is slowly increasing, and the tourism board of the country markets it as a dream destination for both beach-lovers and nature-enthusiasts. And it's true that there are amazingly beautiful islands, coral reefs, rain-forests and huge variety of fauna, including more than 770 species of birds. There are also ancient Mayan ruins, coffee farms and beautiful colonial towns. Honduras has a bad reputation as a violent and unsafe country, but in fact the safety situation has improved drastically during past few years.
From Rio Dulce to Honduras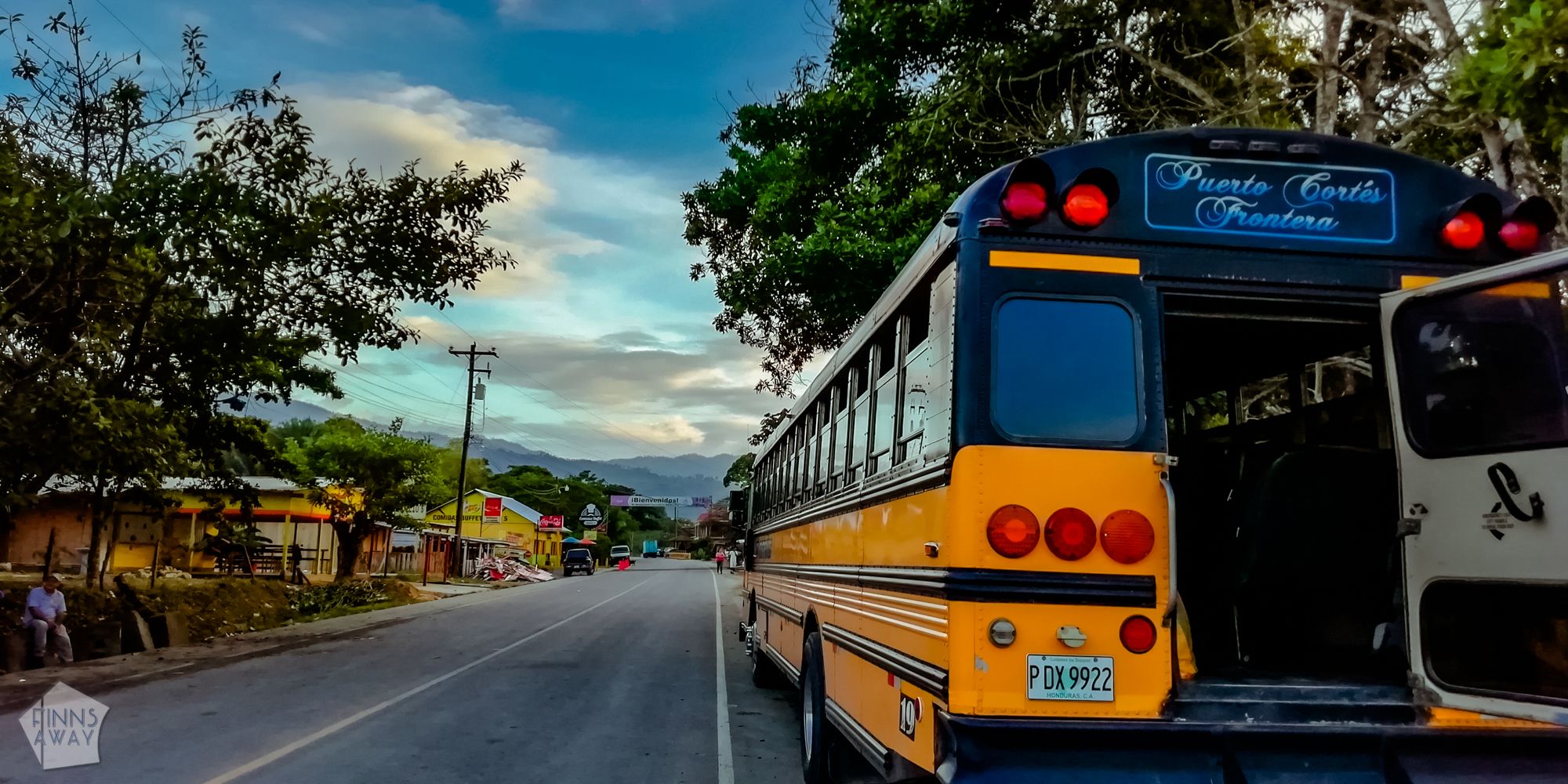 Our short excursion to Honduras began from the northeastern corner of the country. From Rio Dulce town, we hopped in a van heading to Morales, changed there to another van to Entre Rios, and then took yet another van to the border (frontera). This may sound a bit complicated, but the locals are very helpful, you just need to tell that you are going to the border and someone will show you the correct van. We payed together 40 Quetzales per person for these three van rides  (roughly 5 USD). To avoid getting conned, watch how much the other passengers pay, and/or ask the price before the ride begins. There are not much tourists using these local modes of transportation, and the operators may try to ask more money from us rich "gringos".
Crossing the border to Honduras on foot was quick and easy. The border area with all the trucks can look a bit confusing, but it was not hard to find the border office and to get stamped out from Guatemala and in to Honduras. You'll need to pay 75 Lempiras (3 USD) for the entry to Honduras, and it can be paid in USD, GTQ or HNL. There were some guys offering money change in the border, with a surprisingly good rate, so we changed some Lempiras right away. After crossing the border, there are buses to the port city of Puerto Cortes. It's not a beautiful or very interesting city really, but fine for staying overnight. Next morning we continued to our first actual destination in Honduras, Lago de Yojoa lake.
From Puerto Cortes to Lake Yojoa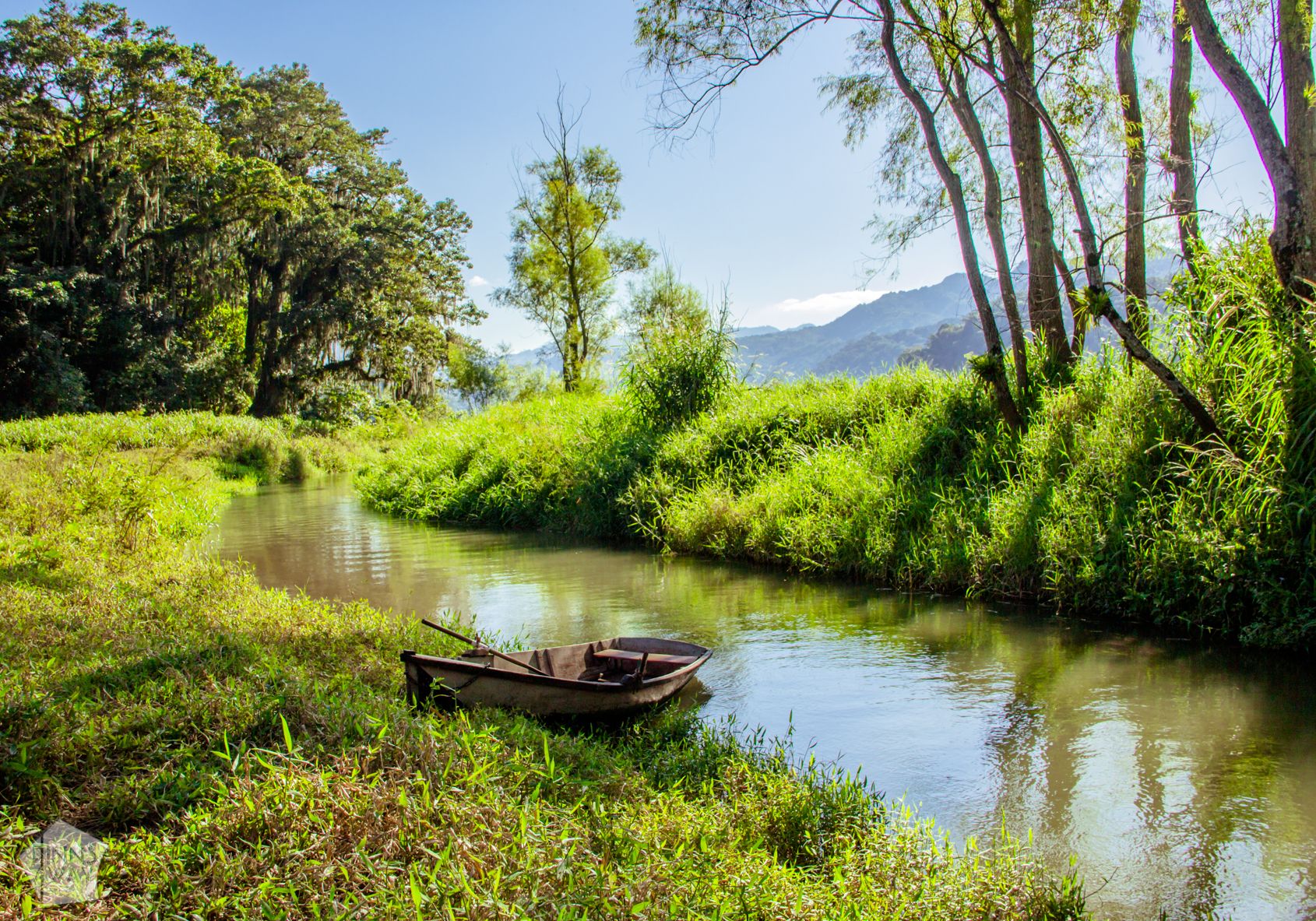 To reach Lake Yojoa from Puerto Cortes, we hopped in a minibus to San Pedro Sula bus station. The station itself was an experience – it's a huge complex with a some kind of a mall, and it was chaotically full of people, most of them listening a live band that played on FULL volume. Somehow we managed to push through the crowds with our backpacks and to find the stall that sells tickets to Los Naranjos, a small village in the north shore of the lake. Then we squeezed in a very small van to begin the two-hours journey.
Lago de Yojoa is the largest natural lake of the Honduras, surrounded with mountains covered with protected rain forests. It's a great destination for bird-watchers and other travelers interested in nature. Los Naranjos village is a great base for exploring the surroundings. Most of the visitors head to D&D Brewery, Lodge and Restaurant, an American-owned backpacker resort that also offers guided tours to national parks and bunch of information about surrounding places of interest.
Read more: Lake Yojoa and Los Naranjos, Honduras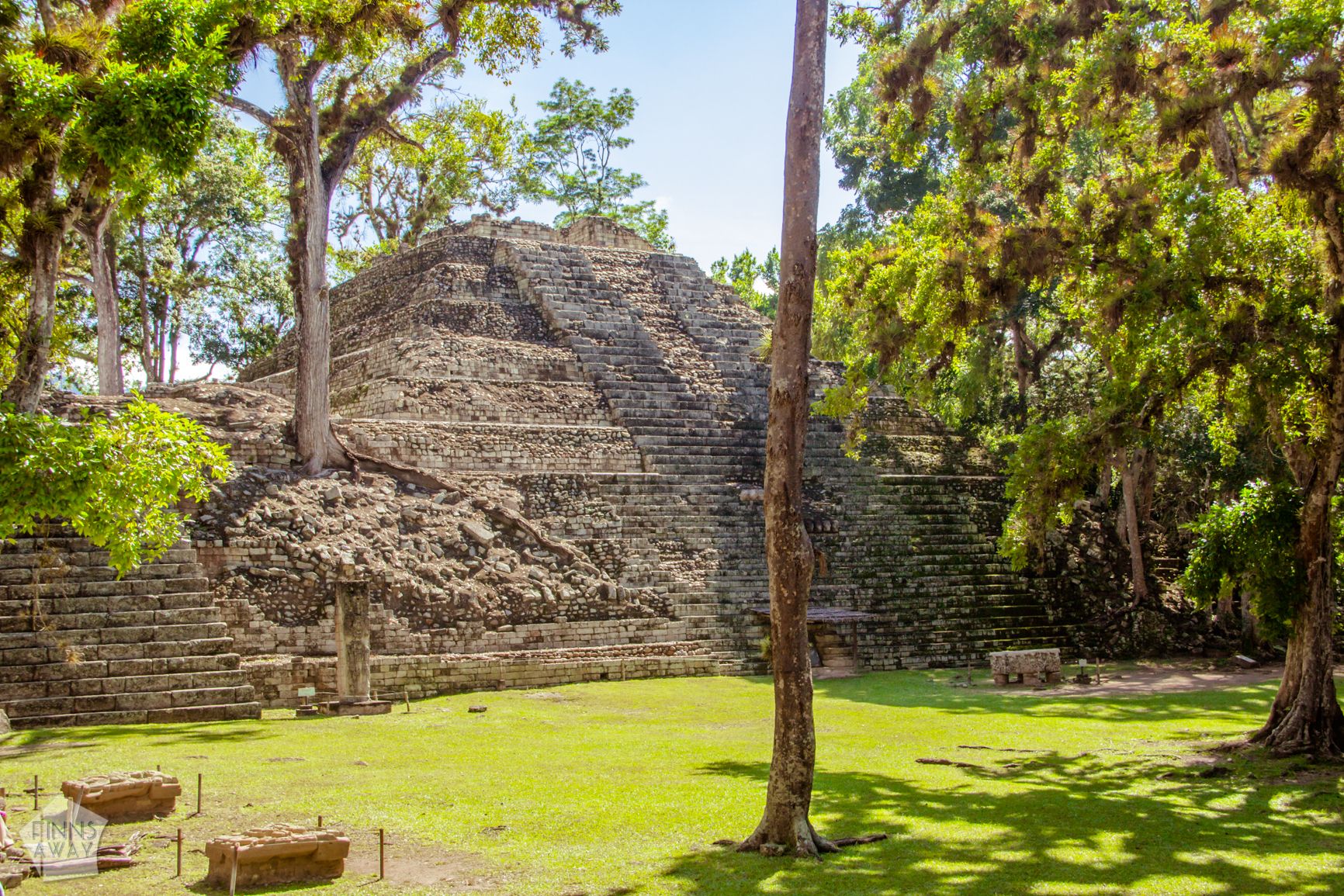 Our second destination in Honduras was the town of Copan Ruinas, and the nearby ruins of Ancient Copán. Copan Ruinas is situated in western Honduras, very close to Guatemalan border. To get there, we first took a minibus from Los Naranjos back to San Pedro Sula bus station, that this time luckily was not full of people. You should leave in the morning, since at least the second class bus to Copan Ruinas was very slow – it took almost five hours to complete the journey. The operator for these cheaper buses is Casasola Express, and the ticket cost 140 HNL, which is less than 6 USD. Copan Ruinas is a beautifully located small town, and the famous Mayan ruins right next to it are definitely worth a visit.
Read more: Mayan ruins and macaws in Copan
From Copan to lovely Antigua Guatemala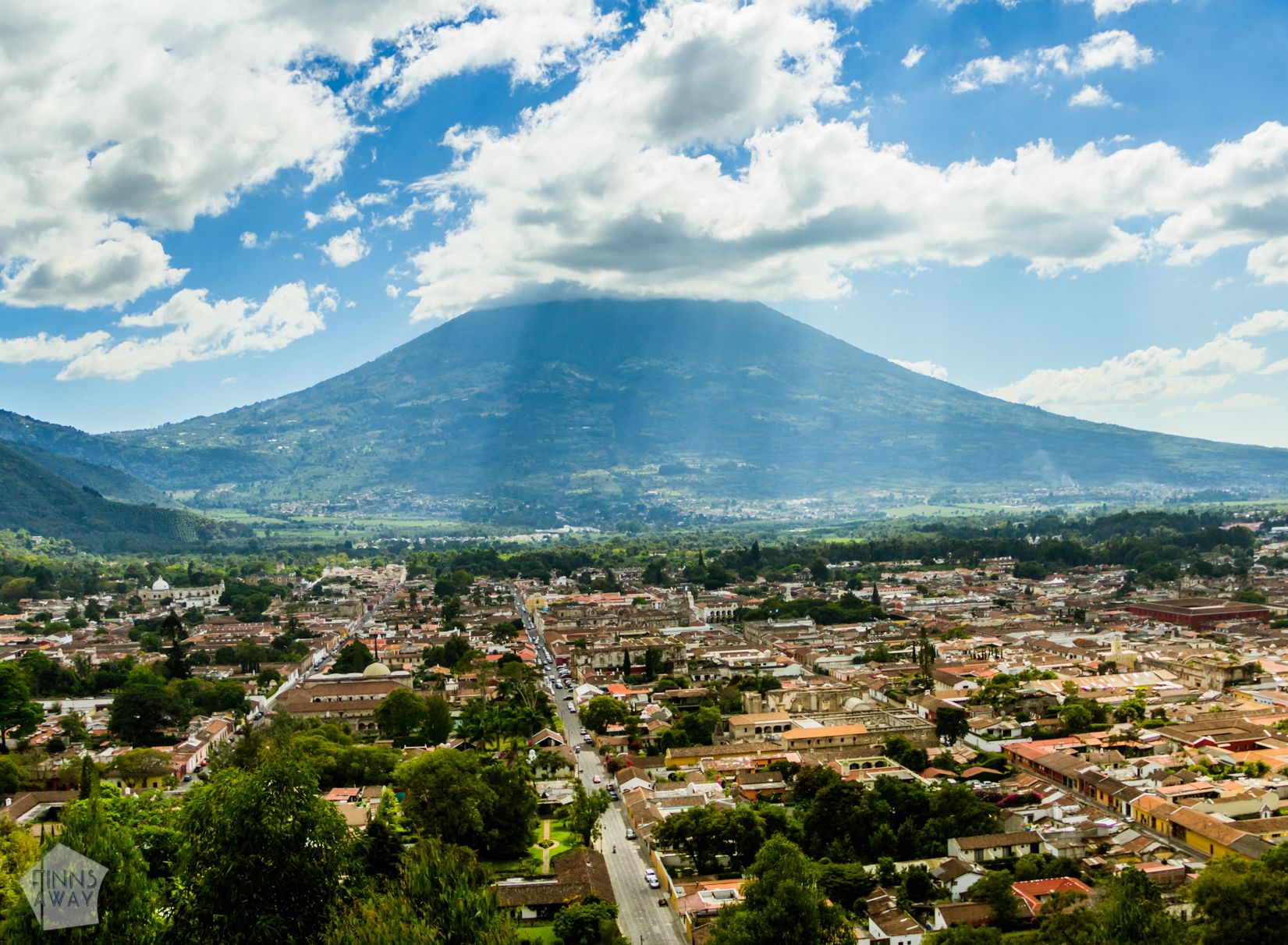 After exploring the ruins and staying a couple of days in Copan Ruinas, we headed over the border back to Guatemala, this time to explore the volcanic highlands. Getting to the border is easy, since there are cheap minibuses (20 HNL, so less than 1 USD) running at least hourly from Copan Ruinas. You'll find them next to a small chapel and graveyard a few blocks west from the main square. Crossing the border was super easy, there is one combined immigration office with separate desks for checking out from Honduras and in to Guatemala, and no fees.
Getting to Antigua from the border using second class buses was again much cheaper than taking a shuttle bus from Copan, but we have to admit that it was a slow and a bit complicated process, that required several changes and basically took the whole day. If you are adventurous enough to do the same, follow these steps:
Take a van from the border to Chiquimula (25 GTQ).
Change to a bus to Guatemala City Centra Norte bus station (45 GTQ).
Take a city bus from outside the bus station to Plaza Barrios in city center (2 GTQ).
Change to Transmetro bus to Trebol station (2 GTQ).
Walk to the Occidente "station" for chicken buses to Antigua – you'll find it on 1a Avenida, right next to the ramps of Calzade Roosevelt Highway (in Google Maps the place is marked as "Buses hacia Occidente", and in Maps.me "Antigua Chicken Bus").
Hop in a chicken bus to Antigua (10 GTQ).
Read more: Postcards from Antigua
Hiking and craft beer in El Salvador
El Salvador, the last country of our tour, was yet another new destination for us, and an interesting one, as we didn't really know much about the country before we traveled there. It is a small country (6,4 million people) by the Pacific Ocean, neighboring with Guatemala and Honduras. Geographically El Salvador is dominated with two mountain ranges and a central plateau between them, and a narrow coastal plain in the south. According to several sources in internet, El Salvador is a dangerous country with high crime rates, but it's actually mostly very safe for tourists, as long as you use common sense and normal safety precautions.
From Antigua to Santa Ana in El Salvador
We traveled to El Salvador from Antigua Guatemala, again using cheap second class buses. First we took a chicken bus back to Guatemala City (10 GTQ), walked 1 km to the crossroads of 4a Avenida and 2a Calle and hopped in another bus heading to the border town of San Cristobal (50 GTQ). Had we known that it would be a five hour ride, we maybe would have considered crossing the border in Valle Nuevo instead. On the other hand, the views along the journey were mostly very nice, as the bus slowly made is way in the middle of forested hills and volcanoes. We crossed the border again on foot, and it was a quick and easy process with no fees, and even without stamps to our passports.
In El Salvador side of the border we changed some money to USD, which is the currency used in El Salvador, and hopped in a bus to Santa Ana just 30 km from the border (2 USD). Santa Ana is the second largest city of El Salvador, situated in the middle of green hills and volcanoes. The main tourist draws are outside the city itself, but the historical center has some beautiful structures like the Santa Ana Cathedral, National Theater and Municipal Palace, situated around the leafy central square. We settled in a lovely home stay, Casa Blanca Tu Casa, hosted by super-friendly and helpful Amy.
In addition to exploring the city, the highlight of our stay in Santa Ana was a day hike on top of Santa Ana Volcano. This scenic trek through leafy forest and to the summit of a volcano is recommendable for everyone visiting Santa Ana, and can be done as a day trip using public transportation.
Read more: Hiking Santa Ana Volcano in El Salvador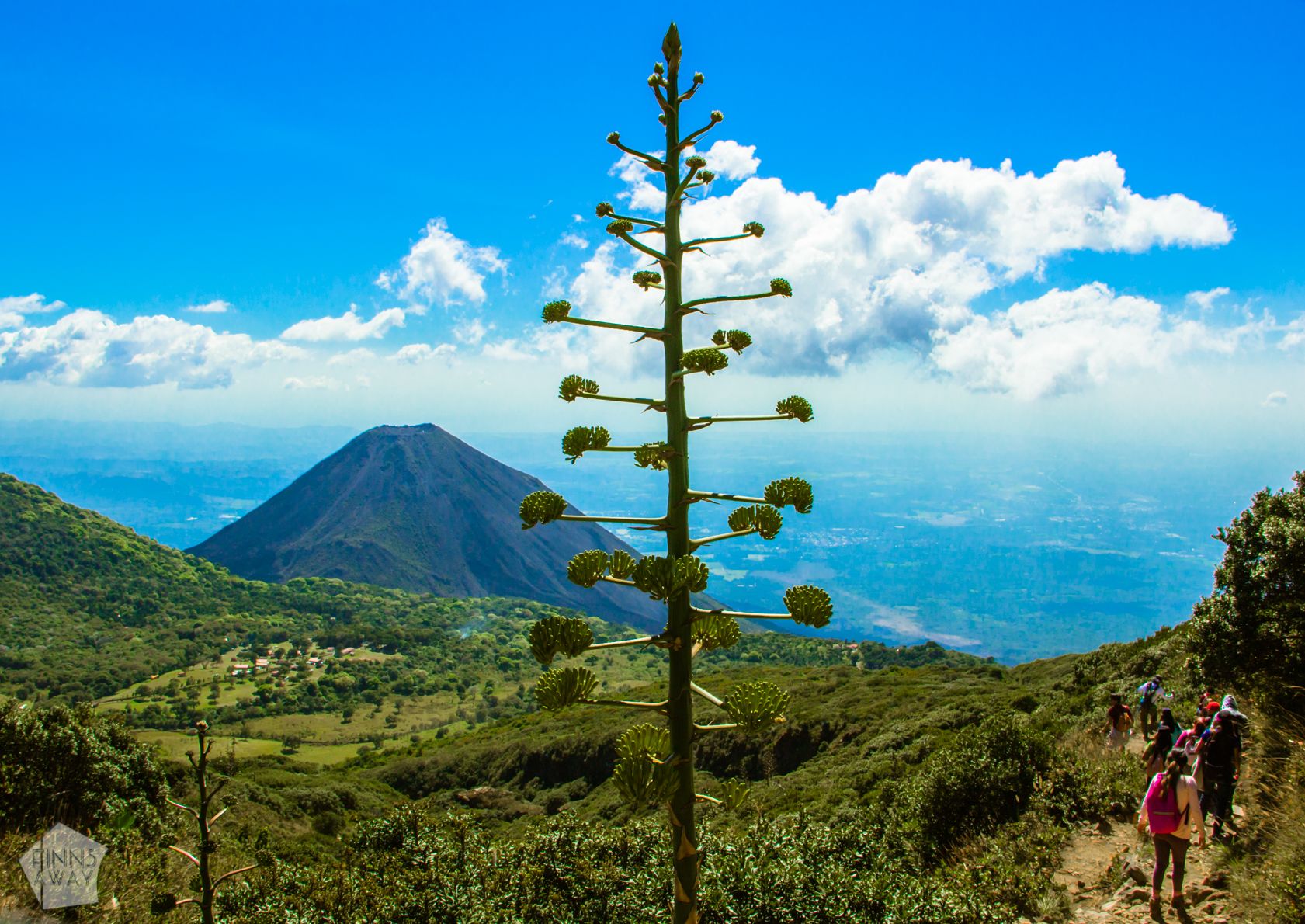 Short visit to San Salvador
The last destination of our tour in Central America was San Salvador, the capital of El Salvador. The historic center of the city is quite run-down, and most of the old buildings have been damaged or destroyed in earthquakes. The old center is worth a walking tour, but tourism in San Salvador is centered in the modern center called Zona Rosa. This clean and nice area is home to some museums and monuments, as well as lots of restaurants and cafes. For those who like craft beer, don't miss Cadejo Brewing Company, one of the few micro-breweries in El Salvador! In San Salvador we stayed in Hostal Doña Marta, an affordable guesthouse in secure area close to Cuscatlán Park in between the old town and Zona Rosa.
From San Salvador we flew back to Mexico, to begin a house-sit in Mexico City and to explore central and northern parts of the country. All in all our tour in Central America was a very positive experience, though there is so many other destinations that we would have liked to visit in these four countries, that we'll probably go back to explore more some day.
To give you an idea of how much traveling in Central America costs, when you choose to use public transportation and stay mostly in cheap guesthouses and hostels, we wrote a separate post about all the costs of our tour.