Rio Dulce and Livingston in Guatemala
Our travels in Guatemala late 2019 consisted of two separate parts; exploring Rio Dulce area on the Caribbean coast, and staying in lovely Antigua in southwest. Guatemala is a country of diverse nature, from deep jungles in the east to the mountainous and volcanic highlands in the west. In this post we introduce Rio Dulce and Livingston, a lively Garifuna town by the Caribbean Sea.
The easternmost parts of Guatemala see a lot less visitors than the highlands, and thus it can be said that Rio Dulce area is still somewhat a hidden gem. The town called Rio Dulce is not much more than a dusty village along a very busy road, but the Rio Dulce river, that runs from Lake Izabal to the Caribbean Sea, offers some spectacular landscapes and is home to some resorts and eco-lodges, part of them also suitable for budget travelers.
Livingston, a Garifuna town by Amatique Bay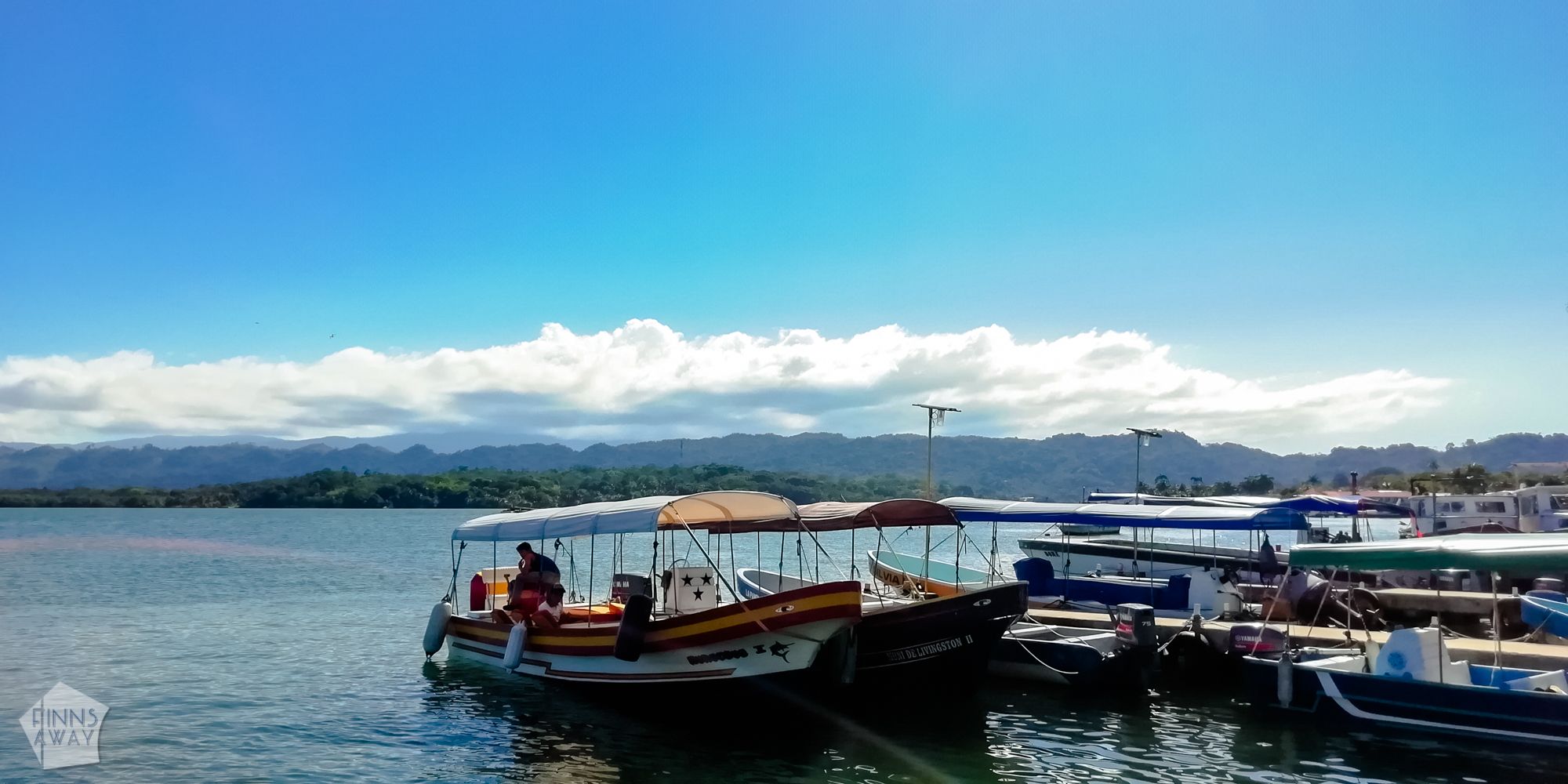 To get to eastern Guatemala from Hopkins in southern Belize, we took a boat from Punta Gorda to the small Caribbean coast town of Livingston. The setting of the city is very beautiful, at the mouth of Rio Dulce and surrounded with lush, green nature. There are some nice beaches not far away from the town, and the town center itself climbs up a hill offering nice views to Amatique Bay and jungle covered coastline. There are no roads leading to the town and no airstrip either, so the only way to get in from elsewhere in Guatemala is along the river from Rio Dulce town, or by boat from other Caribbean coastal towns in Guatemala (the cheapest option), or from Punta Gorda in Belize.
Livingston is a colorful town, mostly populated by Garifuna people. Garifunas are descendants of West Africans, who were supposed to become slaves in the new world back in the 17th century, but due to a fate-changing shipwreck, were able to escape and settled down first in St. Vincent island in the Caribbean. The Garifuna culture lives strong in Livingston and many other Caribbean towns in the area, and the vibe of the city is totally different than elsewhere in Guatemala. We happened to be in town on 26th of November, when the locals celebrate the yearly Garifuna Settlement Day / Garifuna's Day, which means a joyful street festival with traditional music, dancing, cuisine and clothing, as well as parades of course.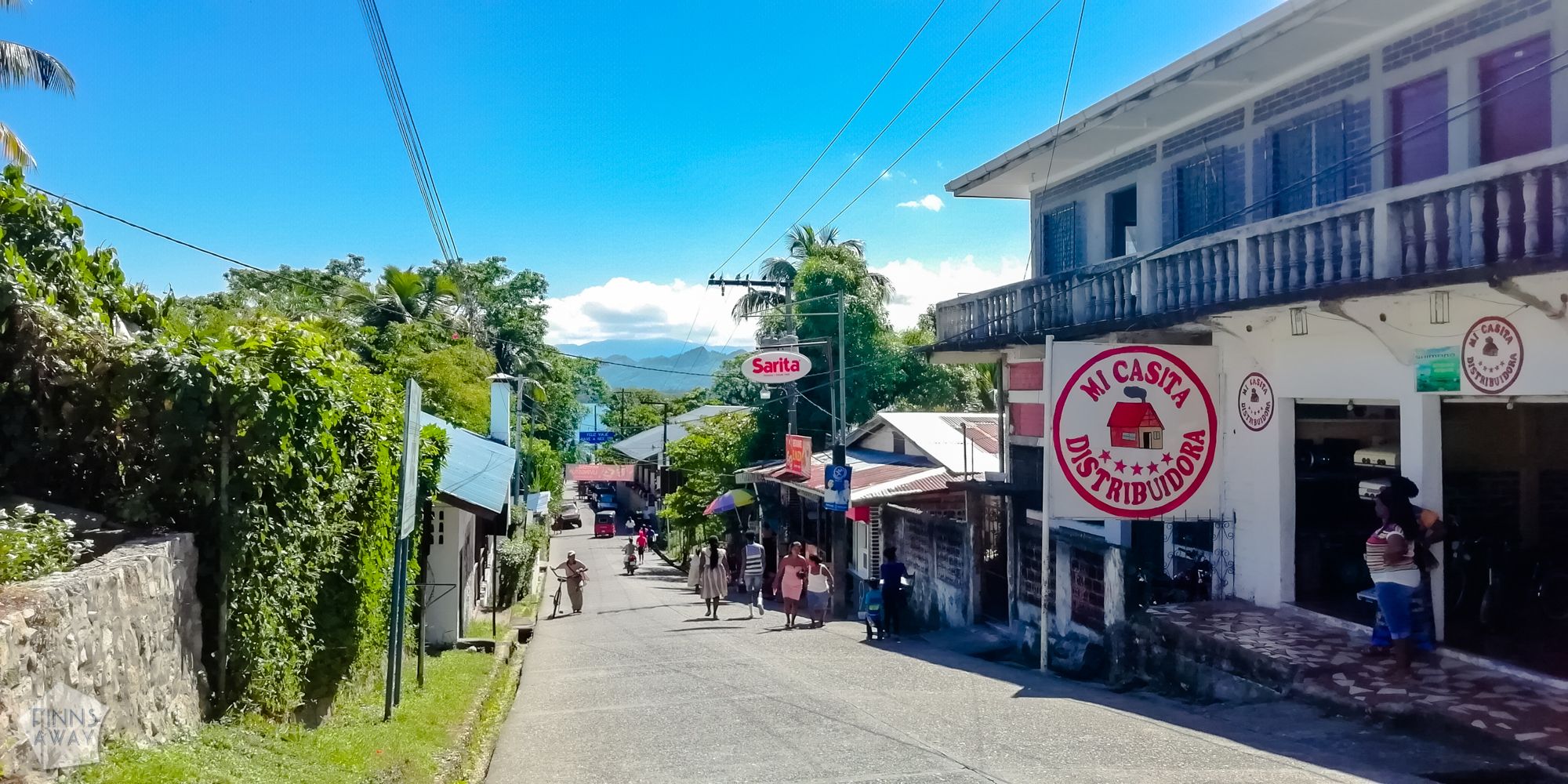 We only stopped for few hours in Livingston before continuing to Rio Dulce, but could have stayed longer, exploring the town and the surrounding jungle with wildlife and waterfalls. For those planning to travel by boat between Livingston and Belize, remember to take care of getting Guatemala entry / exit stamp to your passport when you arrive or before you leave. The immigration office is situated in the town center, just walk up the hill along the main street from the passenger pier and turn right.
Regarding accommodation, Livingston has some great options for budget travelers. For a place to stay right by the mouth of Rio Dulce, but still very close to the town itself, check Casa de la Iguana, that offers cheap dorm beds and fairly priced rooms. Another, a bit fancier option could be Hotel La Casa Rosada, that has excellent reviews and has both dorm beds and private bungalows. If you'd like to stay by the beach on the Caribbean side, Hotel Salvador Gaviota offers room, bungalows, restaurant and bar in a very nice looking setting 3,5 kilometers from Livingston town center.
Amazing river views and resort life in Rio Dulce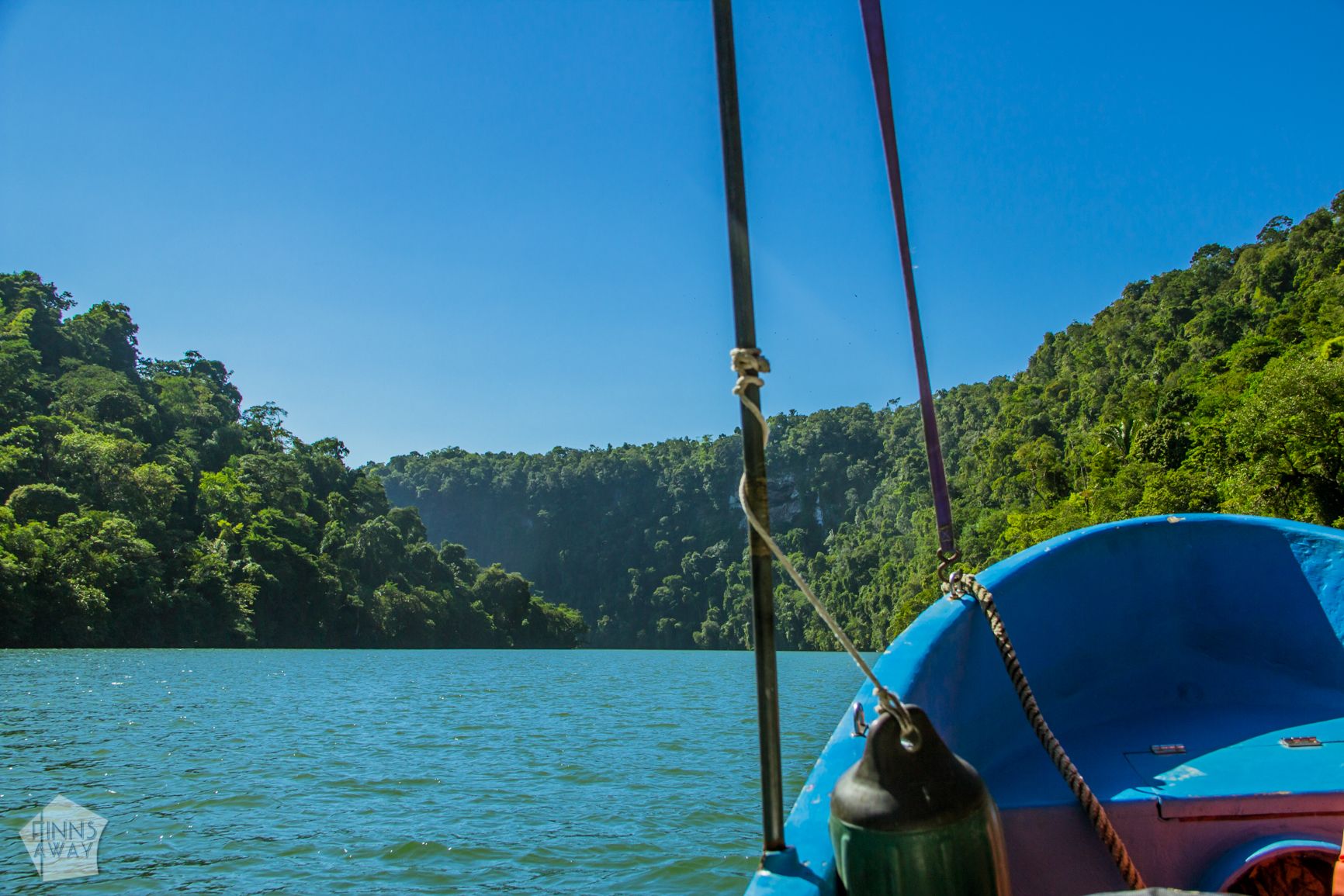 The boat trip from Livingston through Rio Dulce Gorge is spectacular, with tropical jungle covering the up-to-100m-high limestone walls of the canyon. The views can't be captured in pictures well enough to make them justice, you just need to go and see for yourself. When getting closer to Rio Dulce town, the river widens, and the shores are dotted with luxurious holiday homes and piers for yachts that are brought there to be safe during the hurricane season.
Rio Dulce town, also known by the name Fronteras Rio Dulce, or simply Fronteras, is a rather ugly and noisy town by CA13 highway. It's great for some grocery shopping, using an ATM or maybe grabbing a beer in one of the restaurants by the river, but we wouldn't really recommend spending a lot of time in the town itself. There are several accommodation options available though, that come in handy if you'd like to stay overnight for example after a bus ride to town. For a place close to bus stops and boat docks, check out Hotel y Restaurante Cafe De Paris, that offers private rooms and a small cafe style restaurant onsite.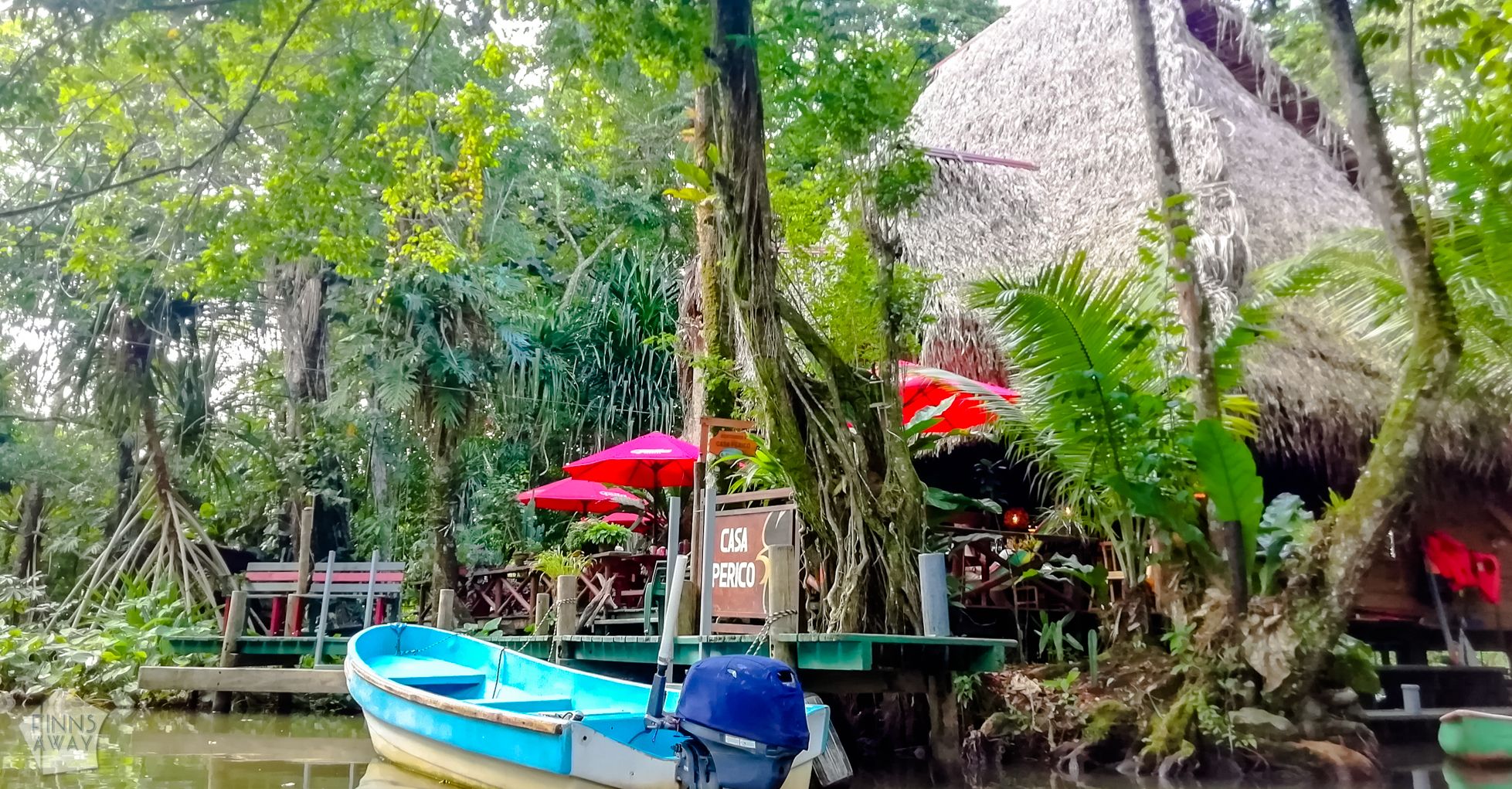 Instead of staying in town, most of the visitors choose one of the guesthouses a boat ride away, on the shores of Rio Dulce. We stayed three days in Swiss-owned Hotel Casa Perico, a lovely resort hidden in the jungle by the river, built over wetlands. It's a great place for a few days getaway, with cozy, wooden bungalows, a great restaurant with a large terrace / lounge area, and canoes that can be freely used to explore the surroundings. Days in the resort can be spent just relaxing, reading and sunbathing on their swimming platform, but as there also is a wifi available, digital nomads like us can choose to focus on working instead. If staying put is not your thing, another option is to make day trips to nearby places of interest, from colonial era fort to hot springs and waterfalls.
The regular passenger boats from Livingston to Fronteras Rio Dulce and back generally leave around 9:30 in the morning and around 2 pm. The price of the boat trip, 125 Guatemalan Guetzals (around 15 €) per person, is rather expensive, but there are not much other options really. You can try to arrange a ride with local boats men of course, but I suppose they are all well aware of the price that tourists need to pay normally. Most of the boats make stops in tourist destinations on the way up the river, so you have some time to admire the surroundings. Our ride was arranged by some local guy we met in the city, and turned out to be a private ride just for us, without any stops on the way to Rio Dulce Town.
From elsewhere in Guatemala, Fronteras Rio Dulce can be reached by bus, and there are some shuttle bus services available as well. Trips using the cheapest local buses are long, slow and somewhat uncomfortable, but, at least in our opinion, a great way to observe the local life and admire the landscapes on the way.
Open the gallery for more pictures of Rio Dulce and Livingston, and feel free to use the comments section below to share your thoughts or travel plans!