Yucatan Peninsula: Becan Ruins
Yucatan Peninsula in Mexico is home to huge amount of Mayan sites, from small ruins to enormous archaeological zones. Chichen Itza, one of the New Seven Wonders of the World and a UNESCO World Heritage site, is probably the most famous and the most visited. It's an easy choice with a lot of guided tours and transportation options available, but for the same reasons, you have to share the site with bunch of other tourists, and climbing on the pyramids is forbidden. Good news for those who would like to avoid the crowds and the high entrance fees; there are several other significant Mayan ruins awaiting around the peninsula. We visited Becan Ruins in Campeche state, near a small town called Xpujil. In this post a short introduction and tips for planning your visit to this impressive archaeological site.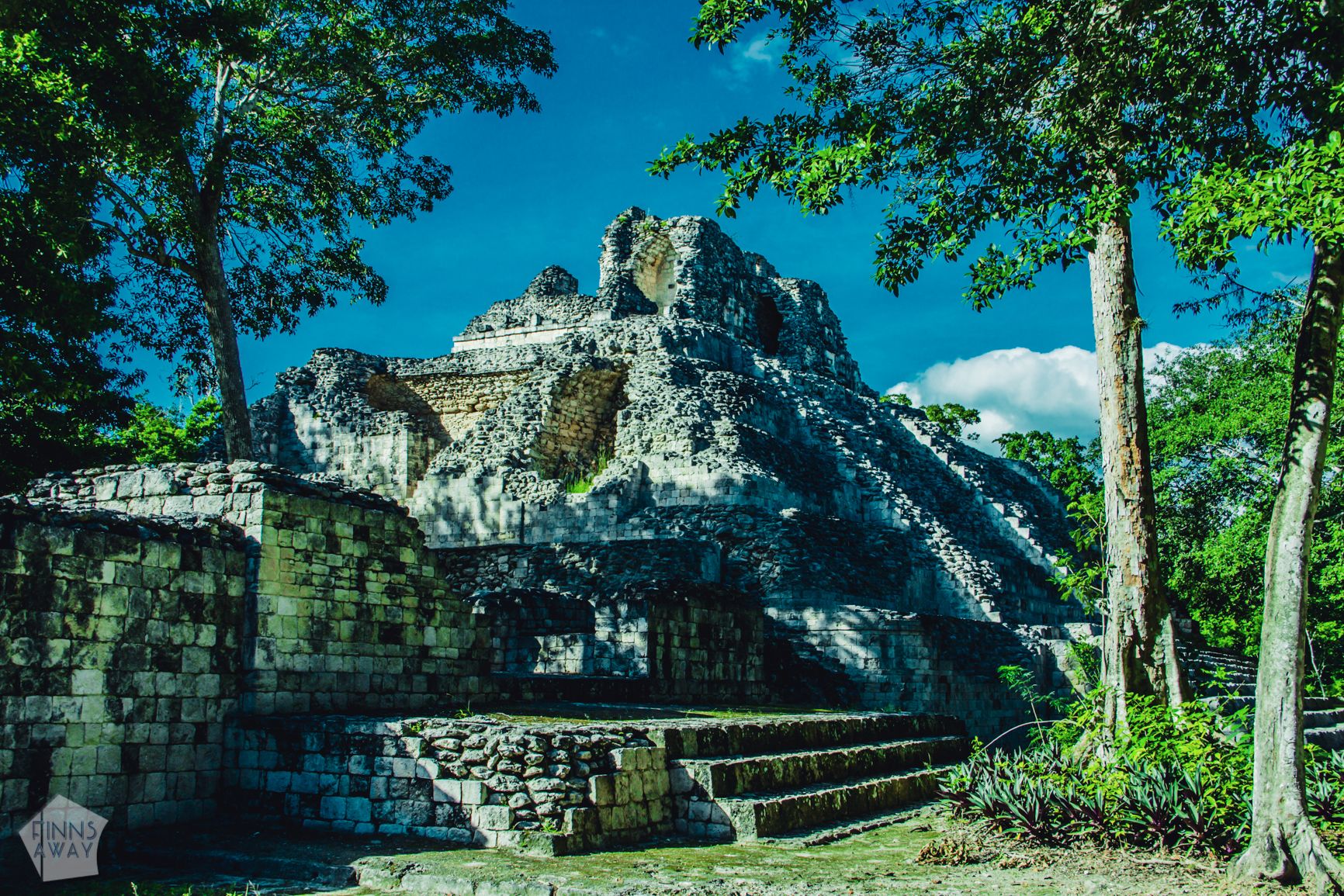 Our original plan actually was to visit Calakmul ruins, but as they are a bit tricky and rather expensive to reach without your own wheels, we ended up exploring Becan instead. Calakmul archaeological site is situated deep in the tropical forest, and if we'll be back in Campeche with a rental car some day, we'd like to see it too, as well as Palenque ruins in Chiapas. But this time, our destination was Becan, and we found the ruins to be surprisingly impressive. The site, just 8 kilometers from Xpujil, was very quiet, and for long time it was just us exploring the site and climbing on top of the pyramids. Entrance fee was 60 pesos per person, which is under 3 €. To get to the ruins, we took a taxi from Xpujil (80 pesos), and walked back to the town after exploring the ruins.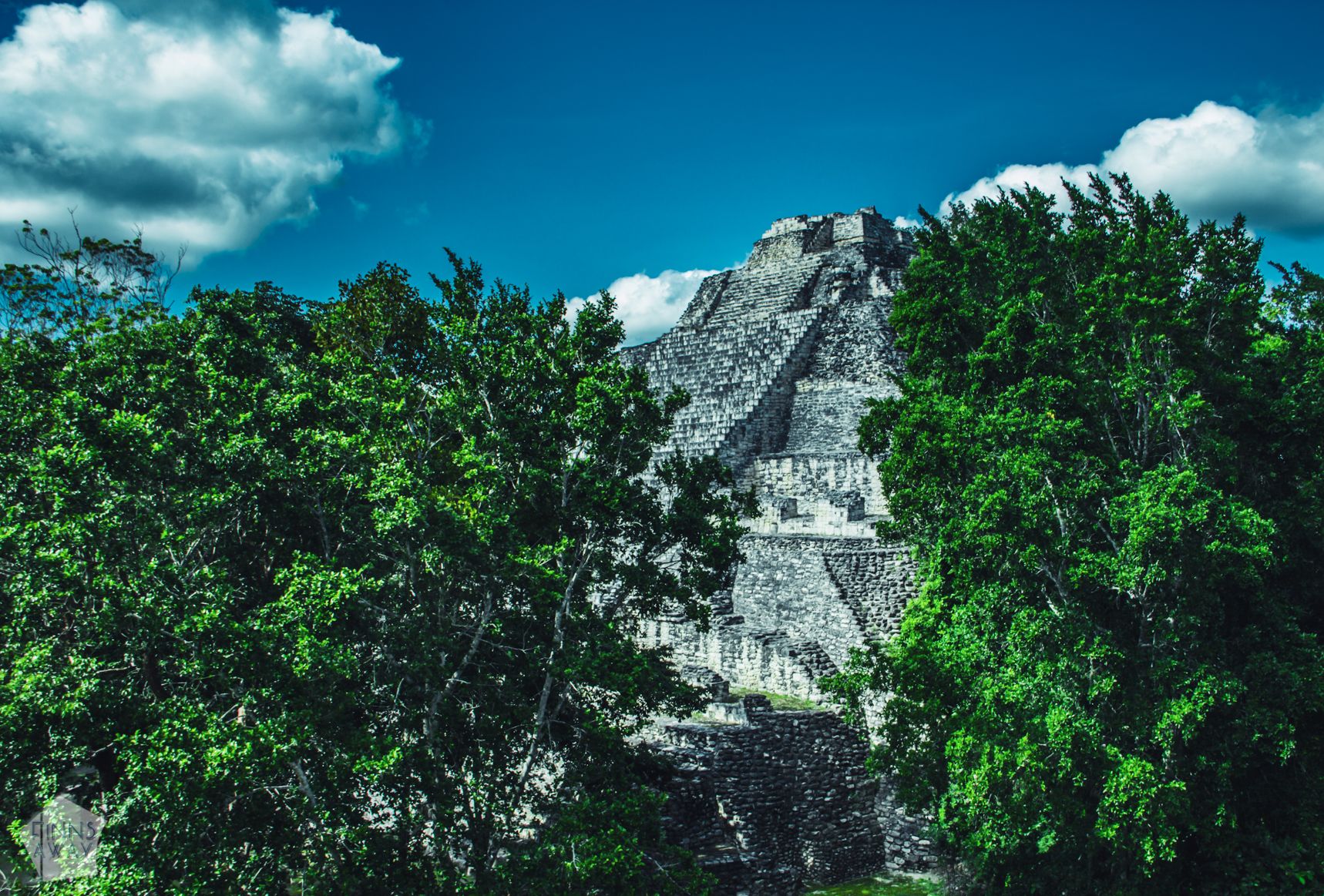 Becan was occupied in Pre-classic Maya period, according to studies around 550 BC, and grew to a large city and center for ceremonials and trade, and to the capital of the Rio Bec province. New structures were built until around year 830, but population started to decline, and the city was abandoned around year 1200. It was "found" again in 1934 by Ruppert and Denison, and these archaeologists named it Becan, which means a ravine formed by water. The name was given after the deep moat that surrounds the site, which is an unusual feature for Mayan towns. The original name of the city remains unknown.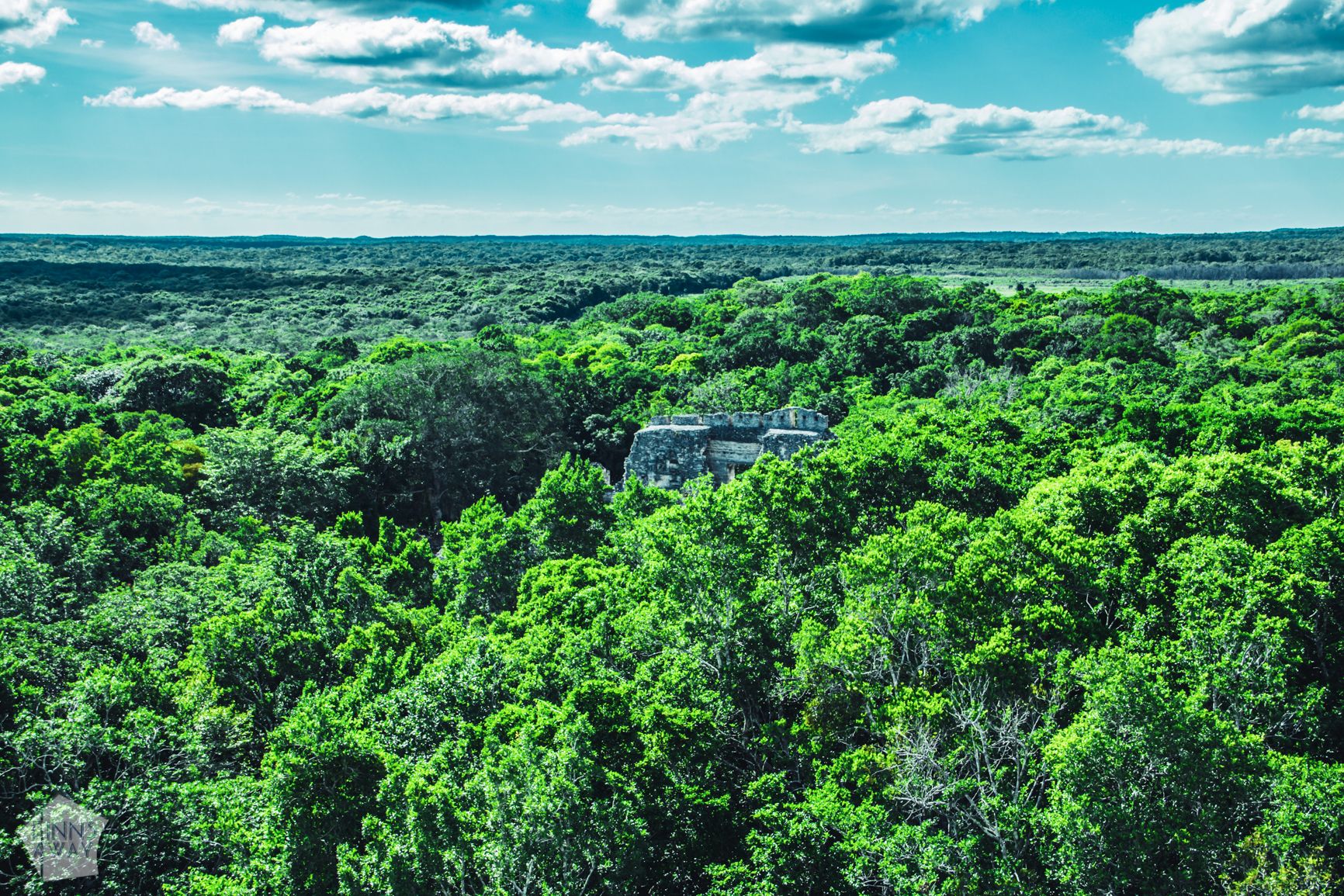 Becan archaeological site, which used to be the primary section of the Mayan city, consists of plazas surrounded with large pyramids and other monumental structures. The tallest pyramid of Becan is 30 meters high, and from top of it there are nice views over the thick tropical forest. As said, climbing is allowed unless there are signs that forbid it, and there are ropes to support the climb. Be careful though, and mind you steps. The site is not huge, but reserve at least a couple of hours to explore it, and bring some water (and sunscreen) with you.
Xpujil, base for exploring the ruins
Xpujil is a small, remote and rather unremarkable village, that is slowly turning into a tourist town. There is not that much to see or do in the town itself, but it serves as a base for exploring one or more of the nearby sites, like Becan and Calakmul ruins. The easiest way to reach Xpujil using public transportation is by bus from Chetumal. We came from Campeche, and managed to choose the route that looked shorter in the map, but was super slow. So if you come from Campeche using public transportation, go via Escarcega instead of via Hopelchen. To save some money, second class buses and minivans are a way cheaper option than first class buses like ADO, but also slower and not direct. We naturally chose the cheaper option, and managed to find local vans and buses, but with long waiting time in Hopelchen. Also, there was a long stretch of bumpy dirt road leading through the jungle before arriving to Xpujil, so the trip took a whole day.
Regarding accommodation, there are options from simple rooms to quite fancy hotels. We chose to stay in Cabanas Chaak Chalakmul, a guesthouse that offers small cottages with bathroom, just 500 meters from the main road and bus station. The friendly owners can also arrange transportation or tour to Calakmul, and you could for a group with other people staying in the cabanas to lower the price per person. When staying in Xpujil, consider checking the small archaeological site of Xpujil Mayan ruins, right next to the village on the west side of it, by the main road.
Have you visited either Becan or some other Mayan ruins in Mexico or Central America? Share your thoughts and tips in comments below!