Cost summary: One month in Central America
Is it expensive to travel in Central America? Can you travel between the countries using cheap local transportation? Can you find affordable accommodation options also in popular destinations? In this post we open up all the costs of our one month tour in Central America in November to December 2019, and provide some tips for traveling on a budget. We traveled through Belize, Guatemala, Honduras and El Salvador, visiting some popular destinations but also some hidden gems. Overall these four Central American countries offer amazing destinations for visitors, and it's not expensive at all to explore them, if you plan your route ahead and utilize local guesthouses and second class transportation.
Payment methods and currencies in Central America
Even if card payments have become more common, in most of the destinations in Central America cash is still the king, especially when you travel using local transportation and avoid tourist restaurants. Probably the best travel currencies are US Dollars, Euros or Sterling Pounds, which can be easily exchanged. Changing money on the land borders is easy – often there are no actual exchange offices, but instead some guys hanging around with a thick stack of bank notes. We were suspicious towards them at first, but actually their rates were surprisingly good, so we didn't hesitate to exchange small amounts with them, for the next bus rides and small purchases.
If you are out of exchangeable cash, the second option is of course to use ATM's, which are common except maybe in small towns and islands. Before withdrawing, take care to compare the fees of different banks, as they can differ quite drastically. In Honduras most of the banks don't take any withdrawal fees, but for example in Guatemala we paid 5 € fee for a withdraw of 180 €. Another thing to pay attention to is your own card – choose a credit card from a bank that has low or no fees and good rates for international withdraws. We have been mostly using Revolut and Norwegian Bank Visa cards.
When traveling around Central America, be prepared to use several different currencies, and always be aware of the exchange rate to avoid any scams. In Belize the currency in use is Belize Dollar, with the official value pegged to US Dollar at 2 BZ$ = 1 US$. In Guatemala they use Quatemalan Quetzal, with rate 7,7 GTQ = 1 US$ (in June 2020). In Honduras the currency is Honduran Lempira, and the rate when writing this in June 2020 was 25 HNL = 1 US$. In El Salvador the currency in use is US Dollar.
Regarding other Central American countries that we didn't visit during this trip, in Nicaragua the currency is Cordóba (34 NIO = 1 US$), in Costa Rica Colón (577 CRC = 1 US$) and in Panama they use both US Dollars and Panamanian Balboa PAB, which is 1:1 pegged to USD. For the clarity, in this post we state all the prices and costs in EUR and in USD instead of local currencies.
In this chapter we summarize all the costs of our one month trip, with a breakdown to different cost categories. Flight costs are not included, as they vary a lot depending on where you are coming from. We came to Central America overland from Chetumal in Yucatan Peninsula, Mexico, and after the tour flew from El Salvador to Mexico City. Our flight from San Salvador to Mexico City cost 122 € per person (roughly 137 USD), including luggage. November and early December are outside the high season, which begins before Christmas, so it was great time to travel. Especially in the popular tourist destinations, like island resorts for example, the prices can rise notably during the high season.
Our tour in Central America lasted all together 26 days, out of which we spent 4 days in Belize, 7 days in Honduras, 9 days in Guatemala and 6 days in El Salvador. Total costs for two people were 1437,50 € (roughly 1614 USD), which is 55,29 € per day (27,64 € per day per person). This includes everything from accommodation to groceries, from long distance buses to city transportation and from entrance tickets to withdrawal fees. Below graph illustrates how the total sum divides in accommodation, restaurants, groceries, traveling and other costs. All the costs are for two person, unless mentioned otherwise. Out of these four countries, Belize is notably more expensive than the other three.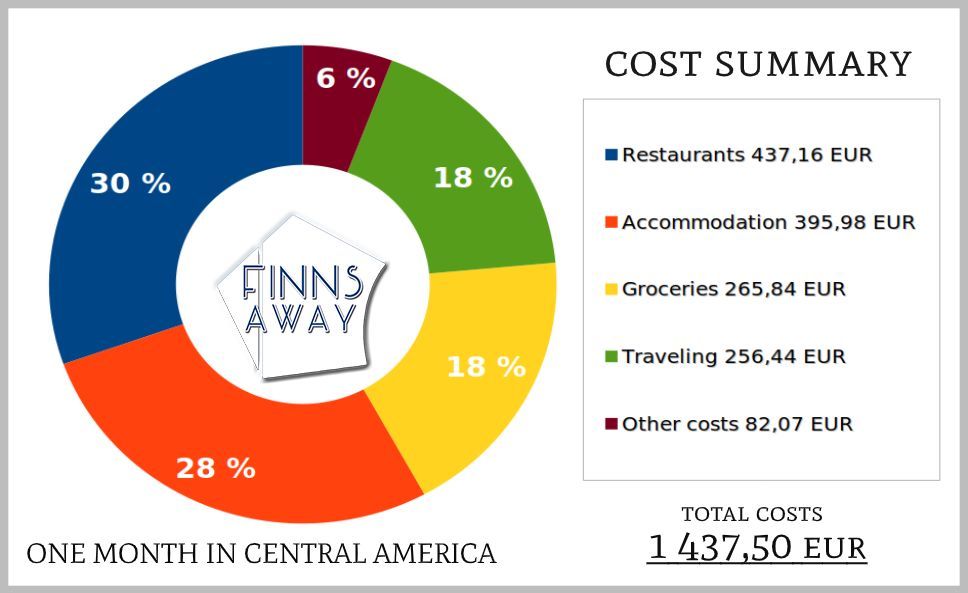 Accommodation costs
As we like to to travel on budget but not to sleep in dorms much, we stayed most of the trip in private rooms in affordable guesthouses, equipped with a guest kitchen if possible. In Rio Dulce in Guatemala and in Los Naranjos in Lake Yojoa, Honduras we chose to stay in backpacker-oriented resorts instead. The resort stays were actually very affordable when it comes to accommodation, but on the other hand the food in the resorts was more expensive than in local restaurants, and there was no possibility to cook ourselves of course. We booked most of the accommodations in advance from booking.com, but as we didn't want to make exact plans, or sometimes were not sure of all transportation schedules, we arrived in some destinations without any reservations. If you are traveling during the high season, it's advisable to always book ahead tough.
All in all we used 395,98 € (443 USD) for accommodation, which is 15,23 € (17 USD) per night for the two of us. The cheapest accommodation was an Airbnb room in Copan Ruinas, Honduras, for 13,21 € per night (if you are not yet in Airbnb, join now and get a discount of your first stay!), and the most expensive, a bit surprisingly, a room in a guesthouse in San Salvador in El Salvador, 22,52 € per night (25 USD).
Eating and drinking
Always when exploring new countries, we like to taste local street food and other specialties, but also to cook ourselves when possible. Preparing our own meals helps to keep the costs down, and getting to know the assortment of local grocery stores is always interesting. Like everywhere, in Central America it's possible to spend a lot in restaurants, especially in famous tourist destinations, but it's equally possible to choose cheap local eateries and street food if your budget is tight. In the resort accommodation we mostly ate in the restaurant of the resort, which increased the costs a bit, but the food was excellent and our stays were short, so we didn't mind.
All in all we used 265,84 € (298 USD) in grocery stores, which is 10,22 € per day. This includes ingredients for meals and snacks for the long bus rides, but also quite some beer bottles. Restaurant costs were in total 437,16 € (490 USD), which is 16,81 € per day. This sounds quite high actually, but to be honest, over 40 % of this sum was spent in alcohol drinks, mostly on local craft beer, but also on some wine glasses in Antigua Guatemala. So once again, if you'd like to keep your budget very low, pay attention to your drinking habits.
Traveling costs
Traveling around Central America can be quick and easy, if you use shuttle buses and flights. However, these modes of transportation can quickly increase the total costs of the trip. For budget travelers, the best way is to use buses, that in general are very affordable everywhere in Central America, prices staring from just a couple of dollars per 100 km. To move between cities and countries, we mostly used cheap second class buses (chicken buses) and local vans. When crossing borders, the cheapest way usually is to take a local bus to the border, walk over, and then take another bus on the other side of the border.
Our total costs of traveling in and between the four Central American countries were 256,44 € (287 USD) for us two, which mostly consists of bus tickets. The most expensive part of the trip was the border crossing from Belize to Guatemala – a boat trip from Punta Gorda in southern Belize to Livingston in eastern Guatemala. The tickets for us two cost 56,07 € (60 USD), and in addition we of course needed to pay the Belize exit fee, which is 20 USD per person.
Other costs
In category other costs, we have summed up all sporadic purchases, like entrance tickets to sights and ATM withdrawal fees. All together these other costs were 82,07 € (92 USD), out of which 56,09 € are entrance fees to Los Naranjos Ecopark in Lake Yojoa (Honduras) to Copan Ruinas (Honduras) and to Santa Ana Volcano in El Salvador.
Related post: Itinerary of our one month tour in Central America
Have you traveled in Belize, Guatemala, Honduras or El Salvador on a shoestring or without a tight budget? Do you think these countries are cheap or expensive to explore? Share your experiences in comment section below!