Riviera Maya: Playa del Carmen
Yucatán Peninsula in Mexico is amazingly diverse travel destination – you get to enjoy stunning beaches, explore world-famous Mayan ruins, including the iconic Chichen Itza, and wander around vibrant cities with beautiful historical centers. The most visited area of Yucatán Peninsula is the eastern coast south from Cancun, often referred as Riviera Maya. This sunny strip of Quintana Roo state, by the Caribbean Sea, lures in huge amount of tourists yearly, but if you go off-season and avoid the resorts, it's still possible to escape the crowds. We visited famous Playa del Carmen in late October, which turned out to be a great time for a few days stay. October is considered to be part of the rainy season still, but towards the end of the month it gets dryer, and even if it would rain, it's more about short showers than rainy days. Visiting off-season means less tourists and cheaper prices, while the weather is still as warm as during the main season, and mostly sunny.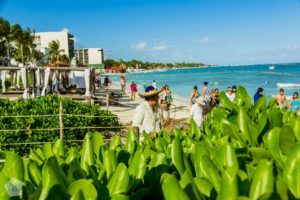 As you might know, we tend to avoid the most popular tourist destinations and instead prefer more quiet and authentic places. Playa del Carmen was not on our list really, but as we flew from Cuba to Cancun in Yucatán Peninsula, we decided to find out what all the fuss is about. To put it short, Playa is for beach life and partying, and that all is centered along the (surprisingly narrow) beach strip and the main walking street 5th Avenue, that runs parallel to the coast and is lined with restaurants, trendy bars and shops. A tourist trap? Well certainly it looks like it, but if sunbathing on a white beach, eating out in restaurants and hanging in beach bars is what you are looking for from your holiday, Playa could be a perfect fit. For us a couple of walks along the beach and the 5th Ave were enough, and otherwise we stayed a bit outside of the main tourist zone.
Things to do in Playa del Carmen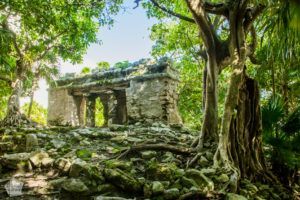 Ok, you are in holiday paradise, but what to do in there then? Outside of sunbathing, eating out, shopping and partying, there is not that much to do in Playa del Carmen itself. However, it's nice to just walk around, and actually there are some small Mayan ruins right in the city, that not many of the visitors even know about. Xaman-Ha ruins, also known as Playacar ruins, are just a few steps away from the beach, close to the ferry terminal, by Bahia del Espiritu Santo street. Right next to the ferry terminal are also other, very small ruins with no signage. Not that much to see there, but worth a quick visit still.
From Playa it's also easy to explore the nearby attractions, even on day-trips. Swim in cenotes, that are natural 'sinkholes' to underground rivers, participate scuba diving tours, snorkel with sea turtles in Akumal Bay or head inland for visiting colonial towns or more Mayan ruins. Popular Cozumel island is just 15 km off-shore from Playa, and there are regular ferries from the terminal right in the city center. Neighboring Tulum with beautiful beaches and Mayan ruins can be visited as a day trip, but we recommend a bit longer stay in Tulum, to be able to enjoy the laid-back feel of this growing holiday destination. Separate post about Tulum is comint soon!
How to get there and where to stay
Most of the visitors heading to Playa del Carmen come via Cancun. If you fly in Cancun, you can take a (pricey) ADO bus from the airport straight to Playa (there seem to be no cheap public transportation options from Cancun airport). From Cancun downtown, the best budget option is to hop in a collectivo van. We took Playa Express minibus right outside Cancun bus station, and payed 42 MXN for the ticket, so roughly two euros. From inland, there are buses to Playa for example from Valladolid and Merida.
Regarding accommodation, you can find pretty much everything and in every price category from Playa. Package holiday tourists and luxury-seekers settle in the big resorts, independent travelers and budget backpackers can find affordable rooms or dorm beds from hostels and guesthouses. We stayed in Appartamenti Melissa, a decent budget option with super good location close to everything but on a quieter street. Otherwise great experience, but a word of warning with this and other places with simple keys – a wallet was stolen from our apartment, even if both the door and the gate were locked. The staff claimed their innocence, and we recommended them to change the locks in case someone from the outside has copied the keys. Even if not that much cash was gone, and we got most of it back from our insurance company anyway, it still felt really bad that someone had been in our room. Sometimes it's hard to decide whether it's more safe to keep all the valuables with you all the time, or leave them in the room when heading out. In general, Playa del Carmen is considered to be a very safe travel destination, with strong police and tourist police presence. Just use common sense, and don't wander around alone with your valuables during the night, especially if you are tipsy after a night out.
So do we recommend Playa del Carmen? Well, it's not our personal favorite, but it's easy and fun choice for a beach holiday in Mexico for sure, and close to other wonderful destinations in Yucatan Peninsula. To avoid the crowds and higher prices, consider going in the end of the rainy season in late October or early November. Check the gallery for more pictures from Playa in October 2019!