Yucatan, Mexico: Charming Valladolid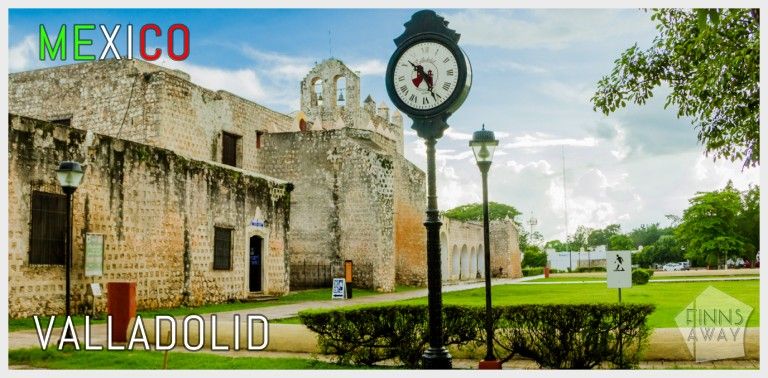 Whereas the east coast of Yucatan Peninsula is filled with popular beach holiday destinations like Tulum and Playa del Carmen, the inland is home to more authentic, historical Mexican towns. Small Valladolid, less than 2 hours bus ride from the coast, is a beautiful colonial town with enough to see and do for a few days visit. However, most of the tourists just pass by quickly, on their way to famous Chichen Itza Mayan ruins, and thus Valladolid town is still a bit of a hidden gem. In this post we shortly introduce Valladolid and provide some tips for you trip to this charming small town with Mayan culture and history.
Colonial historical center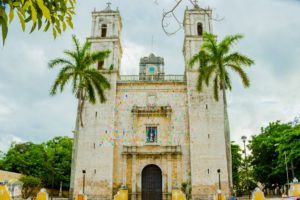 The historical center of Valladolid, with pastel-colored houses, old churches and lively squares, is a showcase of small colonial towns of Mexico. It's perfect for just slowly wandering around and enjoying the vibrant feel and beautiful structures. The central square and surroundings are of course a must-see, but don't skip walking along Calle 41A, also known as Calzada de los Frailes. This beautiful street is lined with lovely houses, that are hosting small cafes, boutiques and galleries. Even if you are not planning on buying anything, it's well worth a stroll, admiring and taking photos of the beautiful and detailed buildings, and maybe popping in one of the restaurants or shops.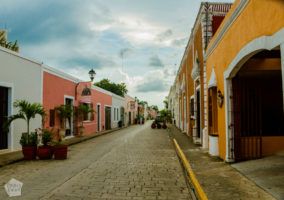 Sunday is probably the best day to explore any Mexican city, including Valladolid, at least if you want to dive in the weekend life of the locals. It's the day when basically every family goes out for walks, shopping and eating from the street stalls, and just hanging out in and around the squares and parks. If you are in Valladolid on a Sunday, head to the central square in the evening around 8PM, when there is live music and people dance out on the streets. And this is not a tourist-thingy really, but instead it's mostly just locals participating, from youngsters to retirees, and dancing to traditional music.
Convent of San Bernardino of Siena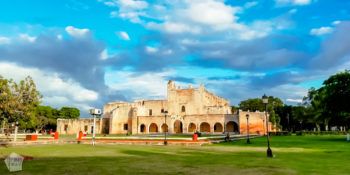 San Bernardino de Siena de Sisal Monastery just outside the city center is a magnificent building. This second largest Franciscan building of Yucatan was built in the mid 16th century, and it served at the same time as an urban monastery and as a Mayan mission, as well as a fortress. Adjacent to the monastery is Templo de San Bernardino church, with beautiful rose-colored walls and ceilings and some original items such as 16th-century frescoes and an image of the Virgin on the altar. When we visited, there was no entrance fee for some reason, but usually a small charge around 30 pesos (1,5 €) is asked before entering the monastery. We didn't happen to see the sound-and-light-show that is presented outside the monastery building in late evenings (usually Wed to Sun at 9 PM), but have heard that it would be worth of visit.
Swim in Cenote Zaci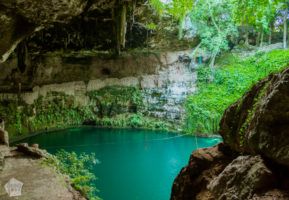 There are several cenotes, cave-like sink holes to underground rivers, around Valladolid, and one of them, Cenote Zaci, is actually right in the city center. It's often said that a visit to Yucatan is not complete without swimming in a cenote, and in Valladolid this goal is more than easy to reach. Just wear your swimsuit, pay a ticket (30 pesos so around 1,5 €) and dive in! Cenote Zaci is surprisingly big and partially in a cave, partially surrounded with tropical plants. We had read some reviews that it would be crowded and dirty, but at least when we visited in early November, there was only a handful of people, and the water was clear and fresh. You can jump in the cenote from different platforms, highest of them 7 meters above the water. Reserve at least a couple of hours for swimming and just relaxing, and note that the cenote is closed at 5 PM.
Where to stay in Valladolid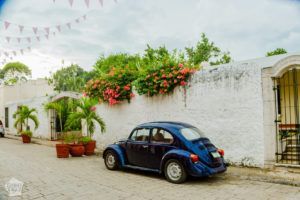 Valladolid is not short of places to stay, from cheap dorm beds or private rooms to luxury villas. Budget travelers can choose between hundreds of rooms and apartments listed in Airbnb (New in Airbnb? Join now and get a discount of your first stay!), or stay in one of the affordable hostels, like in Hostal Gayser. If you'd like to consider a bit more upscale accommodation, check out for example centrally located Casa Valladolid Boutique Hotel with pool, garden and a restaurant onsite.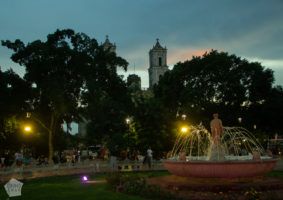 All in all, Valladolid is a nice small town, located close to huge amount of attractions in Yucatan, so it makes a great base for exploring the peninsula, or just for relaxing for a couple of days between your adventures! Have you traveled in Yucatan Peninsula, or are you planning to? Share your thoughts or experiences in the comment section below!