Mayan ruins and scarlet macaws in Copán
Our second destination in Honduras was the town of Copan Ruinas, and the nearby ruins of Ancient Copán. Copan Ruinas is situated in western Honduras, very close to Guatemalan border. Copán Mayan ruins is one of the most visited tourist destinations in Honduras. This means that you probably won't be able to explore the ruins all alone anymore, but it also means that Copan Ruinas has grown to a town that can offer everything that visitors need, from comfy accommodation options to different kind of restaurants and from interesting day trip destinations to craft beer. Still, Copán, as well as Honduras in general, sees only a fraction of the visitors of the most popular destinations of Central America.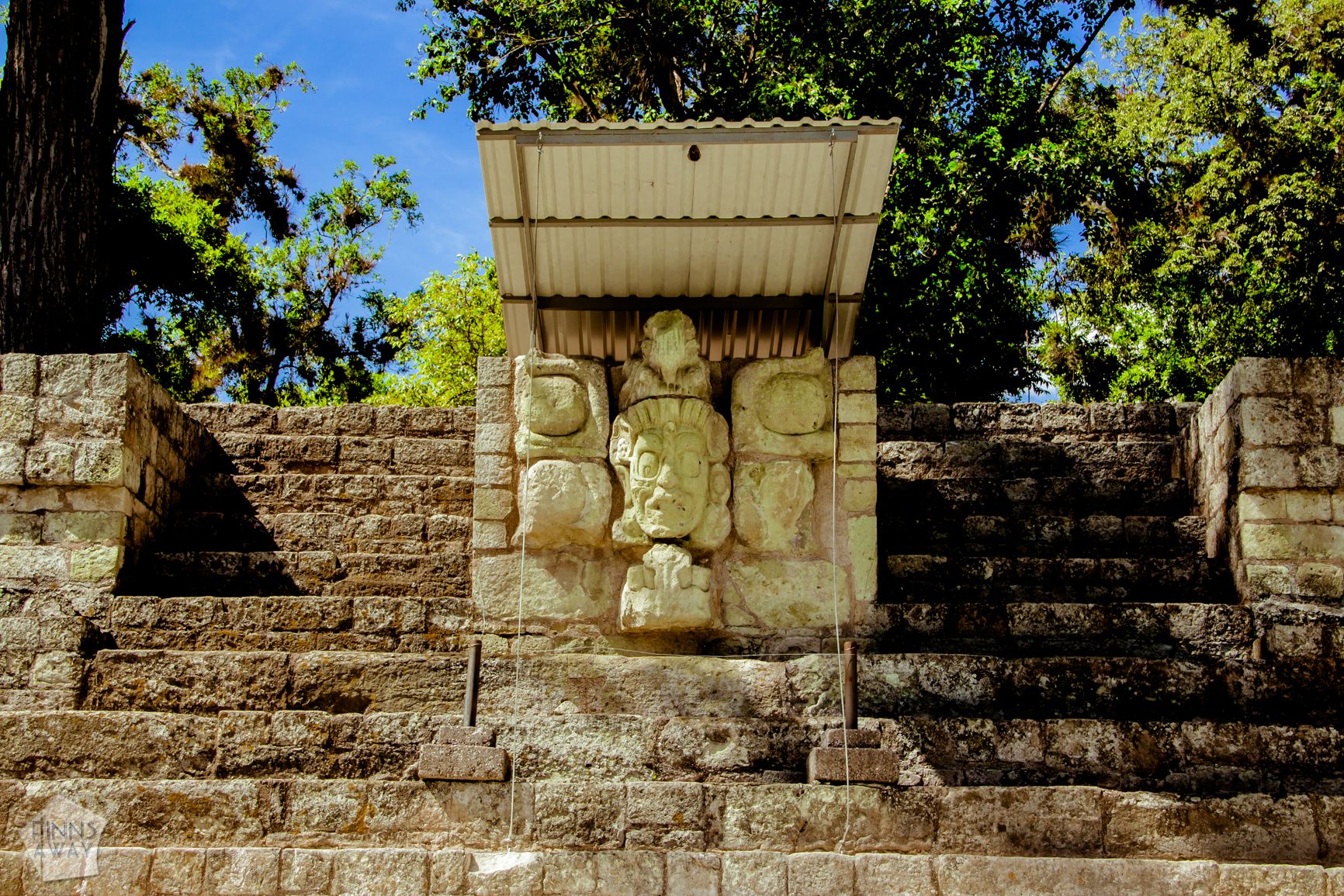 Ruins of ancient Copán
Copán was the capital city of a major Mayan kingdom from 5th to 9th centuries. It was  a political, religious and civil center of the Mayan civilizations in the area. The well-reconstructed ruins are known for their distinctive sculptural style, a hieroglyphic staircase and tall sculpted stone pillars called stelae, as well as for overlapping step pyramids and large plazas. These ruins are not particularly large in scale, but very rich in details, and you can see detailed carvings everywhere.
Copán was occupied over 1000 years in total, maybe even as long as 2 000 years, but most of the remaining ruins date back to time between 400 and 800 AD. When the city was as its greatest, it was inhabited by around 25 000 people. Local people have been aware of the ruins for a long time, but excavations in the area didn't really begin until 1975, and it's still an active archaeological site. Copán was added to the list of UNESCO World Heritage sites on 1980.
Copán is a quite large site to explore, and the entire site includes over 4 500 structures. The main area, called Principal Group, covers roughly 2 square kilometrers, and then there is another, separate area, called Las Sepulturas, roughly 1,5 km walk from the main site. The big temples and squares are in the Principal Group, close to the entrance of the site. In this area you'll also find the underground tunnels and a lot of sculptures. It's allowed for visitors to climb on top of part of the temples, and from up there, it's easier to see the layout of the area. There are also a lot of smaller ruins still covered by the forest outside the main areas. You could head to the nature trails to explore more, but there is not much to see in the woods really, except for beautiful trees, butterflies and flowers.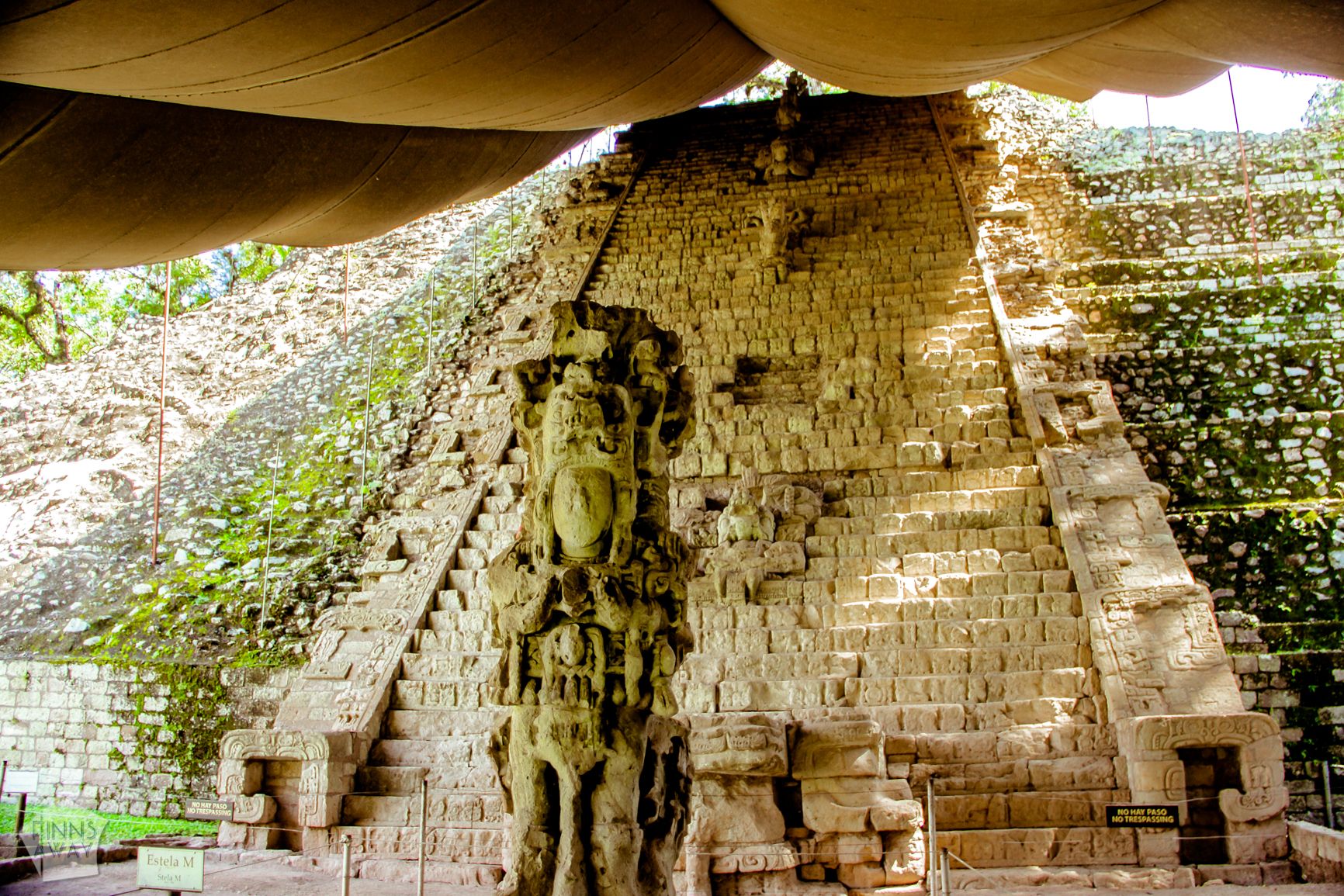 When exploring the Principal Group, take some time to explore the stelae, as well as the carvings in the structures. Also, be sure to stop to admire the covered Hieroglyphic Stairway, that is the most famous monument in Copán. The hieroglyphs form the longest discovered Mayan text anywhere, and consists of approximately 2 000 glyphs. Under the ruins there is a network of tunnels, and some short sections are open to public, but not included in the basic entrance fee. We didn't enter the tunnels, and have seen both good and bad reviews of them – if you are interested to see some remains of buried pyramids and ancient tombs and don't mind paying another 15 USD, consider including the tunnels in your visit.
In addition to admiring the ruins, a visit to Copan archaeological site is rewarded with watching a flock of beautiful scarlet macaws, that are fed and taken care of in the area. Apparently at least part of the macaws in Copan are descendants of two macaws that the government of Honduras donated to the park, with a hope that macaws would once again thrive in this area and fly over the ruins of Copán as they used to. The birds are fed near the entrance of the archaeological park, and even though you should not go too near or disturb the birds of course, these macaws are used to being close to people and don't seem to mind being photographed. If you are lucky, it's also possible to see monkeys and even sloths when exploring the ruins, and there are a lot of other birds and parrots in addition to scarlet macaws.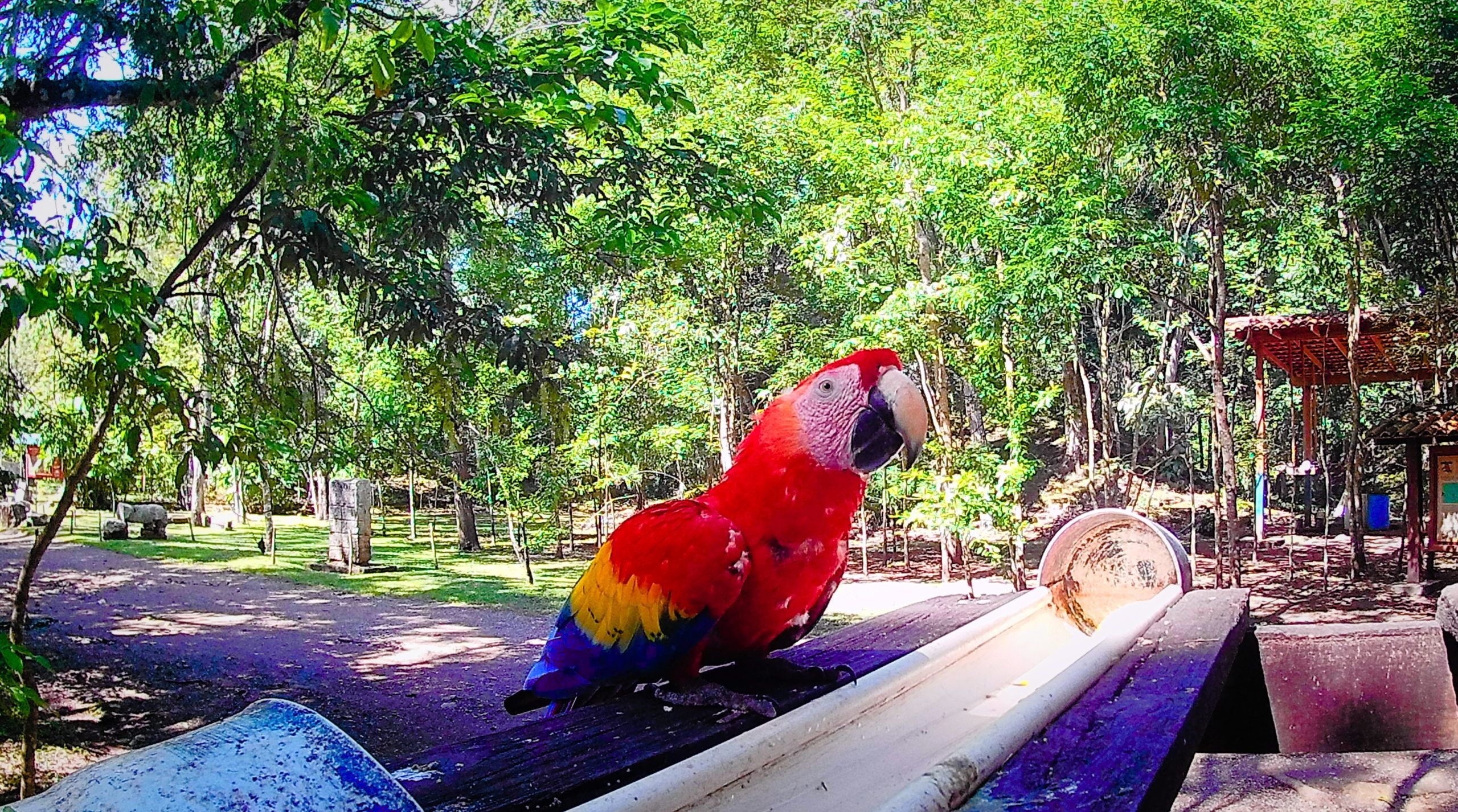 Copan Ruinas town and surroundings
Copan Ruinas is a charming small town, with cobblestone streets climbing up the hill on which the town is built. Due to the famous ruins, the city has grown to a welcoming tourist destination with plenty of accommodation options and restaurants. Still, it's rather authentic, as you really don't have to wander far away from the central square to be in the middle of local life. The main attractions of the town are centered around the main square. There you'll also find Museo de Arqueologia Maya, a small museum focused on artifacts collected from Copán ruins (tickets for foreigners 3 $).
The surrounding nature in Copan Valley is very lush and beautiful, and Copan is a great destination for a few days stay. After spending one day in the ruins, you could head to explore the valley either on foot, on a horse-back tour, or by hiring a tuk-tuk driver or a tour guide. Tourist attractions close to Copan Ruinas include for example Macaw Mountain Bird Park, that is a sanctuary to endangered and rescued birds, Luna Jaguar Hot Springs, that is often referred as the spa of Copan, and Finca Santa Isabel Coffee Farm. We had limited time in Copán and skipped these sights, but made a run on the dirt roads above the town instead. The climb up was rewarded with lovely views over the valley.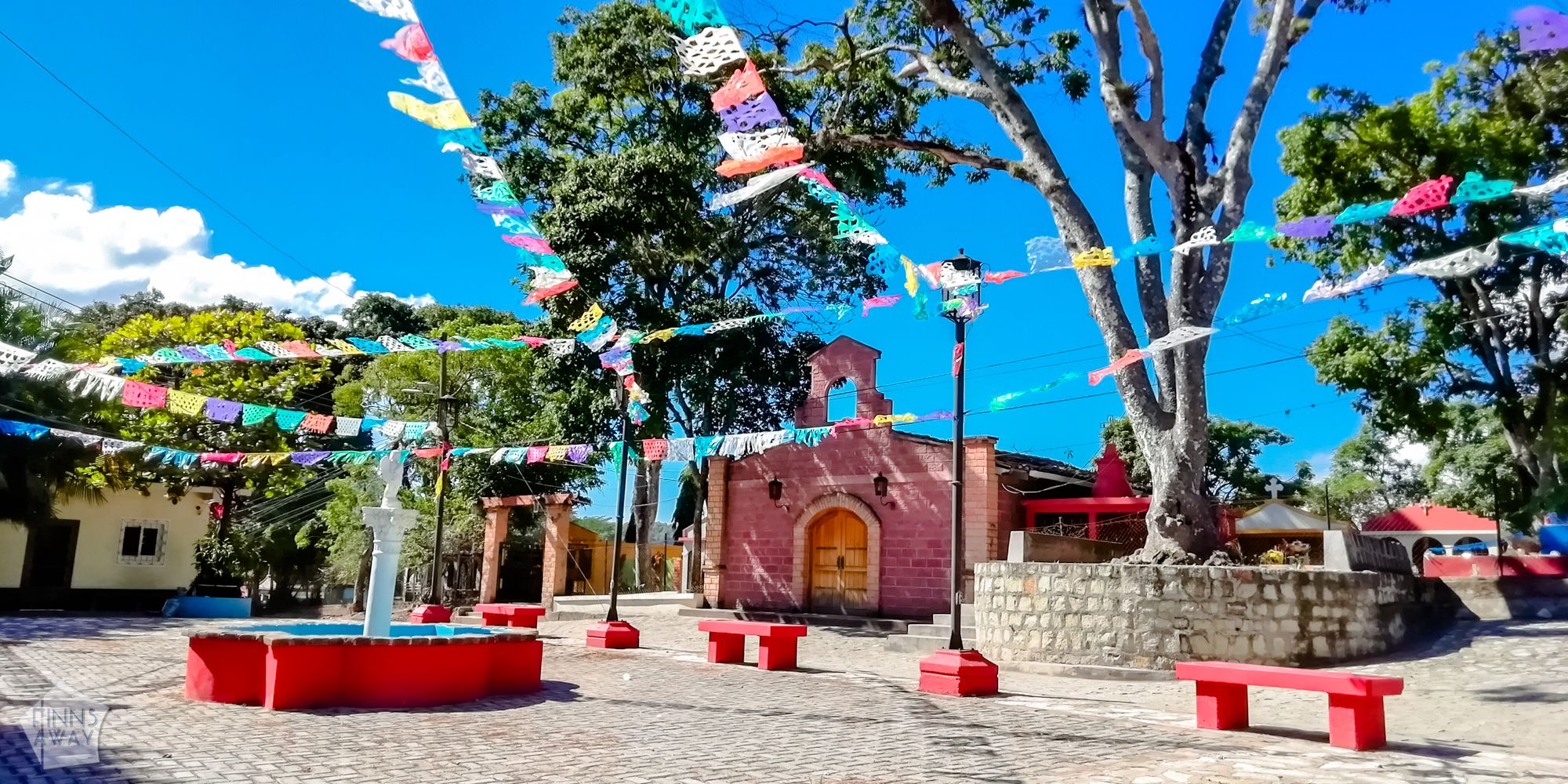 Practical information
There are frequent buses between Copan Ruinas and San Pedro Sula in Honduras, and it's also easy to reach from Guatemala, either using public transportation or shuttle services. Regarding buses from San Pedro Sula, Hedman Alas offers more expensive first class services, whereas Casasola Express is a cheaper but decent choice. Cheap minibuses to and from Guatemalan border run at least hourly throughout the day. For those who prefer tours, several tour operators offer packages to visit Copan from cities like Antigua, San Pedro Sula or San Salvador for example.
Copan Ruins are well withing walking distance (roughly 1 km) from the town, but there are also tuk-tuk (moto-taxi) drivers ready to take you there for 20 lempiras (less than 1 $). Go early to avoid the crowds during high season, and reserve at least a half a day to see everything. The site is normally open daily from 8 AM to 6 PM.
There are guides available for the ruins both in the town and in the site entrance, but it's easy to explore the ruins also without a guide. We always tend to vote against any guides, but on the other hand, they could be able to tell interesting stories and point out things that you'd miss otherwise.
Entrance fee to the ruins is roughly 15 USD for foreigners (in Dec 2019 the price was 360 Honduran lempiras), and the tickets are bought from the visitor center when entering the site. For an additional fee of another 15 $ you can also go to Rosa Lila tunnel and Los Jaguares tunnel. There are lower fees to the park for Honduran visitors and for travelers from other Central American countries.
Outside the entrance to the site itself, there is a separate sculpture museum, storing art and articles collected from the site. We didn't go, but most of the visitors have found it an informative add to their visit in Copán. Tickets to the museum are around 8 USD.
The weather in Copan is often sunny, hot and humid, so bring plenty of water and maybe some snacks with you to the site. If you don't like the heat, plan on going early in the morning (the site opens at 8 o'clock).
Accommodation in Copan Ruinas varies from guestrooms to stylish hotels. You can find simple rooms by asking around or via airbnb with just a few dollars, but note that you'll get what you pay for. If you are looking for a hostel or affordable hotel, check out for example Hostel Iguana Azul, that has excellent reviews, or Hotel Madrugada Copan with private rooms and very beautiful terrace overlooking the valley.
There is a wide scale of restaurants in Copan Ruinas, but most of them are clearly aimed at tourists, with international menus and high prices. For those that want something more authentic and cheap, just walk around looking for street stalls, usually offering different kind of taco-based local snacks. There are also some local restaurants, that don't look as fancy as the tourist restaurants, but can offer tasty meals with reasonable prices. Speaking Spanish is an advantage.
If craft beer, or beer overall, is your thing, don't leave Copan Ruinas without visiting German-owned Sol de Copan, a cozy little craft beer bar and restaurant. The beer was of good quality, and this is a great place to meet other travelers as well. Read more about craft beer in Honduras in our Craft Beer Nomads blog.