Public transportation in Cuba
Cuba is a wonderful country to travel in, very safe for tourists and affordable too. During our 16 days trip to Cuba in October 2019, we explored the western part of the island, and in there alone, we got to enjoy the greenest nature, beautiful beaches, rural countryside and of course the busy streets of Havana. Many tourists come to Cuba to spend a week or two in a resort hotel, but we warmly recommend independent traveling around the country. In this post we explain how to use the local transportation in Cuba, and how to travel cheaply using the vehicles that locals use as well. We also wrote down some instructions on how to get to and from airport in Havana and Varadero, without using taxi.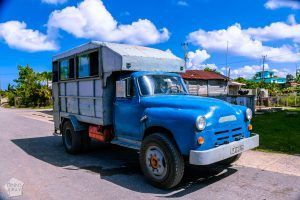 To put it short, traveling around Cuba can either quick, easy and expensive, or slow, challenging and cheap. We of course chose the latter, as we wanted to keep the costs low and to experience the local way of traveling. We stayed in four different towns in the western part of Cuba; Varadero, Havana, Viñales and Puerto Esperanza, but only used in total 47 euros for traveling in and between the cities and from and to the airports. In this guide post we explain what kind of transportation options there are, and how to use them. There are also links to detailed info posts about how to move between the towns that we visited, so if you are planning to visit some of these towns and interested in slow but cheep local rides, just follow our steps!
Table of Contents
Viazul bus – the easy but costly option for tourists
Viazul is a state-owned tourist bus company that has modern, comfortable, fast and air-conditioned buses all around Cuba. Viazul buses are reliable and run between all the most visited towns in Cuba, and they are very popular too, which means that during the high season they can be full. Prices are not that bad, but compared to the transportation methods that the locals mostly use, Viazul is expensive. For example from Havana to Viñales the Viazul bus ticket costs 12 CUC, whereas with local trucks, called camiones, you pay only around 3 CUC. The other downside of Viazul is that you won't really meet locals when traveling with tourist buses. But, if you prefer quick and easy transport between cities, consider Viazul. The official Viazul web-page is useful for checking the schedules and fares, and even works for booking the tickets in advance.
There are also other bus companies with long-distance in Cuba, but those are meant for Cubans. Omnibuses run between the bigger towns but to get in, you are required to show a national ID card or residence card. Astrobus is another national service with cheap buses, but tourists are usually not allowed to board. We've heard of cases that tourists have been able to get a seat, but with a price similar than with Viazul (so basically having to pay the fare in CUC instead of the local money CUP).
Cheaper options for getting around Cuba
Sometimes it sounds like everyone is using Viazul in Cuba. And well, it's probably very nice option, but there are many other ways too. If you would like to explore small towns out of the main tourist route, most of the guide books and blog posts will tell you, that there is no public transportation available. That is not really true, as there always is someway for locals to get around and commute. Most of the Cubans don't own a car, so you'll always find some kind of shared transportation, after asking around and waiting for the vehicle to come. The local rides between rural towns are not necessarily meant for tourists, but if there is space, getting a seat should not be an issue.
Regarding paying for the local transportation, it's useful to have some Cuban pesos (CUP). Convertible Pesos are also accepted, but if prices are in CUP, using CUC can require quite some calculation (the rate is 1:25), and you should have small coins to be able to pay close to the requested fee. When using local transportation, the ticket is usually bought straight from the driver, and in case of camiones and collectivos, you usually pay the trip after arriving in your destination (there are no actual tickets given to passengers). To understand how to use the two different currencies of Cuba, check out our cost summary and budget travel post.
Camiones – Cuban long distance trucks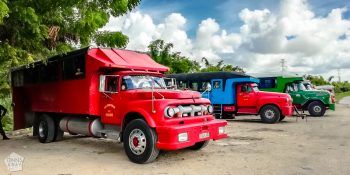 Oh we love camiones! Cuban version of local bus for longer distances reminded us of the cheerfully colorful jeepneys in the Philippines or the chicken buses in Mexico and around. Camiones are trucks turned into buses, with a self-built "container" in the back, equipped with seats or benches. Camiones run between cities along the main highways, or in countryside, along the only roads that lead to smaller towns and villages. Camione rides can actually be pretty fast, with no other stops but taking and leaving passengers by the road. However, often you'll waste quite some time waiting for a camion to arrive and/or getting to the starting point of the route. Traveling with camiones is hot and sweaty, and the seats are not the most comfortable. Locals use camiones to carry all kinds of things around, so don't be surprised if you share the space with some chickens or piles of rice bags. That is just part of the experience.
Finding the camion stop can be somewhat tricky, since they are not marked too well, if at all. Asking around is your best bet, so basic skills in Spanish are needed. And don't make the mistake to ask anything public-transportation-related from taxi drivers or anyone else in transportation business. Prices for the rides are cheap and often informed and paid in national pesos (CUP). The prices seem to vary a lot depending on the route, but to give you some idea, the cost should be somewhere around 10 to 50 CUP for distances between 30 to 160 kilometers. You can ask the price from other passengers, or just try to see how much others pay. If camiones are full, consider waiting for the next to come, or at least standing up and giving your seat to a local. These cheap trucks are principally meant for Cubans, and unlike you, they don't have much other possibilities.
Morning is the best time for traveling with camiones, though there usually are some running in the afternoon as well. For your luggage, there is usually some space in the front of the container, above the cabin of the truck. Sometimes luggage and other cargo is just simply piled by the front wall of the container. When you arrive in the camion stop, ask who is the last one in the line for your destination (Quien es el ultimo?), and take care that you board after that person. This is a special feature of Cubans queuing – people don't really stand in line but instead just hang around somewhere close-by, usually trying to find some shade from the sun. The line is only formed when the vehicle arrives, or, when it's for example soon their turn to enter a bank.
Collectivos and maquinas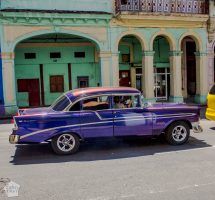 Shared taxis drive both short and long distances between cities, partly on the same routes with camiones. These shared cars between towns are not actual taxis, but more like minibuses, often having a fixed route and final stop somewhere close to the town center. Collectivos, sometimes also called maquinas, often are old American cars, that can carry from seven up to 16 people. In some stops there are officials arranging the rides. They will ask where you are going, and take care that there will be a seat for you in the next cars to come.
Collectivos are more expensive than camiones, but, as they are meant mostly for locals, the prices are still very reasonable, think something like 1-2 CUC per 50 km, depending on the amount of people in the car. It's also possible to hire the whole car, or share it just with a few people, if you pay the whole price of the ride of course. There usually isn't too much space for luggage, but surprisingly lot can be stuffed in the trunk and under the benches, possibly even on the roof.
Cuban trains
We didn't use trains ourselves, so we can't really share any personal experiences here, but we have heard that the trains are very slow and somewhat uncomfortable, but really cheap. If we would have had time to travel to eastern part of Cuba, we would have definitely tested this mode of transportation as well. The main railway goes from Havana all the way to Santiago de Cuba, and in addition there are some secondary routes also. If you are planning to travel by train, head to the train station to check the timetables and to book the tickets. Cuban trains don't really run everyday, so you'll need to adjust your plans according to the schedule. It also might not be possible to buy the tickets with CUC, so again, carry some Cuban pesos also.
Renting a car in Cuba
Renting a car, even one of those 1950's American classic cars, is undoubtedly a great way to travel around Cuba, with your own schedule and route. Unfortunately, rental cars are pretty expensive in Cuba, and thus out of reach of budget travelers. We didn't ask around for prices, but have understood that you should reserve at least 75 $ per day for the cheapest models, and notably more for classic cars. If you are considering the renting option, do some googling beforehand to understand how the system works and what kind of costs you should be prepared for.
Another option for moving around with your own schedule would be renting a car with a driver, but that is of course even more expensive.
Airport transportation
​Getting to and from Varadero Airport
Varadero airport seems to lack cheap public transportation options, and this was the only time that we had to take the (severely overpriced) Viazul bus. The ride from Varadero airport to Varadero cost us 7,50 CUC per person, even if the whole long ride from Havana to Varadero is 10 CUC. We are not really sure if we got charged some extra or is the price always this high, but were kind of out of options. There might be also camiones running from Santa Marta next to Viñales to the airport, but we didn't see any, you could try ask about this option also.
When you step out Varadero airport, the taxi drivers will try to persuade you to take a taxi, since "there are no buses coming". Don't listen to them, at least if you are arriving during morning or early afternoon, since there are several Viazul buses that stop in the airport. We didn't need to wait for longer than a half an hour for a Viazul bus to Varadero, and there are buses to Havana as well, leaving right in front of the terminal. In Varadero, the bus goes to Viazul bus station in central Varadero. We would have actually wanted to hop out in Santa Marta, but weren't allowed to do so (probably because we had backpacks in the luggage compartment). So then we ended up walking three kilometers back from the station to Santa Marta village.
Getting to and from Havana Airport
Many travel sites and blogs state that there is no public transportation to and from Havana airport, or other airports in Cuba. That's not entirely true. In Havana, public bus P12 runs from the city center to very close of the airport, though not in front of the international terminal 3. P12 leaves from the east side of Parque El Curita, very close to El Capitolio, and runs south along Avenida Rancho Boyeros. To ride in a city bus with a lot of luggage, it's better to ensure you have a seat (Havana buses seem to be VERY crowded). To do that, join the first line, that is for those who want to have a seat. The empty bus first stops to take in passengers from the "seat line" to fill the seats, and then makes another stop taking in people from the second line to stand in the aisle. The city bus fare is 0,40 CUP, so nearly nothing. If you don't have local pesos, pay with the smallest CUC coin you have.
OK, when you are in the bus, it's very useful to follow the location of the bus, using maps.me or Habanatrans for example, so you won't miss your stop. For the airport, you'll need to jump off in the bus stop called Terminal 2, that is just few hundred meters from the national terminal of the airport. The ride there takes somewhere around a half an hour. Next to the bus stop, you'll most certainly find bicycle taxis ready to take you to terminal 3. We chose to walk though. Destination between these two terminals is roughly 2 kilometers, and it's an easy, though sweaty, walk. According to some sources, there should actually be some kind of bus connection, or at least a bus meant for workers, running between the terminals, but we didn't see any while we walked, so can't confirm that information.
Some Cuban ways of city transport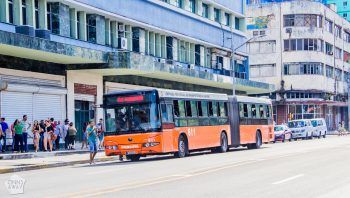 Like in so many other countries, you'll find a bunch of options for getting around bigger cities in Cuba. Cuban city buses can be pretty confusing, hot and crowded, but they are a cheap and effective way to get around cities. Especially Havana is a very widespread city, and there is plenty to see and do in the remote parts of the city as well. Public buses are great for reaching these destinations. For checking the local bus routes in Havana, we recommend loading an application called HabanaTrans. It works perfectly off-line, and shows the city bus routes and bus stops, as well as your location on the map.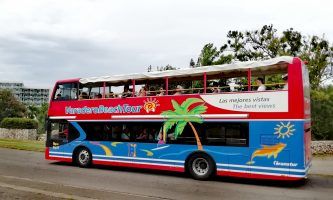 In big tourist destinations, at least in Havana and Varadero, there are hop-on hop-off buses for tourists to see the main sights. In Varadero for example, the red double-decker sightseeing buses run all the way along the peninsula, so it's possible to get in front of your hotel or casa to the beaches, restaurants and Varadero center. We didn't try these buses, as we prefer to walk really, and also because we thought that the 5 CUC ticket is a bit on the expensive side, though you can travel with one ticket for the whole day.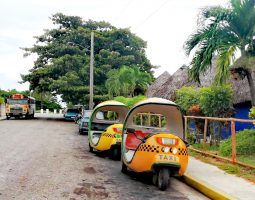 Motorcycle taxis in Cuba are round, yellow and kind of cute, and they are called coco-taxis, based on the shape. These vehicles often serve tourists, but are also used by locals. There is no set price, so prepare to negotiate, and think beforehand, how much are you willing to pay for the ride. Same applies with bicycle taxis and horse-carriages, that are also popular way of getting around Varadero for example.
Hopefully this post was helpful for planning you independent travels in Cuba! In case you have some additional information or questions, feel free to leave a comment below!