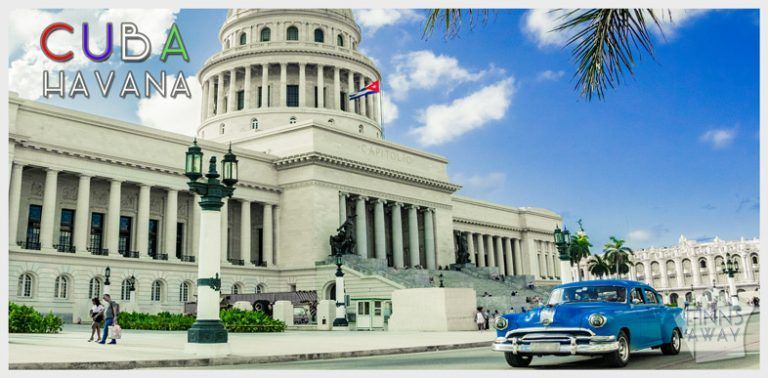 The capital of Cuba is an amazing travel destination. This city is full of colors and energy, as well as history and sights. The streets of central Havana seem to be always awake and lively. We first planned to stay in the city only for a couple of days, but ended up exploring Havana for a week. This city can feel chaotic and troublesome at first sight, but just give it some time, and it will charm you. We won't get started with writing a travel guide post about all the things to see and do in Havana, since you can find a huge amount of those online already. Instead we put together this picture diary, and we hope that with these postcards and short stories behind them you can get some idea how Havana looks and feels like. Moreover, there is also a picture gallery with more snapshots of this colorful metropolis.
El Capitolio and classic American cars are symbols of Havana. The amount of old American cars in Cuba is astonishing, you can see them everywhere. Part of them are used as collectivo taxis and some solely serve as tourist tour vehicles, but most of these cars are, well, just normal cars of normal people. As the spare parts for classic cars are hard to get and expensive, many of them don't have the original motor anymore, but instead there can be one from Lada or Moskvitch. El Capitolio, the national capitol building was built in late 1920's and prior to Cuban revolution, it houses the congress. During recent years the building has been slowly restored, and nowadays it serves as home for the Cuban National Assebly.
The streets of Havana Centro are full of life and colors. The old colonial houses lining the streets are painted in bright colors, and part of them are beautifully renovated. People spend a lot of time outdoors, in front of their homes. Kids gather to play football and old men set out tables and chairs to play domino. You see people eating peso pizza from street stalls, sipping rum and smoking huge cuban cigars, while old American cars and bicycle rickshaws pass by. Someone is playing trumpet in a park, and you can hear Cuban rhythms from simple corner pubs. It's well possible to stroll around for hours, simply enjoying the views and just feeling Havana.
There is a huge amount of statues and monuments in Havana. One of the most powerful is Primavera, a sculpture by Cuban Rafael San Juan, situated by the famous Malecon Ocean Drive. The sculpture celebrates the spirit of Cuban women, and the artist was inspired by the dancers of Cuban National Ballet.
Did you know that there is also a Chinatown in Havana? The are known as Barrio Chino actually used to be a big Chinese settlement back in the days, but nearly all Chinese people left Cuba after the revolution. Nowadays you can still find a small Chinese quarter in Barrio Chino, but it's mainly just decorated for tourists.
On the side streets of Havana. This city is not the cleanest or greenest, but very charming on its own way. It's hard to get bored just roaming around and watching the local life. There is something very Cuban is this pic of the older lady with a huge cigar in Central Havana. The best known Cuban cigars are Kohibas, but the most popular in the country seem to be the cheap ones sold in tiny street-side stalls and mini-markets.
Havana is not only about the busy downtown. This picture is from Playa, a district east from the city center. There are some small beaches, that are popular among locals, and a big amusement park too. It's a nice half-day trip by a city bus, and can be easily combined with visiting Fusterlandia.
Jaimanitas in the outskirts of Havana is famous for Fusterlandia, the neighborhood and home of Cuban artist Jose Fuster. The houses, fences and even bus stops in this area have been turned into street art with imaginative use of colorful mosaic tiles. The style of Fuster is often compared to the one of Gaudi. Recommendation to pay a visit when you are in Havana!
Breakfast in Malecon. The coastal avenue of Havana is rather famous, and serves as a public living room especially during the evenings. It's also a scenic route for walking and running, though the air quality can be rather bad due to all the traffic. Most of our breakfasts in Havana consisted of Cuban avocados, that are huge and delicious, as well as very affordable. The best source for avocados and other fruits are the local agro-markets.
More pictures of Havana in the gallery. Feel free to share your travel memories from Havana in the comments!