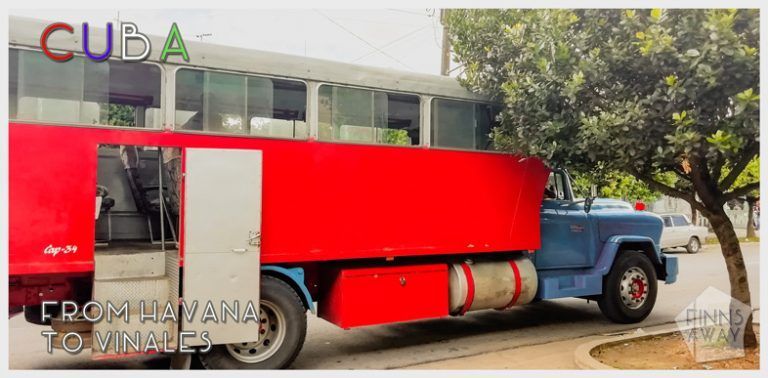 From Havana to Vinales and back
In this info post we explain how we traveled from Havana to Viñales and back using local transportation, in October 2019. For general information about how to travel cheaply around Cuba, check out our local transportation in Cuba guide post as well. In the end of this and the other travel info posts, we inform the travel costs of the vehicles that we used, and the rough duration of the trip, including waiting times, that may of course vary a lot depending on your luck and/or weather you manage to get some information of the schedules. Costs are in convertible pesos CUC (which is equivalent to 1:1 to USD) or in some cases in Cuban national pesos CUP, which is 1:25 to CUC.
To get to popular Viñales from Havana using local transportation you have to travel via Pinar del Rio. The camiones from Havana for Pinar leave from around 10 kilometers out of the city center, from the beginning of the motorway Autopista Este Oeste (see our transportation map for all stops and stations). To get to the station without a taxi, you'll need to take a bus. City bus line P12 leaves from the east side of Parque El Curita, very close to El Capitolio, and runs south from the city along Avenida Rancho Boyeros. To ride in a city bus with a lot of luggage, it's better to ensure you have a seat (Havana buses seem to be VERY crowded). To do that, join the first line, that is for those who want to have a seat. The empty bus first stops to take in passengers from the "seat line" to fill the seats, and then makes another stop taking in people from the second line to stand in the aisle. When joining the line, don't forget to ask who is the last one in the line before you (Quien es el ultimo?).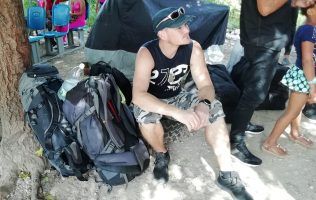 You need to jump off the bus in the stop called ´100 y Boyeros´, which is in the intersection of Boyeros Avenida and Calle 100. It's very useful to follow the location of the bus, using maps.me or HabanaTrans for example, so you won't miss the stop. When you arrive there, you still need to walk around 800 meters west along Calle 100 to find the camion station. It seemed to be OK to walk up the ramp and by the motorway, but there actually also is a walkway right from the station, just go down the stairs and to the southern side of Calle 100 first. When you reach the next motorway intersection, you'll see the truck station on the northern side of Calle 100. When we arrived at the station around 11 AM, there were a lot of people waiting for a truck to Pinar. It took maybe one hour before one arrived. It's 160 km to Pinar from the station, and it took maybe 2,5 hours to get there. There actually was a screen in the truck, with music videos running during the whole ride.
In Pinar del Rio we arrived close to the main bus station. We had read that there are no camiones between Pinar and Viñales, and to get a collectivo, we walked 1,6 km to a collectivo stop by Leon Cuervo Hospital. Later we learned that there actually are some camiones, but we don't know from where and at what time of the day they leave. It might be that the trucks leave from the main bus station, like the ones back to Havana, but in this case it may not be possible for tourists to board. If you happen to know this for sure, please leave a comment!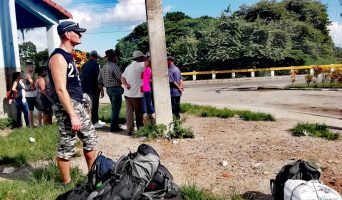 Collectivos, or maquinas as the locals called them in Pinar, seemed to be a very popular way to get to Viñales, so there was a long line waiting for cars to come. It took some time to wait for a ride, but then suddenly there were a lot of cars taking in passengers. The one that we jumped in was an old American mini-van with seats in four rows. While waiting, some of the people in the line after us didn't seem too happy that we, as tourists, were there, instead of simply taking the Viazul bus. This was the one and only time we felt a bit outsiders when using local transportation, and also in this case the disapproval seemed to end when bunch of cars arrived and everyone got a seat. In Viñales we arrived right in the town center.
Costs: city bus 0,4 CUP + camion 2 CUC + collectivo 1 CUC (per person)
Duration: Altogether 7 hours, out of which 3,5 hours waiting
From Vinales back to Havana
In Viñales the camiones to Pinar del Rio leave by the main road in the southwestern side of the town (intersection of Salvador Cisneros and Carretera Viñales). Luckily we didn't have to wait for long for a truck, and it was a quick ride to the center of Pinar. In there we had some problems again with finding out where the camiones to Havana leave. We were repeatedly pointed to the collectivo stop next to the main bus station (in the intersection of Calle Colon and Adela Azcuy). When walking around the bus station, we could actually see that there were passenger trucks in the yard of the station, but the guards wouldn't let us in the yard. It might be, that it's not possible for tourists to enter the camiones that leave from the bus station (it's the same station with Viazul bus and Omnibus for locals), but we are not certain of that, since we didn't enter the bus station at all.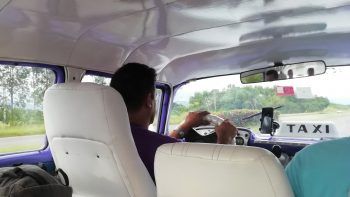 At this point of the day we were already tired of all the waiting (more about that in the post about getting to Viñales from Puerto Esperanza) and very hungry, so we decided to try and negotiate a collectivo ride to Havana, to get there before the night. There happened to be a couple of guys waiting for other passengers to join them, and they finally offered that we could get a ride with 6 CUC per person. For a moment we thought that it's still too much, but then again, it was a 160 km ride in a pretty cool classic 1950's American car, with just 2 other passengers! In Havana, tourists tend to pay much more for a short fun ride, so maybe it was not that bad deal after all.
In Havana, the driver refused to take us all the way to Habana Centro (well I guess this is normal since collectivos are not like taxis in that sense), but left us on a local bus stop next to the Viazun bus station instead. The station is 10 km from the city center, but it's very easy to get there by simply jumping in the city bus P12 that takes you to Habana Centro.
Costs: camion 10 CUP (so around 0,4 CUC) + collectivo taxi 6 CUC + city bus 0,04 CUP (per person)
Duration: 4,5 hours, out of which 1 hour waiting
Read also:
From Varadero to Havana
From Viñales to Puerto Esperanza and back