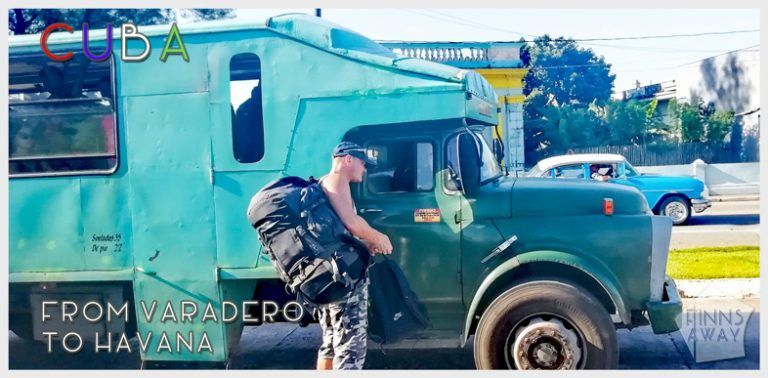 In this short info post we explain how we traveled from Varadero to Havana using local transportation, in October 2019. For general information about how to travel cheaply around Cuba, check out also our transportation in Cuba guide post. In the end of this and the other travel info posts, we inform the travel costs of the vehicles that we used, and the rough duration of the trip including waiting times, that may of course vary a lot depending on your luck and/or weather you manage to get some information of the schedules. Costs are in convertible pesos CUC (which is equivalent to 1:1 to USD) or in some cases in Cuban national pesos CUP, which is 1:25 to CUC.
To get to Havana from Varadero, we needed to take two camiones; first one from Santa Marta to Matanzas, and second from Matanzas to central Havana. In Santa Marta, you'll find the camion "station" in the field next to the intersection of Via Blanca and Avenida 1ra (see our transportation map for all stops and stations). When we arrived in the station, around 9 AM, there were a lot of people waiting for a camion to Matanzas, and we first thought that we won't even fit in the first truck to come. We did, but didn't get seats, so we stood up the whole ride that took maybe 30 minutes.
The camion we took drove to central Matanzas. We hopped out just before the town center, next to Parque Los Pinos, since (based on maps.me) we thought that camiones to Havana leave from there. Soon we learned from locals that to find a ride to Havana, we needed to walk roughly 1 km and cross the bridge over San Juan River to a camion and collectivo stop. When in there, we joined the group of people waiting for a camione. It took maybe an hour before a truck arrived, and meanwhile there were bunch of collectivo taxis leaving to Havana too, so the most impatient ones chose to take collectivo instead of waiting. In Havana the camion drove all the way to central railway station, which was very convenient, since we could just walk to our casa in Havana Centro.
To travel this route other way around, we've read that you should find your way in Berroa in Havana, as that is from where the camiones to Matanzas leave. Regarding this we can't provide further info though, as we didn't travel back to Varadero ourselves.
Costs: 0,70 CUC + 2 CUC (per person)
Duration: 4 hours, out of which 2 hours waiting
Read also:
From Havana to Viñales and back
From Viñales to Puerto Esperanza and back