Cost summary: two weeks in Cuba
Cuba is known as a relatively poor country, but traveling in there can be surprisingly expensive. Traveling on a shoestring budget is possible, but not very easy. To manage it, you have to find out how the local way of transportation works, know the general price level of accommodation and street food for example, and negotiate, or rather be able to state the price you are willing to pay, in Spanish. Knowing the price level and being able to speak some Spanish really goes a long way when asking things from locals, and helps you to avoid scams. In some cases, when locals pay in Cuban pesos, tourists are asked to pay in convertible pesos, so 25 times the normal price, but for most of the things, the price should be the same for everyone. In this post we explain the dual currency system that is in use in Cuba, open up all expenses of our 16-days stay in the country in October 2019 and provide some useful tips for traveling in Cuba on a budget.
Cuban peso and Cuban convertible peso
If you are already planning a trip to Cuba, you have probably heard, that there are two different currencies in use. A bit confusingly, both are called pesos. The original Cuban currency, CUP, is called pesos cubanos or moneda nacional (sometimes abbreviated to M.N.), and the "tourist" currency, CUC, is known as pesos convertibles and sometimes also called dollares. One convertible peso CUC is worth of 25 Cuban pesos CUP, so make sure that you recognize the two currencies and always check your change. Convertible peso was first launched in 1994 and taken into wider use in 2004, when U.S. dollar was withdrawn from circulation in Cuba. Convertible peso is valued 1:1 to U.S. dollar, and CUC is also widely used by locals, not just tourists.
On a quick look, the two sets of banknotes can look quite similar, but it's actually easy to quickly tell the difference between them, simply by checking the pictures on the bills. Pictures in convertible pesos are of monuments, and in Cuban pesos there are portraits of Cuban national heroes. When traveling around Cuba, it's useful to have both currencies with you, since even if both are usually accepted everywhere, it's easier to pay in Cuban pesos when the prices are stated in that currency. Otherwise, you'll probably get a bad rate when getting the change from convertibles to Cuban pesos. Also, some things, like city buses, can be so cheap in Cuban pesos, as small coins don't even exist in convertible pesos.
How to get some Cuban pesos then? To our knowledge it's not possible to withdraw national pesos from ATM's with foreign cards, but you should be able to change CUC to CUP in the official exchange offices (CADECA), with rate 1:.24. You could first change your foreign currency in CUC, and then ask the teller to change some small amount (5 CUC worth of moneda nacional already goes pretty far) to CUP. In addition, in stores or restaurants that accept both currencies, you can ask to receive your change in pesos cubanos. Some businesses may try to fool tourists by asking fees in CUC, even if the price for locals is in CUP. Pay attention, watch how much others pay, and use common sense to avoid such scams.
Breakdown of our costs
The cost summary graph  includes all our expenses during 16 days in Cuba. Flights to Cuba are not in the graph, as the flight costs vary a lot depending on where you are coming from. Regarding flight prices from Europe, we only paid 173,99 euros per person for a one-way flight from Brussels in Belgium to Varadero in Cuba, but that was a last minute deal. Normally the price range for return flights is somewhere between 400 and 1000 euros. For finding the best flight deals, we recommend using Skyscanner.
During 16 days in Cuba we explored the western part of the island, visiting Varadero, Havana, Viñales and Puerto Esperanza. Total costs of the trip were 639,40 €, which is 39,96 € per day for the two of us together. This includes everything from accommodation to entrance tickets and from groceries to happy hour mojitos.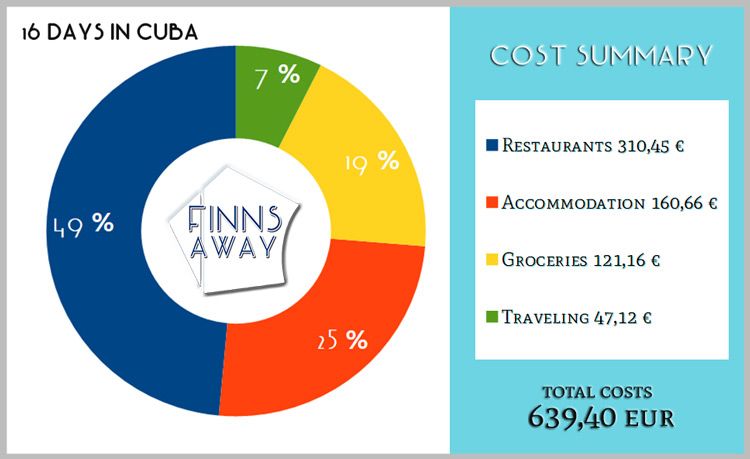 Accommodation costs
We stayed the whole trip in casas particulares, that are home-stays with either a private room or an entire apartment with private entrance. During the off-season the prices of the casas drop significantly, and it's possible to find a private room with under 10 euros, even with just 6 euros per night. We booked the first nights in advance from Airbnb and the rest straight from the casa owners. As there is huge amount of casas in basically all towns in Cuba, it's easy to find a place without booking in it advance. Someone will always ask, if you already have a place and recommend a casa of relatives or friends. Still, we recommend checking the price level in advance from Airbnb and from booking.com, and, if you are traveling during the high season and have some particular place in mind, consider booking it in advance.
In total, our accommodation costs were 160,66 €, which is 10,04 € per night. All the casas that we stayed in were super clean and spacious, and had a private bathroom, air condition and either an own refrigerator or even a small kitchenette. During the high season the prices can go up to approximately 20 to 25, even 30 euros. For a great place to stay in Havana, check out for example Pensione Doña Dolores; we stayed there twice, altogether for a week, and liked the location in Havana Centro, just a few steps from the Malecon and close to old Havana. We also appreciated the hospitality and helpfulness of the owners.
Eating and drinking
As in so many other places, in Cuba it's possible to spend a lot when eating out, but also to find inexpensive, local options. For making your own food, Cuba can be a challenge, as all exported groceries are very expensive, and the selection of the grocery stores is limited to say the least. Read more about eating and drinking in Cuba, and about Cuban food in our introduction post to traveling in Cuba.
All in all we used 310,45 € (19,40 € per day) in restaurants and 121,16 € (7,57 € per day) in grocery stores during our trip. Roughly one third of the restaurant costs are beers with food and happy hour cocktails. We tried to always find inexpensive restaurants, and our meals, when not including the cheap street food, cost from 3 to 6 euros per person. We didn't cook much ourselves, so most of the groceries costs are actually liquids. We bought a lot of water (before we decided to use a water filter and drink the tap water with that) and also quite a few cans of soda to keep hydrated when walking around. Also, in grocery costs there are several cans of beer and some rum bottles also, to be honest. Rum is delicious and cheap in Cuba, but beer is quite expensive actually, prepare to pay 1,5 € for a small can of local lager and from two up to three euros for imported beers. Grocery costs also include fruits from vegetable markets, from where you can get gigantic avocados with just pennies, and juicy pineapples and papaya for example.
Traveling costs
To put it simple, traveling around Cuba can either quick, easy and expensive, or slow, challenging and cheap. We of course chose the latter, as we wanted to keep the costs low and to experience the local way of traveling. We stayed in four different towns in the western part of Cuba, but only used in total 47,12 € for traveling. This even includes the expensive Viazul bus ride from Varadero airport to Varadero (13,64 € for us two). For trips between cities, we mostly used trucks, called camiones. They are kind of local buses, not the most comfortable or easy to use, but the best choice for a bit adventurous travelers, who want to do things the local way.
Read more about cheap way to travel around the island in our post about local transportation in Cuba.
Tips for traveling in Cuba on a budget
A travel insurance is a must-have when traveling to Cuba. We recommend to check out Globelink International, the best (and affordable!) insurance for long-term traveling.
Don't take U.S. dollars as your travel currency to Cuba, as the exchange rate for dollar is very bad, since a 10 % extra cost is added. Euros, Canadian dollars, British Pounds and Mexican Pesos are the best options to take as a travel money.
Cash is king in Cuba, as credit cards are not widely accepted (outside the tourist zone at least). The best credit / hybrid card for withdrawing money is Revolut. You get good exchange rates, and you can freeze and unfreeze the card anytime you want.
Step out of the comfort zone and do things the local way. Cuba can be surprisingly expensive for tourists, but the goods and services that are principally intended to Cubans, like street food and basic public transportation, are very cheap.
Eat local food in local restaurants, avoid the tourist street restaurants with English menus.
Avoid scams by being aware of the prices and acting like you know what you are doing, even if you don't. You can always ask the locals (know some Spanish!), but find "normal" people who have nothing to do with the business in question. So, don't ask a taxi driver how much a bus costs, and so on.
Bring some kind of a water filter. Tap water is not recommended to be used without boiling it first, and bottled water is pretty expensive in Cuba (and it can be also hard to find). We used our new, small outdoors filter, and found it very easy to use.
If you drink alcohol, consider making rum drinks instead of buying beer, as beer is relatively expensive in Cuba. Also, utilize the happy hour offers to buy cheap cocktails.
You can find cheap Cuban cigars from the small, local street side "stores". They may not be of the best quality, but those are the ones most of the locals buy, and the price is around 2 CUP, which is well under 0,1 € per one cigar.
Consider preparing the breakfasts yourself. Most of the casas offer breakfast for 4 to 5 CUC, which is quite a lot. You can by loads of fruits from local market places with just a fraction of that money.
Any thoughts or questions about traveling in Cuba on a budget, or some tips to add? Please leave a comment below!