Farewell Caucasus – new travel plans
Greetings from Tbilisi, where we have spent the last two days of our Caucasus Adventure. If we would have to describe our travels in Caucasus with just one word, it would be amazing. After nearly three months here, we are totally charmed. All three countries, Georgia, Armenia and Azerbaijan are wonderful destinations for adventurous backpackers and budget travelers, but there are plenty of destinations suitable for families and luxury travels as well. In this post we shortly sum up our stay in here, and reveal the next destinations. Nothing is 100 % sure in life, but we are pretty certain that we'll come back here, and spend more time traveling around, hiking in the mountains and living nomad life in Caucasus.
Georgia was love at first sight
Georgia is really high on the list of our favorite travel destinations ever. This small Caucasian country has everything from astonishing mountain trails to beach towns, and from historical old cities to remote villages. It's very safe, people are welcoming, local food is delicious, and price level is very affordable. We spent over two months in Georgia, visiting different parts of the country, but also staying quite long time in Batumi. This was mainly because of a dental operation that took several weeks in total, but we loved Batumi and had nothing against staying there, working and living among locals.
Related post: Batumi, Georgian gem by the Black Sea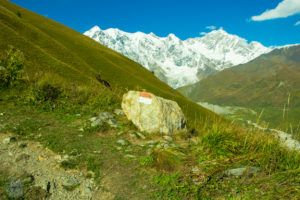 One of the highlights of the whole Caucasus adventure was hiking in the Greater Caucasus Mountains. We traveled to Mestia in Svaneti area, and made a great multi-day hike over mountain passes to Ushguli village. The views in Svaneti are breathtakingly beautiful, and there are lots of possibilities for long hikes. It's getting quite popular though, at least this particular hike from Mestia to Ushguli, so next time we want to explore Tusheti region in the northeastern part of Georgia. It should be as great for hikes and views as Svaneti, but less touristy.
Related post: Mestia – Ushguli hike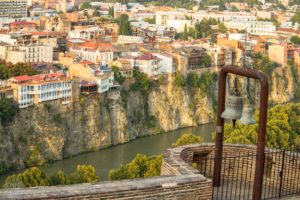 Besides Batumi and Mestia, we stayed some time in the charming capital Tbilisi, and in small but historical Kutaisi. Kutaisi has not that much to see, but it is a popular base for exploring the surrounding sights like canyons and caves. Tbilisi is busy, but a delightful and photogenic mix of old and new, and it's no wonder that it's the "nomad capital of Caucasus". In addition to the bigger cities, we visited small mountain towns Khulo and Tago on our way from Batumi to Armenia. The winding road over Lesser Caucaus Mountains showed us yet another side of Georgia, as did Akhaltsikhe with its gorgeous fortress.
Related posts:
Mountain town charm in Khulo & Tago
Rabati Fortress in Akhaltsihke
One week in Yerevan, Armenia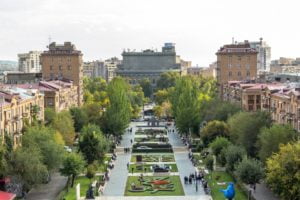 In between of dental treatments, we traveled to Armenia to see the capital Yerevan, and to participate in 2 800 years celebration of the city. Yerevan is something totally different than Georgian capital Tbilisi. There is no old town, and not much old structures overall. Most of the buildings are from Soviet era, and majestic Stalinist style architecture is dominant in the city center. But there are also small side streets with trendy cafes and wine bars, leafy parks with huge amount of statues, and interesting museums and art centers. Unfortunately time didn't allow us to explore Armenia outside the capital during this visit, but for sure we'll travel around this mountainous country, with huge amount of ancient monasteries and stone churches, when next time in Caucasus.
Related post: Yerevan, the vibrant capital of Armenia
Different faces of Azerbaijan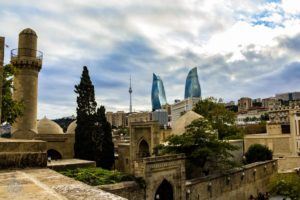 Azerbaijan was a very positive surprise to us. It's much less visited by western tourists than neighboring Georgia, and all the people we met were super-friendly and welcoming towards us. We stayed a week in the shiny capital Baku, but started the trip from Sheki in the mountainous, forested western part of the country. If Baku was full of polished facades and expensive cars, Sheki area with all the rusty Ladas and traditional way of living was like a jump back in time, in a good way. Baku has a perfectly (maybe a bit too perfectly) renewed, gorgeous old town, but Sheki with its palaces and caravanserais is not short of sights either. Azerbaijan also has beautiful hiking destinations up in Greater Caucasus, but in November it was already too cold for mountain treks with our gear – maybe next time then!
Related posts:
Sightseeing in Shaki
Baku, the showy capital of Azerbaijan
Travel plans for coming months
Winter is coming, and it's already pretty cold and rainy here in Caucasus, after warm and colorful autumn. It's time for some sun and warmth, and for that we are heading to Dubai and Abu Dhabi in Arab Emirates! We'll also explore at least the two neighboring emirates Sharjah and Ajman, since we reserved an AirBnB room from Ajman, northeast from Dubai. This trip to UAE will be kind of like holiday for us, just 12 days stay, and more about sightseeing than working. This is our first visit ever to Arabian Peninsula, and to be honest, it has never been on top of our must-visit list. One obvious reason is the price level, UAE is not the most budget friendly destination for sure, and after Caucasus everything is ridiculously expensive, starting from the accommodation. Our daily budget target of maximum 50 euros per day (for two) is most probably not going to hold, but we will try to find out how to travel in Arab Emirates on a budget, and share our experiences.
After the sort stay under the burning sun and in the middle of skyscrapers in UAE, we will head to Cyprus for the winter! We traveled in Cyprus last February, and really liked the island. It's one of the warmest places in Europe in winter time, quite affordable, and there are interesting cities, picturesque villages, great possibilities for hiking and beautiful beaches. That's pretty much everything that couple of nomads need. In December we will stay couple of weeks house-sitting and taking care of two dogs in a small village near the city of Limassol, really looking forward to that! We love dogs, and staying over the Christmas in a house with a fireplace sounds just great. In January we will spend a bit over a week exploring the island and having a good time with dear friends from Finland! That will be great for sure. Otherwise plans for January and February in Cyprus are open at this point, but it will be combination of nomad life and adventures!
Read all Cyprus posts in category Cyprus.
We will fly to Abu Dhabi and Larnaka with our travel partner, Latvian airline airBaltic.