Rabati Fortress in Akhaltsikhe
On our way to Armenia from Batumi in October 2018, we stopped for a day in Akhaltsikhe, the capital city of Samtskhe-Javakheti region in south-western Georgia. This region is not very well known among tourists yet, but holds rich cultural heritage, as well as beautiful, mountainous nature on the slopes of Lesser Caucasus mountains. The main sight in Akhaltsikhe is the gorgeous, recently renovated Rabati Fortress.
History of the fortress of Akhaltsikhe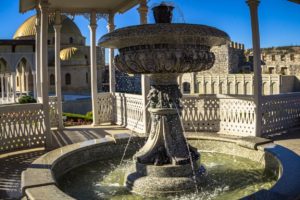 There is no certainty when the first fortress was built on this hill by Potskhovi River, but according to researches, there has been some kind of castle since 9th century already. The first real fortress was built during 12th century by Djakely family, and served as their residency for 300 years. The fortress has been conquered, destroyed and rebuilt several times during its history, and thus there are structures representing different cultures and religions.
Most of the current structures are built during Ottoman era, between 16th and 19th centuries. After Russian-Turkish war the fortress lost it's significance, and was for long left to fall into ruin. After the fall of Soviet Union, interest towards Akhaltsikhe began to increase again, and the whole fortress was finally fully renovated in 2011-2012. The result is stunning mix of different eras and cultures.
Tour around the fortress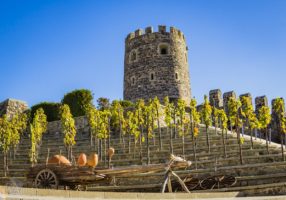 Akhaltsikhe fortress consists of two parts, lower and upper. The entrance to the fortress is in the lower part, which includes several towers, vine terraces and wedding house. There is also ticket office and information center, a hotel, some restaurants and small shops. Entrance to this first part of the fortress is free, so even if you are on a really tight budget and don't want to pay the ticket (only 3 GEL, roughly 1 €) to the upper part, there is quite much to see. Still, it's warmly recommended to buy the ticket and explore the whole citadel, as the most interesting buildings are in the upper level. There should be also guided tours available; ask about them in the information center if you are interested.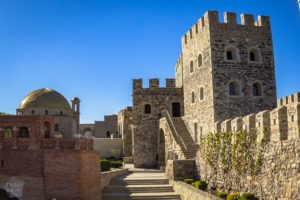 Entrance to the upper level is through a gate, where you'll need to show your ticket. The so called monumental part of the fortress includes Akhmediye Mosque, small Orthodox church, citadel (castle), ponds, fountains, pavilions, small gardens and several towers and other buildings. There is also a museum about the history of the region. All structures are beautifully renovated and gardens and plantings are very well kept. As we visited the fortress in off-season during autumn, it was nearly empty, and trees and other plants were in beautiful colors. A photographers dream really.
Basically all the buildings in the fortress, including the towers, are open for visitors, which makes exploring the castle an interesting experience. Don't skip climbing to at least one of the towers in both lower and upper parts of the castle. Views from the towers are great, both into the fortress itself, and over the Akhaltsikhe town and to surrounding hills.
How to get there and where to stay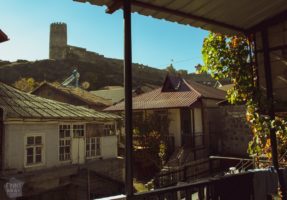 Akhaltsikhe is very well connected with Tbilisi and Borjomi, and there are several daily marshrutkas (mini-buses) also to Kutaisi and at least one to Khulo over the mountains (not in winter though). Our travel partner airBaltic has several weekly flights to Tbilisi around the year from Riga, Latvia, with connections all over Europe. For those coming from, or going to Armenia, there are daily marshrutkas to and from Gyumri, with connection to Yerevan.
There are several affordable guesthouses, hostels and restaurants in Rabati area below the castle, near the bus station. Many of them come with a view towards the fortress, which is illuminated and thus a gorgeous sight also after dark. More accommodation options, including few hotels, can be found in the town center, but since the castle is the main reason to stay in Akhaltsikhe for most of tourists, it's more convenient to stay in Rabati.
Feel free to share your experiences or thoughts about traveling in Georgia in the comments!