Mountain town charm in Khulo and Tago
Adjara, or Ajara, region in southwestern Georgia is best known for Batumi and other smaller beach towns. The Black Sea coast has been popular holiday destination for decades, but the mountainous inland Adjara is still pretty much off the beaten path. It's a region full of natural beauty with steep slopes of Lesser Caucasus Mountains, scenic, green river valleys, unpaved mountain roads, fortress ruins and tiny, remote mountain villages. During our way through the region, we stopped for a night in Khulo, visited tiny Tago on the other side of the valley, using the thrilling Khulo cable car.
Beautiful and developing Khulo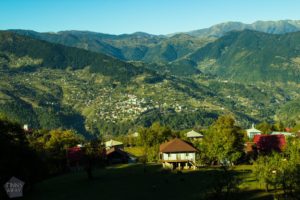 Khulo is a small mountain town in the heartlands of Adjara region, beautifully located on a slope above Acharistskali River. It's not well known among foreign tourists yet, but slowly getting more popular. The number one tourist attraction is the small, Soviet-era cable car that offers exciting ride over the valley. In mid-October there was only a few other visitors in the village, part of them only on a short day trip or passing by. All the locals we met were warm and welcoming, arranging us a place to stay for a night, trying to discuss with broken English, and offering some chacha (local booze) of course. We would have loved to stay longer, but needed to continue the journey towards Armenia the next day.
Khulo is perfect for relaxing and enjoying the refreshing nature. There is not much to do in the village itself, but the whole point should be to ease off and breathe. You'll find some small grocery stores, restaurants and pubs, banks with ATM's and a tourist information booth by the main road near the bus stop. The village center is on upper level, that can be reached either following a side road that leads up from the bus stop, or using the stairs. Further up there are some guesthouses, and the road leads to other small villages, to Kedlebi ski resort, to a waterfall and to Uchkho bridge, one of the picturesque, old arched stone bridges that can be found around Adjara. All together there are over 70 mountains villages in Khulo area.
Unlike elsewhere in Georgia, in Khulo region the main religion is Islam. This is because the region was for long under Ottoman rule (1614 – 1878), and people were forced to change their religion during that time. Nowadays different religions are mixed, and there are both churches and mosques in the villages. We heard a call to prayer from Khulo mosque when on a walk on the other side of the valley. The echoing call was quite magical actually, in the quietness of the mountains. You can hear it on the video of our cable car ride.
Khulo cable car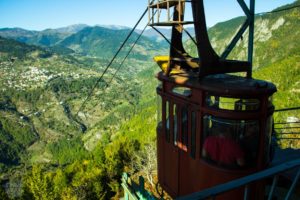 The cable car in Khulo is not just a tourist attraction, but rather an important part of local public transportation. The cable leads from Khulo to tiny Tago village over the river valley. It was built in the eighties, but looks even older. The small red car itself is cute, but the cable hanging over the valley looks a bit horrifying. The length of the cable is 1,7 km, and it's 280 meters above the valley, with no support structure, so just hanging between the departure stations. Cable car is by far the shortest and quickest way of traveling between the villages, and used for transporting people and goods. It seemed to serve also schoolkids coming from Tago to Khulo for school.
When we took a ride, the small car was packed full, but we were the only tourists. When on the way to Tago, the car suddenly stopped, and was left swinging above the valley. Lovely. But I guess it was just the cable car operator kidding with us, as no-one seemed to be surprised or anything. An older man even opened the door of the car partially and lit a cigarette "before we fall down". Funny, at least if you are not scared of heights… Soon the journey continued, and we arrived safely in Tago. Ticket price for a round trip was 5 GEL (1,7 €) for us; some say that they have only paid 3 GEL, but we didn't start negotiating for it.
Charming Tago village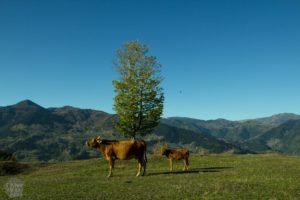 In the other end of the cable car you will wind a tiny village, typical for Adjara region. Tago (also T'ago) is home to not more than maybe few hundred inhabitants altogether. It's a rural village with not much services for tourists, though there is a cafe near the cable car station. It's a peaceful, quiet place with wooden houses, narrow dirt roads, stockyards, and cows, chicken and dogs roaming around. Locals seem to live very simple life, and somehow walking in the village felt like a jump to past time, in a good way.
Trekking in Tago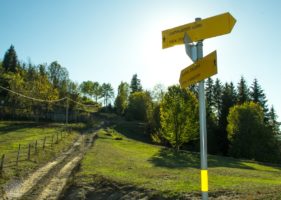 Tago is nice also for walks up in the hills overlooking the valley. There are some marked hiking trails, leading to a viewpoint, neighboring Dzmagula village, Skhalta monastery and Sh. Khimshiashvili museum. You'll find the first signposts right after arriving in Tago with the cable car. Everyone should walk at least up to the viewpoint, that is just 1,2 km from the cable car station. It's easy to find by following the signs towards the monastery. You'll walk through the village before reaching the grassy meadow with nice views towards Khulo and over the valley, with lines of soft mountain tops in the background.
From the viewpoint the trail, or rather a dirt road continues 7,8 km to the monastery. There should be also paths leading up on top of at least one of the surrounding mountains and to a waterfall, but we are not sure if those trails are marked. We unfortunately had no time to hike further than the viewpoint this time. If you have done some of these hikes in Tago, it would be great if you'd leave a comment regarding how they are!
How to get to Khulo
Khulo is only 85 kilometers from Batumi, and there are several minibuses (marshrutky) a day, leaving from Batumi Old Bus Station. At least in the morning they leave every hour or so. We hopped in the one that leaves at noon, and it took roughly three hours to reach Khulo. The road should be paved, but it was not in very well condition. There were some construction works ongoing, so supposedly it'll get better at some point. The ticket price was only 5 GEL, so under 2 euros.
You can also reach Khulo from east, as there is at least one daily minibus from Akhaltsikhe. The partly unpaved road goes over a mountain range through Goderdzi pass, that is open only when the snow conditions allow, so usually from April until November. It's a narrow and winding mountain road, so be prepared for a slow and bumpy ride. For us the ride from Khulo to Akhaltsikhe took about five hours, even if it's only about 80 kilometers. More about traveling through Ajara along this road will follow in a separate post soon.
If you'd like to travel further around the area, visiting more remote mountain villages, consider hiring a 4×4 vehicle from Batumi. There is not much public transportation outside the main road, so without your own wheels it's can be challenging to explore the region more thoroughly. Hitchhiking is one option of course, but be prepared for long waiting times in remote areas.
Where to stay
As Khulo is developing towards a more popular destination, there are several options for staying overnight, many of them available also in booking.com. There are guesthouses and couple of hostels and small hotels in Khulo, and some guesthouses also in surrounding villages. One option during summer months is camping in Tago side via company called Camping experience Khulo. They offer overnight stays in spacious tents, overlooking the valley. You can find also this company in booking.com, and the guest reviews praise the experience.
To sum it up, when planning a trip to Georgia, consider including not only Black Sea coast, but also the lesser-known, inland Adjara in your itinerary. Even just a short trip to the green, soft Lesser Caucasus mountains and laid-back life in mountain villages of Adjara is worth a bumpy and slow, but scenic minibus ride there.