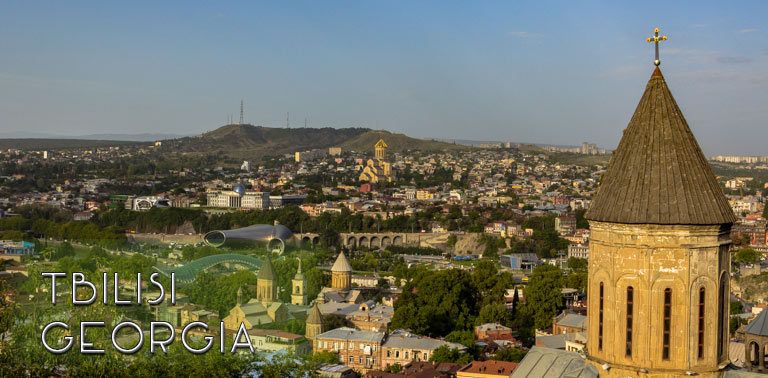 We have spent the first week of our Caucasus Adventure in Tbilisi, capital of Georgia. This old city charms with its mixed architecture, handsome cathedrals, colorful riverside, photogenic old town and a reconstructed 4th century fortress above it all. Georgian people seem to be welcoming and friendly, and especially the younger generation speaks English well. The local language, Georgian, is very old and written with special alphabet, making it very hard for visitors to understand. Luckily most of the signs are written also with Latin alphabet.
History of Tbilisi dates back thousands of years, as it's located in ages old river crossing of trade routes. According to a legend, King Vakhtang Gorgasali of Kartli founded the city in the 5th century AD, after finding healing sulfur springs. In reality, the city was already there, ruled by Persians at that time. But the hot springs did give the city its name, that means warm. Tbilisi has grown into a metropolis of over 1 million residents, where old structures from different eras meet with shiny new and modern pieces of architecture.
During the week here we have been walking around the city, sightseeing and running on the hills that surround the city both sides of the river. The hills offer fresher air, and there are peaceful trekking paths, as well as lakes such as tiny Turtle Lake and sizable Tbilisi Sea. We have tasted some local delicacies, which tend to be on a heavier side, and of course tried some Georgian wine. We have also been getting to know the local way of living, as our apartment is in a very authentic neighborhood. Our landlords, that live just next door, are a very hospitable elderly couple, with whom we don't really have a common language.
Tomorrow morning we'll take a train to our next destination in Georgia, a city called Kutaisi. Much smaller than Tbilisi, it should be a peaceful starting point for day trips to nearby sights like canyons, caves and monasteries. From there the plan is to head to Caucasus Mountains for a long hike, more about that will follow later.
Georgia seems to be a wonderful destination for travelers, also for digital nomads who want to stay in the country for a bit longer. Visa policy of Georgia is quite liberal, and citizens of 98 countries can enter, stay and even work in Georgia without visa up to one year. Tbilisi is a natural starting point for exploring the Georgia, with good connections both internationally and inside the country. Our travel partner airBaltic flies from Riga to Tbilisi every day during summer season, and five times a week during winter.