Batumi, Georgian gem by the Black Sea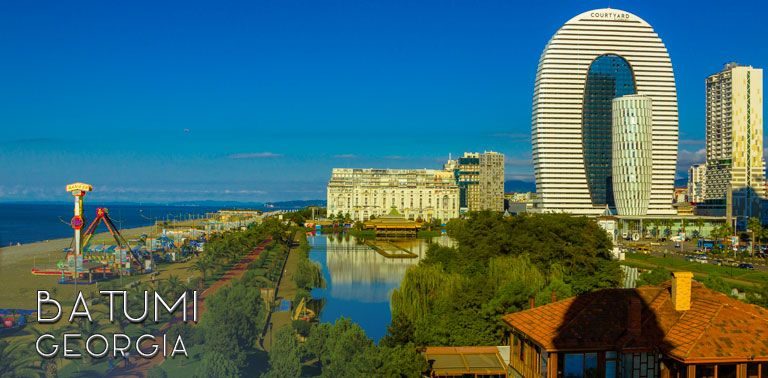 Batumi is the second largest city of Georgia, with roughly 150 000 residents, the capital of Adjara region, and one of the oldest cities in the country. It is also a popular beach holiday destination, situated by the Black Sea, near Turkish border. The architecture of central Batumi is a confusing mix of 19th century facades and modern skyscrapers. Even if it has been a tourism hot-spot for decades, only few western tourists have found it, or Georgia overall, yet.
History in a nutshell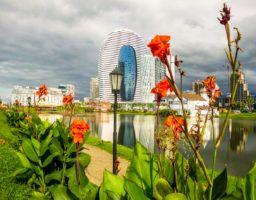 There are mentions about Batumi, back then called Batus, already in the 4th century BC. Ancient Greeks new the place as Bathys Limen, meaning a deep harbor. It has been a center of trade for long, and seen numerous rulers during its history. Batumi became part of the Kingdom of Georgia in the 10th century, and was after that long periods also under Ottoman rule.
During 19th century Batumi was in the center of Russo-Turkish war, and became part of the Russian Empire. After the congress of Berlin it was declared as a free port (porto franco), and that status remained until 1886. At the same time Batumi Sea Port was being constructed, as well as Baku-Tbilisi-Batumi railway and Baku-Batumi oil pipeline. These reformations led to quick development of the city, as Batumi became an important sea terminal and a tourist city, as well as the main oil port of Russia in the Black Sea. Most of the charming, classical structures of Batumi Old Town as well as the first version of the beach boulevard, were built during the porto franco years. During Soviet years the border with Turkey was closed and the development of Batumi regressed, only to wake up to a new bloom after that.
Confusing, delightful, inspiring Batumi
After traveling couple of weeks in Tbilisi, Kutaisi and Svaneti mountain region, Batumi felt almost like arriving into a different country. The main tourist area next to the coastline is jaw-dropping, with several kilometers long, palm-lined beach boulevard, countless shiny new high-rise buildings, kitschy neon lights, casinos, Ferris wheels, dancing fountains and party clubs by the sea. Walking along the beach boulevard and in the parks next to it is an astonishing experience every time, both day and night.
The amount of new and still rising skyscrapers and gigantic apartment buildings is stupendous. The new Batumi for sure doesn't look like a city of 150 000 residents, but much bigger. Thousands of tourists surely stroll along the boulevard during busiest summer months, but in late September the beach (which by the way is of round stones, not sand) and parks seem, if not nearly empty, pretty quiet. In the main beach area in front the city center, which seems to be expanding towards the airport, you can find a dolphinarium and a zoo park by a lake, and sports areas, Batumi Summer Theater and the wonderful Dancing Fountains in a park next to the boulevard. The after-sun-set show with music from classical to rock, neon lights and of course the ever-changing dance of the fountain is maybe kitschy, but absolutely charming.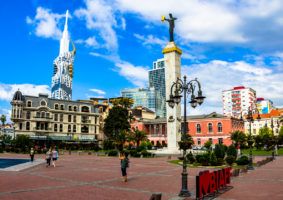 Few steps inland from the fountain take you to the Old Town area with charming Europe Square surrounded with stylish Art Nouveau facades, beautiful smaller streets lined with colorful apartment buildings with cozy-looking terraces, small hotels and hostels and plenty of affordable restaurants offering traditional Georgian cuisine and international delicacies. Read more about the architecture of Batumi from this guide post about attractions of Batumi, written by Milos / Happy Frog Travels blog.
We don't usually like staying in popular beach holiday destinations, since they tend to lose their authenticity. Even if Batumi clearly is a quickly developing tourist destination, it's somehow genuine. Nobody was trying to sell us anything, or cheat us, and the prices seemed to be the same for locals and visitors. Walking away from the beach area and center, you'll find the run-down real Batumi with street markets and local life. This combination of little bit of everything makes Batumi so charming, that it's easy to imagine staying here for longer time. We haven't seen it during the main season though, July and August bring huge amount of tourists and for sure are hectic times here. Batumi is surrounded with lush nature and rolling mountains, and those who are staying a bit longer can make daytrips to close-by attractions, or like us, head to trekking in Mtirala National Park or Machachela National Park.
Go now, the secret is out!
Even if Batumi has been a tourist city for so long, and clearly huge sums of money are invested in developing it further, the price level in the city remains very affordable, at least outside the luxury hotels. We don't tend to eat out very often if we are staying in an apartment with kitchen, but here it has been a pleasure; Georgian food in local restaurants is delicious and well made, and the price tag for several dishes and wine for two can be under 10 euros. Price for a large Georgian beer in an ice-cold glass begins from 0,7 euros, and this is valid also in some of the restaurants just next to the Europe Square. Lovely.
The amount of visitors, also outside the busiest summer months, is for sure increasing at least as quickly as new buildings rise up. It's hard to tell where Batumi is going during the next decade or so, we surely hope that it will retain its character. Batumi is something that you need to see and feel yourself, the pictures don't fully explain it. So go! There is an international airport in Batumi, with flights from Tbilisi and from several major eastern European cities. There are daily trains, several buses and hourly mini-buses from Tbilisi, journey time is roughly 6 hours.
Related posts:
Greetings from Tbilisi
Historical Kutaisi
Mestia, the beating heart of Svaneti