Historical Kutaisi, Georgia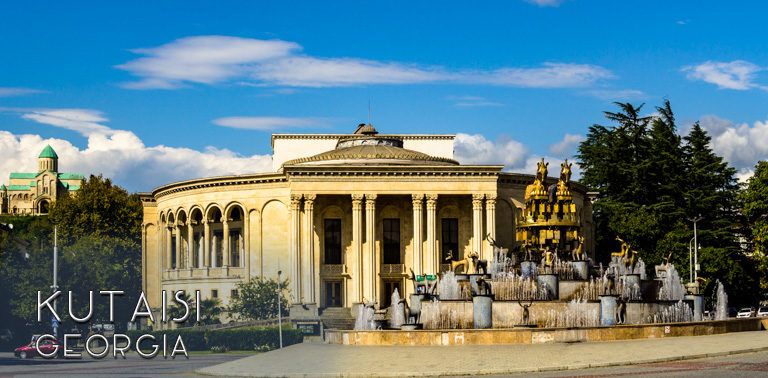 Greetings from Kutaisi, the third most populous city (149 000 residents) in Georgia! Situated roughly 200 km west from Tbilisi, Kutaisi is the administrative center of Imereti region, and home town of the Parliament of Georgia. It is also one of the oldest existing cities in the whole world! Already 3500 years ago Kutaisi, back then called Aea, was the capital of the ancient Kingdom of Colchis. We came here by train from the capital, through nice  countryside landscapes.
Present day Kutaisi is a vivid university city and starting to see more visitors from abroad. The main attraction in the city itself is the majestic, UNESCO World Heritage listed Bagrati Cathedral just above the town. Surrounding region lures tourists with several old monasteries, like Gelati and Motsameta, and gorgeous Okatse and Martvili canyons. It's also a natural stopover for hikers heading from Tbilisi to Svaneti Mountain region (like us).
During our three days stay in the city we have made a walking tour around the small city center, visited the Bagrati Cathedral and the Royal District with restored historical buildings. There is a super-cute small "aerial tram" cable car up to an amusement park above the city. We also walked to the super-modern parliament building few kilometers west of the city center.
Instead of heading to the monasteries and canyons, we have been hard-working nomads, sitting in front of out lap-tops for big part of our stay in the city. But we have still made time for trail running in nearby Sataplia Nature Reserve and going to gym. We stayed in a cozy guesthouse a bit outside the city center, in a pretty authentic Georgian neighborhood. When buying bread from a corner bakery, we ended up baking the traditional bread, called Lavashi, ourselves in a clay oven, such an interesting experience 🙂
We have been constantly checking the weather forecasts for the mountains, and it looks like during the next few days it should be sunny and quite warm. So it's time to pack our stuff and take a local bus or possibly a mini-bus (called marshrutka) up to Caucasus Mountains and Mestia, the starting point of our multi-day trek. Next few days will be all about enjoying the mountainous scenery along hiking trails, really looking forward to it!