Cost summary: Three months in Caucasus
Caucasian countries Georgia, Armenia and Azerbaijan are amazing travel destinations. Visitors can find vibrant cities, remote villages, ancient historical sites, roads less-traveled, gorgeous mountain scenery, pristine nature and even beach holiday destinations. What makes it even better, is that all this comes with very affordable price level. In this post we open up the costs of our three months of traveling and living in Caucasus in autumn 2018.
We started our Caucasus tour by flying with our travel partner airBaltic from Riga to Tbilisi, the capital of Georgia, and traveled around the country for a few weeks. The original plan was to spend around one month in each country, but when we were in Batumi by the Black Sea in Georgia, one of Toni's teeth suddenly broke in parts. To save it, a multistage dental operation was needed. That meant that he had to see a dentist in Batumi quite often during a two-months period, which changed our travel plans. In stead of exploring one country at a time, Batumi became our home base in Caucasus, and we made trips to elsewhere in Georgia, and in Armenia and Azerbaijan from there between the dental operations.
Price level in Caucasus in general is very affordable, and it's easy to travel on a budget. During off-season, which basically means not in summer, the prices for accommodation are even lower, and for example dorm beds can be found with just a couple of euros. Eating and drinking out is also very affordable, and public transportation and entrance tickets to many sights are cheap in all three countries. In this post we first reveal the total costs of our three months in Caucasus, and shortly introduce the price level and our costs on each country. All prices are in euros, to make it easier to compare them.
Quick Facts
Currency in Georgia: Georgian lari, 1 € equals 3 lari (Feb 2019)
Currency in Armenia: Armenian Dram, 1 € equals 559 Dram (Feb 2019)
Currency in Azerbaijan: Azerbaijani manat, 1 € equals 1,94 manat (Feb 2019)
ATMs and exchange offices are easy to find in cities
ATM fees can vary between banks, and depend on your credit card company
Credit cards are accepted usually only in big shops and restaurants
Total costs of three months in Caucasus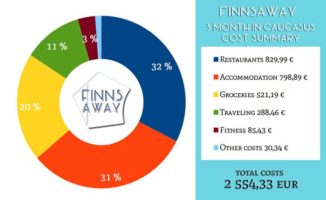 Our trip in Caucasus lasted all in all 88 days, so almost full three months. Total price tag for two of us was 2554,33 €. This sum does not include flights to and from Georgia. When divided on daily level, the costs of the whole trip were 29,03 € per day for two, so under 15 € per person per day. This includes all accommodation, eating, drinking and traveling costs, as well as fitness costs and other costs, like entrance tickets and toiletries. In the graph you can see how the total costs are divided into these categories.
Accommodation costs
During our tour in Caucasus we stayed mostly in apartments rented via booking.com. Apartments are great for a bit longer stays, since there is more space, a kitchen in use, and not as much noise than in hostels for example. For shorter stays we used hostels or rented private rooms in guesthouses. Accommodation costs in total were 798,89 €, which means in average 9,08 € per night for 2 of us.
Our most expensive accommodation was a night in a hotel in Batumi. We arrived from the mountains very late in the evening without any reservation, so needed to find a place with 24-h reception. Still the price of a double room was only 16,67 €. The cheapest accommodation was hostel / guesthouse Zengereb in Sheki, Azerbaijan. With just under 6 euros per night we stayed in a gigantic, stylish room, and our host was the most hospitable person, offering his guests some dinner also. Lovely place, good memories. The longest stays were in Batumi. We stayed almost a full month in an own apartment in Vacation Home Gela, a bit out of the city center. Later we stayed two times in a wonderful small apartment, called Guesthouse Mzeona, right in the city center. With Gela we negotiated a bit discounted price for a longer stay and paid less than 10 € per night, and Mzeona apartment cost only 8,3 € per night.
Eating and drinking
Caucasian cuisine is amazing! We especially fell in love with Georgian kitchen during our stay. Despite preparing a lot of meals ourselves, we ate out quite often, since the food is so delicious and very affordable in restaurants. Typical price for a dinner in a decent restaurant, including some wine and beer, was around 15 euros for two, and fast food is of course much cheaper. In some places you can get a sizable, delicious pizza with roughly 3 euros only. All in all we used 829,99 € in restaurants during the three months, which divides to 9,43 € / day for two. This includes all restaurant meals, drinks in pubs and fast food from street stalls.
In addition to eating out, we cooked a lot in Caucasus. The best places to buy groceries for cooking are the street markets. From the market stalls you can find all kinds of fresh vegetables and fruits, as well as coffee and spices The prices are very affordable, and usually clearly marked also, so you don't need to bargain. Small bakeries offer nice selection of stuffed bread and pastries, and the nearest bakery is never too far away. In bigger cities there are hypermarkets that offer huge selection of products, but every corner store has all the needed basic stuff also, and the prices don't differ much. Our grocery bills all together were 521,19 €, so 5,92 € per day. This includes all groceries and also wine bought from supermarkets.
Traveling costs
Traveling around Caucasus overland is easy and cheap, though often quite slow. We used mostly local buses, and for longer journeys also trains. In Tbilisi and Baku we used metro for longer journeys inside the city. Metro tickets are super cheap, and it's very easy and safe to use metro trains. In cities there usually also is an extensive network of local buses and minibuses.
All together we spent 288,46 € for traveling during the three months (3,28 € per day). One bigger part of this sum are several train tickets between Batumi and Tbilisi. One way ride by a modern train cost 24 lari per person, so roughly 8 euros. Bus and train tickets between countries are relatively cheap in Caucasus, for example the night train all the way from Baku to Tbilisi cost 26 euros for the two of us. Also our Azerbaijan e-visa costs (21,5 € per one visa) are included in traveling costs.
Fitness and other costs
We used in total 85,43 € for fitness during the three months, so roughly one euro per day. This includes gym fees in all three countries. When in Batumi, we bought a very affordable monthly card to a gym called Orbi Fitness, and used it 11 times when in the city. In addition to that we bought 9 single tickets to different gyms. Ticket prices varied from 1,7 € to 3,70 €, and the monthly card was around 14,5 € only.
Other costs include entrance tickets to sights like Akhaltsikhe Fortress in Georgia and Winter Palace in Sheki, Azerbaijan, 2 hair cuts for Toni in Georgia (1,7 € per cut) and a horse ride over a river during our hike in Svaneti. In addition there are some toiletries and small donation to a museum in Yerevan. All together these other costs were 30,34 €.
Costs of ten weeks in Georgia
As stated also earlier, we spent most of out time in Caucasus in Georgia, in total 69 days (10 weeks). We started and ended the trip in Tbilisi, and spent there altogether 11 days. The next stop was Kutaisi (4 days) on our way to Mestia and hiking in the gorgeous Svaneti region in Greater Caucasus Mountains (5 days). After that we moved to Batumi, and stayed there several times, all together 47 days, so it really was like a home base for us. On our way to Armenia we stayed one day in charming Khulo and one day in Akhaltsikhe.
Total costs of living and traveling for 10 weeks in Georgia were 1994,49 € for us two, which is 28,91 € / day. In average we paid 9,50 € per day for accommodation (apartments or private rooms), and 15,57 € per day for all food and drinks, either in restaurants or bought from supermarkets. Georgia is one of the most affordable countries we have ever traveled in, so it really is a paradise for budget travelers. Tourism is quickly increasing though, and it might have a negative impact on the price level.
Costs of one week in Armenia
Due to the dental operations, we only had one week to travel in Armenia. We decided to stay the whole time in the capital Yerevan, and save exploring the country outside it for the next time. Living in Yerevan probably is a bit more expensive than elsewhere in the country, and there are not that much budget accommodation options available than in Tbilisi for example. However, a bit outside the center it's possible to find hostel rooms with under 15 € per night (during winter even under 10 €). We stayed in just recently opened Thailand Centre hostel.
Total costs of six days in Armenia were 202,89 €, so 33,81 € / day, which is a bit more than in the other two countries. This is mostly because we ate out more often than usually, and the accommodation was a bit more expensive than in Georgia and Azerbaijan. Costs include also the bus tickets from Gyumri to Yerevan and from Yerevan to Tbilisi.
Costs of two weeks in Azerbaijan
Azerbaijan is a very cheap country to travel in. The capital Baku is wealthy, and there is all kind of luxury available, but even in there it's possible to find cheap accommodation and restaurants. Outside the capital the country is quite rural, and in small towns you can find cheap guesthouses and some hostels. Eating in simple local restaurants is very affordable. Fuel is super-cheap in Azerbaijan, and partly because of that, bus ticket prices are very low.
We stayed in Azerbaijan 13 days, our of which 8 days in Baku and the rest in charming Sheki near the Greater Caucasus Mountains. Total costs of the 13-days trip to Azerbaijan were 356,95 €, so 27,46 € per day for two people.
As a super short summary, we can warmly recommend traveling in Caucasus for budget travelers, and well, basically for everyone. These beautiful countries are not yet spoiled with tourism, and very affordable and safe to travel in. All locals we met were hospitable and welcoming, and willing to help even if we didn't have common language. English is not spoken everywhere, so it's useful to know some Russian, as many people understand it. Regarding setting a budget for traveling in Caucasus; 25 € per day per person is well enough if you use basic accommodation like hostels, eat in local restaurants and use public transportation. As our example shows, even 15 € per day per person is possible on a longer run.
Have you considered traveling to Caucasian countries? Was this post useful? Leave a comment below!