Overview of year 2017: Life changes and road trips
2017 was a year of big changes and new beginnings. It was the year when the FinnsAway story began, as we became nomads and travel bloggers. In the beginning of the year we were still fully tied to 9-to-5 office life in Oulu, Finland. Tied to a life that was rich in terms of friendships, social life, hobbies, societies. But a life filled with days and weeks that had started to repeat themselves and lose colors. We had been bitten by a travel bug a long time ago already, but our life with permanent jobs and other responsibilities meant keeping that wanderlust in chains, and only seeing the world during short holiday trips.
The beginning
In February 2017, when we were on a short winter holiday trip to Morocco, we already knew that it would be the last actual holiday we would have, at least from the current jobs. We had made the decision, that by summer we would jump out of the so called normal life, resign, sell our belongings and leave it all behind to travel without a return ticket, and to start to work location independently. Spring flew past quickly, and soon Toni sold his company, and I had hard time telling my boss and colleagues that I was quitting. One minute it all felt amazingly good, but the next minute brought the negative thoughts about making the worst mistake ever, ruining the career and throwing the whole life out of the window. But well, I guess that changing your whole life is not even supposed to be easy…
June was a totally crazy month. We were busy with, well, everything. We were still working the normal hours, but on the side tried to sell our apartment and started to get rid of all the stuff we had collected around us during the years. We didn't even own very much I would say, but still the amount of clothes, decorating items, dishes, sports equipment and just random rubbish was a bit shocking. Also, in June we launched this FinnsAway site and related social media channels, took care of all the needed paper work, organized a farewell/wedding party and visited friends and relatives. Phew.
First steps of nomad life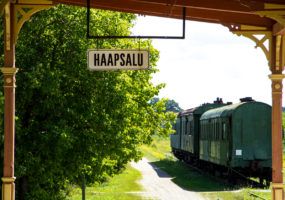 By mid July we raised a toast in an empty apartment; it surely was first time ever to drink champagne from a disposable cup, sitting on the floor. 🙂 Our backpacks and all the remaining stuff was packed in our car (Tiida, the travel companion), and we were ready to hit the road. In the beginning of August, after some road tripping and more farewells in Finland, we crossed the border to Estonia and spend the rest of the year traveling south through the eastern parts of Europe. We didn't really have a clear route plan when we started, so we more or less went were the wind blew us, and enjoyed the freedom.
In the beginning of the road trip we moved forward quite quickly; seems that it took some time to find the new rhythm of nomad life, to fully understand that we are not in a hurry anymore. We spent only ten days altogether in the Baltic countries Estonia, Latvia and Lithuania, staying mostly in such destinations that we had never visited before. If we would need to pick just one, our favorite was the Saaremaa island in Estonia.
Poland and Slovakia in August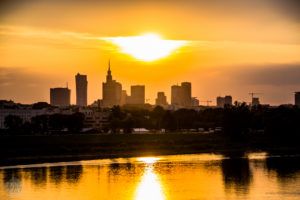 Poland was the first country where we actually stopped for several days in one place, and took time to work with this site and other stuff. The first longer stop was in Warsaw, and have to say, that the capital was a positive surprise! I'm not really sure from where we had picked the preconception that Warsaw would be grey and dull, but it was anything but that. Another stop was in Katowice, which didn't impress us as much as Warsaw, or as much as Krakow did when we visited it few years back.
Read also: Road trip through Poland and visiting Auschwitz
Slovakia was the first totally new country for us, and the in the main focus of our visit was hiking on the mountains. However, we started with a visit to the capital city Bratislava before hitting the trails in Tatra Mountains and Slovak Paradise. In High Tatras we made our first multi-day (well just 2 days, but anyway) hike, staying the night up in the mountains.
Hungary and Romania in September / October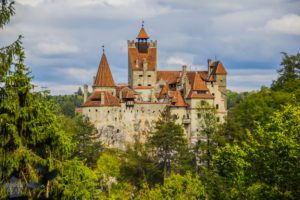 We have traveled in Hungary couple of times before, but were thrilled to be back in Budapest again, it's just a charming city. We attended to the annual Budapest wine festival, met with some friends and just enjoyed the atmosphere. Before crossing the border to Romania we stayed few days in the city of Eger, in the middle of a wine area by the same name.
Romania was another totally new country for us, and we loved the combination of rugged mountains, beautiful scenery, lively cities, mighty castles, beach holiday destinations and affordable price level. Hiking in Fagaras Mountains was an amazing experience, we could have easily spent longer than couple of days up there! We stopped for a bit longer time in the capital city Bucharest and in Constanta by the Black Sea, and also visited several smaller towns on our way through the country.
Moldova, Transnistria and Ukraine in September / October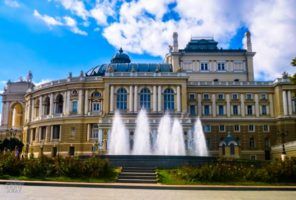 When in Moldova, we mostly stayed in the capital city Chisinau, making some day trips from there. We had a tour in Cricova wine cellars and followed brewing process in Litra Brewery for example. We also visited Transnistria, the mysterious, self-proclaimed state in eastern Moldova. That day trip was done from Ukraine side actually, but it's fully possible to do it from Chisinau as well.
We were first timers in Ukraine too, visiting Odessa and Zakota in the south-western corner of the country. Zakota was our first experience of visiting a beach holiday destination in off-season. After that we have get more used to see empty beach boulevards lined with closed hotels and restaurants. Ukraine is a huge country, and we definitely need to go back some day and see more of it.
Bulgaria and Macedonia in October / November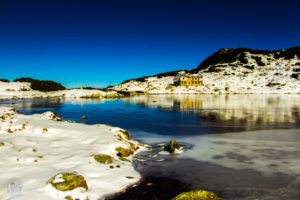 We ended up in Bulgaria mainly because we happened to be in the neighborhood, and wanted to learn more about the country that we had just shortly visited before. We made couple of wonderful hikes in the mountains and were charmed by the city of Plovdiv. Bulgaria proved to be a wonderful destination for outdoor enthusiasts and beach lovers alike, and the price level is very affordable. Combine that with vivid cities like Sofia and Plovdiv, and you get a perfect location for digital nomads to stay for a few months!
In Macedonia we lived in the capital city Skopje, that has changed oh so much during past few years. The nearby Matka Canyon was a perfect day-trip destination for hiking and admiring the beauty of the nature. Macedonia also has mountain regions, and lovely towns, like the lake-side gem Ohrid that we visited a few years back.
Albania and Greece in December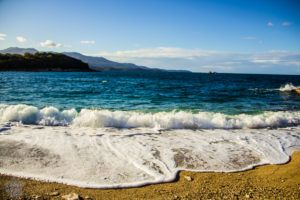 We had no big plans for Albania at first, but ended up staying a bit over one month in there. From mountains to perfect beaches, from the lively capital Tirana to small villages on hillsides, and from handsome monasteries to ancient ruins, Albania seems to have it all for travelers. And when all that comes with a very affordable price level, it is no wonder that the amount of visitors is quickly increasing.
Further reading: Summary of our month in Albania
When finally leaving Albania behind, we arrived in Greece late December. During the month we have admired rock formations and monasteries of Meteora, spent Christmas in coastal Itea and celebrated new year in the capital Athens. Exploring Greece continues still in January 2018.
Activities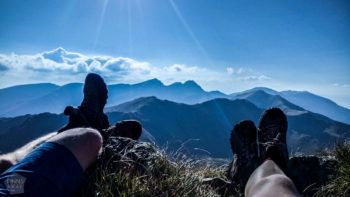 We are into sports and healthy lifestyle, and also like to share our experiences of staying fit while traveling. On top of posts about hiking adventures, we publish sport statistics, i.e. monthly sum-ups of all sporty activities. Since beginning of August, we exercised in total 85 times and hiked and ran over 600 kilometers during last five months of 2017.
To keep things balanced, we have eaten well and had our share of local craft beer and wine. 🙂 Especially in the beginning of the road trip we tasted and rated beers, even using apps for that purpose. Craft beer boom has reached most of the countries in East Europe just recently, but we managed to find nice brewpubs and bars serving local and international delicacies especially in bigger cities. When in Chisinau, we visited Litra Brewing Company, the first artisanal brewery of Moldova.
FinnsAway statistics in 2017
Visited countries: 14, out which 5 new for us
Ways of traveling: 0 flights, 8500 kilometers road tripping, 2 bus trips, 3 ferry rides
Mostly apartments and hostels, 11 nights in hotels, 5 nights in mountain huts and about twenty nights camping
Total costs (5 months): in total 6150 €, so in average 1230 € per month or 41 € per day for 2 of us.
Related post: Cost summary of year 2017
Best nine in Instagram
These pictures were the most popular in our Instagram account that was launched in June 2017. No clear trend visible, since all are from different places and situations. The most popular pic with the tank is from Tiraspol in Transnistria.
Favorite posts
The blog was launched in June 2017, and the amount page visitors has grown quite nicely month by month. We published in total 44 posts during the first six months. Looking back at the first posts, I realize that the style of writing has changed and improved on the way, which of course is natural for a new blogger. I started with more travel-diary-style, whereas nowadays the posts are a bit more like travel articles.
We spent long hours not just with creating new content to the blog, but also with developing and optimizing the FinnsAway site. That work will continue, and in 2018 we will provide more useful content for travel enthusiasts and those interested in turning traveling into a lifestyle. Another goal is to start posting more about the financial side and about working location independently.
The most popular posts were about money, capital cities and hiking. Monthly sum up posts of traveling costs, that open up our budget and consumption have all found nice amount of audience, and hopefully with them we can help others to plan their travel budget in different destinations.
Top 5 posts of 2017
Money matters, August 2017
Exploring Bucharest and Constanta in October
Day trip to mysterious Transnistria
Skopje, the astonishing capital of Macedonia
Hiking in Bulgaria: Rila Mountains
How does 2018 look like?
Coming year for sure will be full of adventures, but we actually haven't yet decided the next destinations. The first weeks of the year will be spent here in Greece, and further plans will be published later! Instead of only focusing on traveling in Europe, we surely will explore also some other continents in 2018. During the years before becoming nomads, we have made short trips to 5 different continents already, but now it will be time for traveling slower, diving deeper into different cultures and choosing the roads less traveled.
Thank you for following the FinnsAway adventure and Happy New Year!