Travel cost summary, August 2017
How can you afford to travel? How much does it cost? Did you win in a lottery?
Probably the most frequently asked questions for long-time travelers are about money. Also we have already now heard all those listed above, and of course, money does matter. It is of a constant interest since after all, there is limited amount of it for all of us.
Answering the third question is easy; no, we haven't got legacies neither won in a lottery (though I still have my hopes up with the shared lottery that we have with my former team members 🙂 ). The first question is not much harder; we do have some savings to keep us going until further notice, and the plan is to also start earning money on the road at some point. More of that, and overall about our business ideas, will follow later. For now we try to focus just on travelling and getting used to this new life-style, while developing this site on the side.
Then to the question about how much travelling costs. There is no precise answer to that of course, since it highly depends on where you are and how high standards you have for accommodation, and how often and in how fancy restaurants you want to eat and drink.
What we can tell as an absolute truth, are our own expenses from the countries we have visited.
We are keeping tabs on all purchases (I am a fan of old school notebook accounting when on the road) and using excel to categorize the costs and to compare them between countries. On top of these daily travelling costs, there are still some fixed costs, like insurances for us and the car, that have been paid beforehand. We will write more about the insurance costs when we are investing in new, longer term travel insurance. Currently we are still using the yearly ones that we have from Finland.
In this post we open up our expenses from the first month on the road, and plan is to keep providing monthly sum-ups. On this current road trip, our target budget is 50 € per day together (so 25 € per person), including all costs from fuel to beer tastings. Have to admit that it is tight, at least now when we are moving pretty quickly from one place to another. We won't go bankrupt if and when this budget exceeds, but you know, have to have targets to keep things under control!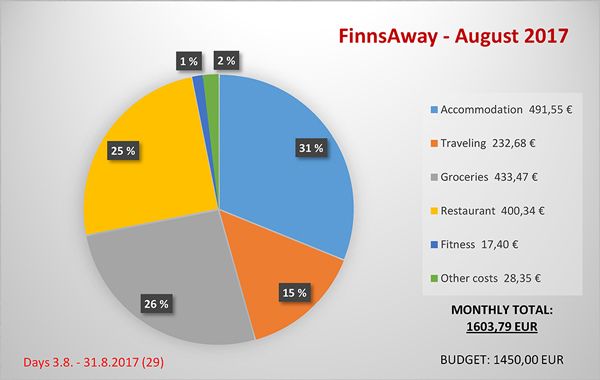 So to start with, here is a chart of all expenses from August 3rd (when we crossed the border of Finland and Estonia) until the end of the month, divided in cost categories. Visited countries during August were Estonia (6 days), Latvia (2 days), Lithuania (2 days), Poland (9 days) and Slovakia (10 days). We spent altogether 1603,79 €, which comes down to 55,30 € per day (27,65 € / day / person).
Not surprisingly, the biggest category is the accommodation costs, even if the daily average is not more than 17 € for two of us. We have chosen double rooms in budget hostels (mostly using booking.com and Airbnb) and spent 12 nights in camping areas. Plus one in a mountain hut, but that was actually more expensive than most of the hostels.
Then there is food, both from restaurants and from grocery stores. We like to cook, so if there are decent kitchen facilities in a hostel or a camp site, we often choose to buy groceries and make the dinner ourselves. On top of food, the groceries category also includes beers and wines and some small consumer goods, like washing powder and such, that we have bought from supermarkets.
All in all, 14,95 € spent to stores daily, and 13,80 € to restaurants, including drinks. In all countries so far, eating out has been inexpensive, taking in to account that we are in Europe, not in South East Asia for example. Beer and wine in restaurants have been delightfully cheap also (as Finns, we are used to quite different price level in our home country).
The cost of traveling, now when we still have our own wheels, is surprisingly low, only 8,02 € per day. This includes fuel costs, ferries to/in Estonia, and public transportation like tram tickets and city buses. Our travel companion Nissan Tiida runs with diesel, and is not that thirsty on the road (unless driving faster than 120 km/h or so), average consumption being around 5 liters per 100 km so far. Diesel has been the cheapest in Latvia, but there are no major differences.
In the category other costs there are tickets to tourist attractions (in August tickets to Auschwitz), maps (hiking map to Tatras) and some occasional parking fees. Category fitness includes fees to gyms, and actually we have managed to visit couple of them also for free.
Based on this summary, is traveling expensive then? For some of you, 1600 € per month for two in Europe probably sounds ridiculously cheap, while others might think that it is a huge amount of money. We think that 50 € daily budget for two is close to the minimum in these countries, if you want to keep some level of comfort. You could live with less for sure, if you are ready to use more camping sites, sleep in dormitories when in hostels, and cut down food expenses by avoiding eating out and watching closely the prices. Also alcohol, even when it's cheap, raises the expenses, so if really on a shoe-string, don't drink. But where's the fun in that? 🙂
Would you survive with 25 € a day? Share you thoughts about travelling costs and budget travelling in the comment box below!