Hiking in Slovakia August 2017, Part 2
In this post we introduce our hikes in High Tatras and in Slovak Paradise, check out also the first part of our hiking adventure in Slovakia!
After Low Tatras, our next hiking destination was the mighty High Tatras mountain range in the northern part of Slovakia, in National Park High Tatras (Vysoke Tatry), which continues all the way to Poland side. Highest peak in High Tatras is Gerlachovsky Stit (2655 m) and probably the most visited is Lomnicky Stit (2634 m), which is achievable by a cable car.
Our bases for exploring High Tatras were the city of Poprad and smaller town of Kezmarok close to the mountains. In Poprad we stayed in Pension Slavia and enjoyed some micro brewery beers for a recovery drink from Tatra brewery, that is conveniently located in the city center. Kezmarok we chose to visit mostly due the budget-friendly accommodation, a spacious room in Ubytovanie B5 Centrum costs under 20 euros. We stayed for two days, since needed to have some laptop time before heading up to mountains again. Kezmarok town is actually really nice, and there even is a castle. We happened to visit it at the time when there was some kind of bird exhibition with eagles, hawks and owls, impressive creatures seen from the close range.
2-days hike in High Tatras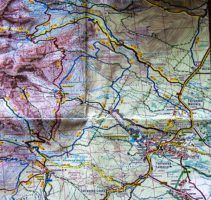 For this hike we bought a decent hiking map (1:40000) from tourist info for 4,5 euros, and planned the hike a bit better beforehand. It was a bit shocking to learn that the mountain huts in High Tatras are pretty expensive, and also so popular, that reservations are made long time ahead in high season. Huts are more like quality pensions up there, with double rooms and hot showers even. Luckily there is always an option to stay on the floor / in dorm with mattresses if all beds are full. We had no eagerness to pay over 20 euros per person for a bed with linen, so we decided to take sleeping bags and air mattresses with us, and hope that we can stay on the floor somewhere (huts have a duty to offer space for everyone who arrives so late (or tired), that it's not an option to continue down from the mountains).
Our starting and end point for the hike was Tatranska Lomnica village in 850 meters (also achievable by public transportation). There is lot of parking space with park meters, and charge for two days would have been 12 euros, which is relatively much. So we followed the example of some Polish fellow hikers, and utilized the parking area of nearby football field with no fees. Starting point of the hiking trails is next to the tourist info and railway station in the town center.
Here is how our two-days hike was structured;
From Tatranska Lomnica to pri Zelenom plese
There are couple of optional routes to the awesome Green Mountain-Lake Valley (pri Zelenom plese), but based on recommendations found in internet, we chose to start with green-marked trail to close-by Hotel Praha, and then change to yellow-marked trail towards Tatranske Maliare. These short sections are nice, easy-to-walk paths, and it takes just about half an hour to reach the blue-marked trail that goes up from Maliare.
The blue trail is a bit more rocky path, and it takes around 40 minutes to arrive to cross-road with yellow-marked bigger path, that is also a MTB route up. Then we walked up the yellow-marked trail past Salviory Spring along all the way to the mountain hut (Chata pri Zelenom plese) in Green Mountain-Lake Valley (1751 m).
There were a lot of other day-hikers on the route, mostly coming back down (we started the hike not until 11) and the yellow trail seems to be really popular. It also works as a service road for the mountain hut, and we witnessed a beer tank transportation operation on the way. Ascend is partly bit boring, but when coming closer to the hut, the views turn amazingly beautiful. The hut is located in the valley surrounded by high peaks on three sides, and next to the hut is a lake with oh-so-bright water and perfect reflections. We reached the hut after around 3 hours from the start, and took a short break.
From Chata pri Zelenom plese to Jahnaci Stit and back
As there was still plenty of time before dark, we decided to climb up to Jahnaci Stit peak in 2230 meters. To reach the peak take the yellow trail up. It is around 2 hours quite steep climb with short technical part with chains to be used for help to get up or down. On our way up we met several super-cute mountain goats, agile little creatures they are! Before the peak itself the path goes over Kolovy Priechod pass in 2063 meters, and when climbing over, the view is again marvelous. Lines of peaks continue all the way to Poland side, and when looking down, there are green-colored mountain lakes. Pictures don't do fully justice to the landscapes, you'll need to go there and see it for yourself!
After continuing up to the top of Jahnaci Stit, we had a short break before heading back to the hut. Day was clear, but towards the evening the clouds often fall down and it can get really foggy, so be careful and aware of the weather conditions when up in the peaks. Going down was almost as slow us going up, took us around 1,5 hours to get back to the chata.
In the hiking maps the route destinations are usually marked in hours, not in kilometers, and that in fact is better and more useful way, since in rough terrain and when climbing up, your pace can be surprisingly slow. Actual duration of course then depends on how long breaks you have and how fit and fast hiker you are, but the map markings provide pretty good estimates.
After all together 6 hours and around 16,5 kilometers of hiking, mostly upwards (1495 m vertical climb), a soup dinner accompanied by a beer tasted super-yummy, and a hot shower was a real pleasure. Chata pri Zelenom plese is such a nice place either to a have short pause or to stay longer. We spent the night in a separate, warm dorm building with 36 bunk beds with mattresses. Almost all the places were full, as August is still fully high season. Price for a bunk with breakfast was 14 euros, soups cost 4 / 6 euros and a draft beer of 0,5 liters was 2,5 euros.
From Chata pri Zelenom plese to Encian cable car station
On the next morning we got up early, and enjoyed a rich breakfast with fellow hikers. Unfortunately coffee was not included in the price, so as a tip, carry some instant coffee with you! The night was chilly and starry, but morning sun warmed up the air quickly. We didn't make any haste, and were almost the last ones to leave the hut. Next stop was at Encian, which can be reached from the Green Mountain-Lake Valley via red-marked trail that goes over the mountains in south. After short section along a paths in the valley, the trail starts to zigzag up to a steep slope, up to over 2000 meters, and again there is a short technical section with chains. We reached the top after bit less than 1,5 hours of sweaty climbing, and again enjoyed the awesome mountain views from the top.
The trail down the other side goes first along a quite steep path, and then there is a longer section of rocky trail until you can see the next chata, which also serves as a cable car station. The rest of the path down is again quite steep, and there was lot of cable-car tourists walking around. Another cable car up to the Lomnicky Stit in 2063 can be taken from Encian station. Hut area was full of people coming and going, so we quickly continued onward.
From Encian to Hrebienoc
The red-marked trail, Tatranska Magistrala, that is going through the whole High Tatras mountain ridge, continued as really rocky path going along the slope and via Mala Studena Valley. This section of the trail is also really popular, there where even a lot of families with small children, which was a bit surprising since the path is not the most easy-to-walk really. We followed the red-marked trail until Hrebienoc, another cable car station with fancy hotel and restaurant, again with bunch of day-trippers enjoying the perfectly sunny summer-day.
We had a break and enjoyed couple of beers in the sunny terrace, even if those were a bit pricey (2,80 €). Better choice would have been the close-by, more quiet Bilikova chata along the green-marked trail back towards Tatraska Lomnica. It's just two minutes down the path, and beer price dropped to 1,90 € per 0,5 liter.
From Hrebienoc back to Tatranska Lomnica
To get back to Tatranska Lomnica from Hrebienoc without walking along roads, you need to go a bit backwards along the green-marked trail, and then take the blue-marked trail in Studeneho potoka cross-road. In the cross-roads you'll find a small waterfall. There was a lot of people around the waterfall, but after continuing down along the blue-marked trail, we seemed to be totally alone. This section goes partly along nice forest paths, with some small stream crossings. After around an hour we reached the cable line that is going up from Tatranska Lomnica, and the rest of the way was along a small zig-zaging road with shortcut paths.
This hiking day took close to six hours, and again instead of coming back down, we would have rather continued along the trails up there! Strong recommendation to this section of High Tatras, and especially for the Green-Mountain Lake in Dolina Valley!
Some rules and tips for hiking in High Tatras
trails are well marked, but still, have a hiking map
don't risk it in high elevations, check the weather forecast beforehand and don't overestimate your pace
for emergencies, have the number of mountain rescue with you (as well as phone of course)
high elevation routes are closed from November to mid-June, respect that rule (conditions are dangerous during the season)
stay on the marked paths
wild camping in National Park is forbidden
this is hopefully clear to everyone, but still; don't leave any trash behind
hiking boots are needed, terrain is rocky
carry warm clothes with long sleeves, nights are cold even in the summer when it is 30 degrees during the day
it's good to have waterproof jacket or other cover for rain
sunscreen and a hat / head scarf are needed for protection from the sun
have a torch or preferably a headlight with you, since when it is dark, it really is DARK
carry plenty of water, even if there are water sources in mountain huts and lot of mountain streams
food with high calorie content is recommended to keep energy levels up
keep some cash with you, food and other supplies can be bought from mountain huts
Short day hike in Slovensky Raj (Slovak Paradise)
After spending a night in Tatranek Camping, we had planned a day off from hiking, but since the weather was still perfect, we decided to change the plans and headed to Slovensky Raj (Slovak Paradise) National Park south from Poprad. This national park is famous for its canyons and technical trails in them.
We chose to start our day hike from Podlesok village, and that seemed to be pretty popular thought on that sunny day. The field that served as a parking lot for the national park was full of cars when we arrived early afternoon. Had to pay 3 € for parking and other 3 € for two tickets to the park, but it was totally worth it.
Green-marked path up along Sucha Bela Gorge is a one-way route through a canyon with its bottom filled with rocks, fallen trees and a water stream. Waterproof hiking boots are strongly recommended, but since my heel was in pretty bad shape after High Tatras, I chose to give it a try wearing walking sandals. Not the brightest choice, since it's impossible not to get your feet wet, and the rocks and trunks, not to even talk about the metal ladders, are slippery, but somehow I made it without any injuries.
The trail in Sucha Bela canyon goes up towards Mala Polana peak in 1030 meters, and there are several waterfalls on the way. To get past them, you need to trust in the ladders, wooden bridges, metal steps and chains. Highest ladder goes up 30 meters, so if you suffer from the fear of heights, this may not be a hike for you. Even without that it was a pretty thrilling (but awesome) experience to go up the slippery ladders with no safety equipment. Views in the canyon are especially nice around the waterfalls, and the stone walls are high and partly forested.
From the top of the gorge there are several trails further to the national park, and depending on the time you have, a longer day hike back to Podlesok or even a multi-day hike is possible. Since we had booked accommodation from small town of Telgart already, we needed to head straight back down along the shortest route along yellow and red-marked trails.
If/when you are on a hiking trip in Slovakia, don't miss Slovensky Raj, it is definitely worth at least a day or two!
Slovakia has been great for us, but it is time to move on. The next destination is Hungary with its wine regions!