Skopje, the astonishing capital of Macedonia
After a short city holiday in Plovdiv and hiking in Balkan Mountains and in Seven Rila Lakes in Bulgaria, it was time to move on to Rebublic of Macedonia. We have traveled in the south-western part of the country on our short Balkan tour in 2012 but didn't see the capital at all back then. So we decided to go there now, and spend couple of weeks in Skopje.
We crossed the Bulgaria-Macedonia border in Obel-Delchevo late in one Tuesday evening. The road towards the border was so quiet, that we started to doubt if the crossing is open at all. Luckily it was, and after a short stop, basically just showing our passports and registration document of the car, we entered in Macedonia.
Expectations against reality
Since it was so late, we stayed the night in the small town of Delchevo near the border, and then drove to Skopje next morning. To get some kind picture of the city beforehand, we read an old Macedonia guide book from 2007 on the way. We learned that back in 1963 the city suffered huge losses in a disastrous earthquake that killed over thousand, injured much more, destroyed most of the city and left 70 % of the population without home. This devastating incident led to quick reconstruction to get the city back on its feet. Once full of historical and handsome neoclassical buildings, the new face of the city center was dominated by concrete buildings and modernist architecture with communist and brutalist style landmarks.
As the guide book stated that "Skopje is not anyone's idea of an architectural gem" and that "there really aren't that much sights in the new town", we didn't expect much of it. Target of our walking tour was mainly to see the brutalist style buildings like the main post office, visit the Skopje Fortress and wander around the bazaar streets in the so-called old town across the Vardar river that runs through the city. With these presumptions, we were totally bowled over when arriving at the central square by the river, called the Macedonia Square.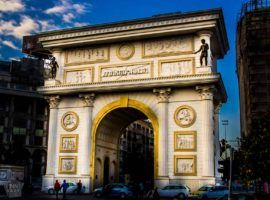 First we walked through a giant triumphal arch, the Porta Macedonia, that somehow looked like it doesn't belong there. Then we noticed the statues, that are literally everywhere, there must be hundreds of them, and part of them are huge. The Warrior on the Horse -monument, that is said to present Alexander the Great but not officially named after him, greets the visitors from high stand above a fountain circled with smaller statues of soldiers and lions. There are brand new pedestrian bridges over the river next to each other, and those are aligned with statues also. Only after gazing those for a moment, we realized that there are bunch of shiny but antique-looking buildings in different styles by the river and around the square.
Based on our foreknowledge, none of those should have been there. The buildings are beautiful, but the amount of everything and mix of styles is just overwhelming. Monuments, new museum and governmental buildings, fountains, restaurant boats, amusement park for kids, music and lights with huge Macedonian flags flying above this all. The city center was everything but the description we had just read about it. Fake antiques with features from Las Vegas and Disneyland. Tasteless and kitsch mix, but with no question impressive. What happened to Skopje?
The Skopje 2014 project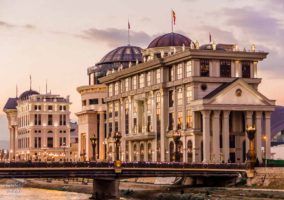 Project 'Skopje 2014' happened. A massive, expensive, tremendous governmental-financed project with an aim to give the capital a more visual, classical image, to inspire stronger national identity and to boost economy and tourism. As the name implies, this reform that was officially announced in 2010 (but started already earlier) was supposed to be completed by 2014, but it is still ongoing. Part of the new-but-old buildings have been built from scratch, when others are existing buildings that have been given some heavy make-up, meaning that the facades have been reconstructed.
Some of the restored buildings respect the appearance that the city had before the earthquake, but then there are some over-kills that make the overall impression confusing. And not all is as fancy as it looks; we had to go and knock on the massive, marble look-a-like columns of one still unfinished facade, and as expected, those were hollow, likely just plasterboard covered structures.
The original budget estimation for the project was 80 million euros, but the real expenses have already exceeded 700 million euros and estimated costs are somewhere around 1 billion. It is a huge sum of money for this relatively poor country. It's not hard to imagine that all this didn't come without criticism. There has been loud resistance towards the project during the years, and many residents and fellow Macedonians think that the reconstruction is not just too expensive, but also ridiculous and degrading. Protests haven't stopped the constructions though, and today's Skopje has a new face. Loved and hated, kitsch, fake but in the end stunning face.
Not all is changed, at least not yet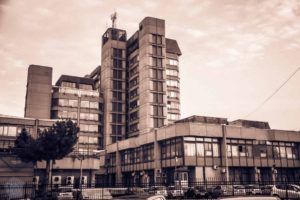 The brutalist style raw concrete architecture is not all gone though. Stepping out of the renovated area there still are fascinating landmarks from 60's to 80's left. Central Post Office, National Bank of Macedonia, Central Train Station, University buildings and student dormitories to mention a few. These structures may not be beautiful but are handsome representatives of their time. Hoping that the trend of new facades won't go too far. These buildings don't need any make-up to be interesting sights and to draw tourists. Check out the photo galleries to get an idea of the contrast between the new and old face of Skopje.
Skopje 2014 project dominates the city center, but the capital of Macedonia has more than architecture to offer for visitors. It is an inexpensive city holiday destination with shopping malls, nice restaurants and cafes to spend some time in. The bazaar streets on northern side of the Vardar river are still there, and are well worth diving in and exploring. Churches, mosques, events, walking tours getting to know the city behind the face lift.
Outdoor-enthusiasts won't be disappointed either; Vodno Mountain rises just beside the city and there are several hiking trails and paths suitable for trail running. On top of the mountain is a huge Millennium Cross, that is reachable also by a cable car. Canyon Matka makes a perfect day trip from the city, offering nice hiking trails and beautiful landscapes. Probably the best time to visit the city is early summer and autumn, and mid-summer also if you don't mind the heat.
Related post: Great outdoors in Matka Canyon

How to get to Skopje
Skopje is situated in the northern part of Macedonia in the Balkans, southeastern Europe. It is a landlocked country with population of bit more than 2 million, neighboring Albania in the west, Serbia and Kosovo in the north, Bulgaria in the East and Greece in the south. Alexander the Great International Airport is situated 24 km out of Skopje. It is well connected with several cities in Europe, and there is a bus service between the airport and city center. Train travelers can get in Skopje from Greece and Serbia and there is comprehensive international bus network.
Have you visited Skopje, either before the reconstructions or just recently? Share your thoughts in the comment box below!