Month in Albania: summary and costs​
Albania is one of the least traveled countries in Europe, but becoming more and more popular holiday destination. The history of the country is unusual, and it used to be closed society for decades until early 1990's. Nowadays Albania is developing quickly, and the atmosphere towards visitors is friendly and welcoming. Especially the southern part of the country is wonderful destination for those looking for inexpensive beach holiday and beautiful scenery; it is an area where snow-capped mountains and green valleys meet the blue waters of the Ionian Sea, small villages spread on the slopes together with olive groves and trees heavy with citrus. Shoreline is filled with rocky cliffs, sandy bays and small towns and villages here and there.
This is a roundup post of our month of nomad life and road tripping through the country late 2017.
Tirana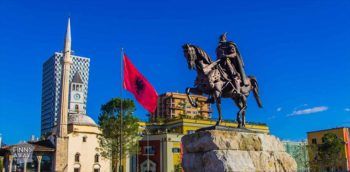 We started by driving to the capital city Tirana from Kosovo. Our week in Tirana was filled with long working days, but we still had some time to enjoy the atmosphere and sights of the city. Tirana clearly has developed a lot during past few years, and looks more like an European capital than it used to.
Read also: Nomad life in Tirana, Albania
Durres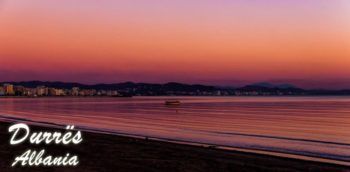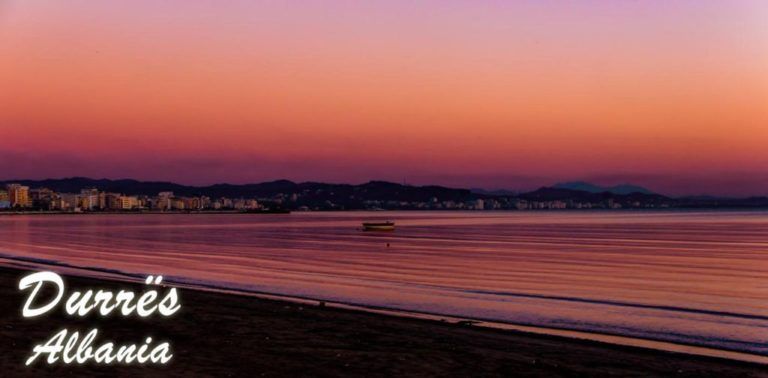 We would have loved to hike in the mountain regions, but it was getting quite chilly for that. So we decided to head to the coast instead, and slowly travel south visiting the coastal cities and beach towns. First stop was the port city of Durrës, just 30 km west from Tirana. Durrës is the second largest city of Albania, and the center is lively and has some ancient ruins and remains of the handsome old city wall. At first sight Durrës felt a bit more like a city holiday destination than a beach paradise actually. However, the long and sandy coast line with a walkaway lined with hotels and restaurants surely comes alive during summer, with domestic and foreign tourists alike.
Read also: Exploring coastal Albania: Durres
Vlore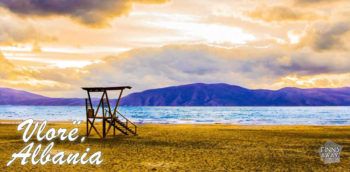 Our next destination was Vlorë, an entry point to southern Albanian Riviera and a handsome port city. Vlorë has been seen as the best hope for developing international tourism in the country, and surely has potential for that. Huge construction works have turned the coastline to charming, wide boulevard, and the amount of nicely decorated brand new cafes and restaurants is surprising.
Read also: Exploring coastal Albania: Vlore
Albanian Riviera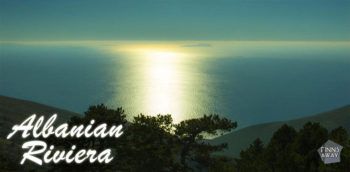 The coastal road south from Vlorë offers one of the best road trips in Albania. After climbing up to a mountain pass, the road winds down past picturesque villages, steep cliffs and small sandy beaches. The best beach destinations in the country are located along the so called Albanian riviera, coastal stretch from Palace to Lukove. Sarandë is the biggest city in the south coast, and a popular entry point to Albanian beaches from the Greek island of Corfu.
Read also: Llogarajan pass and Albanian Riviera
Ksamil and Butrint
Only 15 kilometers south from Saranda lies the small beach town of Ksamil. It was really quiet in winter, but during the busy summer months the beaches next to the town can get very crowded. Nearby sights make perfect day trip destinations from Ksamil, Saranda or Corfu. The ancient city of Butrint was our favorite; so many ages of history and well preserved ruins in such small area is something special.
Read also: Ksamil, Butrint and the Blue Eye
Cost of living as nomad in Albania
Besides the beautiful scenery, more and more tourists love coastal Albania due to the very affordable price level. When visiting in off-season, the price of accommodation was really low, but surely there are plenty of inexpensive options during summer too. Food and drinks are very affordable both in restaurants and in grocery stores; meal in a decent restaurant costs only few euros and a 1 liter carafe of local wine is just about 5 euros in restaurants.
For us, Albania was so far the cheapest country to travel and live as nomad. We spent all together 33 days in the country, and total costs for two of us were 909 €, which makes 27,5 € per day for two. This includes accommodation (mostly in apartments rented for short period via booking.com or Airbnb with average price around 13 € per night), food, drinks, groceries, gym fees and fuel. If you are planning a short holiday trip during the peak months, this daily "nomad budget" might not be enough, but should anyway help to understand that Albania is very budget-friendly destination, one of the least expensive countries in Europe actually.
Driving and crossing the borders
Driving your own car to and in Albania was at least for us totally problem free. Border crossings from Kosovo and to Greece were quick and easy. When coming from Kosovo we just needed to show our passports and registrations papers of the car. In Albania-Greece border there was a customs check done to the car, but otherwise it was just showing the papers, including the green card, and driving through.
Albanian traffic culture is somewhat chaotic, at least in Tirana, where the roundabouts are crazy full of cars, finding a free parking space is almost a mission impossible and the locals drive a bit aggressively. When in rural areas, we saw no actual traffic jams, but there can be pretty much anything on your way; cows, goats, dogs, horse-carriages, tractors, you name it… 😀 Road conditions vary a bit, but all the main roads we drove were in surprisingly good condition. In smaller roads, even in cities, there can be huge potholes and other damage, so stay alert and drive slowly. Mountain roads naturally are winding and quite narrow. 
Mountains and hiking
The cost of living and the beauty of the coast alone could bring us back to Albania at some point, but the main reason for new visit during warmer months would be the mountains. As you probably already know, we are keen on hiking, and definitely eager to hit the trails in Albania. Had to skip that for now, since we don't have warm enough gear for below zero temperatures. So the next posts about Albania will most probably be about mountain villages and trekking, just don't know yet when.
Facts and historic milestones of Albania
Total population of the country is around 3 million people, out of which 800 000 lives in the capital Tirana.
Borders with Mediterranean Sea (Adriatic and Ionian Sea) in the west, Montenegro in the northwest, Kosovo in the northeast, Macedonia to the east and Greece to the southeast.
Proclaimed independence from the Ottoman Empire in 1912. Was militarily occupied by Italy 1939-1943 and shortly by Germany after that. Albanian Communist Party was founded in 1941 and after the second World War Albania became a communist state.
People's Socialist Republic of Albania ruled from 1946 to 1992. During that time travel and visa restrictions made Albania pretty much closed from tourism, and it was one of the most difficult countries to travel to or from.
From 1950 to 1985 around 700 000 concrete bunkers were built all over the country for defend purposes. These concrete domes can still today be spotted around the country.
In 1961 the country broke of diplomatic relations with USSR and reoriented itself towards the People Republic of China. In 1966-67 Albania experienced a massive cultural and ideological revolution. Relationship with China lasted until 1978 and the communist regime collapsed in 1990.
Since early 90's, Albania has developed closer tights with Europe and has been a full member of NATO since 2014 and has applied to join the European Union.
Today's Albania is developing Balkan country with economy dominated by service sector, industry and agriculture.
Tourism is increasing, in 2016 Albania welcomed 4,74 million visitors.