The secluded but beautiful North Cyprus
In the northeastern part of the island of Cyprus lies a self-proclaimed state that calls itself as the Turkish Republic of Northern Cyprus. The history and relations with the Republic of Cyprus are complicated, but travelers are nowadays very welcome to the northern part of the island as well. Northern Cyprus has a lot to offer for visitors; it's home to beautiful coastline with sandy beaches, gorgeous mountain region, historical cities, picturesque mountain villages and ancient ruins.
In this post we first introduce North Cyprus and Kyrenia a bit, and after that the post is divided into following chapters;
Kyrenia / Girne, a lively coastal city and tourism hub
Sights in and around Kyrenia
Hiking and trail running in North Cyprus
Know before you go – facts for travelers
From Nicosia to Kyrenia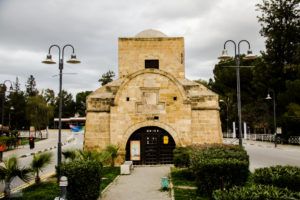 We started our excursion to Northern Cyprus from the divided capital of Cyprus, Nicosia. Crossing the border to North Cyprus was quick and easy, we basically just presented our passports in the border zone and walked over to the northern side of the walled old town of Nicosia. After some sightseeing in the capital, we headed north over the Kyrenia mountains. The first destination was the city of Kyrenia (Girne) on the north coast of the island, less than 30 kilometers from Nicosia.
To get to Kyrenia, we took a bus, or rather a mini-van, from a bus stop right outside the Nicosia old town and Kyrenia Gate. As soon as we left the city behind, the scenery changed quite dramatically. The mountains rise in the north and the plain between them and Nicosia is sparsely populated and thus looks nearly empty. Attention is quickly drawn to a huge North Cyprus flag that is painted on a side of Kyrenia Mountains. Depending of the source of information, it is said that the flag, that is clearly visible from parts of the southern side as well, was painted by the Turkish occupation army mainly to irritate the Greek Cypriots, or that it is a memorial painted by survivors of one of the violent fights between Turkish Cypriots and Greek Cypriots in 1974.
Already on the way to Kyrenia we saw fenced areas that are occupied by Turkish military forces. The total number of the troops in the island is unclear (estimates vary between 15 000 and 35 000) but when in North Cyprus, the presence of the military can not be missed, and when trekking around Kyrenia we constantly walked into the fences and warning signs of the military zones. Don't get it wrong though; even if the history is distressing and political situation is complicated to say the least, North Cyprus is not by any means a war zone, and traveling there felt really safe and all the people we met were warm and welcoming.
However, the atmosphere in North Cyprus is somewhat unusual. It's a bit hard to explain, it's a mix of liberty and control, in theory part of EU but in practice more or less under Turkish influence, a casino paradise with no American chains present. Tensions between Turkish Cypriots and Greek Cypriots are clearly there, but at the same time they are hidden under the surface. All this is intriguing, but beyond reach of a random visitor seeking sun and tan. And from the tourist point of view, none of this matters much.
When in Kyrenia, we decided to use the city as a base for exploring the nearby sights and hiking trails. We found two really nice Airbnb places; one close to the city center and another just next to Girne American University, few kilometers out of town. The latter is no longer available for renting, but was in very beautiful surroundings, basically inside a brand new and fancy hotel area. We stayed ten days in Kyrenia, and had enough time to see the city and make some day hikes up in the mountains and to the charming, small mountain villages. During this first visit we didn't have time to travel around the whole North Cyprus and see also the more remote areas, archaeological sites and beaches that it holds, but we ended up coming back and exploring a bit more the next year.
Related post: The walled city of Famagusta
Kyrenia / Girne, a lively coastal city and tourism hub
The historical city of Kyrenia is the most popular holiday destination in North Cyprus. The town itself (or at least the tourist area) is small enough to be covered on foot. There is a beautiful, horseshoe-shaped old harbor with lively cafes and restaurants, a castle by the seafront and a medieval old town with narrow cobblestone alleys and old apartment buildings. For our taste the harbor area is a bit too touristy actually, but it's a perfect starting point for exploring North Cyprus, or an easy destination for a short vacation in the less-known northern side of Cyprus island. English is widely spoken in Kyrenia and all services are available in English.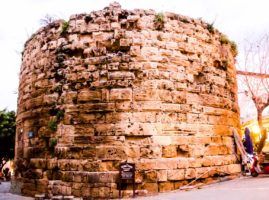 Kyrenia is home to a rather big expat community, as especially British expats have grown roots in the area. There is also notable amount of foreign university students in the city; according to locals even more than double the amount of the "normal" residents. Several new universities have been established during the past few years, and huge amount of new apartment buildings have been built, or are still under construction. It's not fully clear why this is happening, but the popularity of North Cyprus as a studying country seems to be based on straight-forwarded immigration / visa policy and affordable price level. There are some downsides in this development also; the growing amount of people seems to be too much for the infrastructure of the city, and the rapid growth increases the general price level. In addition, the students rarely have a chance to stay in North Cyprus post graduation, which in some cases is devastating, since not all the students can go back to their home country and overall have limited possibilities to travel.
Sights in and around Kyrenia
In this chapter we shortly introduce some of the most popular sights in Kyrenia area. Since public transportation is a bit of a challenge in North Cyprus, most of the visitors choose to either rent a car or hire a taxi to reach the castles and monasteries up in the mountains. We once again decided to combine trekking and sightseeing, and hiked up to both Saint Hilarion Castle and Bellapais Abbey and back. If you are on to walking, we can warmly recommend this option, but advice to stick to the main roads due to the military areas that often block the dirt roads and paths. More about this will follow in the hiking chapter.
Kyrenia Castle
The massive, square shaped Kyrenia Castle is situated just next to the Old Harbor and has stood there more than thousand years. According to research, it's well possible that before the Byzantines built the castle, there was an old Roman fort on the same site. The castle was built to protect Kyrenia against conquerors, and even though the ruler of it changed several times, it did succeed in warding off number of attacks during the ages. The change of administration naturally affected on the shape and style of the castle, and the present form is an interesting mixture of different eras and architecture styles. The entrance fee is 12 Turkish lira (Feb 2018) which is about 2,5 €, but when visiting it in off-season we actually didn't even need to pay, since the ticket office was already closed for the day when we entered the castle in the afternoon.
Saint Hilarion Castle
Looming up in the mountains above Kyrenia are the dramatic ruins of St. Hilarion Castle. This castle, that has inspired fairy tale illustrators and movie producers alike, is partially built into solid rock and climbs up and up together with the mountain wall. According to legends, the castle is named after a Cypriot monk called Hilarion, who lived and died in Kyrenia Mountains and in this castle. Later a Byzantine chapel, monastery and fort was built over and around his tomb.
The castle is divided in three main parts. In the "ground floor", inside the outer walls and towers, were gardens, armories and stabling areas. The second section, that is reached along upward paths, consist mostly of living quarters and there is a chapel as well. Reaching the third part, once surrounded by a thick Byzantine wall, requires climbing up quite steep steps towards the peak. Views from Prince John's Tower and Royal Apartments are rewarding, and there is a viewing platform also; popular place for taking pics and just watching the scenery. Admission fee is 9 Turkish lira (Feb 2018), so roughly 2 euros, and the castle is totally worth it. It's recommended to reserve at least couple of hours to wander through the surprisingly large setting. Remember to wear comfortable shoes, since there are lots of stairs and uneven ground in the castle.
Related post: Kantara Castle in North Cyprus
Bellapais Abbey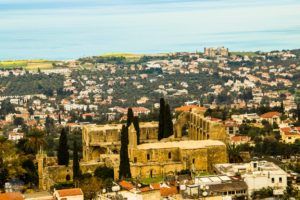 Another popular site for a day trip from Kyrenia is Bellapais village and monastery. The name translates to "beautiful peace", and the setting really is charming. The small village is about 5 km out of Kyrenia, 220 meters above sea level. The monastery was founded by Aimery de Lusignan in 12th century, but the site is said to be used as a residence for the bishops of Kyrenia and as a place of refuge from Arab raids already in 7th and 8th centuries. The handsome, Gothic style main structure was built in 1267-1284. Admission fee to the Bellapais Abbey is roughly 2 euros, but for us it was enough to see this building from the outside and to wander around the picturesque village. Bellapais is also a good starting point for longer walks on the mountains.
Hiking and trail running in North Cyprus
Day hikes around Kyrenia
As described earlier, the sights up in the mountains near Kyrenia are great destinations for day hikes and also starting points for longer hiking routes. When visiting Saint Hilarion Castle, we decided not to use the main road, but to find more straight way up from Kyrenia. We used mostly dirt roads (that apparently are power line service roads) all the way up to a small power station, and from there we found a marked, rocky path up towards the castle. When heading to Bellapais we tried to use dirt roads also, but ended up circulating the fenced military areas, that are (quite naturally) not marked in any maps, but just suddenly blocking your way. In some cases the gates were open, but it's still not allowed to walk through these areas. It's not clear how many of these blocked military areas there are in North Cyprus, but for sure they complicate self-guided hiking, so it's advisable to use the marked hiking paths in the mountains instead.
Karmi Village (Karaman) just few kilometers from Kyrenia is one interesting starting point for hiking. We reached the village by running up the slope (sweaty exercise even in February 🙂 ) and were quickly charmed by its beauty. The tiny village consists of nicely restored houses and narrow alleys, there is a small church and few services like a restaurant and a grocery store. Hiking trail signpost is next to the parking lot by the church. The history of Karmi is fascinating, and a bit too long story to be told here, but to put it short, most of the residents are British and German, and it's in theory impossible for Cypriots to own properties there.
Mountain trails
There are bunch of marked hiking trails up in the Kyrenia Mountains. The network of totally around 600 kilometers of trails consists mostly of dirt roads and partly of narrow paths. Hiking trails are also suitable for mountain biking, but the route marks are hard to spot at times.
The most famous hiking trail in North Cyprus is the Kyrenia Mountain Trail that leads all the way through North Cyprus from Cape Korucam (Cape Kormakitis ) in the northwest to Cape Zafer (Cape Apostolos Andreas) in the northeast. The total length of the trail is around 220 kilometers, and it travels along the main ridge of the Kyrenia Mountains. The most picturesque landscapes are said to be around the so called Five Finger mountain ridge, and there are several castles, monasteries and mountain villages along the way.
This trail can be hiked self-guided, but there are several tour operators who arrange guided walks with transportation, accommodation and meals organized. Spring is probably the best time for hiking in North Cyprus; sun is shining but it's not too hot yet, and wild flowers are blooming on the mountains. In addition to hiking, also trail running and mountain biking, horse riding, para-gliding and bird watching are popular in Kyrenia mountain range.
Another great destination for hiking is the narrow Karpaz Peninsula, the so called tail of Cyprus, in the northeast. There is a national park that is famous for unspoiled nature and wild Cyprus donkeys.
Related post: Road trip in Karpaz Peninsula
Know before you go to North Cyprus
Currency: Turkish lira. When arriving from southern part of Cyprus, there are exchange offices just next to the border zone. In cities also Euro is widely accepted.
Time zone: EET (UTC +2)
Languages: official language is Turkish, but English is widely spoken.
Driving: on the left side.
Climate: winters are cool and often rainy, spring and autumn months are warm and pleasant, summers are hot and dry. Over 300 sunny days a year.
Electricity: British 3-pin rectangular plugs, adapters to Europe style plugs are widely available but it's still advisable to bring your own
Public transportation: comprehensive between bigger cities, and smaller towns are served with mini-vans / shared taxis called dolmus. Tickets are bought on-board, prices are low (one way trip in Kyrenia area less than 1 €). It's best to travel in daytime, as there are not that frequent service after dark, and some routes are only serviced in the morning and afternoon.
Price level: in general North Cyprus is inexpensive country for travelers. More about prices and costs in a separate Money Matters post about our month in Cyprus in 2018.