Cost summary: 4 weeks in Cyprus and North Cyprus
Is it expensive to live and travel in Cyprus? Is the price level in North Cyprus different than in Greek Cyprus side? How to cope with two different currencies when exploring the island? In this post we open up the costs of our 4 weeks stay in Cyprus in February-March 2018. We started the Cyprus tour from Larnaca, continued to the capital Nicosia and from there crossed the border to North Cyprus and stayed there for 10 days. When back in south, we headed to Paphos for few days and then back to Larnaca.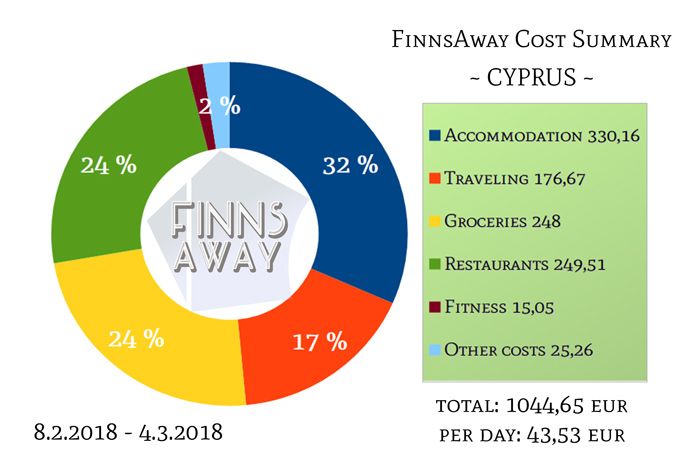 When arriving in Cyprus, we already had return flights booked, and a thus a fixed schedule for exploring the country. We had 24 days to spend in Cyprus, and have to say that it was not enough for us to see everything we would have liked. This is mostly because we needed to work also, so we couldn't just focus on traveling around the island. But still, we moved around with quicker pace than normally, which increased the costs a bit.
We used in total 1044,65 € in Cyprus, so 43,53 € per day for two of us together (roughly 22 €/day per person), which is slightly under our long term nomad life budget target of together 50 euros per day.
Cyprus and North Cyprus
The Republic of Cyprus is an EU Member State and uses Euro as currency. However, the occupied northern side of the island, calling itself as the Turkish Republic of Northern Cyprus, has their own administration, and Turkish lira is used. This situation is interesting to say the least, since theoretically the whole island is part of EU, but North Cyprus is a self-proclaimed state under Turkish influence, and in practice it has not much to do with the EU membership.
Changing currencies in Cyprus is really straight-forwarded and easy though, and the exchange rate seemed to be pretty steady. Credit cards are widely accepted in stores and restaurants in both sides. The general price level is lower in northern Cyprus. We paid basically the same price for accommodation in both sides, but public transportation and groceries, as well as eating and drinking in restaurants  was more affordable in North Cyprus.
Accommodation costs
All our accommodations in Cyprus were rooms booked via Airbnb. The average price for a night was 13,76 €, which is slightly less than in Greece for example. February and March are considered as low season in Cyprus, so part of the places were cheaper than they will be during summer. In addition, we also got some small discounts for longer stays and promoting.
Eating and drinking
When in Cyprus, we ate out a bit more often than usually, but still cooked most of the meals ourselves. Both grocery costs and restaurant costs were around 250 euros, which means that we used around 20 € per day for food and drinks for two of us. Seems that the occasional craft beers and wine carafes here and there raise the total sum of restaurants category surprisingly much…
Traveling costs
Traveling costs, in total 176,76 €, include a flight from Athens to Larnaca (117 € for two), bus tickets between cities and local transportation like mini buses. The return flight from Cyprus was covered by our travel partner airBaltic as part of our ambassadorship. Public transportation in Cyprus is well organized and inexpensive in general. For example, in the Republic of Cyprus a long distance bus from Nicosia to Paphos cost 7 €, and in North Cyprus the bus from Nicosia to Kyrenia cost 2,60 €.
Fitness and other costs
In fitness costs category are the entries to gyms in North Cyprus, where the price of a single entry varied between 2,15 to 3,25 euros. We also got some first-time-for-free entries to gyms. In other costs, there are entrance tickets to sights like St. Hilarion Castle in North Cyprus and some toiletries.
Sum up
All in all, we would say that it's quite inexpensive to travel in Cyprus, but if you are really on a shoe-string budget, it can be a challenge especially during the high season. If you are preparing most of the meals yourself and don't spend money in restaurants, the biggest budget challenge is to find inexpensive accommodation options. We recommend to comb through Airbnb for cheap rooms around the island.
If money is not an issue, there are plenty of high standard holiday homes for rent in coastal cities, and of course there is wide range of hotels as well. It is often said, that renting a car is the best way to see the island, and for sure you can get to basically any place with your own wheels. We planned to rent a car ourselves, but somehow the time passed by so quickly, that we had to give up the idea.
Related posts:
Nicosia, the divided capital
Lively port city Larnaca
Picture-perfect Paphos region
Secluded but beautiful North Cyprus