Larnaca – a lively port city in Cyprus
Cyprus is most famous for sandy beaches and clear, turquoise waters, but it's also an island with fascinating history. Cyprus is one of the oldest civilizations in the area, rich with ancient sites and religious monuments from different eras. Stepping inland from the coastline, the island holds hundreds of charming villages, rugged mountain regions and green pine forests. The warm climate makes Cyprus pleasant to visit around the year. Winters are mild and often sunny, mid-summer months are hot and dry. Springtime is perfect for outdoor activities; the island gets colored with green, and wild flowers are blooming everywhere.
Larnaca (also Larnaka) in the south coast is the third largest city of Cyprus, and home to the primary airport of the country. The city has pretty authentic and laid-back feeling, maybe because it's not one of the beach and party hubs in the island, but more a city holiday destination. Larnaca is an easy starting point for either exploring the whole island or just heading to one of the gorgeous beach holiday destinations, like Paphos and Agia Napa. Due to that the city itself is a bit underrated as a travel destination, and a lot of travelers just pass through it.
Related post: Agia Napa area
Related post: Picture-perfect Paphos region
What to see and do in Larnaca
Foinikoudes promenade and Larnaca castle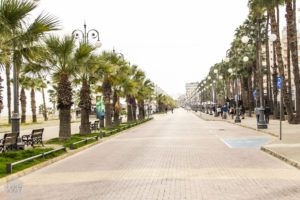 A logical starting point for getting to know Larnaca is the seaside promenade called Foinikoudes. This coastal avenue, that runs south from the Europe Square next to Larnaca Marina to the Larnaca Castle, is the most popular spot for evening strolls among locals and tourists alike. Foinikoudes is lined with beach areas, restaurants and cafes, and the Europe Square is circled with beautifully restored colonial buildings, built by the British administration in late 19th century.
Larnaca Castle in the southern end of Foinikoudes promenade and beach is an imposing sight. This medieval fortress was most likely built in the end of 14th century, to protect the harbor of the town. It was rebuilt in 1625 and later used as a prison. The castle with a small museum inside is open daily, and the admission fee is 2,50 € (Feb 2018).
Scala, the old town of Larnaca
The old Turkish Quarter of Larnaca, called Scala or Skala, is situated just a stones throw away from the coast line, southwest from the castle. It's a charming, quiet area of narrow streets, traditional whitewashed houses with colorful doors and window frames, craft shops and some small cafes. When we visited Larnaca, the Scala area was surprisingly empty and peaceful, even if the city center just next to it were full and noisy. Scala is a perfect area for an afternoon walk, just remember to keep your camera in hand and capture the picturesque details of the alleys and houses.
Larnaca Salt Lake and the Old Aqueduct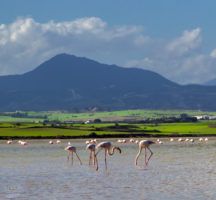 Larnaca Salt Lake, just outside the city, fills with rainwater during winter and is home to great variety of migratory birds. From November until end of March flocks of pink flamingos stay in the lake. These beautiful birds are easy to spot from along the nature trail that runs next to the lake shore. The lake usually dries out during the summer, as the water evaporates, revealing white salt surface that reflects sun rays.
Northwest from the Salt Lake, right next to Old Larnaca-Lemesos Road, you can find one of the most famous landmarks of Larnaca. The Old Aqueduct, also known as the Kamares, is a long line of huge arches, and kind of looks like a nearly endless bridge. The aqueduct used to channel water from Tremithou river to Larnaca until 1936. Researchers believe that this remarkable public structure was originally built already in Roman times, and it was reconstructed in 1745 by Ottoman governor Bekir Pasha.
Churches and other religious buildings
There are several religious buildings in Larnaca. Probably the most famous is Agios Lazaros Church, that is said to have been built over the tomb of Saint Lazarus in 890 AD. This majestic stone church is one of the most important Byzantine monuments in Cyprus. You will find the church just couple of blocks inland from Larnaca Castle square.
In the west bank of the Larnaca Salt Lake is Hala Sultan Tekke, a famous Muslim shrine, that is visited by thousands of pilgrims every year. The complex consists of a mosque, minaret, mausoleum, living quarters and a cemetery.
Larnaca for sport-enthusiasts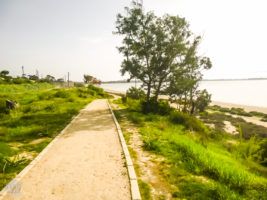 The coastal walkaway, that starts right from the city center, continues past the castle all the way to the airport area (around 3,5 km) and is a scenic route for a run. Those interested in longer routes and trail running can continue to the Larnaca Salt Lake and run along the Salt Lake hiking trail, also called Aphrodite Trail, that begins from Artemidos park in the east bank of the lake and continues all the way to the Old Aqueduct. The trail is in good condition for running, and if visiting in late autumn or in winter, you can spot flamingos from the trail, and there are some lookout towers also for that purpose. Tip for gym-enthusiasts; at least Platinum Sports Larnaca offers one day and one week entrance tickets, and the facilities were modern.
Larnaca for beach-lovers
Finikoudes Beach is the one located just next to Larnaca city center. It is lined with palm trees and popular and well-serviced for sure, but not the finest beach that you can find from the area. It is worth to head a bit further away from the city for a perfect sunbathing day. Mackenzie Beach near the airport can be easily reached by just following the coastal walkaway south from Larnaca castle. It is a favorite beach for all aviation enthusiasts, as the planes take off and land right next to the beach.
Further south, small Faros Beach next to Pervolia village is ideal for families, as thanks to a sea barrier, it's safe for small children to play in the sea. North from the city, Larnaca bay is home to long beach area and great number of resorts and hotels. CTO Beach has sunbeds and beach bars, but also a bit more secluded sections for those who want to avoid the crowds.
Practical information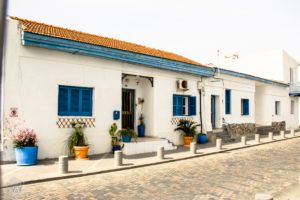 How to get there? There are two international airports in Cyprus; the Larnaca International Airport and Paphos International Airport. Larnaca airport is bigger and better connected, while Paphos airport is used by many charter flights that bring holidaymakers into Paphos area. Larnaca airport is used by several international airlines, including our travel partner airBaltic that flies there from Riga twice a week during the summer season and once a week in winter.
Where to stay? There is no shortage of hotels, hostels and rental apartments in Cyprus. When we have stayed a few times in Larnaca, and often booked accommodation via Airbnb (get a reward for your first booking using this link), like this room in a cozy two-room apartment about one kilometer from the city and the beach boulevard. Another great budget option is Trip Yard Larnaka, a nice hostel with dorm rooms and good vibe. If you are traveling with a family or friends, consider booking a whole apartment for you all. Holiday Home Larnaka is a great choice a bit out of the city center. Prices of accommodation drop during the winter, so when traveling off-season, it's possible to get good deals also for hotel rooms, like we did when staying in Larco Hotel.
The currency in Cyprus is Euro, except in the North Cyprus where Turkish lira is used. Official language is Greek, but English is widely spoken and most of the restaurants have menus available in English. Inherited from the era of British administration, the traffic on the island is left-handed. Also the plug type is in line with UK, which means that the plugs have three rectangular pins. Adapters are widely available. Cyprus traditional cuisine is pretty similar than in Greece, with some local specialties of course. Orange juice and frappe (iced coffee drink) is sold everywhere, and the traditional spirit is called Zivania.
Public transportation in Cyprus is efficient, at least in and between the bigger cities. In rural areas a rental car is often the best option. Intercity bus network is quite comprehensive and reliable. When arriving to Larnaca airport, the city center can be easily reached by a local bus number 425. The buses leave right outside the terminal (second floor) and one ride costs 1,5 euros. Another, more expensive option is of course to take a taxi, and there are airport shuttle services available as well.
Quick travel tips for Cyprus
Cyprus for sunbathers – Sand and sun, plenty of both can be found from Cyprus. Just choose your beach and relax. There is no shortage of swimming pools or water parks either. The beaches that are close to cities and holiday resorts get crowded in summer. Renting a car is useful if you'd like to find smaller, quiet beaches.
Cyprus for divers – One of the top ten diving wrecks in the world can be found just off the coast of Larnaca and there are several other wrecks also around the island.
Cyprus for hikers and MTB riders – Troodos Mountain area is home to scenic, signposted nature trails in the middle of wilderness. There are great hiking possibilities in Northern Cyprus as well.
Cyprus for water-sports – Larnaca area is the kite-surfing mecca in Cyprus, and there are plenty of other water-sport options and courses available as well.
Cyprus for wine-lovers – There are plenty of wineries in Cyprus, and many of those can be visited. Make a day-trip from Larnaca or book a longer wine route and tasting tour.
Cyprus for partying – The nightlife capital of Cyprus has for long been Agia Napa, roughly 60 km east from Larnaca.
Exploring the whole island
After visiting and writing travel stories about Cyprus, we have received some questions about whether it is a safe destination to travel around, and about the constant disagreements between Greek and Turkish Cypriots. The split into two parts, the Republic of Cyprus and the Turkish Republic of Northern Cyprus, remains a sore and distressing state of affairs, but from tourism point of view, there is nothing to worry about.
The two sides of the island are almost like two different worlds, and if time is not an issue, we definitely recommend to explore both of them. It is really easy to cross the border, and we have felt very safe in both sides. If you are interested to see the guarded border fences, it's easy in the divided capital Nicosia. The walled old town is literally split in two, and it's very interesting to explore both sides of the old town. Also, when traveling around the island, keep your ears open for the stories of local people about the past and present, keeping in mind that there always seems to be more than one truth.
Related post: The secluded but beautiful North Cyprus
Check out also a destination guide post that we wrote for airBaltic blog about Larnaca!
In this cost summary post about Cyprus we reveal how much a month on the island cost.