Sights in and around Ayia Napa
Ayia Napa (Agia Napa) is the most famous holiday resort town in Cyprus. During summer months thousands of tourists enjoy the sun, sea and having fun, filling the streets and beaches of Ayia Napa with life day and night. However, outside the main season this town is very quiet. We usually try to avoid holiday resorts, but visited Ayia Napa and the surroundings during off-season, in February 2019. In this post we introduce some places of interest in and around Ayia Napa, not focusing on beach life or night clubs, but instead raise up beautiful day trip destinations that are open year around.
Ayia Napa Monastery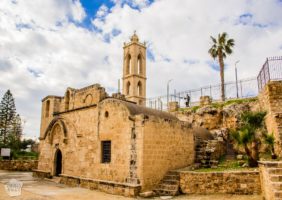 The Ayia Napa town center mostly consists of restaurants, clubs and small shops, but in the middle of all the tourist-oriented services, there is a bit surprising sight, a handsome old stone structure. The Monastery of Ayia Napa has stood there way before tourists arrived, or even the town itself developed. It's believed that at first there was just a natural cave, that was then enlarged to a rock church in 12th century. Different rulers developed the church complex further, and in early 16th century it was transformed into a monastery by Venetians. The buildings served as a monastery over 200 years, but during 18th century the operations slowly decreased, and in 1758 the monastery was abandoned. Later the complex was used as a part of a village that grew around it. During 1940's renovation works were done, and since 1978 the formed monastery has served first as a conference center and later as a research center. Admission is free.
Ayia Napa Sculpture Park
An outdoor arts museum, what a great idea! Ayia Napa International Sculpture Park in eastern part of the town is a great place to spend an afternoon, walking in the middle of hundreds of sculptures, with a view to the sea. The sculptures are made of local stone, by artists from all over the world. The park was opened in 2014 and covers an area of 20 000 square meters. More sculptures are added during every winter, so the park keeps growing. Walking paths wind on the slopes between the sculptures, and there are some benches for taking a break and just relaxing, watching the artworks. Admission is free.
Cape Greco Area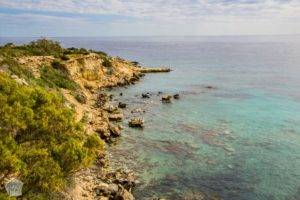 Cape Greco is a great destination for outdoor activities, like hiking on the nature trails of Cape Greko National Park, exploring underwater sea caves, bird-watching and of course for swimming, diving and snorkeling. Cape Greco was nominated as a National Forest Park in 1993, and it offers a peaceful natural environment between busy Ayia Napa and Protaras holiday resorts. The coastline of Cape Greko is varied, with rocks shaped by the sea, soft small beaches and high vertical coastal cliffs. In this chapter we shortly introduce some places of interest in Cape Greco area. The very tip of the peninsula is reserved British Radar Station, and the area is closed for visitors.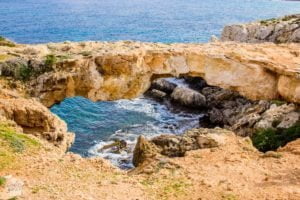 One of the must-dos in Cape Greko is just simply walking around. There are signposted, picturesque trails around the area, most of them following the coastline. Some paths run very close to the cliff edge, offering beautiful views and possibly accelerated heart rate for those who are afraid of heights. If you have time and energy, consider walking around the whole Cape Greco; the paths lead from Maistrali (Glyki Nero) Beach in Ayia Napa all the way (roughly 10 kilometers) to Konnos Bay. On the route you will walk past most of the main sights in the area, like a photogenic stone arch called Love Bridge in Ayia Napa, underwater Sea Caves, the Blue Lagoon, another stone arch called Kamara Tou Koraka, and whitewashed Ayii Anargyri Chapel.
Konnos Bay is a good starting point also for shorter walks along the gorgeous seashore. Heading east from the beautiful, but very popular Konnos Beach, along very scenic paths above the coastal cliffs, you will find signposts to Cyclops Cave less than 1 km away. This large cave is fully above the sea level, and it's easy to enter. Evidence found from the cave shows signs of life dating back to pre-Neolithic era. According to a myth, the cave once was inhabited by a family of cyclops, that had shipwrecked to the coast of Cyprus.
Ayia Napa Marina and Ayia Thekla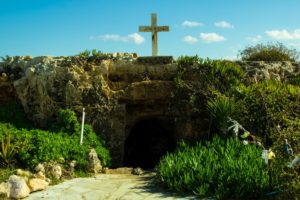 Driving or walking west from Ayia Napa, there are several small, picturesque beaches, connected with coastal walking paths, and even an archaeological site called Makronissos, on a small peninsula next to Makronissos Beach. A bit further west, roughly 5 km from central Ayia Napa, you'll run into Ayia Napa Marina. It's a huge construction and development project, that includes not just boat docks, but high apartment buildings and luxury beach villas, and even a man-made island. On the other side of the developing Marina Area, you'll find a traditional, white-washed church of Ayia Thekla, and next to it, a small cave chapel. It's believed that the cave was a place of worship for early Christians before the church was built. The scenic site of Ayia Thekla with the rocky coastline and nearby beach is a popular venue for wedding ceremonies.
Coast of Paralimni and Protaras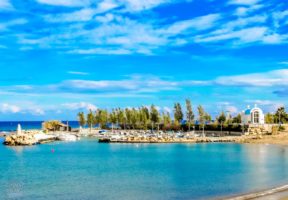 Beautiful coastline with numerous beaches and handsome cliffs continues north from Capo Greco, in towns of Protaras, Pernera and Paralimni. We stayed for around a week in Paralimni, and found it a great base for exploring the nearby attractions. The town itself is not nearly as touristic as Ayia Napa or Protaras, and there is a nice selection of restaurants, shops and other services available. Attractions, in addition to beaches, include beautiful churches and chapels, and an ocean aquarium. For those interested in water sports, there are several diving centers in Protaras, and also activities like parasailing, water ski rides and canoeing offered during the summer season.
Famagusta and Salamis in North Cyprus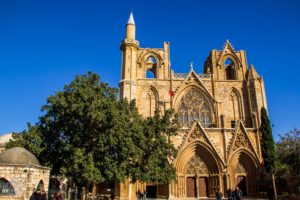 When in Ayia Napa area, consider crossing the border to Norhern Cyprus side of the east coast. Famagusta, just a few kilometers north from the border, is the main city of Famagusta region, that covers the whole eastern part of the Cyprus island. The walled old city of Famagusta is simply stunning, full of historical buildings. Read more about it from our travel guide to Famagusta. Another site near the border, that together with the walled city, makes a great day trip from Ayia Napa, is the Ancient Salamis archaeological site.
Practical information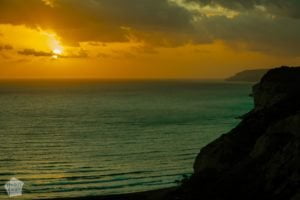 The closest airport to Ayia Napa area is in Larnaca. If you favor public transportation, there is an intercity bus connection from central Larnaca to Ayia Napa, and city buses from Ayia Napa to surrounding destination like Protaras, Paralimni and Cape Greko area. Cyprus by bus -website is handy for checking bus schedules around (Greek) Cyprus. However to be able to freely move around and  also to reach Famagusta from Ayia Napa, consider renting a car. It's easy and cost-efficient to rent a car straight from Larnaca airport, and it's even possible to cross the border with it. Read more about this in our post about renting a car in Cyprus.