Cyprus: Picture-perfect Paphos region
Paphos (Pafos) in western Cyprus is home to great beaches, rocky coastlines, ancient sites and monuments and gorgeous sunsets. Paphos town once was the capital of Cyprus, and today the entire town is listed as a UNESCO World Heritage Site. It sees fair amount of visitors and can be considered as touristy at least in summer, but those preferring more remote destinations can easily find peace and quietness in tranquil villages and mountainous inland regions.
Must see sights in Paphos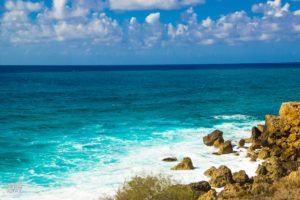 According to legends, Aphrodite, the Greek goddess of Love and Beauty, rose from the seas not that far away from Paphos, and worship of the goddess flourished in Paphos region. The area is rich with archaeological sites and there are also several museums in Paphos city. Paphos also was one of the European Capitals of Culture in 2017, and with that nomination several renovation projects were completed and new restaurants and boutiques were opened. Kato Pafos Archaeological Park includes mostly Roman ruins but also monuments and sites from other eras, from prehistoric times until Middle Ages. It is most famous for well-preserved mosaics and the "Tombs if the Kings", underground tombs that are carved in solid rock.
Paphos city consists of two quite separate parts; the Ktima up the hill and inland, and the coastal Kato Paphos next to the harbor. Kato Paphos is the main tourist area with waterfront avenue and plenty of restaurants, while Ktima is home to colonial buildings, museums and a small old town area with narrow, winding streets and art boutiques.
Next to Paphos harbor stands the small Paphos Castle, originally a Byzantine fort, but more than once rebuilt. From the castle to the north runs the Coastal Broadwalk, a popular walkaway along the coastline past the Archaeological Park, beaches, a lighthouse, the Tombs of the Kings and countless holiday resorts. Further north, more and more hotels and beach side villas are built, and the walkaway continues towards Coral Bay, another popular beach holiday destination. South from Paphos, just of the shore stands the famous rock formation called Aphrodite's Rock.
Nomad life in Emba
Instead of central Paphos or the coast, we stayed for few days in beautiful Emba (Empa) village few kilometers north from the city. We found via Airbnb a charming accommodation, hosted by a welcoming Welsh family. As usual, we focused more on working than actually sightseeing, and Emba was a nice base for making runs and walks along the coast and through smaller villages. Paphos area has been for years popular especially among British, and there in fact is quite large community of expats.
Other gems of western Cyprus
This time we only had few weeks to explore Cyprus, but it would be easy to stay for much longer. Even if the island isn't huge, there is so much to see. It is also ideal for hiking, especially the Troodos Mountains that hold a wide network of trails. Also the Akamas peninsula in northwest is pretty much of the beaten bath, and mostly uninhabited. The Akamas National Park covers 230 square kilometers off valleys, forests, gorges and coastline with secluded beaches, caves and islets. Well, next time when in Cyprus, we will definitely head there, as well as to mount Olympos and Troodos area in general.
How to get there?
Paphos city is easy to reach, since there is an international airport, and it's also well connected with other bigger cities on the island. We arrived from the capital Nicosia with an intercity bus; the ride took around two hours mainly along motorways, and cost 7 euros per person. Public transportation in Paphos and between the villages is taken care with city buses. There are two main bus stations; one in Kato Paphos next to the harbor and another in Ktima next to Paphos old town.
Gallery

Click pic to open!
Liked this? Pin it!