Hiking in Akamas Peninsula, Cyprus
For a relatively small island, Cyprus is a very diverse destination, and the nature varies from endless amount of beaches through dry highlands and forests to the summit of Mount Olympus, at 1,952 meters (9,573 feet) above the sea level. The northwestern corner of the country, called Akamas Peninsula, is a protected, relatively inaccessible and largely inhabited area, that holds amazing natural beauty and large diversity of flora and fauna. We visited Akamas in May 2019, and made a short day hike along the nature trails, through forests and up to the rocky hills. In this post we shortly introduce Akamas Peninsula and hiking trails on the northern side of it.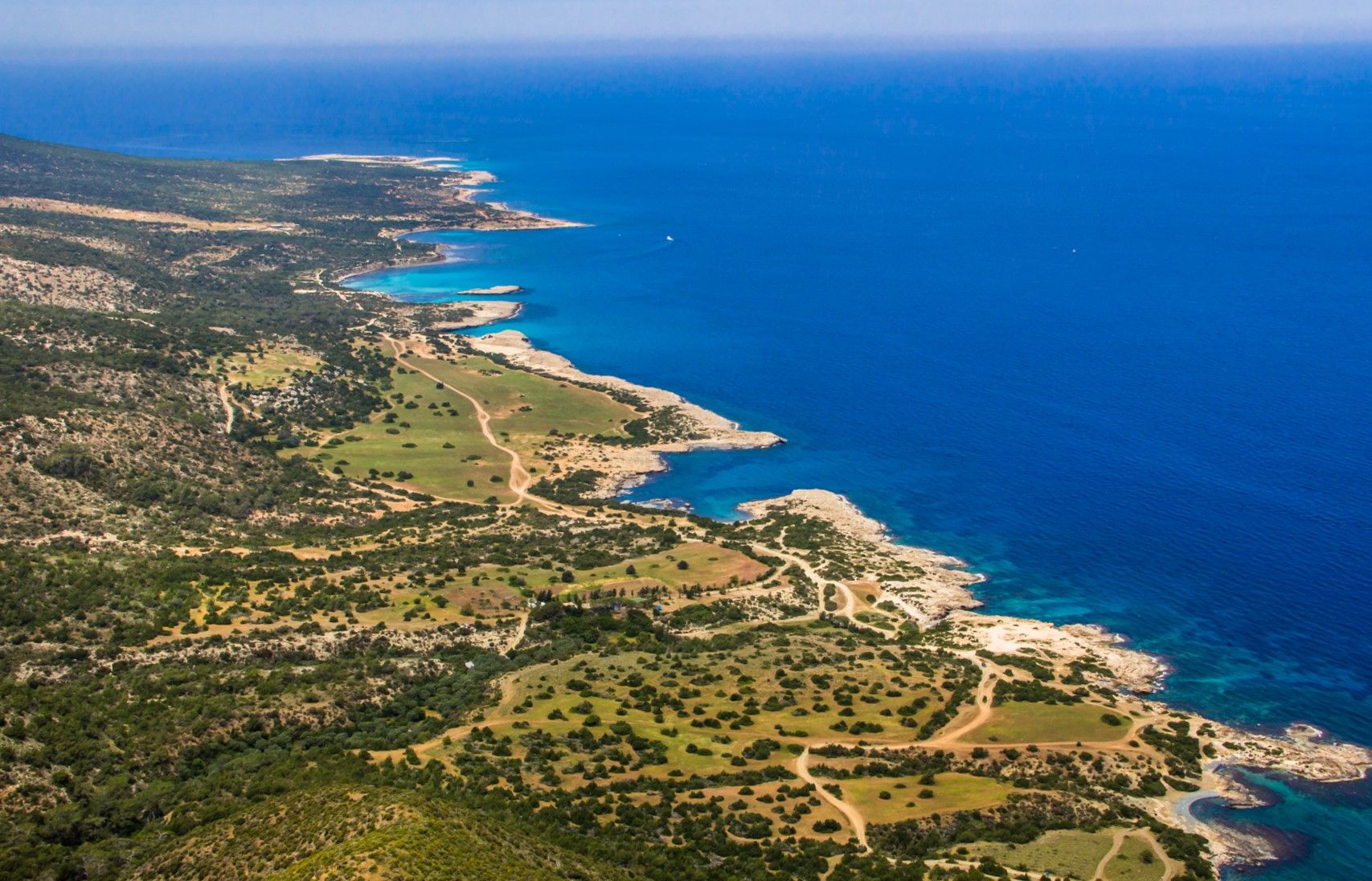 Akamas National Park, that is has not been actually officially declared as national park yet, covers an area of 230 square kilometers, and consists of forested hills, valleys, gorges and picturesque coastline with small sandy bays, some of them home to nesting turtles. There are 168 varieties of birds, 20 reptiles, 16 species of butterfly and 12 mammals living Akamas, and European Council has included it in Mediterranean Protection Program.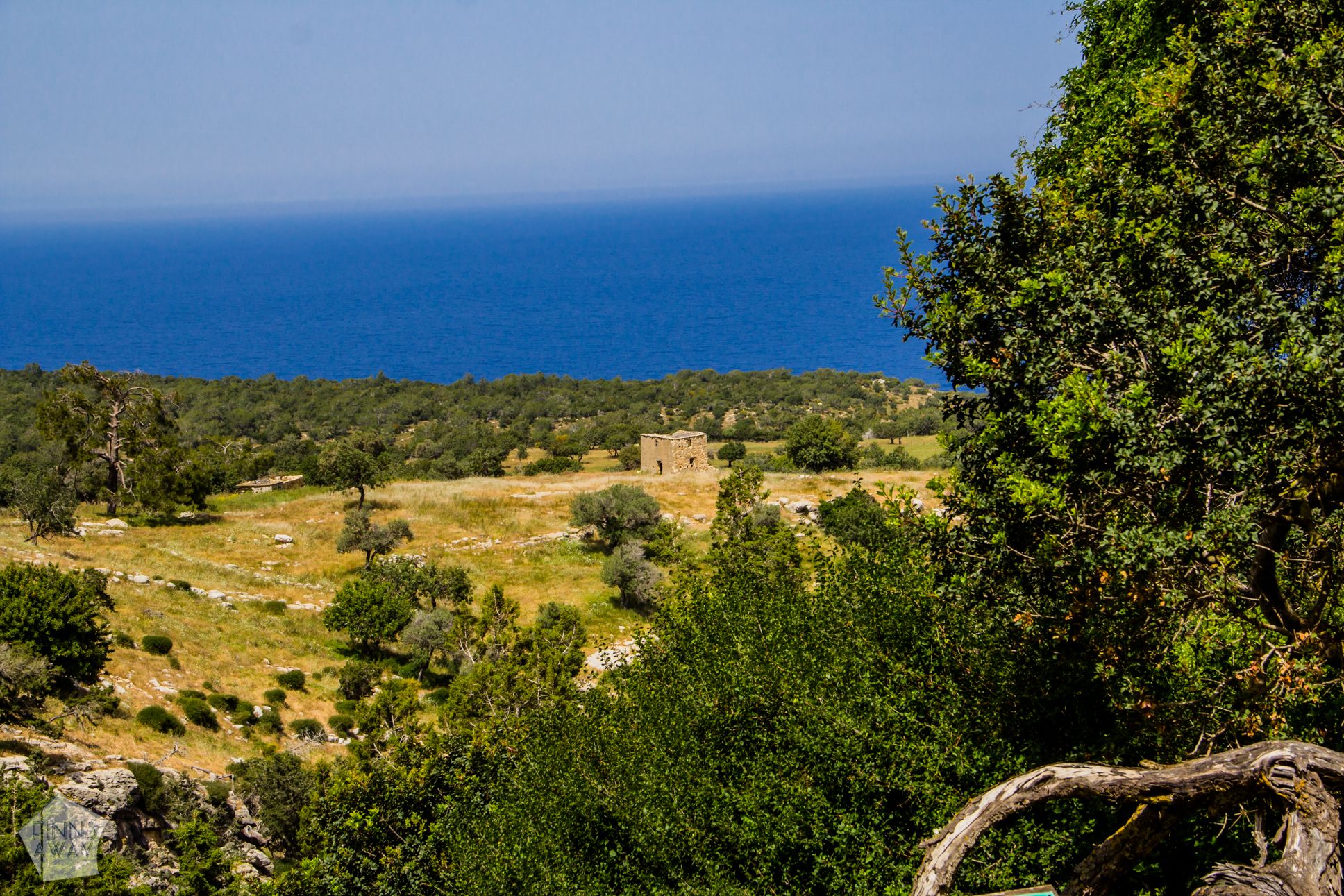 Akamas Peninsula is a great destination for day trips, but I could imagine staying a little longer, maybe in a camping site or in one of the villages nearby. The most popular tourist destination of Akamas is the Blue Lagoon, often visited on a boat tour. We saw the turquoise lagoon from above, from along a hiking trail. It's possible to walk there along the coast too, from the parking area near the Baths of Aphrodite, another popular sight. As most of the visitors, both independent travelers and those on a bus tours, arrive at Baths of Aphrodite premises, the area can be crowded with people and very noisy, far from peaceful. But as usual, you don't need to walk far along the trails to be almost alone – most visitors focus on exploring the sights next to the coastline.
Akamas nature trails for hiking
The most accessible and best marked trails are on the northern side of Akamas, starting near the Baths of Aphrodite. To reach the area and the trails, go first to town of Polis on the north coast and then continue another 10 kilometres west along the coastal road. The easiest way to travel to Akamas is by renting a car, which is easy and cheap in Cyprus, but it's also possible to reach the trails using public transportation. There are buses to Polis from Paphos, and from Polis bus station there is an hourly bus to Baths of Aphrodite.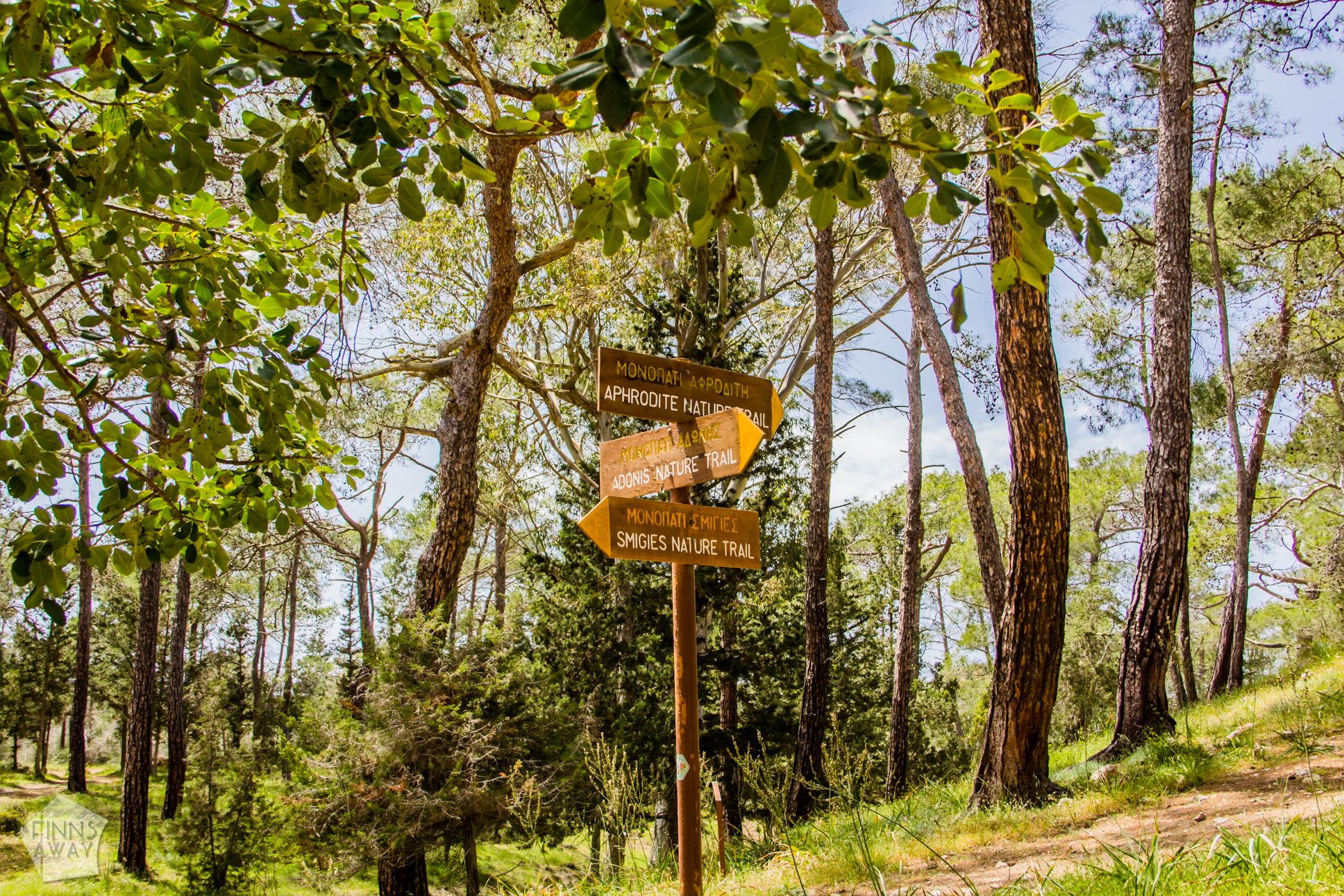 The trails that begin near the Baths of Aphrodite are called Aphrodite Trail and Adonis Trail. These two can be combined into a roughly 11 km hike that takes you up on the hills, providing excellent views over the peninsula. Trails also cross with yet another circular trail called Smigies Trail, so you could easily add another 5 km to the hike. Adonis and Aphrodite trails lead to several points of interest, and to beautiful landscapes above the coastline.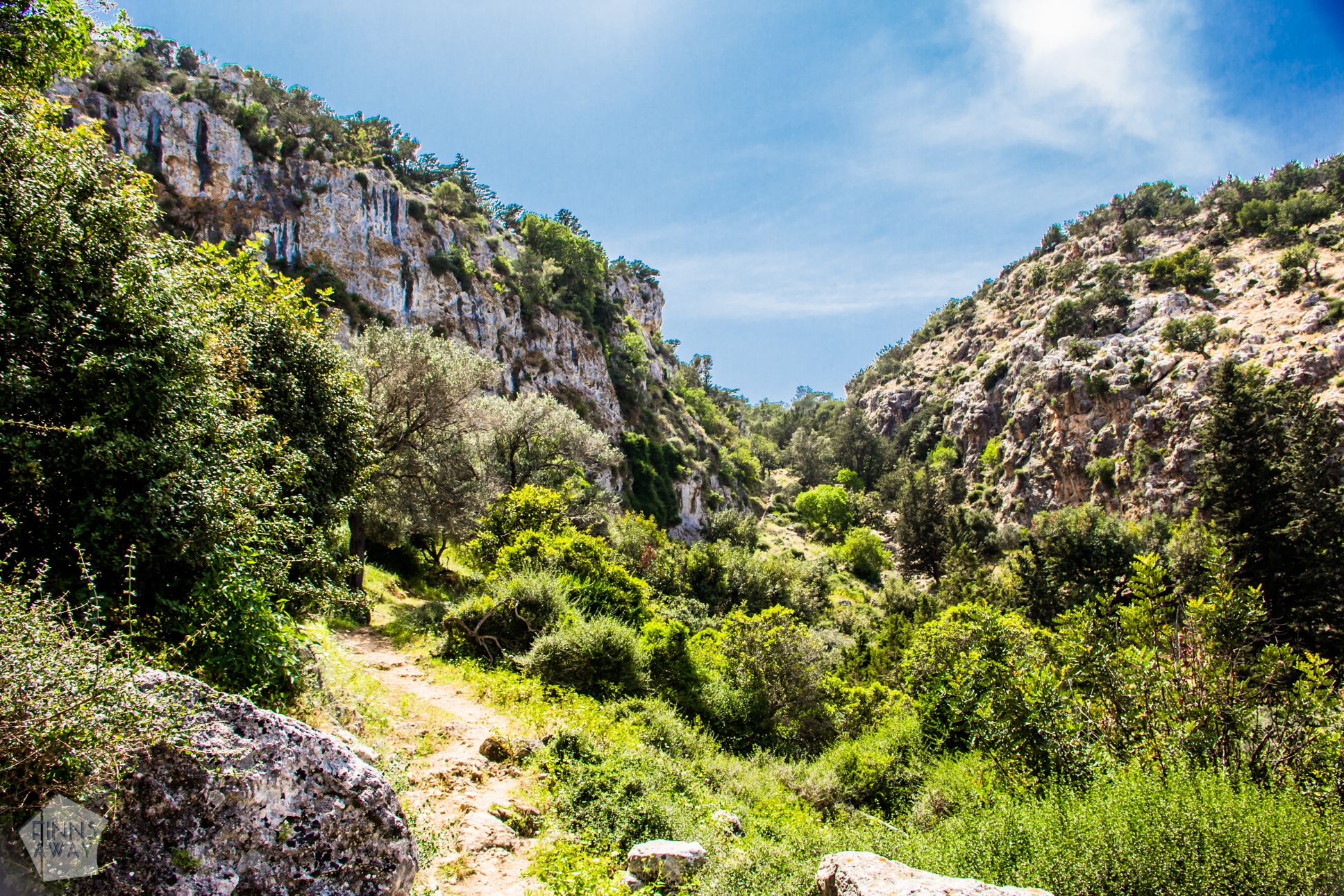 Akamas is great for hiking around the year, but we'd say that spring is the best time to visit. After the winter rains the nature is green and there are flowers everywhere. The weather in spring is usually sunny and warm, but not yet too hot even in midday. Towards the summer months the lack of rain turns the nature dry and dusty, and the weather is often stifling hot. Akamas trails are easy to follow and no special gear is needed, but don't go without plenty of water, a hat and sunscreen, and take into account that there are some ascents that can feel strenuous if you are not used to trekking. View the route and stats of our hike, and check out also Choose your Cyprus web-page, that is a useful source of information and maps of the trails, and about Akamas in general.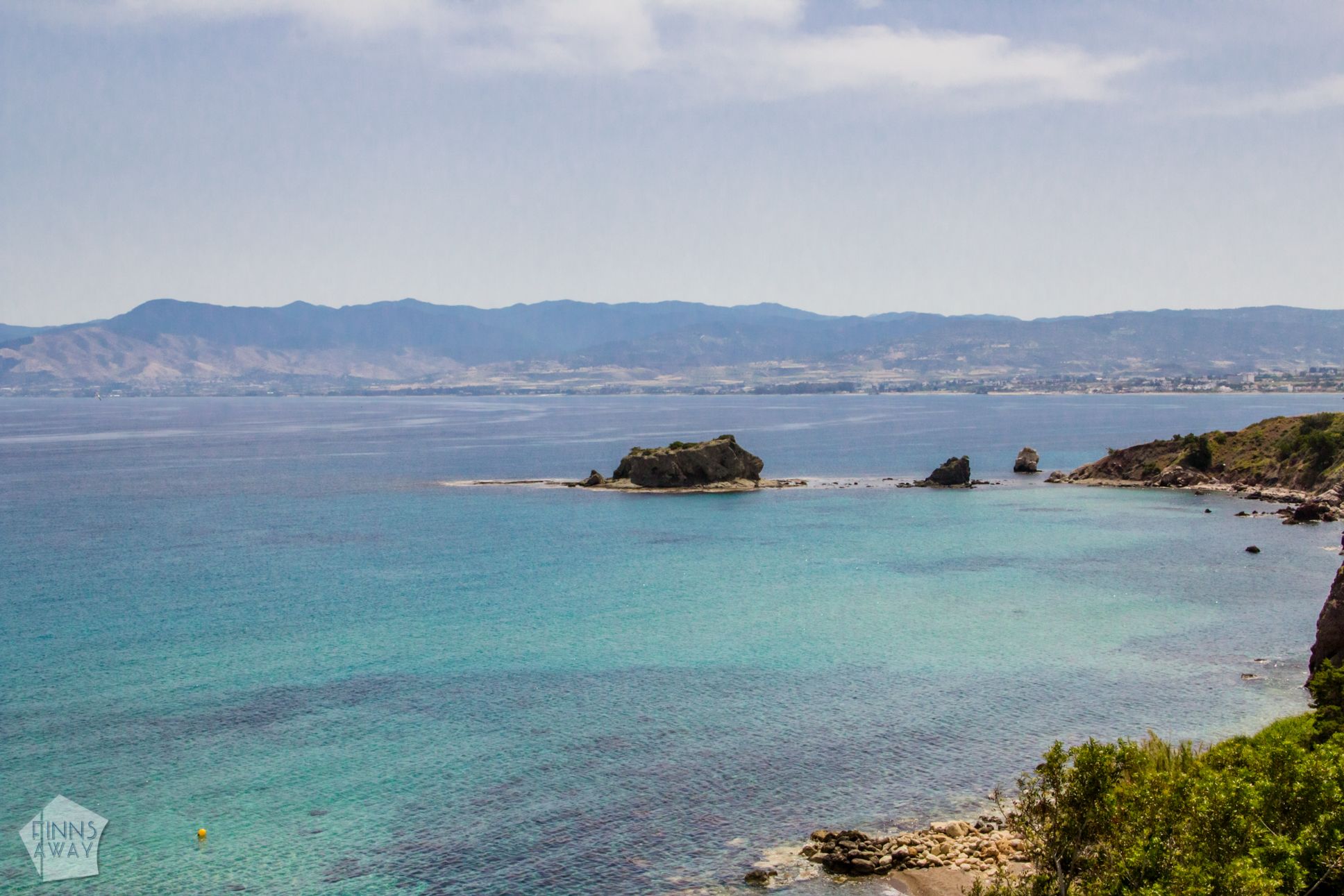 We are sorry that this post was not useful for you!
Let us improve this post!
Tell us how we can improve this post?