Viñales – haven for nature-lovers and hikers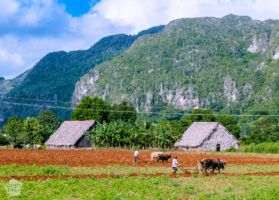 Viñales in the western part of Cuba, in Pinar del Rio province, is a rural town, but still one of the most popular tourist destinations of the whole country. The draw is the surrounding nature and national park, with valleys, limestone monoliths (mogotes) and tobacco fields. Viñales Valley is also on Unesco world heritage list for its natural beauty. When we visited in October, which is still considered as part of the rainy season, the nature was amazingly green and lush. The town itself is nice as well, with colorful colonial-era houses lining the narrow streets. Typically the houses have verandas in front of them, with a pair of rocking chairs for chilling out. In this post we introduce activities in Viñales and explain how to go hiking in the beautiful valleys without a tour or guide.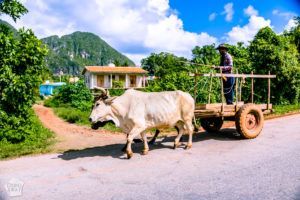 Viñales is first and foremost an outdoors destination – most of the activities available take place outside in the nature. Will it be horseback riding, exploring caves or hiking, the stunning nature is the thing in this rural pearl of Cuba. So don't let the appearances fool you – when arriving in Viñales, you'll see lines of restaurants and bars offering cheap mojitos and happy hour deals. Viñales is touristic for sure, but in a very laid-back way, and most of the visitors go there to relax and enjoy the nature, not to party. It's also a genuinely rural town, with farming done in the old fashioned way. You'll see oxcarts, workhorses and self-built farming tools instead of modern machines and tractors. There are cowboys with outfits that could be out of a western movie, and of course chicken running across streets and pigs oinking and taking mud baths in the courtyards.
Hiking in Viñales without tours or guides
We are not big fans of guided tours, and thus decided to skip the guided hikes and horseback riding also in Viñales. Luckily it's well possible and totally free to head to the valleys and national park on foot, without a guide. There are not marked hiking routes tough, so you'll need a map (and gps) to get around. We once again trusted on Maps.me offline map application, that quite well shows the dirt roads and paths around Viñales. However, we were not able to walk the route we planned in advance, because we ran into a huge mud pool that we could not find a way around, and into a stream-crossing without any kind of a bridge. Still, the hikes we made were very rewarding. It might actually be possible to hitchhike through the mud and water on a horse-back, if and when local horse-men pass by, but we didn't try this ourselves.
Day hike in valleys around Viñales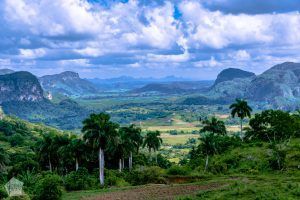 A long day hike (19,50 km) took us to some great viewpoints, past towering mogotes in Valley of Dos Hermanas and to the Mural of Prehistory. The aim was to make a circular hike through Valle de la Guasasa valley, walking west on the northern side of Mogote del Valle and back to Viñales through Cueva de la Vaca cave. However, we needed to turn back due to a huge mud lake. First and last parts of the hike are along a main road, so you could try to hitchhike that part and make the walk shorter if you'd like. Check out this map of our hike, and utilize also Maps.me to plan yours!
Hike through Cueva de la Vaca cave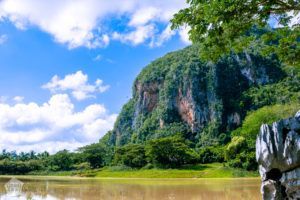 The shortest way from Viñales to Valle de la Guasasa in the northern side of the town is through Cueva de la Vaca cave. The cave is just a 1,7 km walk away from the town center, first along Calle Adela Azcuy, then through Finca Raul Reyes ranch / cafe. The path to the cave turns right after a small lake. Continuing straight and then left, you'll find a climbing wall and a viewpoint. To reach the cave, a short climb up is needed, but it's not too difficult. The cave is not long and very easy to walk through, but bring a torch as it's really dark inside. On the other side the ascent to the valley is rather steep, and it seems that most of people hiking to the cave return the same way they came. However the scramble down is worth it, as the valley is very beautiful and quiet.
Our plan was to hike north until the dirt road that goes to Camino al Palmarito by the main road, but a small muddy river with no bridge over it cut our way. We actually saw a couple of cowboys going over on horses, but didn't dare to ask if they could give us a ride. However, there are several other paths as well, and we simply walked back a bit and then turned towards the main road. Check out a map of this 8 km circular hike. This hike could be easily combined to a long day hike with the first route we introduced, if only the mud lake would be dryer (maybe during the dry season?), or if you could get a ride over it.
How to prepare for hiking in Viñales
Hiking in the valleys around Viñales is mostly very easy, and no special gear is needed, just wear sporty clothes and good walking shoes. You might need to go over or under some barbed wire fences, and getting to caves and view points requires climbing up quite steep and rocky paths. Expect the weather be hot and humid, so take a lot of water, wear a hat and use sun screen. Pack some lunch or snacks if you like, a torch for caves, and of course your phone with maps and a camera for capturing the stunning scenery.
Other activities in Viñales
Alongside hiking, horseback riding is one of the most popular activities in Viñales, and without a doubt a great way to explore the valleys and enjoy the views. With a horse it's possible to go through muddy areas and cross streams easily, and to go further away than on foot. If you could go on your own, it would sure be fantastic, but I suppose it's only possible to ride with a guide. However, people have reported that the guided tours are nice as well.
Another popular activities are guided tours to underground cave systems and to tobacco plantations and cigar factories. There is a large cave system around Viñales, and part of the caves are filled with water and only accessible with boat. Some caves lead through the limestone mountains, and can be accessed without guides or fees. Growing and drying tobacco leaves, as well as rolling cigars is a big business in this part of Cuba. On tours you'll get to see and hear how all this works. We didn't try a tour, just peaked inside a tobacco factory in Viñales, but taking pictures was not allowed.
When to go and where to stay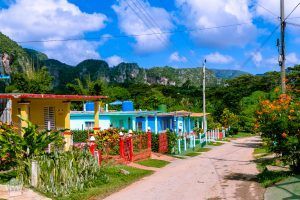 Viñales, as well as whole Cuba, can be visited year around, but take into account that the rainy season lasts roughly from June to November, and in autumn also hurricanes can occur. The dry season is the most popular time, and holiday seasons like Christmas time, Easter and summer bring the most visitors to the island. To avoid to crowds and enjoy the island as its most greenest, the end of the rainy season is perfect. When we visited in October, there were some rains, but not on daily basis and they only lasted for a very short time. Mostly the weather was sunny and beautiful.
The best way of accommodation in Cuba is staying in guesthouses called casa particular. These home-stays usually offer clean and nice rooms with own bathroom, and decently priced, filling meals are available too. Most of the casas are nowadays in Airbnb (join via this link and get a discount of your first stay), but you will always find one also without booking in advance. In Viñales there are hundreds of casas particulares, according to some sources even two thousand! When arriving, or already when on the way, the locals will ask if you have an accommodation already, and also the casa owners usually can and will recommend a casa of their friends or relatives in your next destination. We booked in advance only the first nights in Cuba, since we wanted to have some flexibility in our schedule, and had no issues at all with finding accommodation.
Read more about traveling in Cuba:
Public transportation in Cuba
From Havana to Vinales using camiones
Two weeks in Cuba – cost summary
Pin this post to save it for later