Travel guide to Peloponnese, Greece
Peloponnese is rich with history and the birthplace of countless legends about ancient heroes. It bursts historical ruins, archaeological sites and medieval castles, and Greeks fought there for hundreds of years against invaders. This post is a summary of our road trip in Peloponnese in January 2018, introducing some great destinations to visit in the area, and providing tips on what to see and do in this beautiful region in Greece.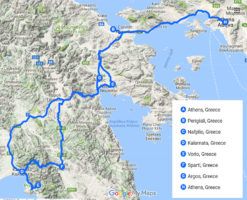 We started the Peloponnese adventure from Athens, and the first destination was Corinthia region, northeast of the peninsula. We drove to and in Peloponnese using only no-toll roads, so basically avoided all motorways. This is not just because we wanted to avoid the road tolls (that are quite high in Greece), but also because we prefer the views that smaller roads offer. Already the first length of the drive, along the coastal Athena-Corinth road, was pretty scenic, and the views on the mountain roads of Peloponnese were spectacular.
Corinth Canal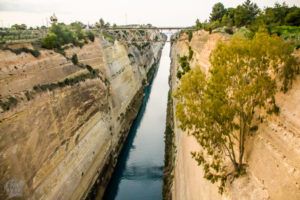 To get to Peloponnese overland, you need to use one of the bridges that cross the Corinth Canal. The narrow canal links the Ionian and Aegean seas, and basically cuts the Peloponnese Peninsula out of mainland. The 6 km long and 23 meters wide Corinth Canal is cut through rock, and has nearly vertical, 90 meters high walls. Cutting the canal was planned already in 7th century BC, but actually started by Nero in 67 AD, when 6000 Jewish prisoners were forced to do the digging. The project was soon interrupted though, and completed not until 1883-93.
Perigiali and other small coastal villages west of Corinth
We chose not to stay in the Corinth city, but decided to find accommodation in the coastal strip west from the city instead. This area is dotted with small villages next to each other, along the old Corinth-Patras road. Coastal villages are sleepy during winter, but come fully alive in summer, when mostly Greek families come there for holidays. The coast line with small beaches is pretty, and there are nice Greek taverns and other restaurants, and different accommodation options to choose from.
We stayed for over a week in the village of Perigiali, just few kilometers west from Corinth. Can warmly recommend this spacious Airbnb apartment just next to a small beach. It is suitable also for a family or group of friends, since there are beds for four. When in Perigiali, we visited the Ancient Corinth and made a day trip to Nafplio, and just enjoyed the quietness of the seaside village after bustling Athens.
Ancient Corinth and Acrocorinth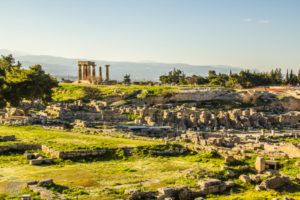 Ancient Corinth was first inhabited already in the Neolithic period, and due to it's strategic location and fertile soil it grew to vital city. It played a major role throughout centuries, and was for long a wealthy trading city. Ancient Corinth was made of three parts; central area on a lower plateau, acropolis on the hill (the Acrocorinth) and a port on the coast. The archaeological site of Ancient Corinth consist of the early Doric Temple of Apollo and both Greek and Roman ruins. There is also a small archaeological museum next to the site. We didn't enter this site, just walked around it and took some pics, but for information, the full ticket to site + museum is 8 euros.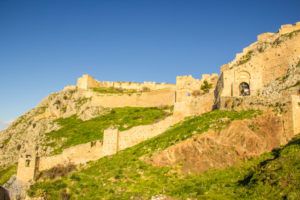 Up in the hill is the Acrocorinth, majestic fortress that can be seen from afar. Even though it existed already in ancient times, most of the structures that are left today are medieval. The site was turned from Greek acropolis to Roman citadel, and then later to a Byzantine fortress. Acrocorinth is surprisingly large and the views are spectacular, so it's definitely worth a visit.
There are three handsome gates from different eras, a Venetian tower, remains of a mosque from Turkish era, Frankish keep, and ruins of Temple of Aphrodithe, to mention the main attractions. Ticket to the fortress is normally 2 euros. For some reason we actually weren't charged at all in January, maybe because we arrived just 30 minutes before closing time (3 pm in winter). Half an hour was not enough time to see the whole site; we literally ran down from the upper part of the site to make it back to the main gate in time. So reserve at least 1 hour for exploring this interesting site.
Nafplio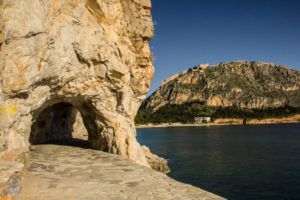 The city of Nafplio, around 60 km south from Corinth, by Argolic Gulf, is simply charming. You could see the main attractions on a day trip, but it's really worth of a bit longer stay. Nafplio has for long been a retreat for weekending Athenians, but nowadays sees a lot of international tourists as well. And that is no wonder really; the town is a charming mix of ancient walls and ruins, medieval castles and neoclassical architecture in a jaw-dropping scenery. Everything is within walking distance, so you could start the day with frappe in the old town, explore the castles, sunbathe in the nearby beach, make an afternoon walk around the small peninsula and enjoy dinner in one of the seashore restaurants with a view to a castle on an islet.
Read more: Nafplio, pearl of Peloponnese
Messenia region, Kalamata and surroundings
Mountain peaks, picturesque mountain and seaside villages, stone-built houses and towers, castles, stone bridges, monasteries, Byzantine churches, cobblestone streets, hiking paths, caves and secluded beaches. Sounds charming, right? All this can be found in Messenia (Messinia) region and Mani Peninsula in southwestern Peloponnese.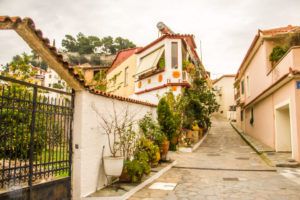 Messenia's capital Kalamata is a the second largest city in Peloponnese and an important port town. The most charming part of the city is the small old town that lies at the foot of the castle hill with a 13th century kastro, the Castle of Isabeau. It was a pleasure to walk along the narrow streets of the old town, past the castle and numerous of churches. Most charming of them is the small Byzantine-era Church of the Holy Apostles. Like locals, we bought stuffed pitas from the square and ate them on the benches just next to the church. Also the lively seafront of the town is worth a visit. The name of Kalamata surely rings some bells if you like olives. The world-famous Kalama olives are plump, purple-black and hand-picked. Conditions for olive-growing are ideal in the region; summers are hot and winters rainy enough.
When in Kalamata, you can stay in the city center, but we recommend booking accommodation a bit outside of it, since the surroundings of the city are really beautiful. We chose this small and cute Airbnb apartment in the village of Paralia Vergas, just few kilometers south of central Kalamata, and it was a perfect option for few days stay. Situated just next to the seashore, at the foot of the mountains, it offered excellent value for money, and the hosts were super-hospitable, so this is warmly recommended!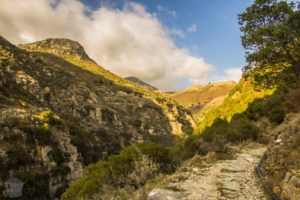 From Paralia Vergas we made nice but demanding runs to the hills and an excellent day hike to nearby Ridomo Gorge. The West Mani area south from Kalamata offers wonderful options for hiking and other outdoor activities. It's home to the highest mountains in Peloponnese and several deep canyons, and ancient stone footpaths connect small, photogenic mountain villages in the middle of quiet wilderness.
Read more: Hiking in Ridomo Gorge
Road trip from Kalamata to Sparta
This 59 km winding road is said to be one of the most stunning routes in Greece, and it surely was worth a drive. The road from Kalamata first slowly climbs up in the mountains in scenic surroundings, following Nedonas river and Nedonas gorge for a while. The highest point of the route (1524 meters) in Taygetus Mountains, around 40 km from Kalamata, is called Langada Pass. This is the most impressive part of the road trip, including tight hairpin turns when the road follows the stunning Langada gorge, descending steeply.
Unfortunately we didn't have time to explore Sparta (also called Sparti), a historical town in a beautiful valley surrounded by mountains. Sparta, ones home to famous, brave and strong Spartan soldiers, is rich in history, and the ruins of ancient Sparta lie just next to the modern town. Should get back there some day, the town looked lively and pretty, and could also work well as a base for exploring the nearby mountains and hiking trails. But this time we just drove through the city and continued our journey north, driving all the way back to Athens the same day.
Other interesting destinations in Peloponnese
Unfortunately we didn't have time for full tour in Peloponnese, and missed many fascinating sites and regions. This means that we need to go back there some day, and visit at least these below destinations that we didn't have change to explore yet.
Ancient Olympia
Birthplace of the Olympics and an ancient Greek sanctuary site is situated in the Eli region, western Peloponnese. Ancient Olympia is also the most famous and popular tourist attraction of Peloponnese. The first official Olympic Games were organized there in 776 BC, and this quadrennial festival was held in honor of Zeus. Ancient Olympics lasted five days and included pentathlon, wrestling, horse racing, chariot and pancratium. The Ancient Olympia archaeological site includes ruins of athletic training areas, temples and stadium, and there is a comprehensive archaeological museum as well.
Hiking in central Peloponnese
Arkadia region in central Peloponnese is very tempting destinations when it comes to hiking. It is surrounded by mountain regions and there are picturesque, tiny medieval villages, castles and monasteries here and there. Hiking paths wind next to mountain streams and through blooming meadows, in the middle of unspoiled nature.
Argolis Peninsula
Visiting Nafplio gave us some idea of the beauty of Argolis region, and we'd definitely like to explore the Argolis Peninsula better some day. This area has bunch of archaeological sites, most famous being the Ancient Mycenae and Epidavros, and there are small towns, secluded beaches and coastal cliffs with caves around the Peninsula.
Have you traveled in Peloponnese or are planning to? Feel free to share your thoughts and favorite destinations in the comment section!