Greece: Getting to know the dynamic Athens
Athens, the bustling capital of Greece, seems to be always awake. It is the oldest city in Europe, and home to iconic landmarks like the Acropolis with majestic Parthenon temple. Many visitors limit their stay to few days, focusing on the most central quarters and archaeological sites. Beyond that Athens is a huge city with so many different neighborhoods to be explored and so much history to be understood.
We stayed almost a month in Athens, and still it feels that we only scratched the surface. Athens may become one of those cities where we will keep coming back to, since we really liked the atmosphere. And the weather; even in January the sun was shining almost every day. In this post we'll share our experiences of the city with some tips on how to live in Athens with limited budget, where to stay, what to see and where to do sports.
What to see and do in Athens (on a budget)
There is enough sights and archaeological sites in Athens to write a book (and many have been written), so no blog post will be a complete guide for sightseeing in this historical city. For this post, I chose some of those sights that are completely free of charge and easy to reach, and had to mention also Acropolis of course. And actually even Acropolis can be free of charge, read more below.
The Acropolis of Athens
The ancient citadel of Acropolis is the most famous sight in Athens, and the most significant archaeological site in Greece. For most of the tourists, it's the highlight of their visit to Athens. Parthenon temple is the best known building in Acropolis, but there is a lot of other well-preserved remains also. For those who are on a budget and want to avoid the entrance fee (regular ticket 20 €, reduced ticket 10 €), it is possible to see the site for free if your timing is right. During winter season (1st November to 31st March) Acropolis is open for free on the first Sunday of every month. Other free admission days are 6th March, 18th April, 18th May, the last weekend of September and 28th October. On those days also several other sites, like the Ancient Agora of Athens and museums like National Archaeological Museum are free of charge, so plan ahead and fill the day with sightseeing free of charge!
The Changing of Guards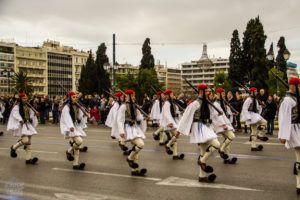 If you go to see the Monument of the Unknown Soldier in front of the Hellenic Parliament, or walk past the Presidential Mansion, you will see pair of guards in somewhat unusual uniforms, standing perfectly still, even without making any facial expressions. They are Evzones, soldiers of a special unit of the Hellenic army, guarding the monument and the mansion 24/7. The normal change of two guards, with pretty interesting choreography, happens every hour, but every Sunday at 11 o'clock there is a special ceremony called the Changing of Guards in Syntagma Square in front of the Parliament.
The Sunday ceremony involves the whole Evzones unit marching in their official uniform, accompanied by a military band. The official version of the uniform is used by guards only on Sundays and on National Holidays. The decorative costume has a historical background; it refers to the uniform that was used by two groups of Greek warriors in the War of Independence in 1821. The white Greek kilt has 400 folds, that represent the 400 years of Ottoman occupation. This traditional ceremony is one of the best known "sights" in Athens and one of the symbols of the city.
National Garden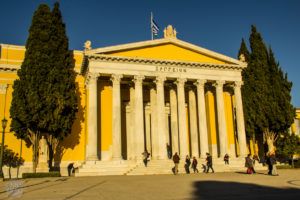 When you get tired of all the traffic and noise of the city center, head to the National Garden. This big park, that lies just behind the Hellenic Parliament, is an oasis in the middle of the busy city life and thus a great place to escape. It also is stunningly green and has pretty tropical feel. There are plants and trees from all over the world, and small green parrots are flying around and shrieking. Even in midwinter the National Garden was so alive, that it can be called a place of eternal summer. Allow couple of hours for just wandering around along the walkways and paths. There are six small lakes, ducks and turtles, small zoo, playgrounds, statues and cafes. In there you can also find Zappeion, that nowadays used for ceremonies and meetings. 
Lykavittos hill
Lykavittos hill, also called Mount Lykabettus, is a 277 meters high limestone hill northeast from city center. As it rises above all the surroundings, it offers really nice views over the city and to Acropolis for example. The hill is a popular tourist destination, and there is a chapel, an open-air amphitheater and restaurants on top of it. The easiest way up is the funicular (7 euros round trip, 5 euros one way), but we recommend the short and scenic hike up along well-maintained, zigzag walking path instead. There are nice paths also around the hill and on the slopes, which makes it an awesome place for trail running also.
Athens for sports-enthusiasts
If some city is world famous for Olympics, it's of course Athens. The Ancient Olympic Games were held in Olympia in Peloponnese, and the first modern Olympic games in Athens in 1896. The main venue, Panathinaiko Stadium, is the only stadium in the world built in marble, and one of the most popular sights of central Athens. The handsome Zappeion in the National Gardens was built for the first Athens Olympics, and served as the main fencing hall. But the purpose of this chapter was not to introduce the Olympic venues (separate post about that may follow later), but to give some tips for exercising in Athens instead.
Run to the hills
Athens is built around and on hills; the streets can be really deep, and there is endless amount of stairs connecting the upper and lower streets. This might be a nightmare to drivers, but quite the opposite to runners. It's easy to get effective hill training by just heading towards the nearest hill. Which can be surprisingly difficult in some parts of the city, since the streets make a lot of turns and twists. It was never boring to go for a run in Athens; we found several wonderful paths up to the hills, enjoyed awesome views over the city and got a little bit lost every time when heading to new areas (but thanks to GPS sport watches found back home every time). It was a surprise how remote places we found just few hundred meters out of the busy streets. Check out the pics in gallery and remember to pack your running shoes when traveling to Athens!
Lift some weights
If you go to a gym back home, why not to do that when traveling? When staying more than just couple of days in one place, we always try to find a gym that offers single entry tickets with reasonable prices. That can be a bit challenging in bigger cities sometimes, when most of the places that are easy to find, only offer monthly or even yearly contracts. Body Fitness club in Neapoli has also daily (5 €) and weekly (15 €) tickets, so it is a perfect option for travelers in Athens. It's a nice gym near Lykavittos hill with all the basic equipment and some group fitness classes.
Accommodation and daily life in Athens
Since Athens is a really widespread city, the first thing to consider when searching for accommodation, is the location. Many tourists favor the city center for obvious reasons, but to fully dive into the daily life of this dynamic city, the neighborhoods a bit outside of the center can be even better option. Accommodation in Athens comes in all price levels, but you could find a room or apartment via Airbnb starting from around 10 € per night, and there are some inexpensive hostels also. We chose to rent a room in a spacious apartment in lively Kypseli area, about 4 kilometers north of the busy center.
We worked quite much during our stay, but allowed some time for sightseeing, sports and just wandering around the city. We also met with some fellow Finns that live in Athens, and voted in presidential election in Finnish Embassy. Like locals, we bought most of the groceries from the circulating street markets and cooked a lot ourselves. Vegetables and fruits sold in street markets are very tasty and fresh, and the prices are lower than in supermarkets. Actually we had a feeling that pretty much everything was quite expensive in supermarkets, especially when taking into account the local income level, which is not very high.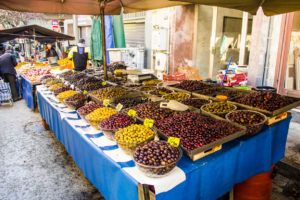 So if you are on a budget, pay attention to the prices in shops, and utilize the street markets. To find them, just ask locals, and keep in mind that they close around 4 pm. The selection is at its best in the morning, but prices can get down during the day, and by the closing time you can get some special offers for the products that are still left (like 4 kilos of oranges or 2 kilos of sweet peppers with 1 €). In winter time the veggies stay fresh the whole day, but in summer, when Athens gets burning hot, it might be best to do the shopping in the morning. Compare the prices also when eating out. Fast food like pita kebab or falafel is inexpensive, but you can also find decent restaurants serving healthier meals or salads with just few euros. House wine served in carafes is often cheap, but still of good quality, while the bottled wine can be quite expensive in restaurants. Local lager beer costs 2-4 euros, but craft beer unfortunately is much more expensive. If you want to feast and splurge a bit, there is no shortage of high-end restaurants and trendy cafes and classy cocktail bars in Athens!
Have you visited Athens or are planning to? Share your thoughts about the city in the comment box below!
Gallery

Click pic to open!
Liked it? Pin it!