Greece: Nafplio, pearl in Peloponnese
Nafplio in Peloponnese peninsula, around 140 km southwest from Athens, has become a popular tourist destination. For long it has been a retreat for weekending Athenians, but the word about the beauty of Nafplio is out, and it sees more and more international guests. Town is a charming mix of ancient walls and ruins, medieval castles and neoclassical architecture in a jaw-dropping scenery. We made a day trip to Nafplio when traveling in Peloponnese in January 2018.
Quick facts about Nafplio
Nafplio was the capital of the First Hellenic Republic and of the Kingdom of Greece in 1821-1834
Major port town since the Bronze Age, ruled by Romans, Byzantines, Franks, Venetians and Turks during the history
Home to three handsome fortresses; Old Acronauplia (Akronafplia), photogenic island fortress of Bourtzi and Palamidi fortress built by Venetians in early 18th century
Population roughly 14 600 inhabitants, capital of the regional unit of Argolis
Also called Nafplion, Nauplia and Navplion
Situated in the northeast Peloponnese, on the Argolic Gulf, partly on a picturesque peninsula
What to see and do in Nafplio
Nafplio is small enough to be explored on foot. Any visit to Nafplio should include wandering along the narrow streets of the old town, walking around the tip of the peninsula along the waterfront promenade and a walking path, and visiting at least one of the fortresses. Also, you should allow some time to just sit back and relax, maybe in one of the restaurants or cafes in the old town or along the promenade. There is also a small beach called Arvanitia on the south side of the peninsula, you will walk just above it when circulating the peninsula.
Nafplio Old Town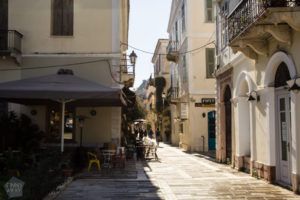 The charm of Nafplio Old town lies in the narrow cobblestone alleys, Ottoman era fountains, elegant Venetian houses and flower-decorated balconies. The heart of the old town is the Syntagma Square with some historical monuments and buildings, like the Archaeological Museum and Turkish Mosques. Another important square is the Three Admiral's Square next to the Town Hall. After exploring the old town alleys, head to the waterfront, and follow the coastline walking route, the Arvanitia promenade, to walk around the peninsula and enjoy the scenery. The promenade that ends in a small square above Arvanitia beach is about 1 km long, and the setting beneath the cliffs of Acronauplia is really beautiful.
Palamidi Fortress
The handsome Palamidi Fortress dominates Nafplio, standing on a hill above the town, 216 meters above sea level. It can be reached using the road on the backside of the hill, but the "right" way is to climb up the steep steps with awesome views. It is said that there are 999 steps up; we didn't count but it was a breath-taking climb for sure. The well-preserved fortress was built between 1711-1714 by Venetians, but conquered by the Turks already 1715. After Greek Revolution, the fortress served for decades as a prison.
Bourtzi Fortress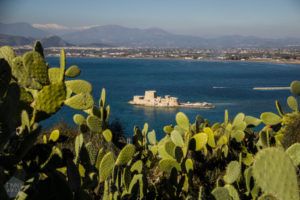 Originally part of city defenses, the picturesque Bourtzi Fortress is situated on the rocky islet of Agioi Theodoroi in front of the old town and the port. It was built by Venetians in 1471 and later worked as a prison. In summer season (and usually in winter too, but more irregularly) you can reach the fortress by boat from Nafplio Port. Entrance to the fortress is free, but the boat ride costs few euros per person.
Akronafplia Fortress
The walls of Akronafplia once enclosed the whole city of Nafplio. It is the oldest fortress in Nafplio, rising at the top of the old town on the peninsula. Parts of the castle were built already on the Bronze Age. There is not that much to see except for the thick old walls with some tower structures and a clock tower, but a walk up offers also nice views over the old town. Step out from the road and take one of the paths crisscrossing on the hill; you will end up in beautiful cactus forest above the steep cliffs that drop dramatically to the sea. Entrance to Akronafplia is free (Jan 2018).
Abandoned Xenia hotel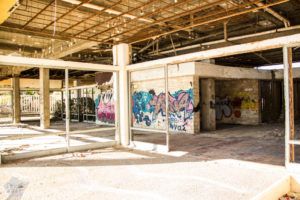 Between Akronafplia and Palamidi fortresses, just above Arvanitia beach, lies a huge, abandoned hotel building. The location is very central, and it's hard to take overview pictures of Nafplio without the building "ruining" your shots (you can see it in the forefront of the cover picture of this post also). It is a sad sight; once probably glorious, but now totally ruined building just standing there quietly. We had to find out the story behind the deserted hotel, so dug up some background info.
In 1950's the Greek National Tourism Organization made a nation-wide attempt to boost tourism in Greece, as a part of larger effort to reconstruct the economy of the country. As a result of so called Xenia Hotels project, dozens of high class hotels were built around the country, in immediate proximity of archaeological sites and other tourist attractions. The huge project has been called the most important production of public buildings in post-war Greece, but it has been criticized a lot as well, claiming that concrete cubicles ruin landscapes and were sometimes built almost on top of archaeological sites. The project was terminated in 1983, and after that part of the hotels were sold and restored, some torn down and some handed over to organizations to use and take care of.
Xenia Palace in Nafplio was built in 1961, and it was a luxury hotel of its own time. Today it looks like it has been abandoned for decades, but we learned that it was still operating at least in year 2000. The same year it was sold, and the new owners plan was to fully renovate it during coming 18 months. Don't know what happened next, but it seems that the hotel was closed down soon after, and instead of renovating, it was left to collapse. Cultural heritage or not, former Xenia Palace in Nafplio is a sad sight today.
Day trip or longer stay in Nafplio?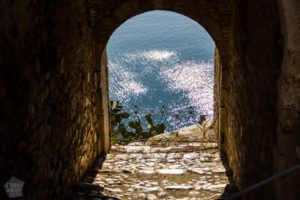 In practice, one day is enough to see the main sights and admire the beauty of Nafplio, and it can be easily done from Athens. But to fully enjoy the atmosphere, we would recommend staying a bit longer, and maybe even using Nafplio as your base to explore other towns and ancient ruins in Argolis area. There are bus connections from Nafplio to destinations around Argolis, so making day trips from there is fully possible even without your own wheels. However, if you would like to visit more remote areas and sights around the area, renting a car or motorbike gives you more freedom. Also, you could easily spend at least one day just walking around Nafplio and sunbathing in nearby beaches. One nice and popular route is the walking path south from Arvanitia beach along the coast line. It offers great views and leads to more secluded Neraki and Karathona beaches.
Accommodation in Nafplio seems to be a bit more expensive than in some other towns in Peloponnese, but still you should be able to find also budget-friendly options at least via Airbnb. During summer and holidays it's better to book well ahead. Not all traditional guesthouses are on-line even today, so when in Nafplio, you could ask around from houses with "rooms to let" signs.
How to get to Nafplio?
It's easy to get to Nafplio from Athens by bus. Suburban buses leave regularly (hourly) from Stathmos Kiffisos bus terminal in Athens, and it takes around 2,5 hours to reach Nafplio. Ticket price is around 14 euros, with a discount if buying a return ticket.
If you arrive by car, there is a huge, free parking lot just next to the Nafplio Port. Note that old town is not fully accessible by car, there are walking areas and stairs leading to areas up in the hill. Part of the hotels and apartments don't have parking lots and can't be reached without walking up some steps.
Nafplio surely is charming any time of the year, but the most alive during the summer of course. Visiting off-season is a wonderful option if you want to avoid the crowds. In January there were not that many other tourists, but also the weather was bit chilly. If you are keen on some sunbathing, would say that the spring and autumn months are the most recommendable times for a visit.