Road trip in South Portugal: 2-3 weeks itinerary
Road tripping is a wonderful way of getting to know new countries. With your own wheels you have the freedom to go basically anywhere, and to choose accommodation with other criteria than convenient location close to public transportation. In this post we introduce an itinerary for 2 to 3 weeks road trip south from Lisbon through Alentejo and Algarve regions, and provide some tips for renting a car and driving in Portugal.
Portugal surely is stunning around the year, but probably the best time to drive around south Portugal, especially in the popular Algarve coast, is during spring or early summer. At that time of the year the nature is green and blooming, weather is warm and there are not that much tourist around yet. Also the roads, especially the N125 through coastal Algarve can get really busy in July and August, so if you can, avoid the high season when planning your road trip.
How to get started
Exploring Portugal wouldn't be complete without roaming around the gorgeous capital Lisbon for at least couple of days, even for weeks if time is not an issue. Lisbon is a natural starting point for a road trip, since most of the international flights to Portugal land in Lisbon Airport (Humberto Delgado Airport, also known as Lisbon Portela airport), which is very well connected from elsewhere in Europe and beyond by dozens of airlines. Lisbon is also one of the new destinations of our travel partner AirBaltic, that flies there twice a week during the summer season from Riga by new Bombardier CS300 planes.
First step of the road trip, unless driving to Portugal with your own vehicle, is to rent a car. After comparing the rental prices, we ended up renting a car from Lisbon airport; for some reason renting from agencies in central Lisbon would have been a lot more expensive. We used Auto Europe search tool to find the best deals, and found an economy class hatchback car (Citroen C3) for two weeks with just 103 euros, so only for 7,4 € per day. You can find mini cars also cheaper than that, but driving for sure is more pleasant with a bit bigger engine.
On top of the rental price come the possible additional insurance costs, and the activation cost of an electronic Easy Toll road toll device, in case you want to use it. In Portugal you need to pay toll for using the highways, and the Easy Toll device in a rental car is a quick way of entering the toll roads and paying for them with credit card when returning the car to the rental company. It's possible to drive around the country without using any highways, so activating the device is not mandatory. In our rental company it cost 18 euros just to use the machine, which is a lot compared to the price of the car, so if you plan to use the highways, get familiar with other payment possibilities beforehand. This road trip itinerary does not include any other road tolls than crossing the Vasgo da Gama Bridge to Lisbon from south to north (and you could use toll free N10 instead).
Parque Natural da Arrabida and Setubal
We started the road trip by heading south from the capital along the coastline. After crossing the Targus river via handsome Vasgo da Gama Bridge (toll free when crossing from north to south), we headed first to Setubal Peninsula and Parque Natural da Arrabida. This Nature Park is home to wooded hills, rocky cliffs and small beaches, and a drive or hike through the park offers some stunning coastal views. Small Portinho Beach in the Nature Park is often rated as one of the most prettiest in Portugal, and surely the bay was worth a short visit and admiring the scenery.
We stopped for a lunch in Setubal, a port town and popular access point to the Nature Park. Learned that when in Setubal, it's a must to try the choco frito (fried cuttlefish) and other seafood dishes. For most of the visitors Setubal is not much more than a crossing point, and there is not that much to see or do in the town itself. However, there is an old town with pedestrian streets, a hilltop fortress and seaside street with several seafood restaurants to choose from. One tourist attraction are the bottlenose dolphins that can be spotted on a cruise leaving from Setubal.
Coastal Alentejo
The coastline of Alentejo Region stretches south from River Sado to Zambujera do Mar, and is home to rugged coastal cliffs, sand dunes and beaches, small coastal villages and excellent hiking routes like Rota Vicentina. South from Porto Covo, the whole coastal Alentejo is part of a coastal natural park, called the Southwest Alentejo and Vicentine Coast Natural Park. In this protected and thus pretty undeveloped area the nature is wild and pristine and the beaches are not lined with resorts and hotels. If you are looking for off-the-beaten-bath coastal destinations from Portugal, warm recommendation to head exploring the Alentejo coast.
We stayed for few nights in a small village called Almograve. Situated south from beautiful Vila Nova de Milfontes, it is an excellent base for hitting the coastal hiking trails. Most of the visitors staying in this sleepy village are actually hikers, who pass by on their long distance hike along Rota Vicentina. There is a sandy beach just next to the village, home-stay accommodation and small grocery stores, so all you need for a short stay.
Related post: Hiking on Rota Vicentina
From Almograve we continued south partly along the small roads near the coastline, partly along national road N120. We stopped shortly in the village of Zambujero do Mar, where you can admire the scenic setting of a church just above the high coastal cliffs. If time is not an issue, there is plenty of small side roads from N120 leading to beautiful beaches and fishing villages by the coast. We unfortunately didn't have time for many stops, as we needed to drive all the way to the south coast during one day.
Drive through Algarve coast
Algarve region covers the southern part of Portugal from the Spanish border to the west coast. The south coast of the region, with sun-kissed sand dunes, impressive rock formations and cliffs, small islands and former fishing villages has been a popular summer holiday destinations from the 60's. It has grown to series of tourist hot spots with resort towns and beaches full of sunbeds, and is especially busy during July and August.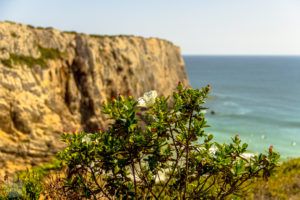 On our road trip we first drove through the Algarve west coast down to Cabo de Sao Vicente, along the national road N268 and stopping shorty in the picturesque town of Aljezur on the way. The Cape Saint Vincent is the most southwestern point of continental Europe and home to dramatic coastal cliffs, and thus a popular tourist spot. On the road to Sao Vicente you'll drive past the gorgeous Praia do Beliche beach, that is worth at least a short visit admiring the photogenic cliffs next to the sandy beach, that is popular among surfers and sunbathers alike.
The national road N125 runs west to east through the whole region, and like in the west coast, network of smaller roads lead to the coastal towns. When planning the road trip we had some difficulties to choose where to stay as time was limited. We ended up booking accommodation from the town of Alvor, from where it's easy to make day trips exploring the nearby beaches and towns. Alvor is a former fishing village that has grown to a busy tourist destination, but it's still a beautiful town and nicely located on the estuary of Alvor River.
After getting to know Alvor and the surroundings, the road trip can continue to the regional capital Faro. There are again dozens of beaches on the way; we stopped to admire the picturesque Praia do Vale Centianes. The main sights of Faro can be seen during just a few hours visit, but staying overnight would have been nice as well. The old town is gorgeous, and also outside of it there are plenty of beautiful buildings, and for example a chapel decorated with bones and sculls.
Driving east from Faro don't miss Tavira! It's a charming town, warm recommendation to visit, and maybe even stay for couple of days! In May the city center was surprisingly quiet, and roaming along the old streets, through castle ruins and over small river along small bridges was a pleasure. Further east there are still plenty of beach destinations, and close the Spanish border is Castro Marim with a huge castle that for sure is worth a closer look. From Castro Marim we took N122 towards north, and as the last destination in Algarve we stopped in Alcoutim, a small white village by Guadiana river and Spanish border.
Read more: Algarve – holiday paradise or a tourist trap?
Guadiana Valley, Mertola and Sao Domingos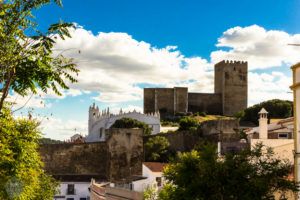 North from Alcoutim, again back in Alentejo region, the N122 road dives into Vale do Guadiana Natural Park. For most of the visitors the historic city of Mertola is the main reason to come to the Guadiana Valley Natural Park area, but for those interested in hitting the walking trails, the park offers some beautiful landscapes, flora and fauna to explore. Already the drive from south coast to the natural park area offered really nice, surprisingly hilly and green views. But yes, Mertola is a gorgeous town with nice location by the Guadiana river, walled medieval old town with small castle up on a hill, cobbled streets, museums and historical buildings, part of them with Oriental appearance. When planning your visit, note that the castle is closed on Mondays.
When we were checking accommodations from Mertola just couple of days before arrival, there was no budget options available. That is why we ended up driving to Sao Domingos, a former mining town east from Mertola; we got a nice last minute deal from a four star hotel. The village itself is also worth a visit, there is a beautiful church, white-washed houses, and a lot of structures related to the mining history. After the mine was closed down in 1960's, majority of the miners moved out from the village, but the machinery and buildings were left to stay. The mine area nowadays is a deserted and a bit creepy area to visit and to get to know to the history and the unfortunate environmental effects of mining activities in the area. There is a marked hiking trail (MER-10, Mining Route) leading through the mining sites and nearby villages; we had a hot and sweaty 16-kilometer midday run along it.
Historical cities of Beja and Evora
After couple of days in Mertola and Vale do Guadiana the road trip continues north through the city of Serpa. Also in this town you can find a gorgeous castle, old city walls and a well-preserved aqueduct. We didn't stop to explore Serpa, but headed onward to Beja and Evora instead.
Picture-perfect Evora with architectural gems from different ears has grown to a popular tourist destination, when Beja is still relatively quiet. As Beja is smaller and not as fancy, it is often referred as the little sister of Evora, but it's also a wonderful destination to visit. There have been settlements on the site since the Iron Age, and Beja has played an important role during Roman and Muslim administration. There is an interesting castle with no admission fee (unfortunately the stunning tower was closed for visiting) and an attractive old town.
North from Beja, upper Alentejo is very rich with medieval, walled cities and castles. Evora is one of the most beautiful, but if you have time, we recommend to drive around and explore also other towns in the area, for example Estremoz. You could also stop by to admire the mysterious megalith stones and to taste some fruity wines along the Alentejo Wine Route. We unfortunately needed to hurry from Evora back to Lisbon (to apply Russian visas for our adventure in Siberia), so hadn't this time the change to get to know this historical area better.
Monte dos Arneiros
When planning the road trip not too tightly, you can end up in most interesting places. We didn't stay the night in Evora, but chose accommodation with the criteria "available with short notice, not too expensive, somewhere on the way towards Lisbon to Evora and equipped with WiFi" instead. This took us to a wilderness hotel Monte Dos Arneiros, close to small town of Lavres, in the end of a small dirt road. When driving there in the middle of nowhere we were wondering if we even have the correct address, but eventually arrived in a cute holiday hotel that looked like a ranch.
After one night in the countryside we drove back to Lisbon, and later continued the journey north, more of that will follow in separate post. Based on our experience, we can warmly recommend road tripping in Portugal, and using the small roads instead of toll highways. Traffic was mostly fluent, the roads were in surprisingly good condition and the local way of driving seemed to be pretty relaxed. We saw lots of other rental cars, and also international campers and motorcycles, so road tripping in Portugal seems to be popular way of spending holidays - why wouldn't you try it too!
Gallery
Click pic to open
Pin the article