Algarve – a holiday paradise or a tourist trap?
Sun, beaches, parties and surfing; based on holiday brochures that would be south coast of Algarve in a nutshell. Covering the southernmost Portugal, the Algarve region has lured swarms of tourists for decades. South coast fishing villages have turned into resort towns and during the summer season beaches are full of sunbathers from Portugal and abroad. The huge growth has side effects, and it seems that Algarve coast has somewhat bad reputation among many Portuguese people. We were actually advised not to go there, in case we wanted to see the authentic Portugal. Luckily we still did, when on a road trip around the country in mid May.
There are reasons for the popularity of coastal Algarve; it truly is beautiful area, with sun-kissed, golden beaches, impressive coastal cliffs and small islands. It's true that it's hard to find unspoiled fishing villages anymore, and that there are lines of holiday resorts and hotels along the coast, but outside the high season (July and August are the busiest months) it's still possible to find stunning beaches right next to handsome cliffs without endless lines of sunbeds.
Where to go in Algarve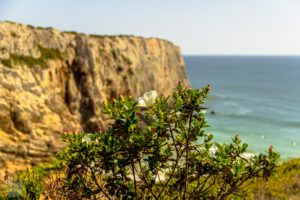 How to decide where to go in Algarve then? Well, if the beaches and coastal views are what you are looking for, it's good to know that the coastline is geographically really diverse, and can be roughly split in three different parts. To put it short; the more west you go, the more rocky the coastline gets. Near the Spanish border the beaches are long and the coast is even, and from Tavira towards Faro spreads the Parque Natural de Ria Formosa with narrow, sandy islands. The central part of the coast is home to photogenic limestone cliffs, golden rock columns and caves just next to golden beaches. Moving towards west coast, the cliffs get higher and darker, but there still are some small, stunning beaches between the rocks.
But Algarve is much more than beaches and resort towns on the south coast. The rugged west coast is part of a nature park and much less developed, but with equally stunning views and black cliffs. Stepping inland from the coast, the landscape turns to lush green hills and there are plenty of charming historic towns, castles and ruins to explore. So if you have more time in hand, spend some days getting to know the inner Algarve as well. Tip for those interested in hiking: check out the Via Algarviana trail that runs inland through the whole Algarve region, over mountain ranges, in nature parks and via small villages with total length of 300 kilometers.
We had only few days to spent in Algarve during our road trip, so we focused on exploring the coast, driving first through Vicentina Coast in the west from Odeceixe in the border with Alentejo region to Cabo de Sao Vicente, then to east all the way along the south coast until Castro Marim near the border with Spain, and then up back to Alentejo region. There are so many towns, beaches and castles along the route, that it was impossible to explore all of them, but here we introduce some destinations from along the way.
Vicentina coast and Cape St. Vicent
The west coast of Algarve is part of the Southeast Alentejo and Coastal Vicentina Natural Park, and since there are building restrictions in the protected area, the coast has remained quite pristine outside the towns and villages. There is no road running just next to the coast, but when driving along the national road N268 there are side roads to the coast every now and then. As we had seen some of the west coast beaches and cliffs already when hiking in Alentejo, we only shortly stopped in Aljezur on the way to south. The picturesque old town of Aljezur is built next to a river on a hillside, and on the top are the ruins of Aljezur castle with nice views to the surrounding nature park.
The most southwestern point of continental Europe, Cabo de Sao Vicente, is a popular tourist spot, and even in May there were a lot of visitors admiring the rocky cliffs and the lighthouse at the end of the cape. Just few kilometers east of the cape are the remains of Beliche Fortress, and the gorgeous Praia de Beliche beach, that is especially popular among surfers. From the parking lot there are stairs down to the beach that is surrounded by photogenic cliffs with caves. According to Lonely Planet the beach is isolated, but the secret clearly is out, and there were bunch of sunbathers in addition to surfers.
From Sagres towards Faro
As we had booked accommodation beforehand from Alvor, there was time for just a short visit to Sagres, a gorgeously located town above high cliffs. We decided to skip the tourist-hot-spot-town Lagos, but the walled old town surely would have been worth a visit. Lagos is an entry point to some of the most popular beaches of Algarve and also famous for its party-happy nightlife.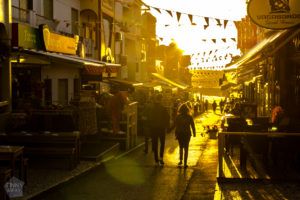 Alvor is a small town between Lagos and Portimao, one of those places that used to be more or less just fishing towns, but have turned to serve tourists. It's a beautiful town still, situated by the Odiaxere river and delta, next to long beaches. The town center looks genuinely Portuguese with white stone houses, cobblestone alleys and flowery balconies, but then there are also the pedestrian streets that are lined with souvenir shops and restaurants and bars with multi-language menus and touts. Not that it's a bad thing really, it makes Alvor an easy town to visit for everyone. We stayed for two days to have some time to work and exercise. When running in the windy delta area, we saw dozens of kite-surfers practicing their skills in the shallow waters, looked like tons of fun, need to try that sport some day!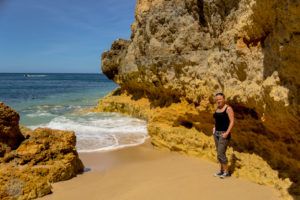 On the way towards Faro we stopped by one of the beaches east of Portimao, Praia de Vale Centianes. It's maybe not one of the most famous beaches of Algarve, but has absolutely breathtaking location, surrounded by dramatic cliffs and other rock formations. The beach was relatively quiet this time of the year, but there is a huge resort basically just above it, so if going in August, don't expect to be alone. For those interested in coastal views from atop of cliffs, there is a 6 km walking path east from Praia de Vale Centianes, for sure worth a short hike!
Faro, the historic regional capital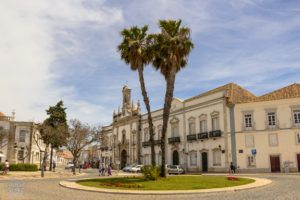 The regional capital Faro sees fair share of visitors, but many tourists just pass through it on their way from the airport to beach towns. We stopped for few hours to explore the city, and it was a positive surprise! The walled old town, Cidade Velha, is stunning, and for some reason it was very quiet when we visited on one sunny Sunday afternoon. You could probably spend hours just strolling on the old cobblestone streets, admiring the apartment buildings and churches, and sipping espresso in one of the outdoor cafes by the squares. One of the jewels of the old town is neoclassical Arco da Vila, the main gate to the walled town.
There is also a lot to see outside the old town and marina next to it. We made a short walking tour to see part of countless churches. Maybe the most famous is Igreja de Nossa Senhora do Carmo, a baroque church with handsome facade. Behind the church is a bone chapel Capela de Ossos from 19th century. It's said that the interior of the small chapel is made of the skulls and bones of up to 5 000 monks. Unfortunately both the church and the chapel are closed on Sundays, so we didn't get to see this extraordinary place.
Super-cute Tavira and Alcoutim
Moving east from Faro, we stopped in Tavira, that is said to be the most beautiful town in Algarve. Not sure about that, but yes, it is charming. Too bad that we were in a hurry, would have loved to stay for few days. How to even describe it; there is an old town with cobbled streets and squares, beautifully restored houses and a castle of course. You can walk inside the castle ruins, towers and sweet-scented rose gardens without any entrance fee. The town is located by a river, and a seven-arched Ponte Romana connects the old town with the other side of the city. Despite the name, the existing bridge is not Roman origin, but built to same spot that used to be part of a Roman trading road.
Further east towards the Spanish border we got a glimpse over Castro Marim Castle, a huge ruined fort originally from 13th century but built over much older fortifications. If you are in the area, don't drive past it like we did, but get to know better this historic site, and the small Castro Marim town just next to it.
In our road trip the last stop in Algarve region was the village of Alcoutim by Guadiana river and Spanish border. The drive up from coast is around 40 kilometers, through surprisingly hilly and green landscapes. On the opposite side of the river is Spanish Sanlucar de Guadiana, and both of these picturesque towns have handsome hilltop fortresses. As you can imagine, the strategic location means that these towns have seen a lot of rulers and conquers during the ages. Alcoutim today is small and peaceful, with an old town that climbs up a hill, and a riverside beach and a small marina
Algarve – to go or not to go?
To sum it up; the sun-kissed Algarve region for sure is home to over-developed tourist hot spots, but outside the busiest mid-summer months it's possible to find your holiday paradise from this region, without having to share it with too many other visitors. Just because it's popular, it doesn't mean that it's completely spoiled, but for sure heavy tourism is a burden to the environment and nature. If traveling in mid-summer high season, we'd advice to avoid the coastal Algarve, you can find plenty of stunning, less-crowded beaches elsewhere in Portugal!
Related post: Itinerary for a 2-3 weeks road trip in Alentejo and Algarve