Portugal: Hiking on Rota Vicentina, coastal Alentejo
The south coast of Portugal has been very popular tourist destination for decades, but the southwest corner of the country has remained more pristine and quiet, offering breathtaking coastal scenery and beaches. The Southwest Alentejo and Vicentina Coast Natural Park (Parque Natural do Sudoeste Alentejano e Costa Vicentina) is home to stunning hiking trails above dramatic cliffs and powder beaches, with exceptional flora and fauna.
Rota Vicentina and Fishermen's trail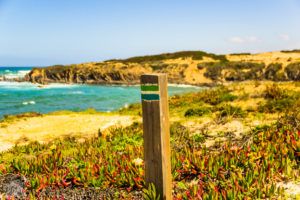 Rota Vicentina is a 450 km long network of hiking trails in southwestern Portugal, through western parts of Alentejo and Algarve regions. It consists of the 230 km long Historical Way, that mostly runs inland, short Circular Routes both on the coast and inland, and the 120 km long Fishermen's Trail that runs along the coast. All the trails are well marked, and thus suitable for hiking without a guide. We explored Rota Vicentina on our road trip in southern Portugal, and can recommend coastal Alentejo, not just for hikers but all travelers who want to see different regions of Portugal!
The Fishermen's trail brands itself as "probably one of best coastal trails in the world", and it truly is stunning, at least those sections that we hiked were. The trail follows the coast line, along old paths that have actually been used by fishermen and other locals. The Atlantic coast in Portugal is rugged, due to strong ocean winds and the waves that constantly hit the rocks. The trail consist of four sections that are suitable for day hikes, from 15 to 22 kilometers, and of five circular trails covering some inland paths also.
The northern end of the Fishermen's Trail is in Porto Covo, from where the path runs south through coastal Alentejo all the way to Odeceixe. South from there, on Vicentina Coast in western Algarve, there isn't a nonstop coastal path, but instead some shorter sections that connect with the Historical trail. There are accommodation options from home-stays to hotels along the way, so it's easy to hike the whole trail in Alentejo coast without camping gear. There are also some camping sites for those willing to carry more equipment or on a tight budget. But as most of the Fishermen's Trail is sandy, walking is somewhat demanding with heavy backpacks.
Our hike from Almograve to Vila Nova de Milfontes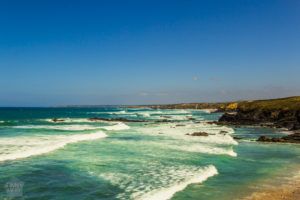 We selected Almograve as a base for exploring the coastal Alentejo, and it was a nice choice; small, idyllic and quiet village just few hundred meters from the coastline. It's basically just a group of white houses with some restaurants and mini-markets near the roundabout in the center. There are no fancy hotels, but nice home-stays and holiday homes instead, like this cozy Airbnb room where we stayed. The nearby Vila Nova de Milfontes would have been a great base too – it's a bit bigger and very pretty town with more services for visitors, but it's still quite laid-back, at least outside the busiest summer months.
The Fishermen's trail between these two villages runs above some very scenic coastal cliffs. When starting the hike from Almograve beach (Praia de Almograve) the first kilometers are all about cliffs, sand dunes, beaches and Atlantic waves hitting the rugged rocks. In early May the flora of the area is probably at its best; there are flowers in all colors, blooming despite the lack of water and proper soil, just stretching up from sand towards the sun.
After following the coast for about 4,5 km, the trail turns to inland and there is a crossroads where you can turn back towards Almograve making a circular trail of totally 8 km, or continue north towards Vila Nova de Milfontes (another 10,5 km from the crossroads). We hadn't actually planned how to get back if continuing all the way to Milfontes, but still decided to do so, as we wanted to see the town and the coastline and beaches next to it.
Continuing north from the crossroads, there is a short section where the path runs inland, going past some meadows and along dirt roads. But soon the path returns to the coast, and there are more absolutely stunning sea views from above steep cliffs. Soon you'll be able to see the white houses of Vila Nova de Milfontes, but there is still few kilometers to go from that point. The only way to get to the town is to cross the Mira River, and to do that you need to walk along the road bridge about 2 km upstream. Just before the trail turns to follow the river towards the bridge, there is a popular, white beach called Praia das Furnas.
When in town, we learned that there actually is a bus connection to Almograve, mostly used by students who go to school in Vila Nova de Milfontes. So we hopped in a bus that left around half past four in the afternoon. Another option would have been to use Uber or Taxi, or just try to hitch a ride. Or walk of course, but another 15 km along the sandy paths would have been a bit too much, and along the narrow main road it's not safe or pleasant, as there is basically no space for pedestrians.
Trail running and mountain biking on Rota Vicentina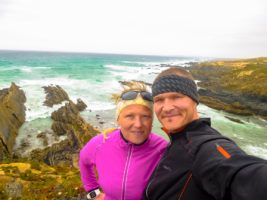 Good news for those preferring trail running over hiking; Rota Vicentina is very well suitable for trail running also. We tried this sport following The Fishermen's Trail south from Almograve, and enjoyed every moment. The path first runs above the coastal cliffs and over sand dunes, and the scenery is spectacular. The path is very sandy (quite naturally since the area is full of sand dunes) so running is demanding, especially when running uphill.
For those thinking about riding MTB on Rota Vicentina; you can do that on the Historical Trail, but biking is not allowed on the Fishermen's trail. Regarding the circular paths, on most of them mountain biking is allowed, but not on the Dunes of Almograve and From Bodeira to the Sea routes.
Check out also the very informative Rota Vicentina webpage before you go!
Feel free to share your thoughts or experiences of hiking on Rota Vicentina in the comments 🙂