Beaches and historical sites north from Lisbon
After traveling a month in Portugal this spring, we are charmed by the beauty and versatility of this relatively small country. Portugal truly has so much to offer for travelers, that few weeks are not nearly enough to see it all. In this post we introduce some interesting destinations north from Lisbon and provide a possible itinerary for a few days road trip in Estremadura region. Nearby cities like Cascais and Sintra could also be seen on day trips from Lisbon, but if you have some more time, consider staying a bit longer to get to know the towns and surrounding a bit better. Having your own wheels enables seeing also a more out-of-the-beaten-path destinations like secluded beaches and small villages, not just the main sights.
When we were first planning our two weeks road trip around Portugal (we only had a rental car for tho weeks), we somehow thought that we could fit in everything from beaches of Algarve to Douro Natural Park in the far northeast corner of the country. After driving around Alentejo and Algarve regions in south, it was clear that we didn't have enough time to travel around the northern part also, if we wanted to do something else than just sit in the car. So we decided to leave Porto and surroundings, as well as the natural parks of the northernmost part of the country, out of the itinerary this time. Focusing on Estremadura region was actually a really good move, as there is so much to see in the area, from ages old monasteries to monstrous surf waves and sandy beaches.
Peniche and surroundings
Ergo, change of plans; instead of driving from Lisbon to Porto, we headed towards Peniche by Atlantic ocean, roughly 100 kilometers north from the capital. We wanted to stay in a one "home base" for few nights and make day trips from there, and found a nice Airbnb apartment from small Consolacao village just next to Peniche. Consolacao was really quiet in mid-May, but as a nicely located beach town, it surely gets more busy during summer. There are some decent restaurants by the beach and walking trails above the coastal cliffs south from the town center. North from Consolacao, towards Peniche, lie wide beaches called Consolacao beach and Supertubos beach, the latter being renowned as an excellent surfing destination.
Besides beach and surf destination, Peniche is also home to a walled old town and a historical 16th century seaside fortress called Forzaleza de Peniche. Location of the city, on a small peninsula surrounded by Atlantic waves hitting the coastal cliffs, is something spectacular. It's recommended to take a walk or drive around the peninsula and to stop to admire the rock formations and coastal views. Rugged clifftops seemed to be popular not just among tourists, but fishermen alike.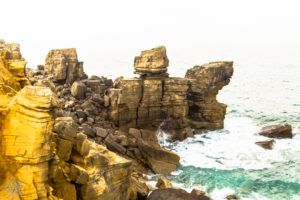 Peniche is also a starting point for boat trips to Ilhas Berlengas natural reserve. We unfortunately didn't have time to make a day trip to Berlengas, but heard that the islands are well worth a visit and actually the main reason for some visitors to come to Peniche in the first place. Apparently the largest island, called Berlenga Grande, is the only one that can be visited, and there are some options for staying overnight also. It is a small rocky island full of interesting rock formations and caves, and a home to thousands of nesting birds. There are several shipwrecks around the Berlengas, and those can be explored snorkeling or diving.
Few kilometers north from Peniche lies small Baleal Island, another popular surfing spot. It's actually not really an island, but more a peninsula, as it's connected to mainland by a narrow, sandy strip of land. It's said that the consistent waves around Baleal are ideal for beginners, and there are several surf camps. For those not that interested in surfing, Baleal is a beautiful spot for an afternoon walk and there are nice beaches for sunbathing, impressive rocks, yoga studios and small restaurants. The feeling of the town was pretty laid-back actually, but that might change when it gets more busy in the summer.
The walled city of Obidos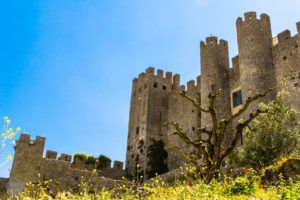 Obidos is a historic town 25 kilometers east of Peniche. It has grown to a busy tourist attraction, but is worth of visit despite the crowds. The picturesque old town, with cobblestone streets and white houses decorated with some blue and yellow paint and flowers, is circulated by a city wall and there is a handsome 13th-century castle. The crazy-busy main street with souvenir shops and stalls selling traditional cherry-liqueur in chocolate cups is somewhat distressing, but the alleys around it were nearly empty at least when we visited in mid-May.
Quite uniquely, it's possible to walk on the wall around the old town. The wall, called muro, and its towers offer some nice views both to the town itself and to surrounding countryside landscapes. Obidos actually once was on the sea shore (until 15th century), before the Obidos bay was silted up. The imposing Castle of Obidos has seen conquests, fights for the throne of Portugal, and several reconstructions. Since 1950's the castle has been a 'pousada', a hotel offering luxury accommodation.
The monastery town of Alcobaca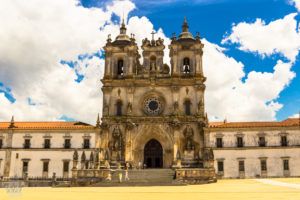 After admiring Obidos for couple of hours, the next destination of our day trip was Alcobaca, roughly 40 kilometers north from Obidos. Alcobaca is a charming small town famous for it's historical monastery. The Alcobaca Monastery (Monasteiro de Santa Maria de Alcobaça) dates back to 12th century, and is a UNESCO World Heritage site. The enormous baroque and Gothic facade of the church and the monastery is a sight as itself. Inside the main church are the beautifully decorated tombs of King Pedro I and his beloved Ines de Castro, commemorating their tragic love story.
We didn't enter the actual monastery area (admission was 6 € in 2018) but it undoubtedly would have been a rewarding visit. If you are interested on seeing this and more, note that there are also other gorgeous old monasteries in Estremadura region. If time is not an issue, you might also want to check up places like Monasteiro de Santa Maria da Vitoria in Batalha and Convent of Christ Monastery in Tomar. There is a combined, multi-monastery ticket (15 € in 2018) available for visiting all these three monasteries. Besides admiring the monastery, allow some time to roam around the beautiful town center of Alcobaca. We stopped for lunch in a restaurant called Meat; they served excellent burgers, and despite the name, also the vegetarian option was yummy!
Nazare and surroundings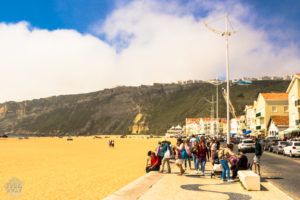 Before going to Nazare, we had somehow gotten the impression that it's a small and peaceful beach town. So it was a bit of a surprise that is has grown to a very busy tourist destination. The setting of the town center is really nice; there is a cliff-top old town with great views and "new" town center just by the long, golden beach. For those just looking for an easy beach holiday destination, Nazare could be a nice choice, but for us it had a way too touristic feel.
Besides the picturesque town itself, the waves near Nazare are a tourist magnet. The beach north from town, Praia do Norte offers great conditions for surfing, and in times sees huge breaking waves that can be over 30 meters high. The world record of biggest wave ever surfed was set there to 24 meters by Rodrigo Koxa in November 2017. The record breaking, gigantic waves in Nazare are created by a deep underwater canyon called the Nazare Canyon.
Palace of Mafra
On our way back south the main destinations to visit were Sintra and Cascais, but we stopped in Mafra on the way. This small town is famous for the 18th-century Palace of Mafra (Palacio Nacional de Mafra), a gigantic former royal palace and monastery with astonishing 1 200 rooms and 156 stairways. The handsome facade of the palace and it's basilica is made of limestone, and there are two imposing bell towers and ensemble of statues of saints outside the church. The tickets to the palace itself cost 6 euros (2018).
There are several route options when driving from Peniche to Mafra. Depending on your schedule, you could drive along the coastline, stopping in beach towns. We were (again) in a bit of a hurry, and chose the N8 also for the drive back south. On that route, the small and winding road N9-2 from N8 to Mafra was very scenic. It goes by Tapada Nacional de Mafra, a national park that used to be royal hunting ground. Nowadays the area is open for public for wildlife spotting, hiking, cycling and other activities.
Sintra and Serra de Sintra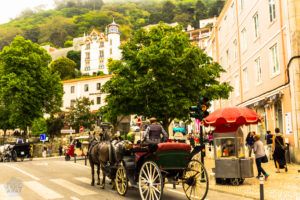 The photogenic town of Sintra, just 30 kilometers from Lisbon is a very popular destination for both day trips from the capital and a bit longer stays. We booked accommodation from a nearby village (the price level tends to be pretty high in the center of Sintra) and made a day trip to the town from there. We actually even managed to find a free parking slot by a street near the Portela de Sintra railway station. It's recommended to reserve at least one full day to explore the town and the surrounding, forested hills and gardens.
The setting of Sintra is simply beautiful; it's just in the foot of the green hills, and the colorful, old buildings climb up the hill sides. The UNESCO World Heritage listed old town (Sintra-Vila) is photogenic but touristic to say the least, and from there the crowds move up to the hilltop castles by buses and tuk-tuks. To escape all that, just hit the trails that start basically straight from the old town.
The highlights of the surrounding hills include 9th-century Moorish castle 412 meters above the sea level, a surreal, mix-of-everything Pena Palace, tropical garden Parque de Pena and Convento dos Capuchos Monastery. The well-marked walking trails of Serra de Sintra (Sintra Mountain Range) lead all the way to the castles and other sights through lush vegetation, and offer some very nice views and fresh air.
From Sintra to Cascais
If you are driving, don't take the shortest route from Sintra to Cascais, but make a detour around Parque Natural de Sintra-Castais. Also, if time allows, consider hitting the trails through and around this protected mountain area. We didn't have time for more hiking, but the drive along N247 offered excellent views and beautiful scenery. When getting closer to Cascais, the coastal scenery changes from forested hills and small beaches to coastal cliffs, more wider beach areas and golf courses. It's recommended to reserve at least few hours for the drive around the park, so that you can take some detours to beaches and viewpoints on the way.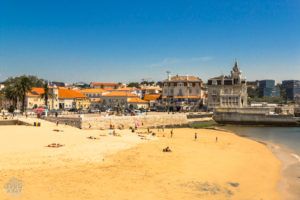 Cascais once was a small fishing village, but has grown to a popular summer holiday destination and holds a relatively big expat community also. It sees a lot of visitors from Lisbon during weekends and holidays, and foreign tourists fill the streets and beaches during the summer season. We only made a short sightseeing walk in Cascais one afternoon; there is a handsome citadel that has been turned into a luxury hotel, charming old town area, lush parks and old churches. And the beaches of course, one of them is just next to the town and two others only a stone's throw away. All three can get full of sunbathers in high season though, so beaches outside of the town might be better bet.
On the way back to Lisbon from Cascais, consider stopping in some of the small coastal towns on the way. There are some nice beaches, coastal walkways, parks and castles. We stayed few days in Paco de Arcos already before the road trip, and explored the nearby sights, like historical center of Oeiras, Parque dos Poetas and São Julião da Barra Fort, from there.
Related post: First impressions of Portugal and countryside life
When planning your road trip in Estremadura region, we recommend to allow at least one week to see all the destinations listed in this post. For more information about renting a car in Lisbon and driving in Portugal, read also the previous post about our road trip in central and southern Portugal.
Related post: Road trip in South Portugal – 2-3 weeks itinerary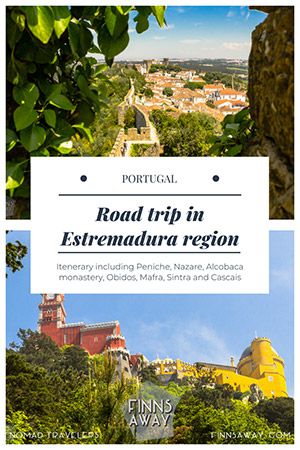 Gallery
click pic to open