Hiking and camping Tour du Mont Blanc
Hiking in the Alps, is there a better way to spend summer holidays? In August 2020, when the coronavirus situation in Europe had improved a bit during the summer, we decided to go hiking and camping Tour du Mont Blanc, one of the most iconic long distance treks in the Alps. Normally, the trail is very busy in August, but as many hikers had to cancel their treks that summer, the paths were not crowded at all. In this post we first shortly introduce what Tour du Mont Blanc, also known as TMB, is all about, and explain how we hiked it without using the rather expensive mountain hut accommodations, but camping instead.
Tour du Mont Blanc is a classic Alpine hike and often on the lists of the most spectacular hiking trails in Europe, if not in the whole world. The trail runs around the Mont Blanc Massif, through amazing landscapes in three different countries; France, Italy and Switzerland. The length of the traditional trail is around 165 km (103 miles), but there are several alternative trails that can either shorten or lengthen the trek. The hike takes the trekkers over several mountain passes and through seven scenic mountain valleys. This means a lot of ascent and descent during the hike, altogether around 11 000 meters (36 000 feet), or even more, if you choose to walk some of the higher trail variants.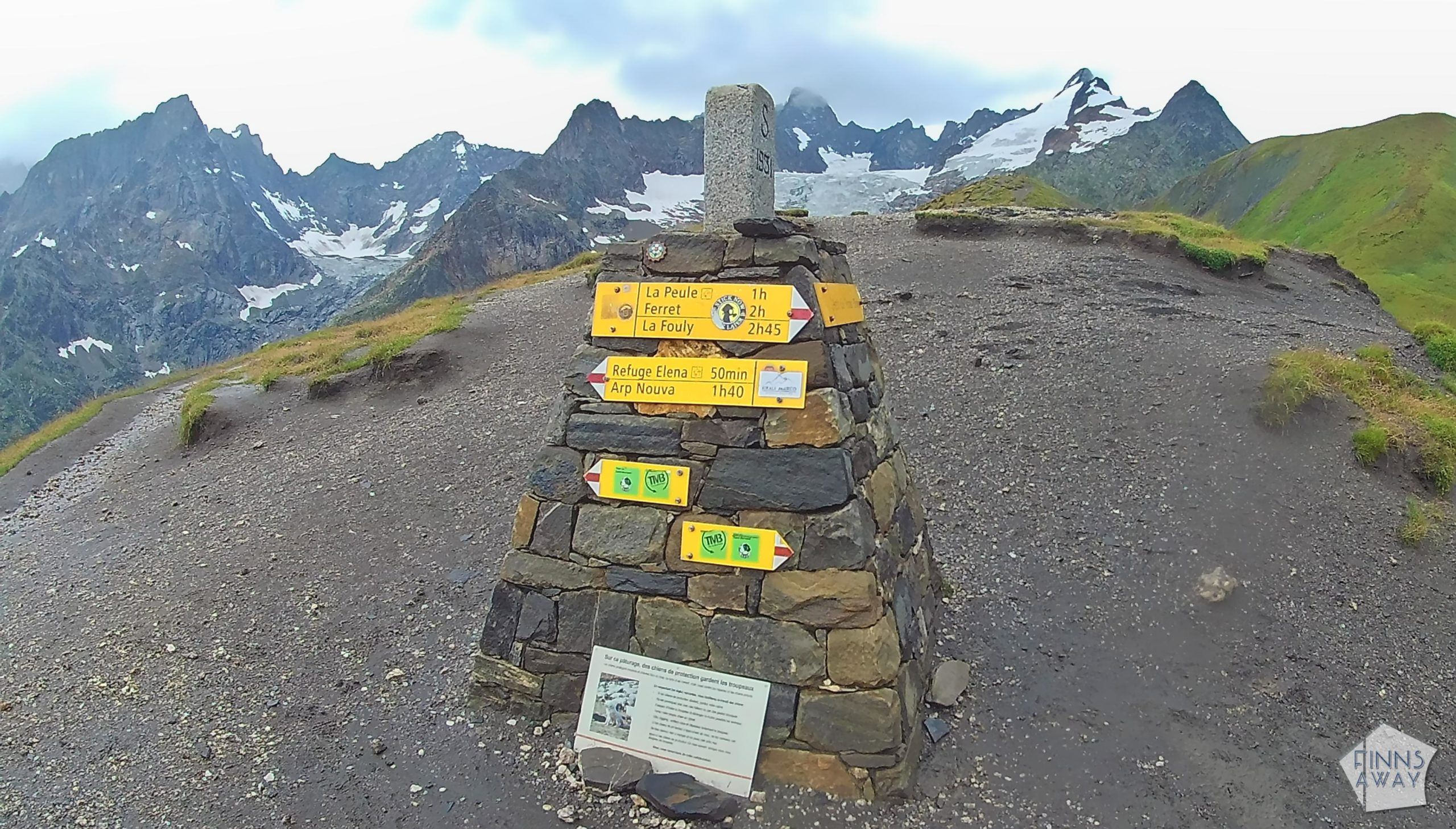 TMB is traditionally divided in 11 stages, and most of the hikers follow the 11-day itinerary, possibly with some rest days on the way. As TMB runs through some towns and villages, the trail is easy to reach, and hikers can stop on the way to spend a night in a hotel or eat in restaurants – or choose to just walk through the towns and stop in mountain huts and smaller villages instead. The trail is popular, well marked and in good condition, so it's mostly easy to walk and follow. There are a lot of both free and paid online resources about TMB and planning your hike, with useful maps and information about the different stages of the hike, the accommodation options and the towns and villages on the way, but not so much about camping Tour du Mont Blanc, so in this post we share some experiences and hopefully useful information about that.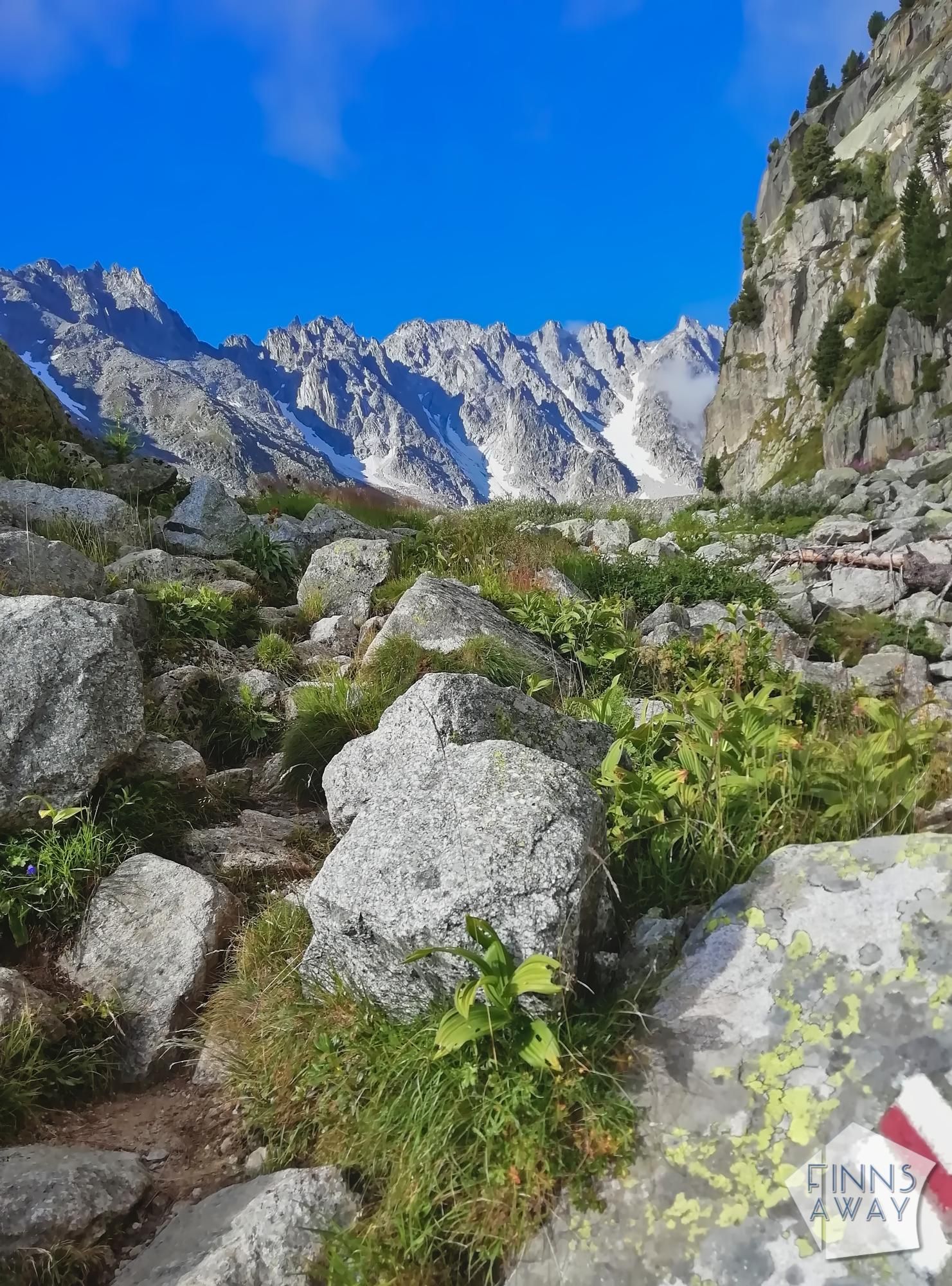 Camping Tour du Mont Blanc
Tour du Mont Blanc is "meant" to be hiked staying in the mountain refugees. Some of these huts are quite basic, some resemble small guesthouses and some are more fancy, but all of them offer accommodation and serve food. The easiest way to hike TMB is to walk from hut to hut, eating breakfast and dinner in the huts, and maybe even buying take-away lunch from them. There are a lot of tour operators that can help with booking the accommodation and meals, or it can be done independently, e-mailing or calling the huts to make reservations. If hut-to-hut hike would be your thing, note that some of the huts get fully booked very early, at least for August.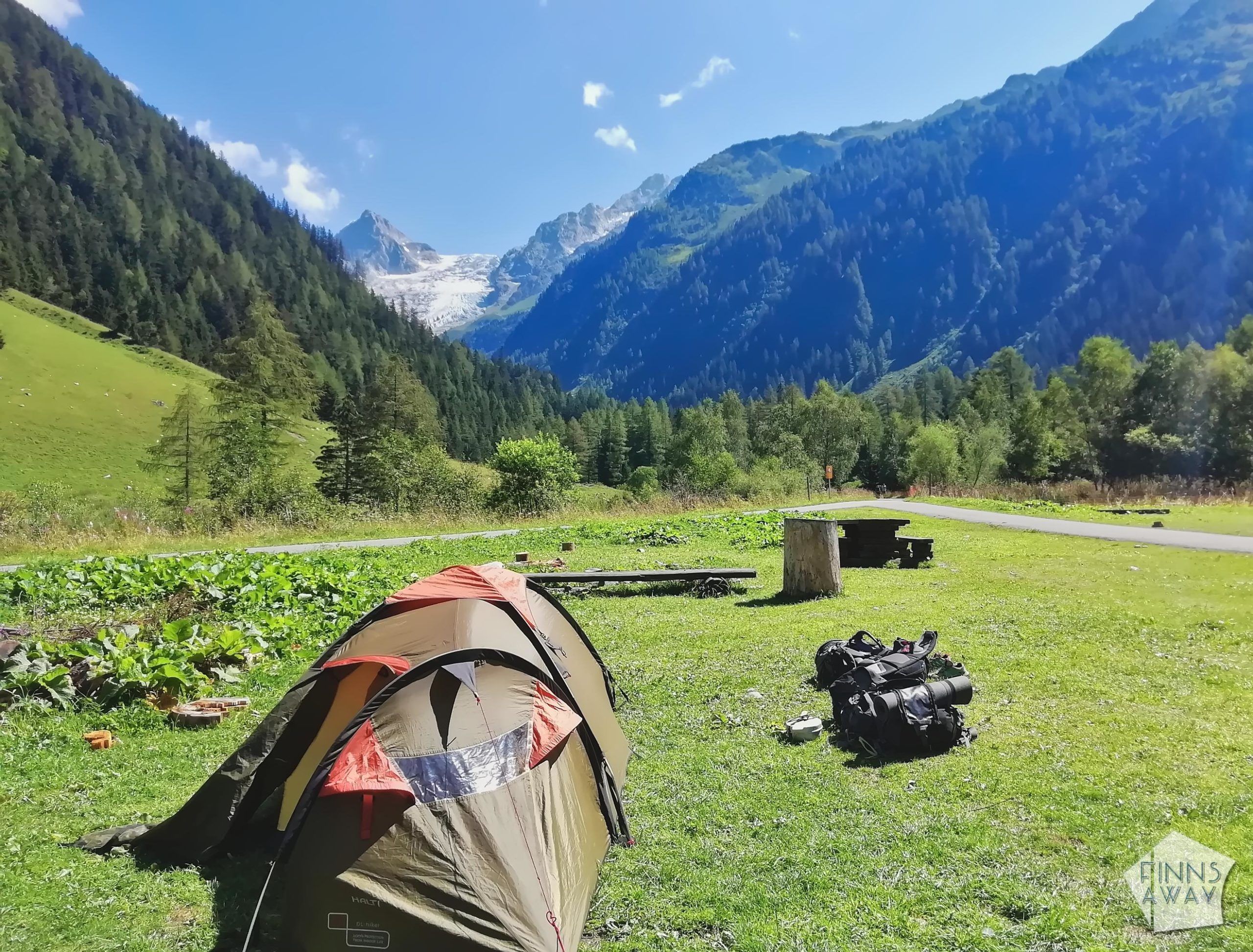 Camping TMB means that you'll need to carry your tent, sleeping pad and sleeping bag, as well as enough clothes to keep you warm and dry in the changing weather conditions. Also, unless you are planning to stop in huts for meals, you'll need to carry food and cooking equipment, and of course some water. There are grocery stores in the towns and villages on the way, so you won't need to carry everything for the whole trek, just plan ahead where and when you'll stock up. Unless your tent and other camping equipment are light-weighted, be prepared for carrying a quite heavy backpack, which can make the ascents and descents of the trail very demanding. TMB with a heavy load in your back is not a trek for those who are out of shape, so know you limits and practice for the hike, unless you are an experienced mountain trail hiker. On the other hand, camping TMB provides much more flexibility, as there is no need to book the camping sites ahead like the huts (that said, in August it might be wise to check ahead if there is space, especially if Covid-19 restrictions still limit the capacity of the sites).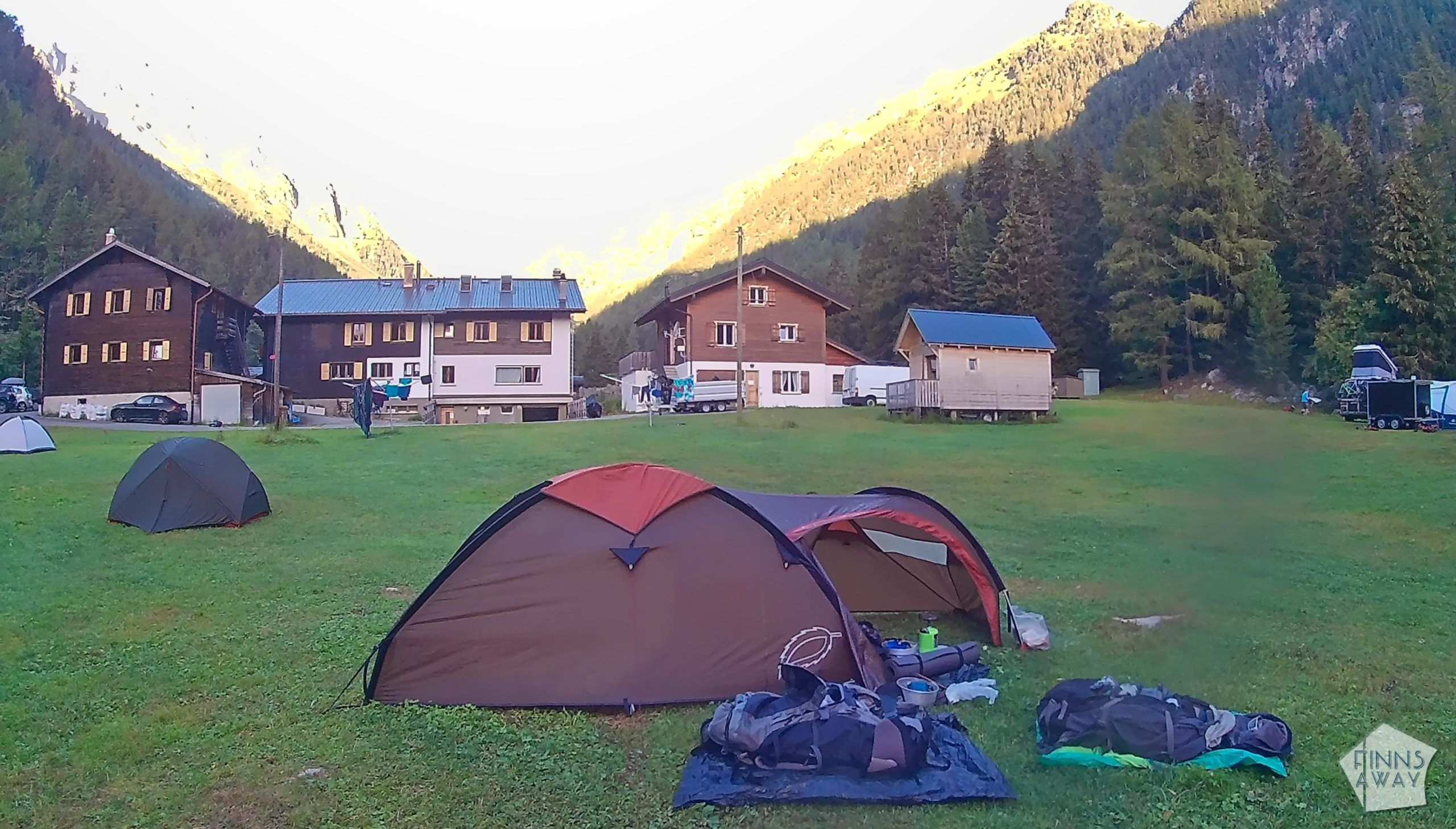 As possibilities to (legally) wild camp are very limited in all three countries, the hikers should stay in the official camping sites and assigned camping areas. This makes planning the hike somewhat challenging, as especially in Italian section, the camping areas are too far apart. However, there are buses running in the valleys on both sides of the town of Cormayer, so it's possible to utilize them to reach a camping area, and to return back to the trail the next day. In general, wild camping is forbidden in the valleys, but some of the huts, like Refuge Mottets and Refuge La Flegere  in France, allow wild camping close to them.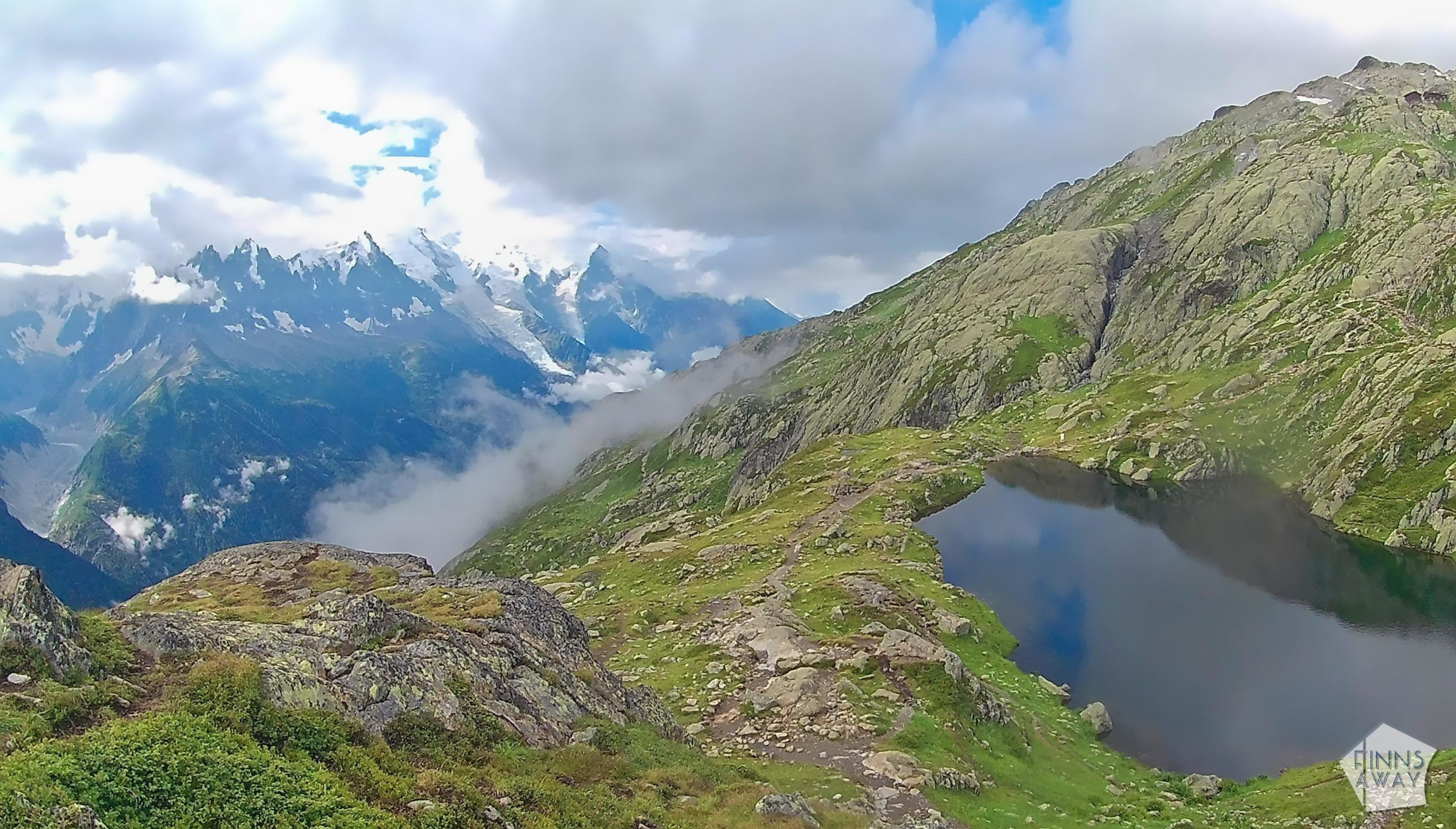 Our original plan for hiking and camping TMB was very ambitious, as we planned to walk the whole trail in only 8-9 days, staying in camping sites and wild camping. This would have meant some VERY demanding days, and we ended up cutting short or skipping some parts of the trail and using buses in the valleys in Italy to reach our camping site. Due to this we missed some amazing sections of the trail, but on the other hand, at that time also the weather was so cloudy and rainy, that we wouldn't have seen much of the mountain views anyway. So, a piece of advice for anyone planning hiking and camping TMB: include some extra days in your schedule, so that you can stay put if the weather turns bad, and continue when the skies are more clear again. The best mountain views are those that you can actually see, right?
Our TMB hike (and gear) in August 2020
We hiked TMB anticlockwise (this is how most of the hikers do it), starting from Les Houches village near Chamonix in France. Before starting the hike, we stayed the previous night in a camping site in Chamonix, so that we could start the hike first thing on the morning. Tip for those who come to Chamonix by own car – there are free parking areas in Les Houches, one right next to the Prarion cable car station and another, bigger area on the other side of the main road, next to the Lac des Chavants lake.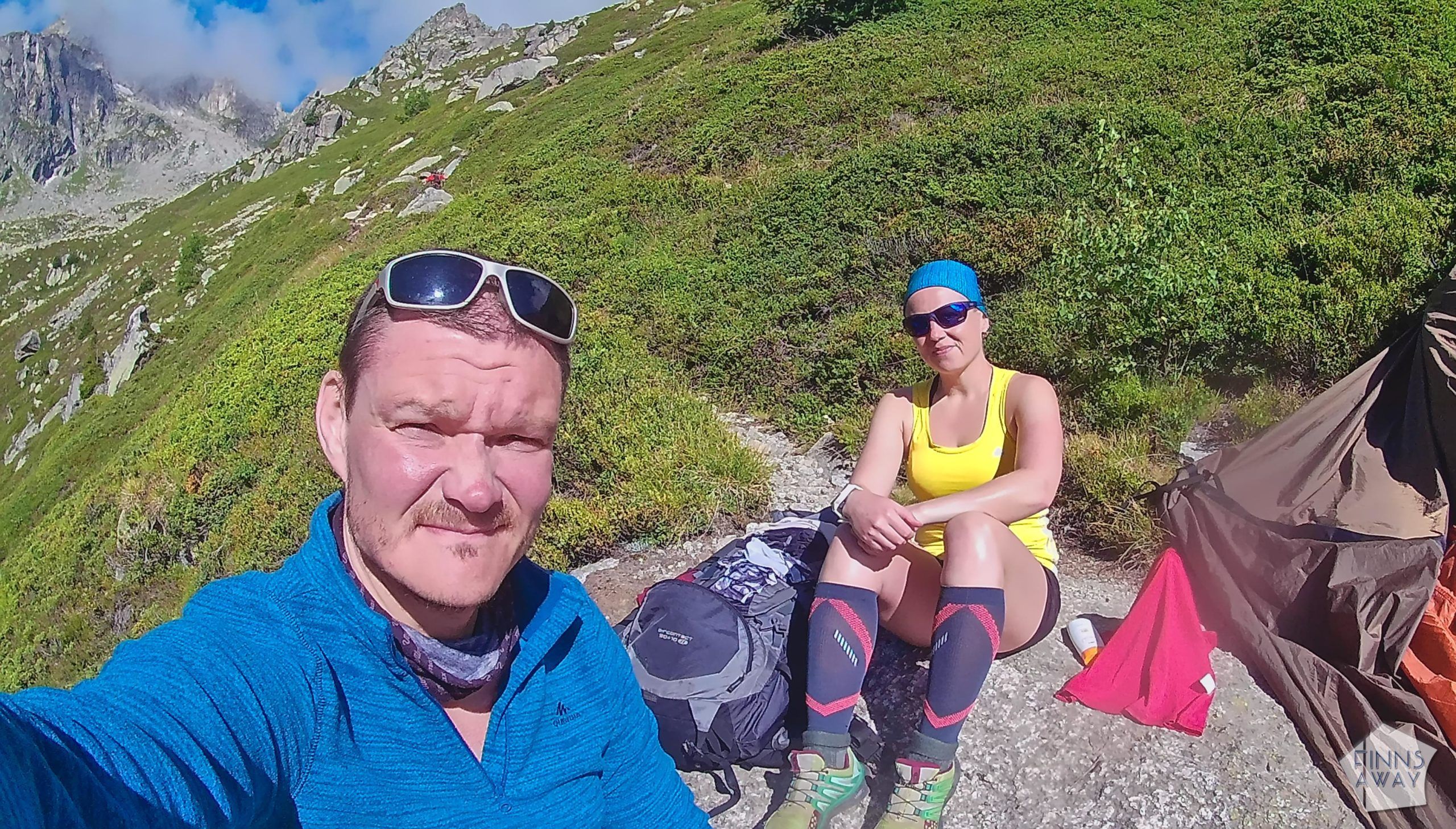 It's often said that you need sturdy hiking boots for doing mountain hikes like TMB, but we actually did the hike wearing old trail running shoes, and still after the hike thought that it was a great choice, even with all the load in our backs. And yes, running shoes do get soaking wet if it rains a lot or if there are bigger streams to cross, but they also dry super quickly. Regarding the gear otherwise, our backpacks weighted from around 12 to over 16 kilos, depending on the amount of food and water each day. That is kind of an okay weight to carry still, but I'd say that around 10 kilos would be ideal for such a demanding hike. That would require investing in a lightweight tent and other gear though. Walking sticks were a nice add to the gear – we hadn't used them before and were a bit skeptical, but they made especially the descents easier for the knees. In addition to camping and cooking gear and clothes we carried torches / headlamps, a first-aid kit, cellphones, a small action camera, a power bank, chargers and cables. We had planned and uploaded our route (and optional routes) beforehand in our sports watches (with GPS tracking), which made following the trail, as well as measuring distance and ascent/descent, super easy.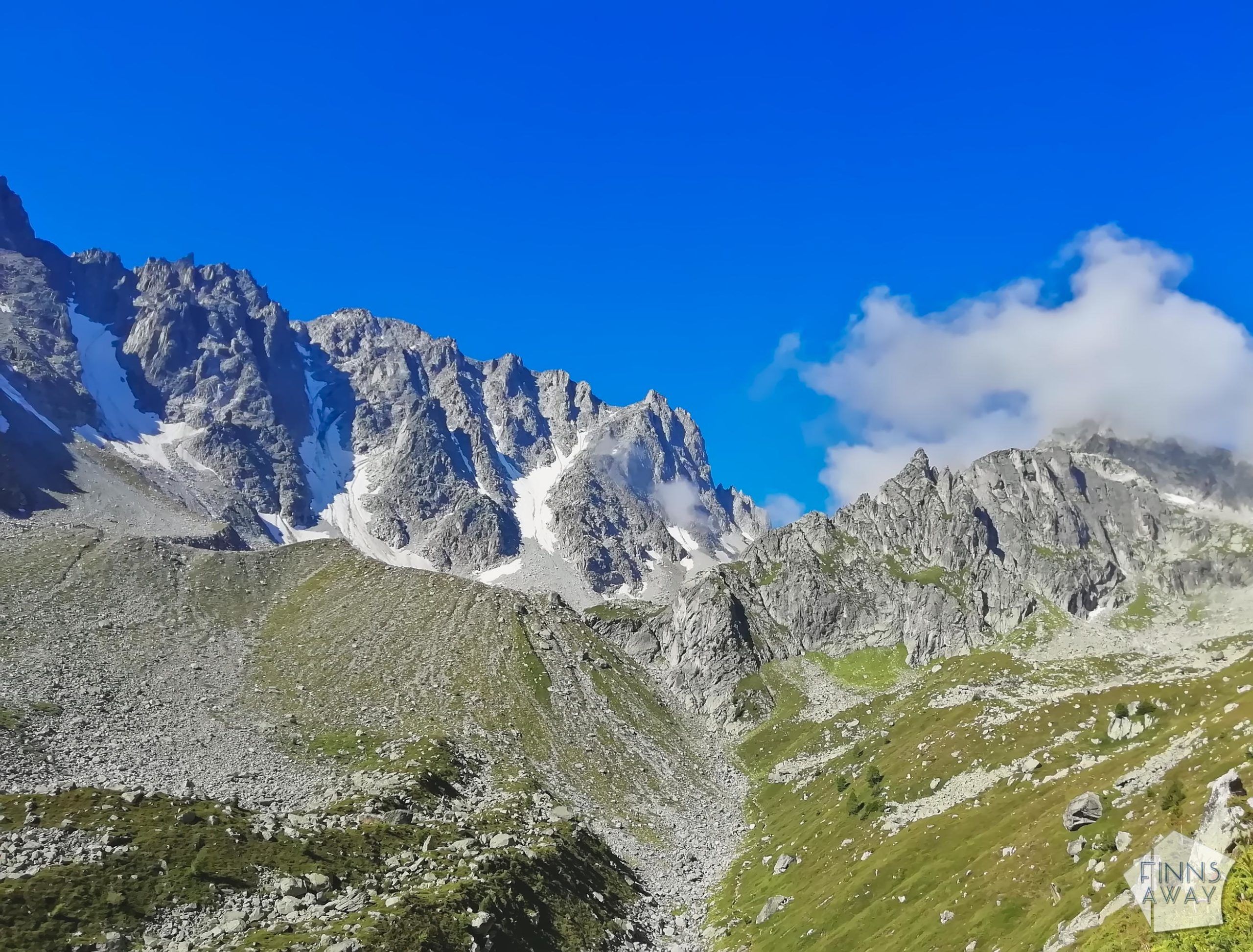 Day 1 Les Houches to Les Contamines via Col de Tricot (Camping du Pontet)
When starting the hike from Les Houches, it was all about ascent from the first steps. Some hikers choose to use the Bellevue cable car to get up to Col de Voza mountain pass, but we preferred to walk (the cable car is rather expensive, and hey, we came here to hike!). We were full of energy and eager to walk up quickly, but quite soon realized, that carrying all the stuff on our backs is really going to make the hike strenuous. However, we still decided to take the alternative route variant via Col de Tricot, since we had heard that it's more interesting than the traditional one, plus includes crossing a glazier river along a suspension bridge. Naturally, choosing this higher route meant more ascent and descent to the already rather demanding first day.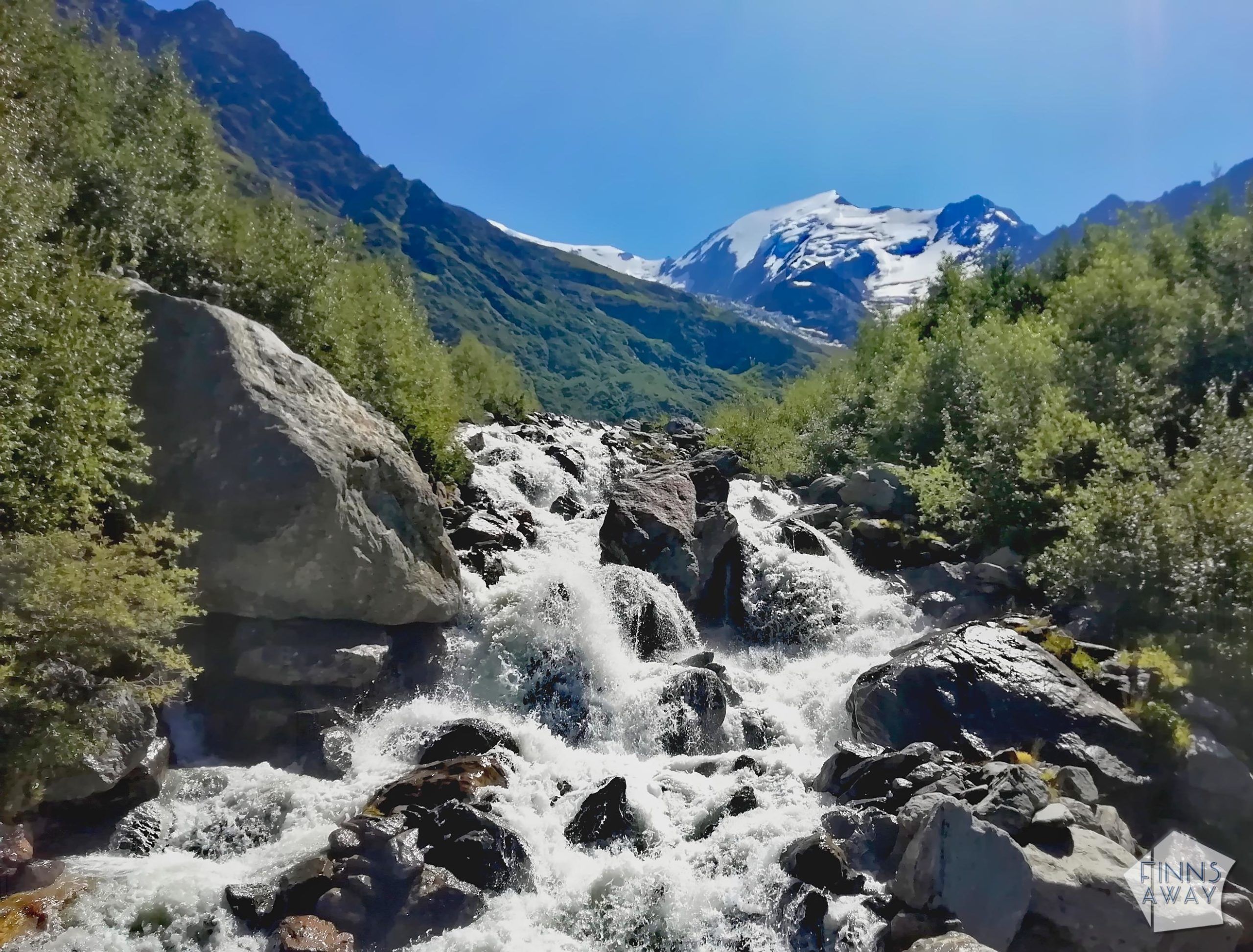 It was a warm and sunny day, and the views were great. There was quite a lot of hikers, especially around the upper station of the Bellevue cable car, which is also the end station of the Mont Blanc tramway. Most of the people were day hikers though, and closer to Les Contamines the trails got a lot quieter. The descent to the village was tough for the knees, and we were happy to finally reach Les Contamines and to stop and buy cold beers from a supermarket. The village is rather pretty, and it was quite busy too. Our destination was still 2,5 km hike away though, so we continued walking in the valley, following the river, until we arrived in Camping du Pontet. It was a tough first day for sure, as we were not yet adapted to the long days of walking. Happy but tired, we cooked some pasta dinner and fell asleep early.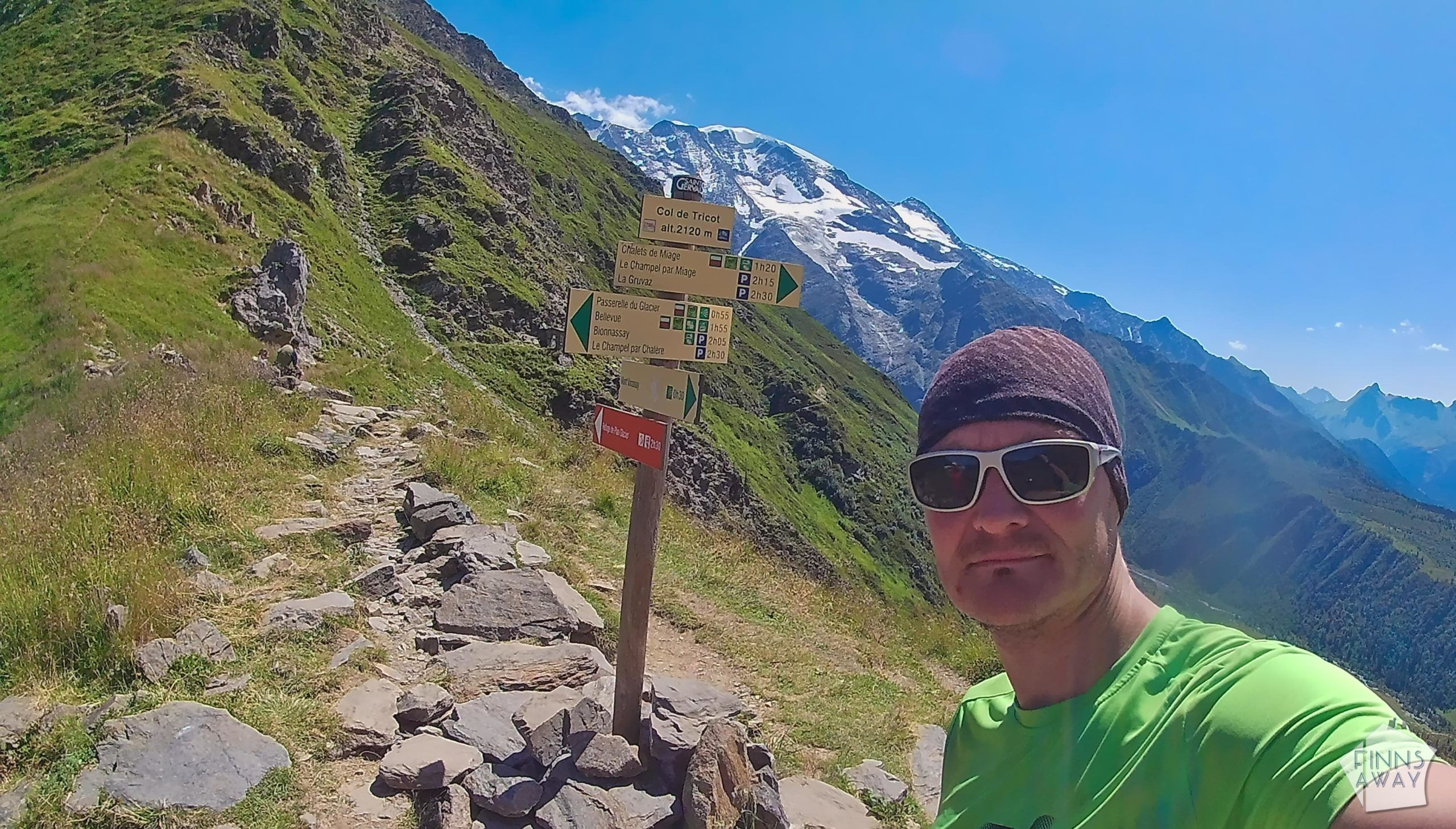 Stats of day 1: 20 km, 1380 meters ascent / 1200 meters descent, 6,5 hours walking time (breaks excluded)
Day 2 Camping Le Pontet to Refuge Mottets via Col des Fours (wild camping)
Awake at six and ready for a new hiking day! The first mile from the camping site is along a flat trail, great for stretching the legs and getting prepared for the long walk ahead. And when the ascent began, the climb was long, from around 1180 elevation meters to 2665 meters, phew! We first followed the classic trail to Col du Bonhomme, and then took the higher variant to Col des Fours. We chose this both for the views and for being able to stay the night near Refuge Mottets instead of down in Les Chapieux village. It was a hot day, with burning sun and cloudless skies. Carrying the backpacks up to the mountain passes was a super-sweaty exercise, but the scenery was absolutely stunning. Up in Col des Fours there was still some snow left, but not really on the trail anymore, just some small patches here and there.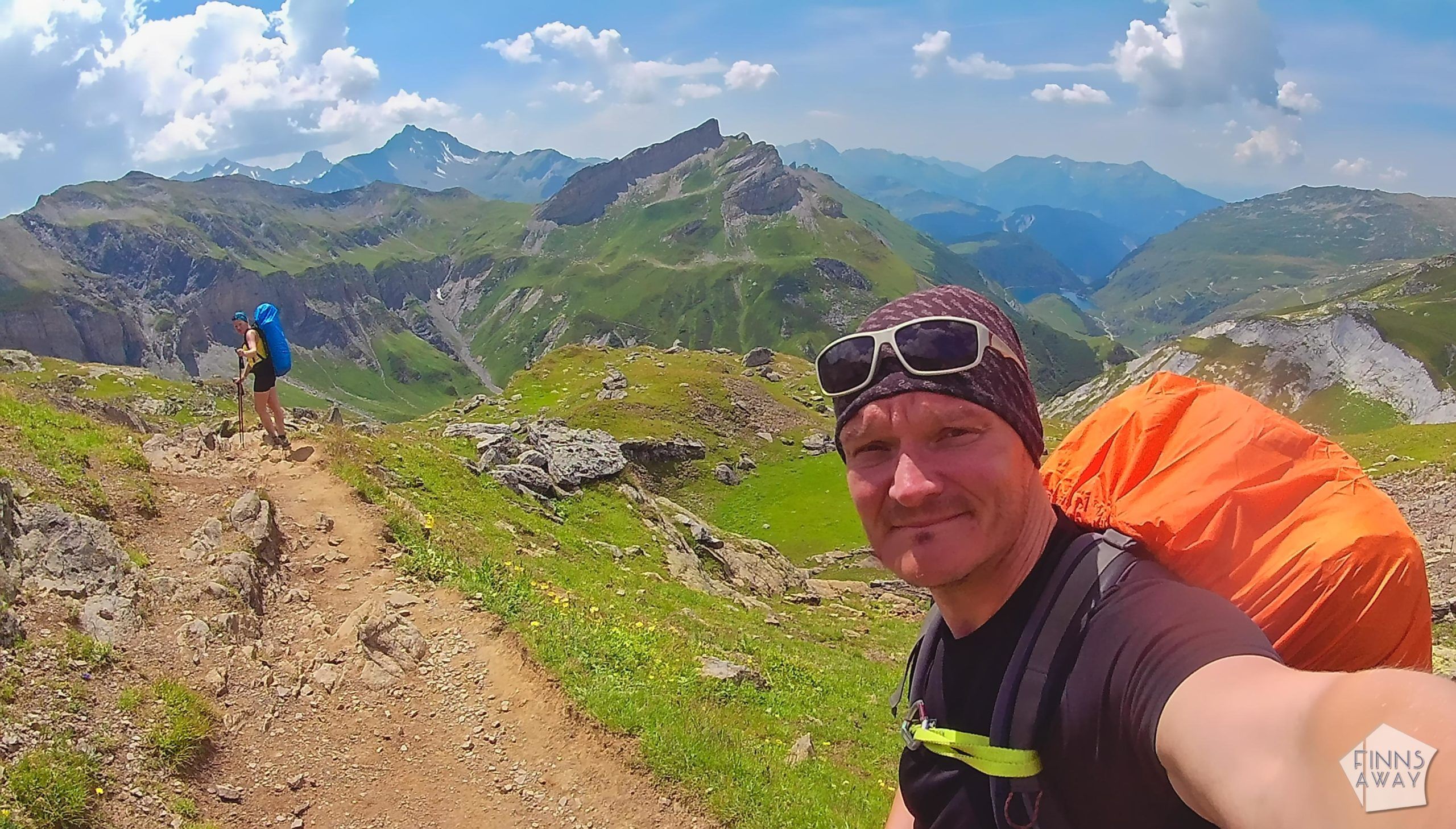 After reaching this pass, the downhill section of the day begun. It also started to get cloudy, and we could feel the rain in the air way before it actually reached us, just few hundred meters before arriving in Refuge de Mottets. Instead of finding a place to our tent by some ruined buildings right before a stream-crossing, we walked to the mountain hut first. It was a great decision, because it was soon pouring down, and a thunder storm raised. We were lucky to be in a warm shelter, sipping beer and watching the storm through the windows. I'm not sure if I have ever witnessed such rain, it was really bucketing down. Meanwhile, the stream close to the shelter had turned into a river, and it even took the footbridge with it. Crossing the stream without it would have been quite dangerous. When the storm finally passed, we set up our camp quite close to the hut, not sure if the place was "allowed" or not, but we didn't have much choice. This was a tiring day, and the night was a bit restless too. Luckily our tent kept all the water outside even if it was a very wet night.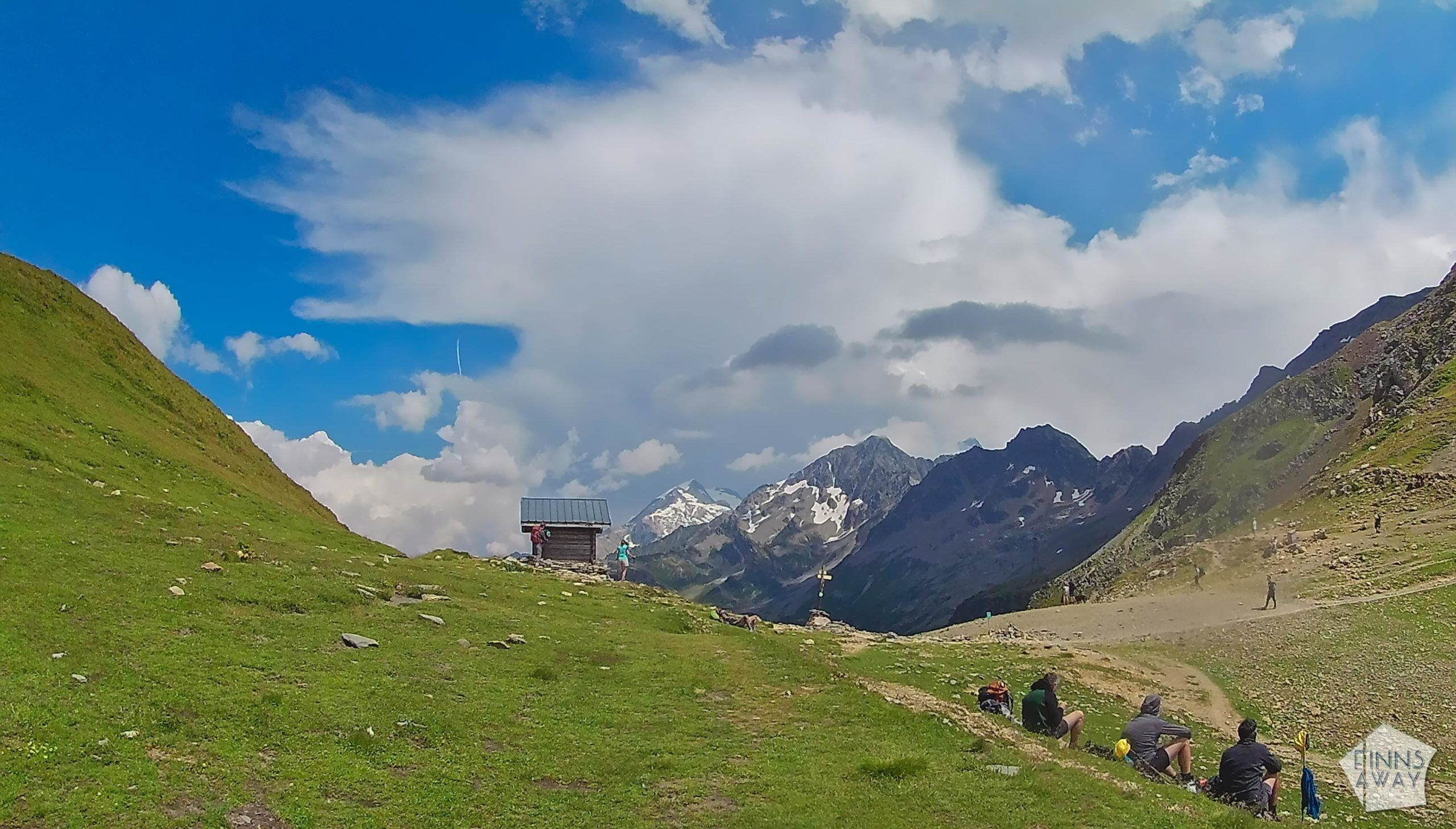 19,5 km, 1500 / 900 meters, 7 hours walking
Day 3 Refuge Mottets to La Visaille and Val Ferret (Camping Grandes Jorasses)
We woke up early and packed the camp, as we wanted to disassemble the tent soon after the sunrise. We started walking around seven, up towards the next mountain pass. As soon as we reached a sunny spot on the hillside, we stopped to make some breakfast and to dry our gear a bit. It was a beautiful morning, and even instant coffee tasted amazingly good when watching the sunshine reaching the valley below us. Also this day naturally began with some ascent, and our legs felt heavy and tired, even if the climb to the next pass was only 650 vertical meters. The view from Col de la Seigne on the border of France and Italy (2515 m) was a great reward though, it was a stunningly beautiful scenery! The snow-capped mountains glared in the sun, and we could see Mont Blanc too.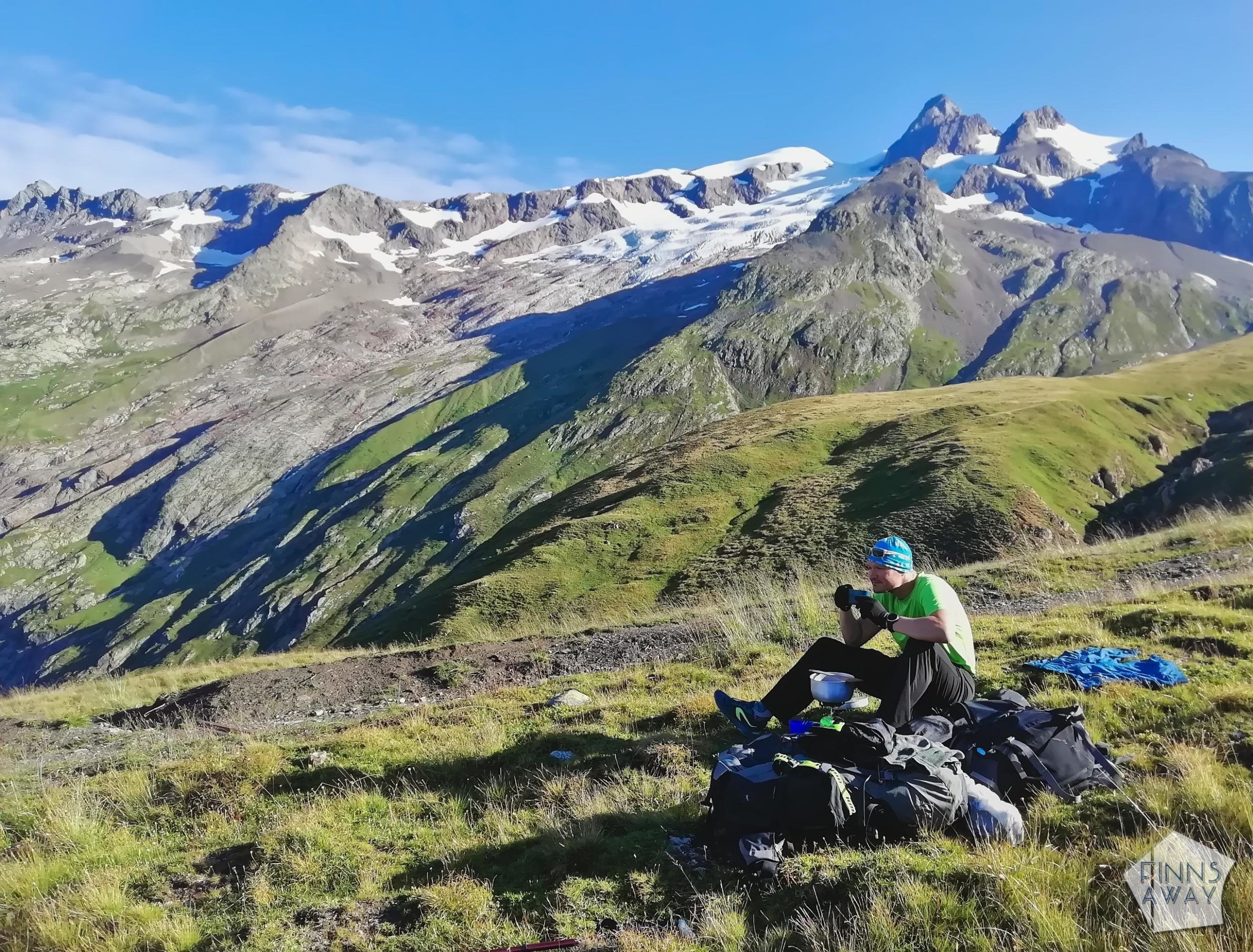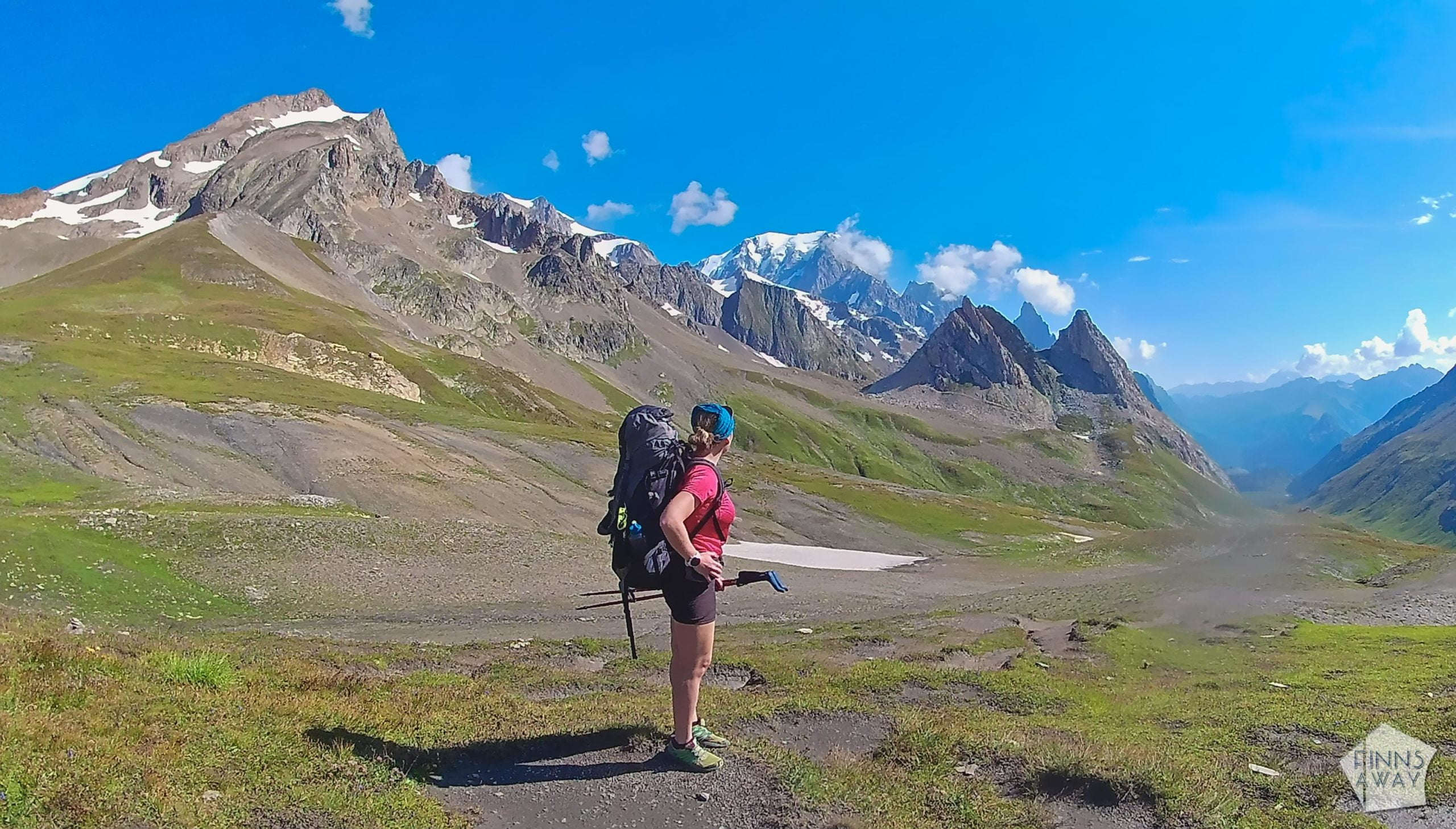 After admiring the scenery for a while, it was time to continue. The descent all the way to Rifugio Elizabetta was very beautiful. Our plan was to walk all the way to Courmayer along the trail that day, but after Elizabetta, when the downhill section got more boring, we started to realize how tired we actually were, and that walking to Courmayer along the trail would mean still a notable amount of both ascent and especially descent. So, even if we knew that the views from the ridge close to the town would be great, we decided to continue walking down in Val Veny valley instead of following the trail up to the ridge on the south side of the valley. In La Visaille, we hopped in a bus (that was free of charge in 2020) to Courmayer. After some grocery shopping we took another bus to get to Camping Grandes Jorasses camping site in Val Ferret. A hot shower felt amazing and food tasted so good! We decided to stay two nights and have a day-off from walking, to give our tired legs a chance to recover.
"Fun" fact: Val Ferret was closed for a week or so before our arrival, as there was a threat that one of the glaciers above the valley would break, dropping a huge amount of ice to the valley. Luckily this didn't happen, and the roads and camping sites were opened again.
15 km, 650 / 800 meters, 4,5 hours walking
Day 4 Rest day in Val Ferret and Courmayer
On our rest day we slept quite late, did some laundry and updated social media with pictures from along the hike so far. Then we headed back to Courmayer again, to explore the town a bit and to buy a new camping gas bottle and sunglasses to replace broken ones. We also ate some pizza (of course!) and bought some more groceries for the coming hiking days in Switzerland.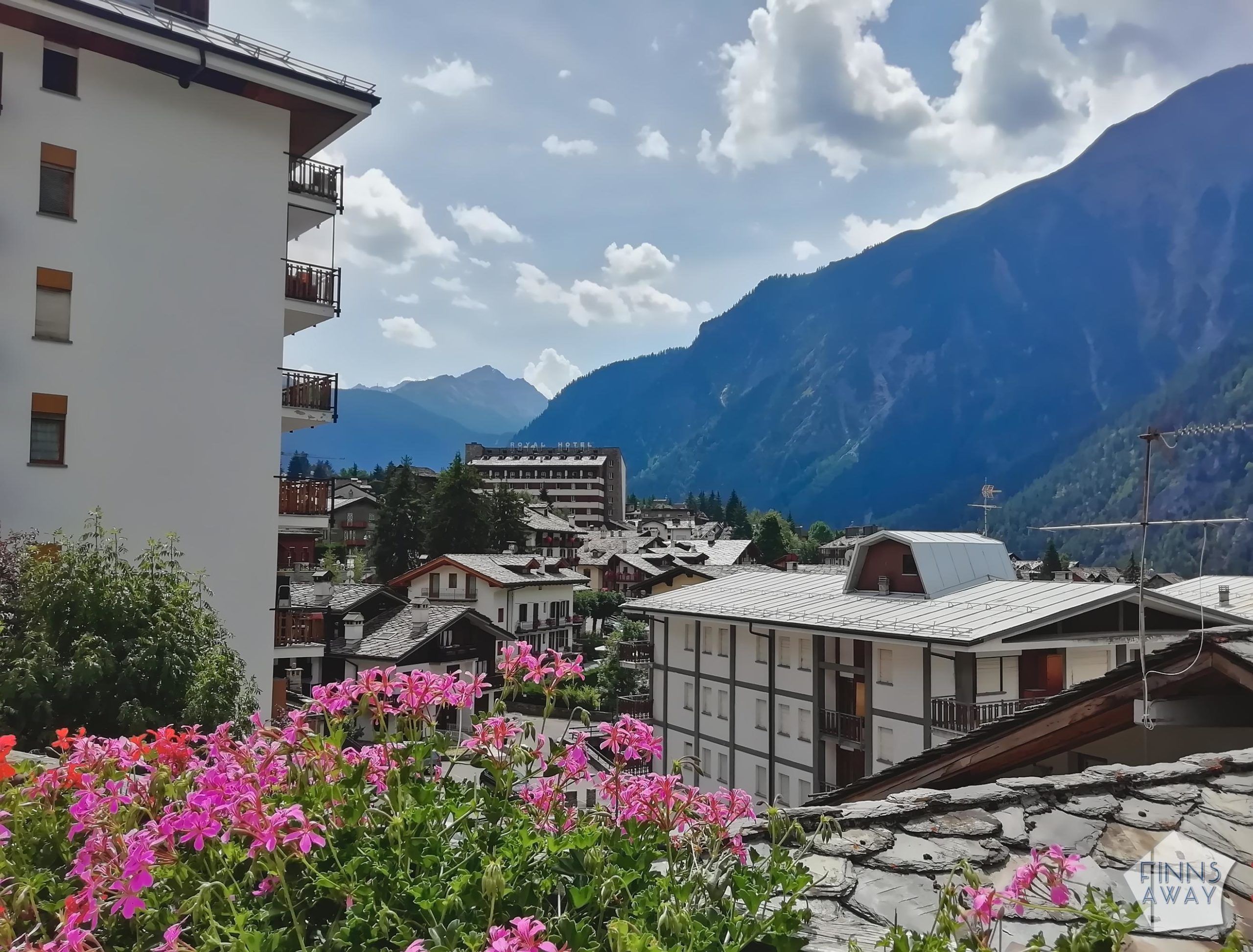 Day 5 Val Ferret to La Fouly in a storm (Camping des Glaciers)
This was supposed to be another super long hiking day. The original plan had been to take a bus to Courmayer, start the walk from there and combine the stages 5 and 6 of the trail. When we realized that 31 km with a huge amount of ascent and descent would be to much, the next plan was to start the walk from the camping site, walking up to the ridge and rejoin the trail there, then walk above Val Ferret to Rifugio Bonatti and continue over Col Ferret pass on the border of Switzerland and down to La Fouly. That would still have been a very demanding day, and as there was a storm coming, we decided to shorten the hike even more, to be able to reach the high mountain pass before the storm. So we took a morning bus up Val Ferret valley, and started the walk from Arnuova, with a climb towards Col Ferret. Nevertheless, our plan to avoid the thunder storm and rain failed miserably. It had been a cloudy morning, and soon it also started to rain. First it was just a mild rain, but on our way up, the thunder storm got closer, and the weather turned very windy too. Soon the quick hike up turned into a wet and muddy struggle, and the thunder roared around us. It felt crazy to be there, with no shelter, but going back down wouldn't have helped much either. We had seen some other hikers rushing up ahead of us, so we just decided to follow, thinking that if they can do it, we can too.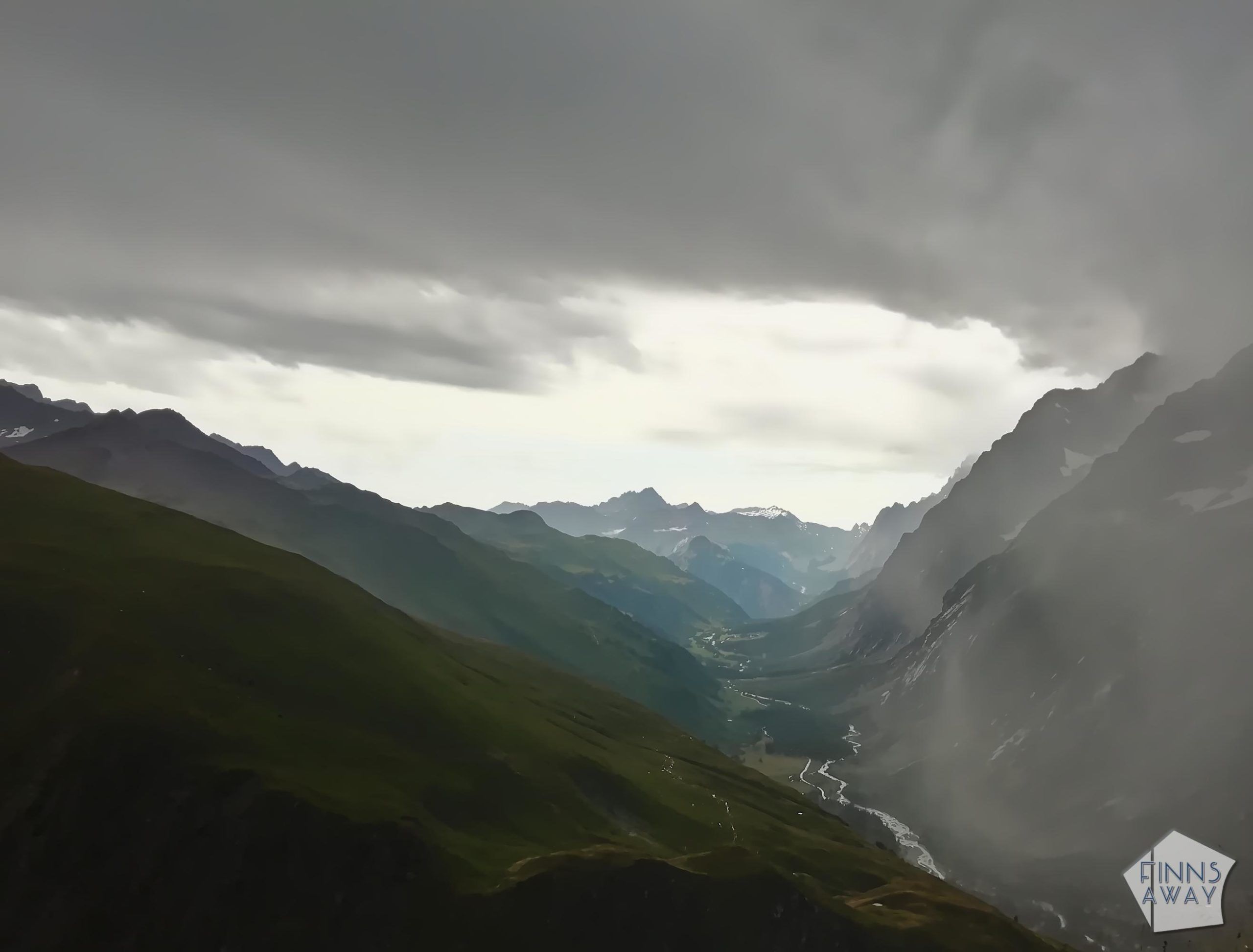 The storm passed and the rain stopped before we made it up to Col Ferret. We stopped to change clothes and to watch how the clouds above Val Ferret started to disperse, slowly giving way to beautiful mountain views. In Col Ferret we considered following the mountain ridge to Petit Col Ferret, to take an alternative route down to La Fouly from there. We finally decided against it though, as we knew that the descent from Petit Col Ferret would be more steep, and after the storm it could be muddy and slippery. Shortly after continuing the walk down from Grand Col Ferret, the sun came out, and the afternoon was very beautiful. The scenery was again wonderful, and the path was easy to walk. Before reaching the bottom of the valley we decided to take an alternative path that runs above the valley, as the actual trail partly just follows a road to La Fouly, and that section is maybe a bit boring. In La Fouly we set up our camp in Camping des Glaziers, a big and busy site with nice views.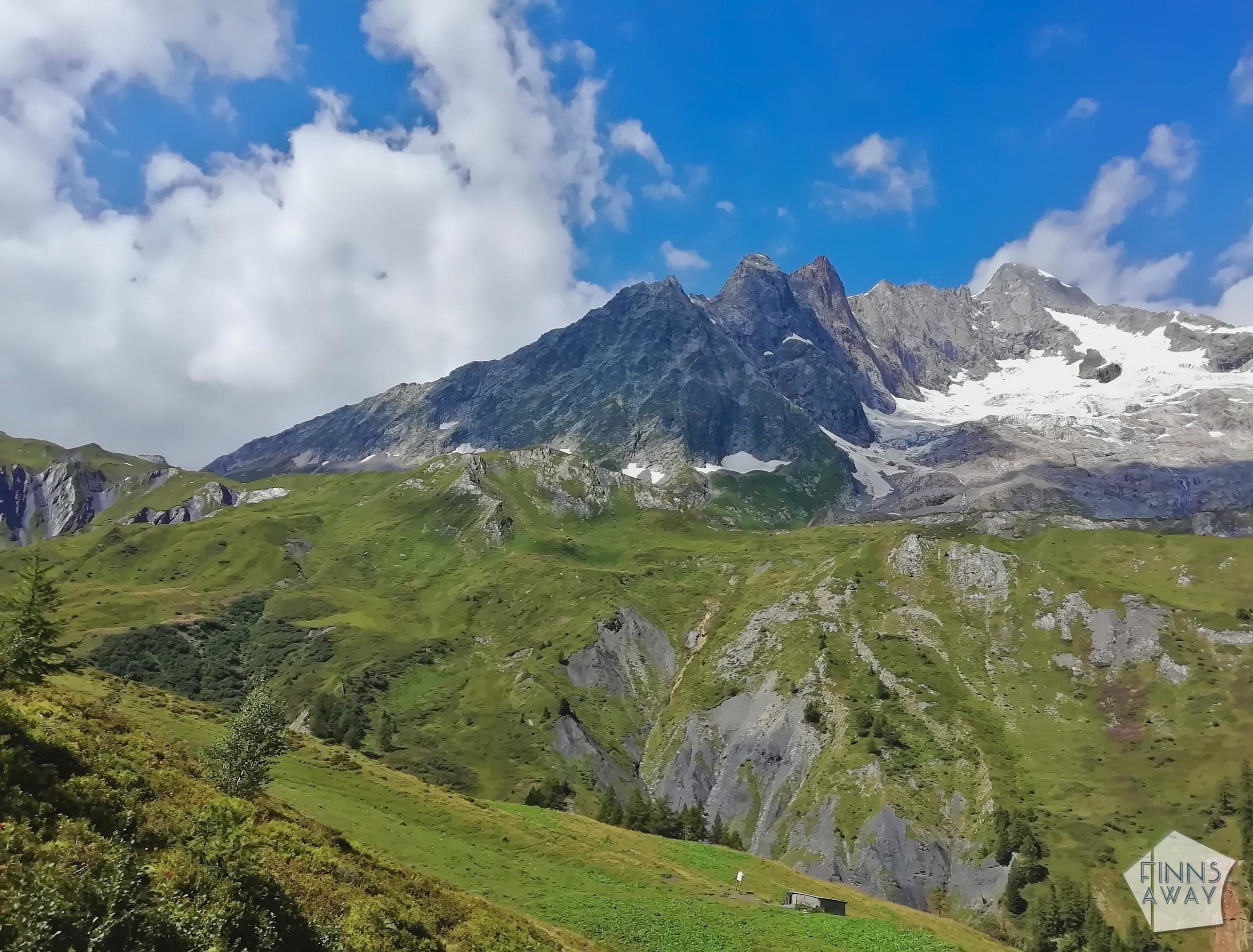 As we shortened the hike a lot in Val Ferret due to the storm, it was an "easy" and short hiking day.
15 km, 770 / 970 m, 4,5 hours walking
Day 6 La Fouly to Champex Lac (Camping d'Arpette)
On fifth walking day we followed the classic itinerary and walked the Stage 7 from La Fouly to Champex Lac. Many people who decide to skip some part of TMB, skip this stage and take a bus between these two towns. It's true that this stage doesn't offer such breathtaking mountain views as most of the other stages, but it's still a beautiful walk in Swiss Ferret Valley, and takes you also through some picturesque old villages. After running in the bottom of the valley the path dives into a forest, and then it's a nice and easy ascent to Champex Lac, a nice-looking town by a beautiful lake.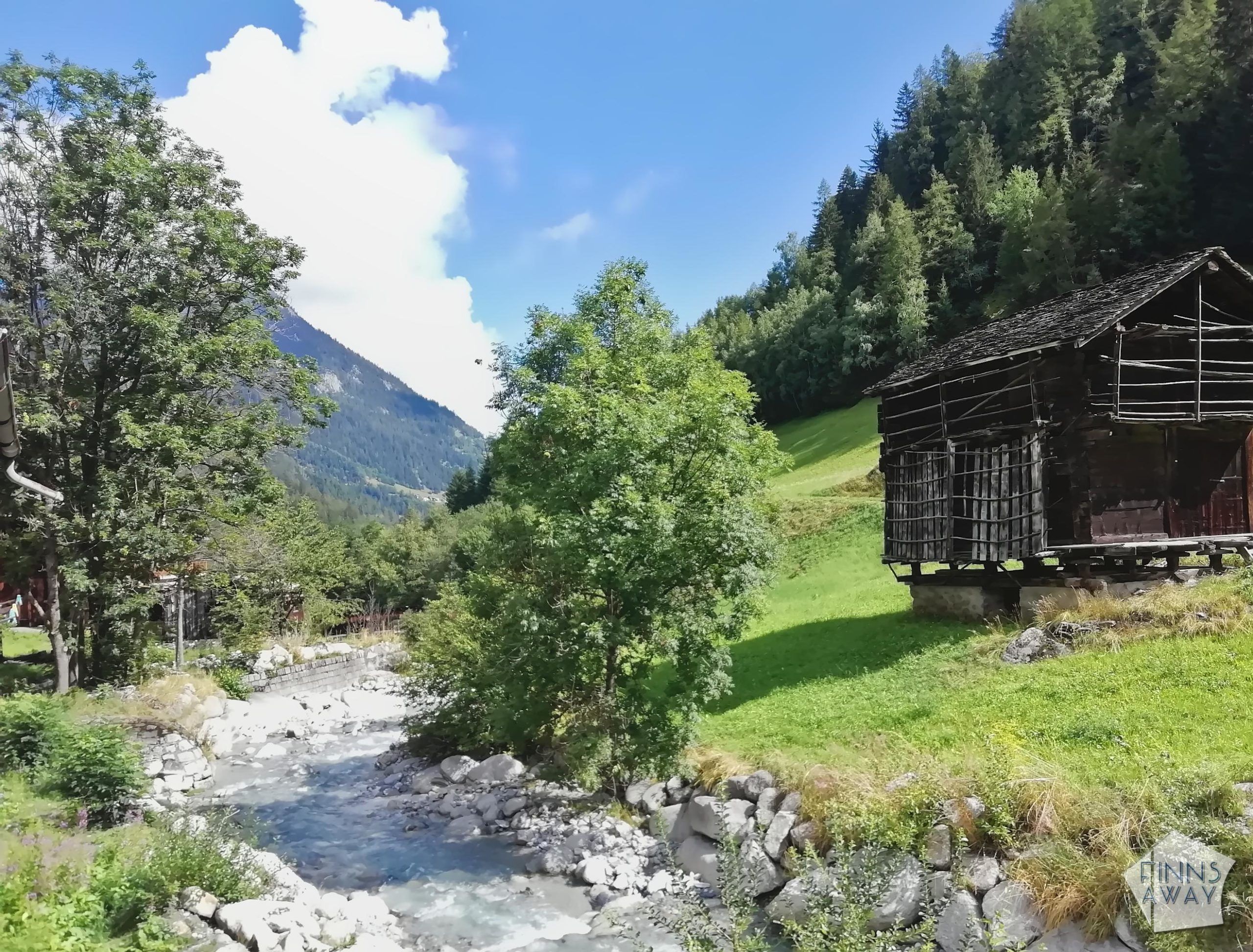 We bought some more groceries from an (expensive) supermarket in town, and continued still a bit further. As we had planned to take the d'Arpette variant the next day, we chose to stay the night in Camping d'Arpette, that is along this alternative route instead of the classic TMB. We cooked some dinner and made plans for the next day. It was supposed to be a sunny day with clear skies, which is perfect for the d'Arpette variant, that includes a steep ascent and descent over Fenetre d'Arpette. We were thinking, that if we'd feel energetic after that climb, we could maybe continue to French side on the same day, combining two stages of TMB.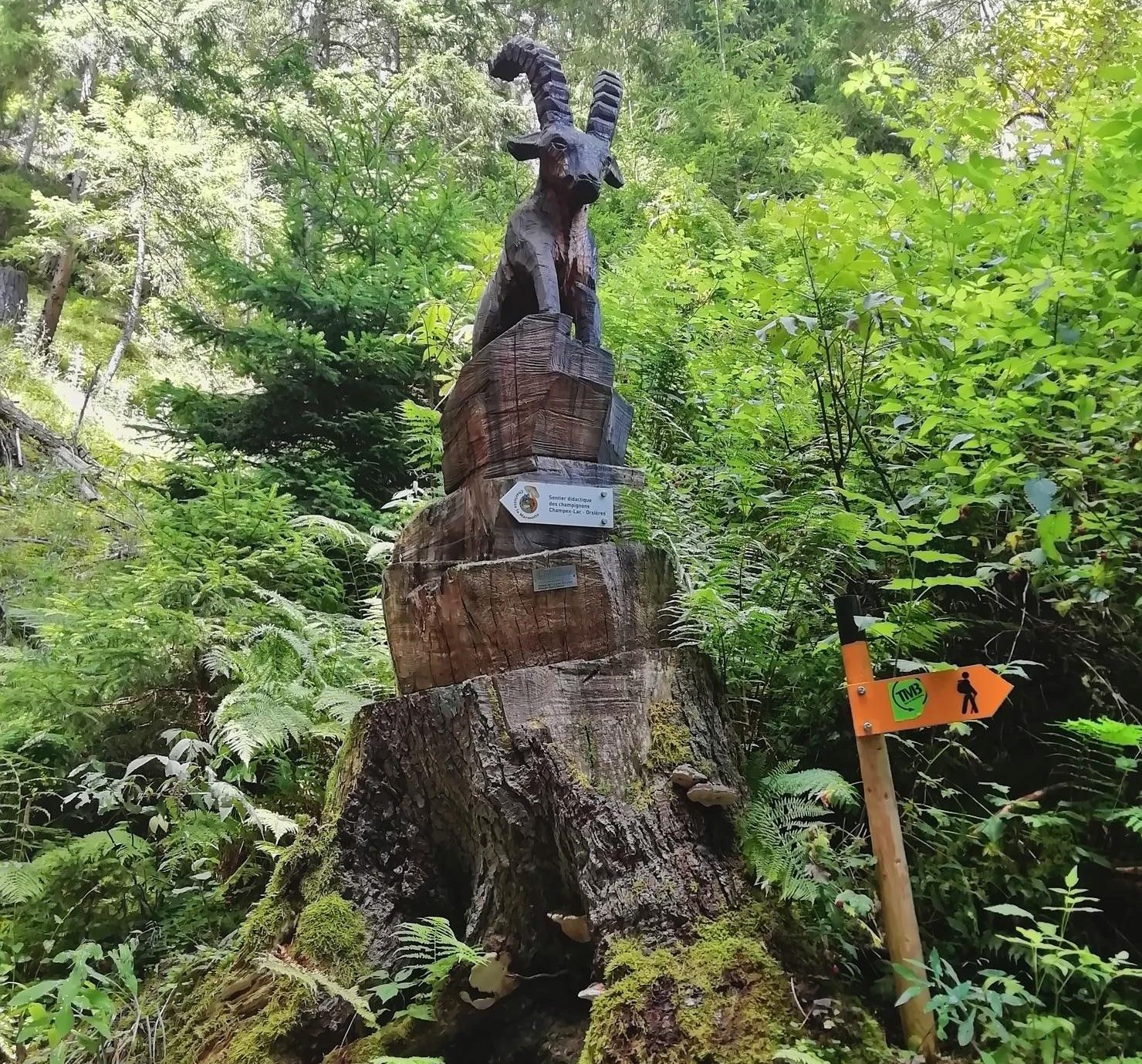 17,5 km, 580 / 550 m, 4,5 hours walking
Day 7 Camping d'Arpette to Trient via Fenetre d'Arpette (Camping Le Peuty)
Another beautiful morning after a chilly night. We got up quite early, and started the hike at eight, after having some breakfast and packing our camp again. For the first kilometers, it was a gentle ascent next to some grazing lands and forest. Then the more steep and rocky climb towards Fenetre d'Arpette began. We tried to walk quickly, but the terrain gets the more challenging the higher up you get, and especially with the big and heavy backpacks, it was a very long and slow climb. When we finally reached the ridge, the amazing views from there were a nice reward though, and we took some time to just stretch our legs and take in the scenery. D'Arpette variant takes you very close to Glacier de Trient, so the views from up there are quite unique.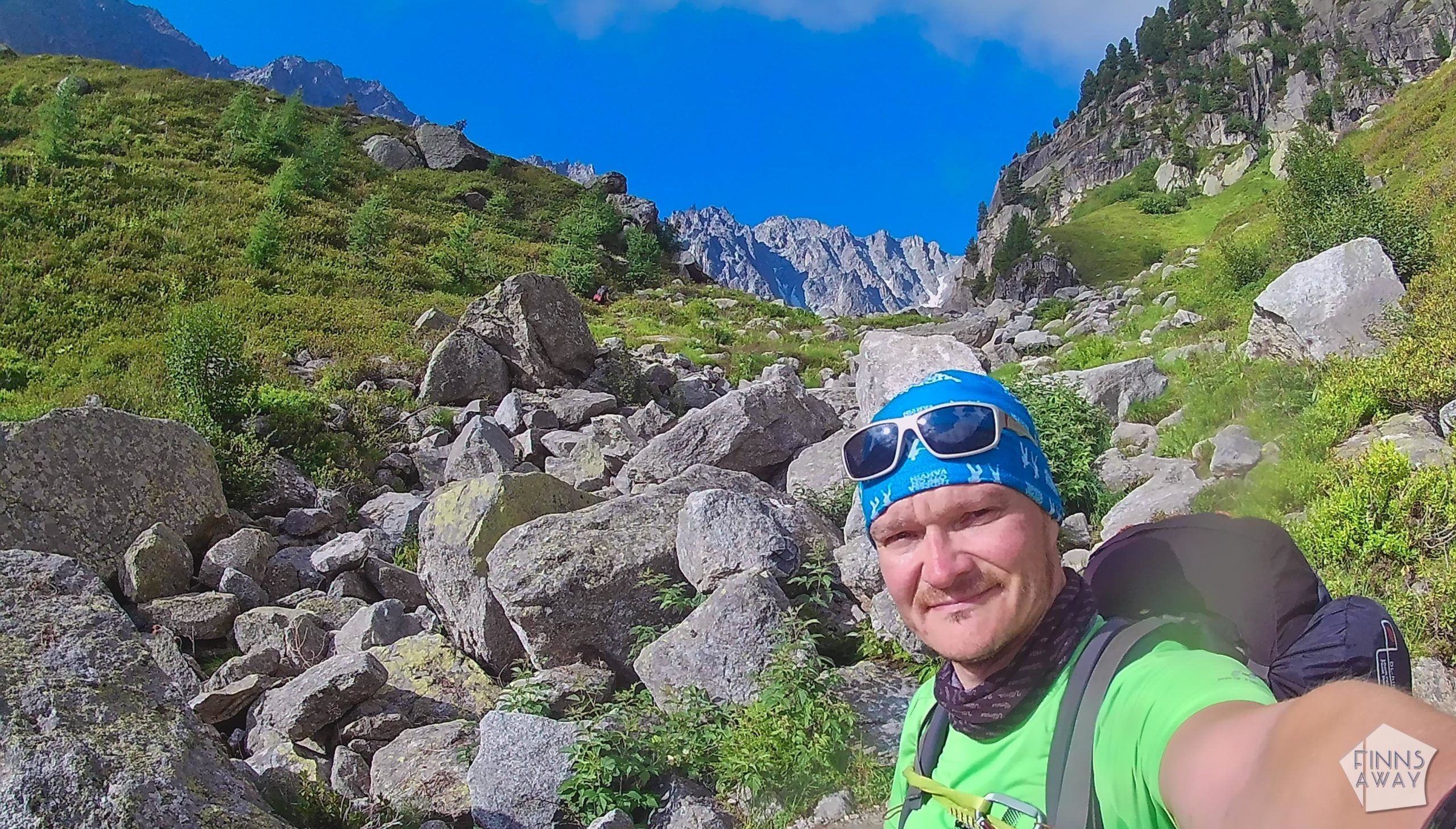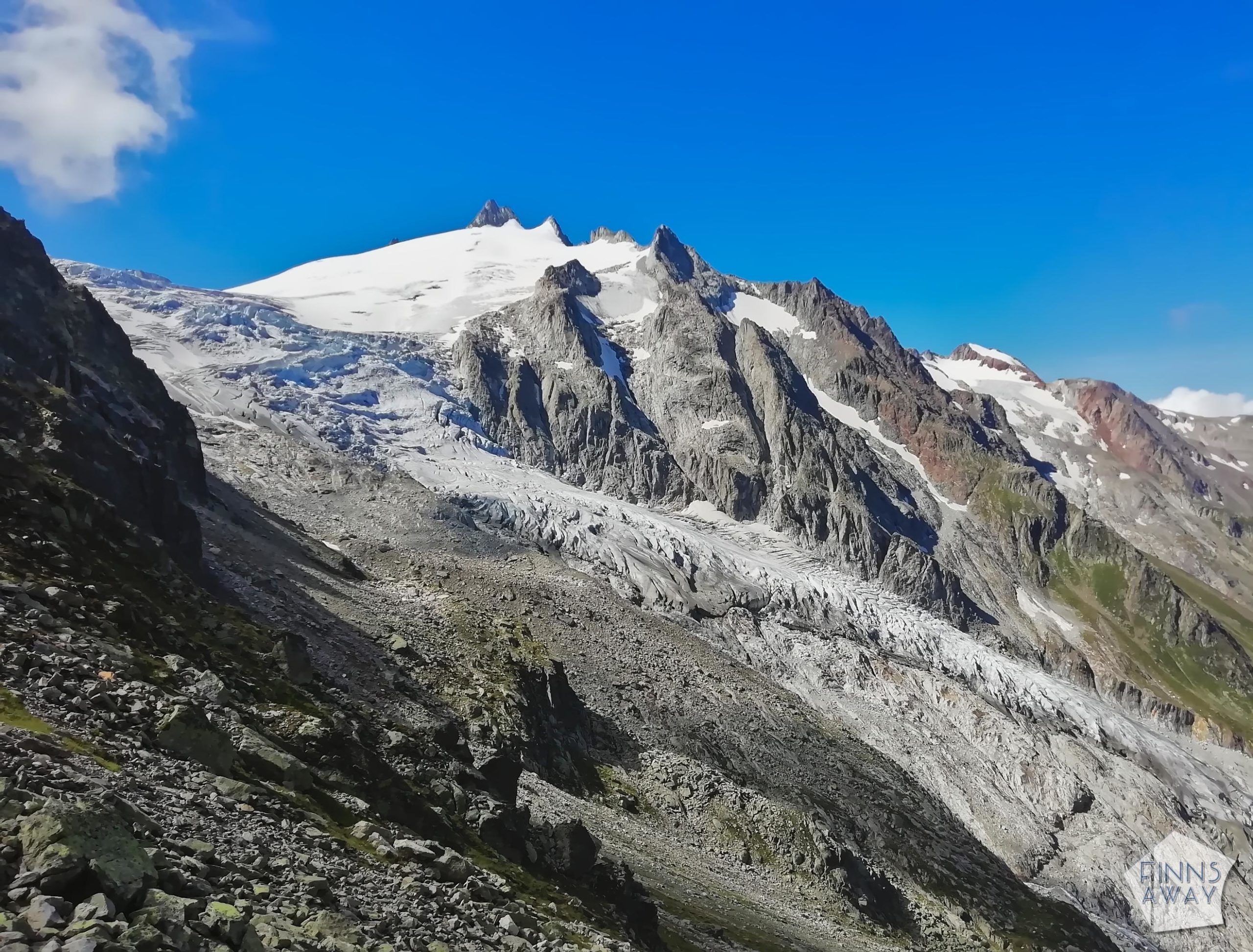 Soon after starting the climb down from the ridge we realized that getting up hadn't been the hardest part. The descent is long and steep, and a killer for the knees. But it's scenic. We needed to bury our alternative plan to take a "shortcut" and continue all the way to Tre-le-Champ the same day, as it would have been way too demanding. So we continued along the D'Arpette trail to Peuty in Trient, a tiny little hamlet with a super basic but also cheap camping area outside Refuge Le Peuty. There are no actual grocery stores in the village, but there is a cute little self-service store that sells local products like cheese and bread and some basic stuff aimed for hikers, like tuna, eggs and pasta.
This was a short hiking day measured in distance, but included quite some challenging climbing both up and down.
13 km, 1050 / 1290 m, 5,5 hours walking
Day 8 Trient to Tre-le-Champ (Auberge La Boerne camping)
We started the 7th walking day early, under sunny skies. The task for the day was quite easy, the short Stage 9 of TMB, from Trient in Switzerland to Tre-le-Champ in France, over Col de Balme pass. This stage comes with over 1000 meters ascent, but as it's not very steep at any point, it's a nice and easy walk up. On the morning we first walked uphill along a nice path running through a forest, and then reached the treeless slope up to the ridge, that also marks the country border. Up in Col de Palme the views towards Mont Blanc Massif were amazing, and we stopped to make some hot chocolate and to admire the scenery.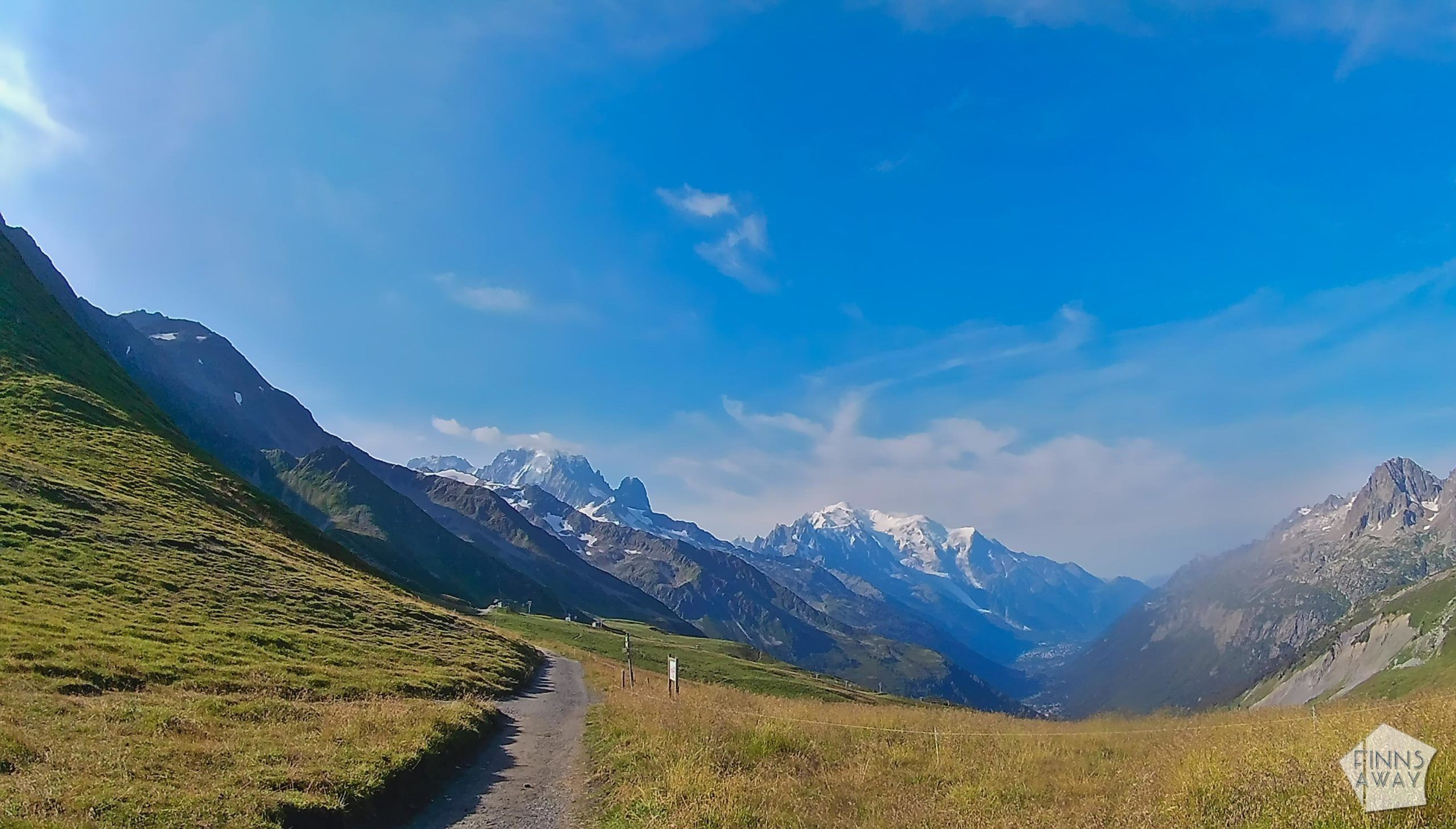 Descent from the pass was as gentle as the ascent had been, a nice and scenic walk down, and then a bit back up again before starting the final descent to the next valley and Tre-le-Champ village. Last kilometers of the day were again about walking in a forest. We set up our tent outside Auberge La Boerne, a cute lodge that has both rooms and a camping area. The plan for the rest of the day was to walk down to Argentiere to explore the town and to do some grocery shopping for a dinner. However, it was Sunday, and down in the village we learned that the shops were not open, except for some expensive tourist stores. So we decided to buy some pastries from a cafe for a quick lunch, and to eat dinner in a guest house for once – so far we had cooked all meals during the hike ourselves, except for having pizzas in Courmayer. It was nice to get together with other hikers over a dinner, and we also had some local craft beers.
In the evening it started to rain again, and the forecast for the next day was not too promising; only 1 hour of sunshine in the morning and otherwise a cloudy and rainy day. We were considering having a rest day, but then again, the forecast was rather bad also for the next couple of days.
13,5 km, 1070 / 980 m, 4,5 hours walking
Day 9 Tre-le-Champ to Chamonix via Lac Blanc
After a rainy night with some thunder, the morning was surprisingly fine and even sunny. We decided to go on, and to make this the last day of the hike, combining Stages 10 and 11 and ending the hike either in Chamonix, or if feeling super-energetic, trying to continue all the way to Les Houches. The first section of the hike was an easy ascent through a forest. The skies were quite clear, and we were happy that it was dry, since the climb up on top of the ridge above Argentiere includes a section with several ladders. Some say, that it's a difficult part, but we found it quite easy actually, even with the backpacks, so I guess it depends on how experienced you are. Wouldn't recommend to those with vertigo though, but there is an alternative trail without ladders too. During the climb we could see how it got very cloudy down in Chamonix valley. We knew that clouds would soon prevent the views towards the mountain massif, so we tried to hurry up. We took yet another alternative trail to Lac Blanc lake, as we had seen amazing pictures of Lac De Cheserys, smaller mountain lakes close to Lac Blanc. Due to cloudy weather, we didn't get to see the perfect reflections of the mountains in the lakes, but they were beautiful nevertheless.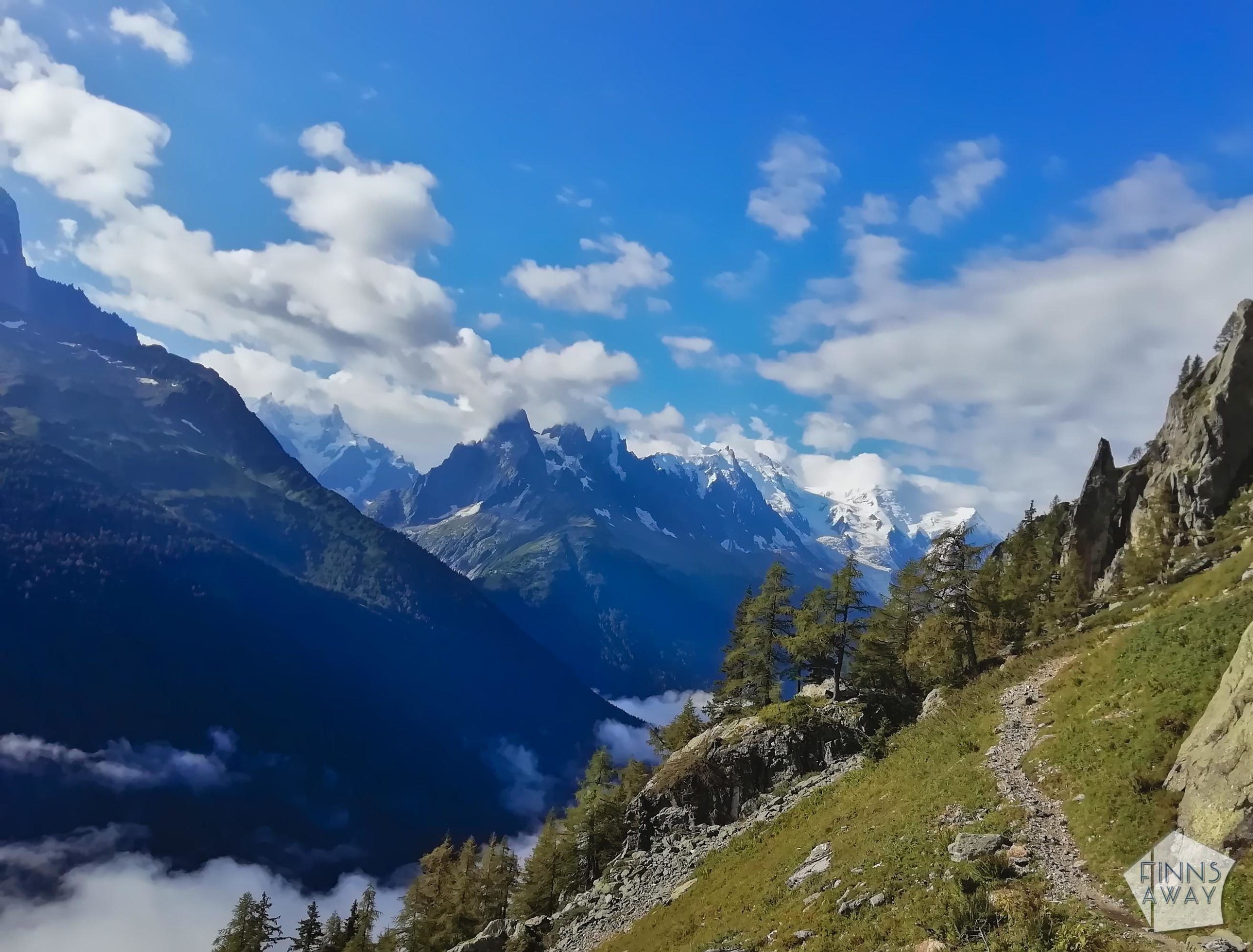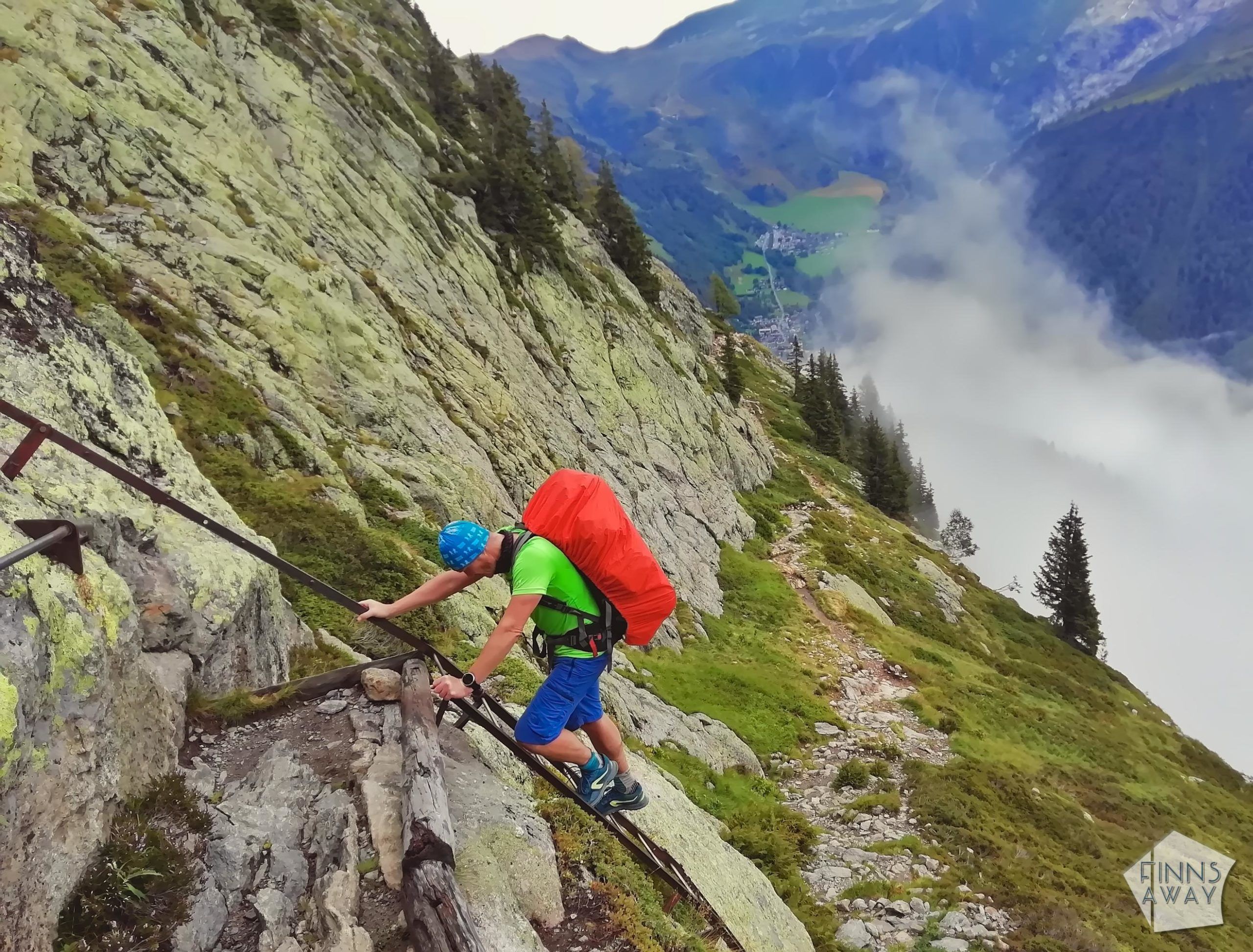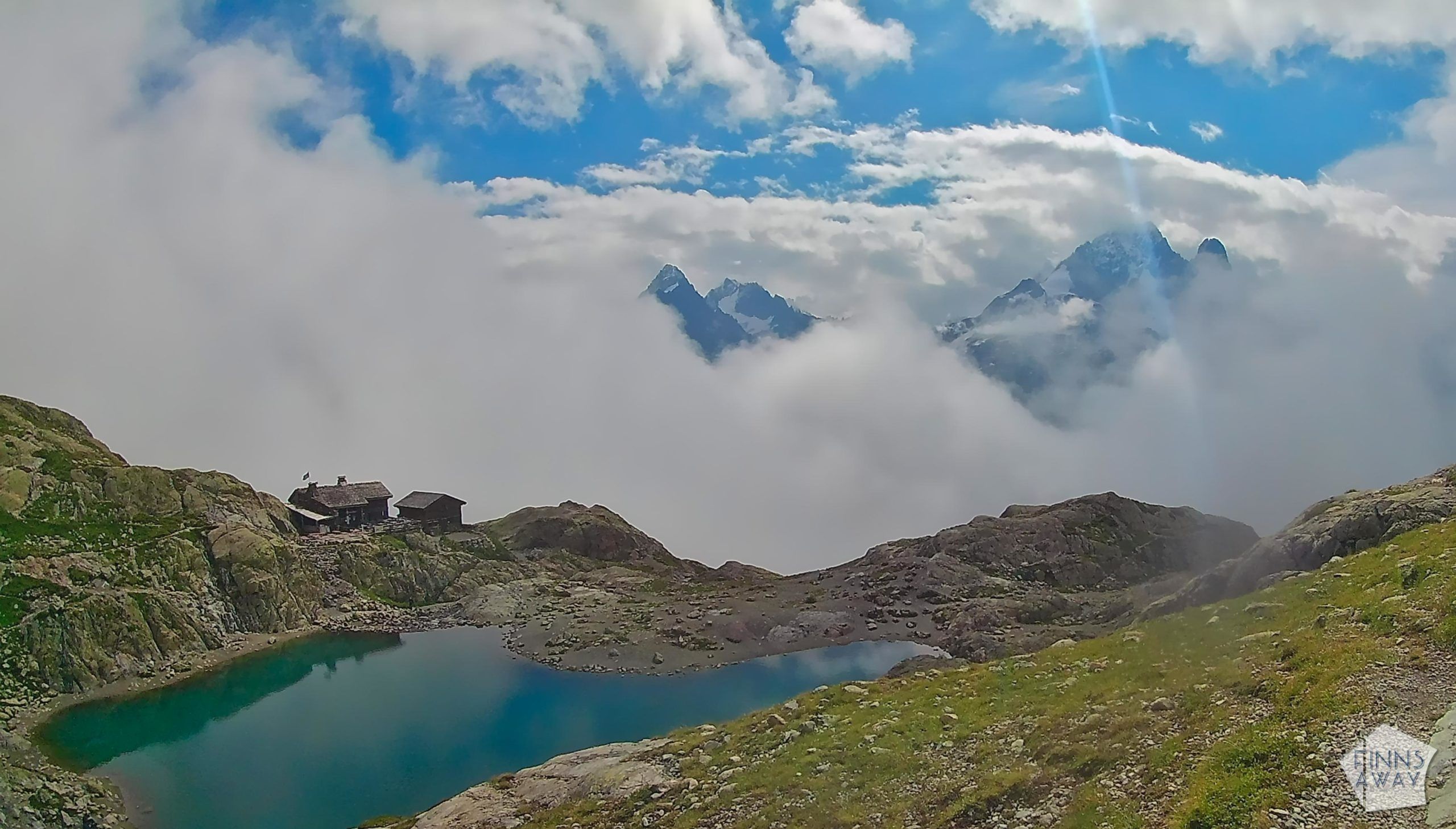 Up in Lac Blanc we walked around a bit, before continuing back down to Le Flegere cable car station, that marks the end of Stage 10 of the hike. Then it was time to decide the route for the rest of the day, but it would have been also possible to wild camp outside Refuge Le Flegere. In clear weather, TMB section 11, that runs along a mountain ridge above Chamonix before descending to Les Houches, is said to be one of the most beautiful parts of the whole hike, with superb views towards Mont Blanc. However, it was already so cloudy, that we could barely even see the massif anymore, so we decided to walk down to Chamonix instead. Also, we were quite sore and tired already, and walking to Les Houches would have meant a very long hiking day. As we didn't want to walk along a road, we followed paths instead, and mostly walked in a forest. The descent was long, altogether 1360 vertical meters and our legs were really aching when we were finally down in Chamonix. It also started to rain as soon as we reached the village, so it really felt like a good time to end the hike. We returned to Les Houches and our car by bus, and stayed still another night camping in Chamonix.
16,5 km, 1040 / 1360 m, 6 hours walking
Total length of this shortened version of TMB was 130 km, and the eight walking days included in total over 8 000 meters both ascent and descent. Total walking time was 43 hours. Hiking and camping Tour du Mont Blanc was an unforgettable experience, scenic, tough, rewarding, fun.
How much hiking and camping TMB costs?
Hiking Tour du Mont Blanc can be quite expensive, if you stay in the mountain huts or hotels and eat out a lot, and especially if you also use a tour operator to take care of the bookings and maybe even to transport your gear from hut to hut. Camping TMB is not free either, but a lot cheaper option than staying in the huts.
Total costs of our hike were 540 € for the two of us together. Accommodation costs were 184 €, and include 9 nights in camping sites. Both the cheapest and the most expensive camping site was in Switzerland – night in Camping des Glaciers cost over 32 EUR, and in the (very basic) Camping Le Peuty only 12 EUR. Restaurant costs were 201 EUR altogether. We ate out only twice, once in Italy and once in France, and the meals for two cost 20 EUR and 34 EUR. The rest, 147 € were beers bought from the refuges and wine with the restaurant meals (so this money would be easy to save, but on the other hand, it feels simply great to have a cold beer after a hiking day). We cooked most of the meals ourselves, and the grocery costs during the hike were altogether 140 EUR. In addition we used 16 EUR for other purchases, mainly for camping gas and some band-aids and other first-aid stuff.
What we learned or would do differently?
As said, this hike was truly an amazing experience. Hiking and camping TMB is not a walk in a park, but not super difficult either, and for us it was the first long-distance hike ever with all camping gear. We have hiked quite a lot, and often cover long distances and great elevation changes during our day hikes, but that is clearly a different thing than hiking up and down on the mountains for several days in a row, with a heavy backpack. A hike like this is very hard on the legs, especially knees, but also quite tough for the whole body, and possibly for the mind too. It also consumes a lot of energy, so it's important to pay attention on the nutrition, and of course to drink a lot of water.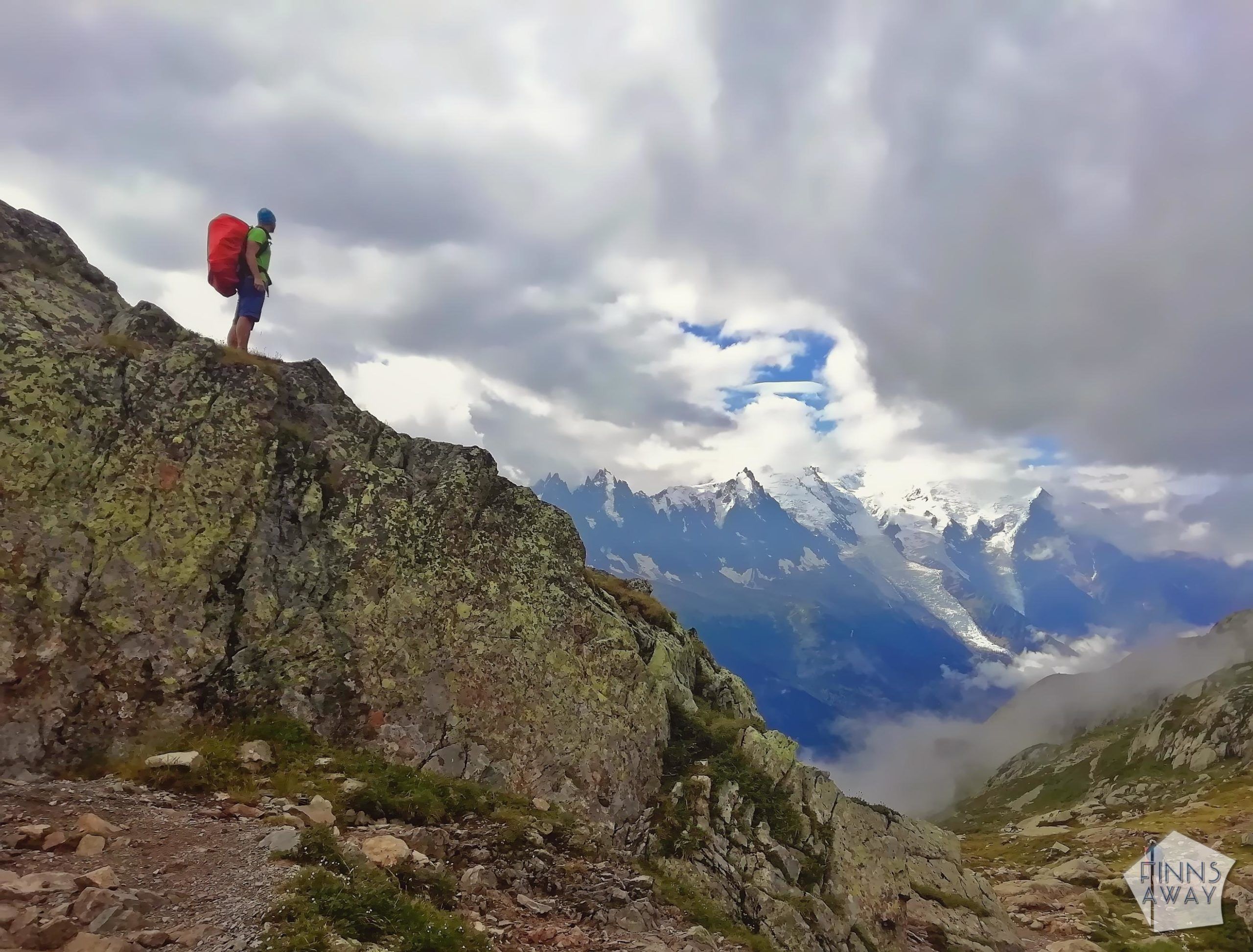 We have no regrets really, even if it would have been great to not skip any parts of the hike, especially not some of the most scenic sections. On the other hand, we took shortcuts mostly due to bad weather, which means that the views wouldn't have been too good anyways. I suppose it's quite rare to get to walk the whole circle under clear skies only, unless you reserve a lot of time and build your hiking schedule according to the weather. Allowing enough time for the hike is advisable in any weather, it makes no sense to ruin the hike with rush, trying to cover super-long daily distances or to be the first in the hut or camping site. For competitive people it can be surprisingly challenging to focus on your own pace and to enjoy the journey instead of focusing on "completing" each day. So, slow down, breathe, relax – it's an amazingly beautiful hike, not a race!
Tour du Mont Blanc definitely wasn't our last long-distance hike, and we are eager to hit some new mountain trails next summer!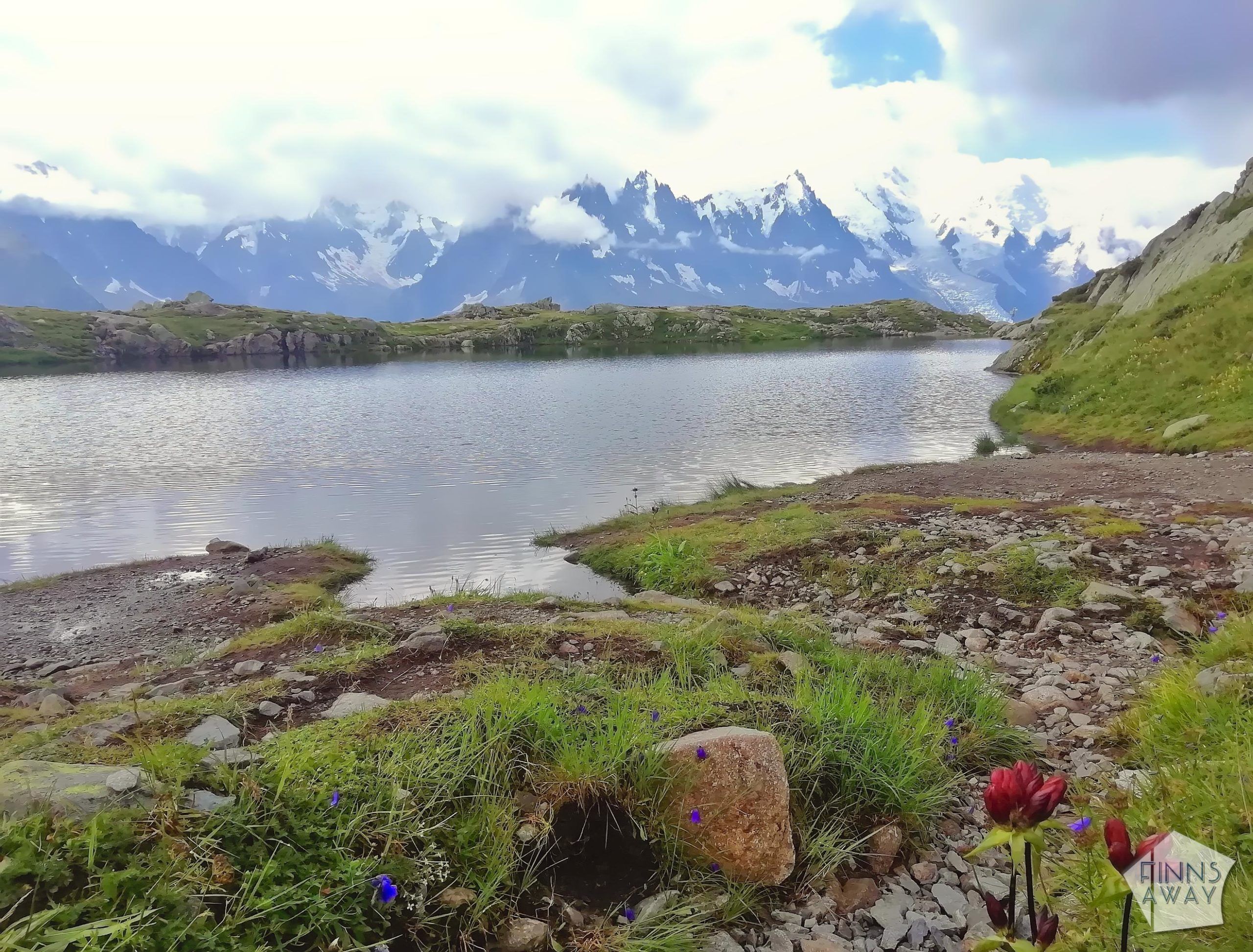 Have you hiked TMB or are you planning to? Share your thoughts, experiences and questions in the comments!