Hiking in French Alps: Mt Chamechaude
French Alps offer endless amount of hiking trails with mountain scenery, and choosing a trekking destination can be a real struggle. On our road trip in southern France, we chose Chartreuse massif, just north of the city of Grenoble. Truth to be told, it was kind of a random pick, based on the location along our route towards southern coast. We would have loved to spend days hiking in the Alps, but this time we only had one sunny day before the weather turned very rainy and cloudy. So Chartreuse it was, and its' highest peak Chamechaude (2082 m). Already when driving through Chartreuse Regional Nature Park with views towards the peak, we knew it was a great choice, and the mountain scenery from the paths on the slopes of Chamechaude was amazing. In this post we introduce a circular hike from Le Sappey-en-Chartreuse village around (and on top of) the mountain peak, with a picture gallery of course.
Table of contest:
About Chamechaude
Hike around the mountain from Le Sappey-en-Chartreuse​
Additional loop to the summit and back
How to prepare for your hike
About Chamechaude
Chartreuse massif consists of limestone peaks, pine forests and mountain meadows, and offers some great hiking trails with spectacular landscapes. Chamechaude is the highest mountain in the area, and an impressive one, being isolated from the other hills, and having an unusually shaped peak with vertical cliffs on the eastern side of the mountain. This peak is very easily accessible from the western side, as the main road through the nature park runs just roughly 2 kilometers west from the peak. Along the road is Col de Porte ski resort, at the altitude of 1320 meters, with parking lots and a bus stop. This is a very popular spot for starting a short hike straight up to Chamechaude, partly along a ski piste, but this trail up doesn't offer the best views, and can also get crowded on summer season.
Better, though more challenging and time-consuming option is to hike along the paths that run around the mountain, enabling to admire the vertical cliffs from below. Getting on the summit by walking is only possible from the western side, as on the eastern side, there is a high vertical drop. For those willing to combine walking with some climbing, there is a cable-assisted way up on the eastern side though, a chimney called Breche Arnoud. For rock climbers, the vertical walls offer great and for sure challenging routes up. We were tempted to try the Breche Arnoud climb, but didn't have enough gear with us – at least a helmet should be worn for safety reasons.
Hike around the mountain from Le SaPpey-en-Chartreuse
The village of Le Sappey-en-Chareuse is located right below Chamechaude peak, on the southern side of it, on the way to Grenoble. It is a rather small mountain village and resort at the altitude of around 1000 meters. It looks like the tourism is more winter season oriented, but there are some accommodation options and restaurants also open in summer. For campers, there is a small campsite called Camping Municipal La Virette. It's an affordable site with basic amenities and even a wifi connection. The reception is only open for a half an hour in the evening (7 pm to 7:30 pm), but you can arrive outside that time window and pay later. The location is great for hiking, since you can hit the trails right from the village.
If starting from the village, walk towards Le Churut, northeast from the central square and church. You'll find a path crossing the small stream called La Loux and leading upwards to the forest. After a short ascent you'll see the first signposts, and a path by the name of Chemin de Chamechaude, leading further up through the forest. It's marked with both red-and-white signs and yellow paint. When getting closer to the Chamechaude peak, the slope gets more steep, but as there is a zig-zagging path, it's still an easy walk. After roughly three kilometers of hiking, you'll leave the forest behind, and suddenly there is great view towards the vertical wall of the peak.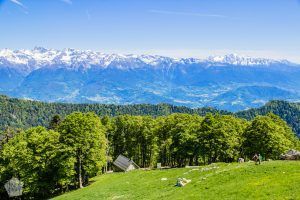 Only few hundred meters more, and you'll reach a mountain hut called Habert de Chamechaude (1580 meters). From there on, the path continues northwest towards the Chamechaude cliffs through a beautiful mountain meadow. The view towards the peak is great, but turn around, and you'll see a long line of snow-topped mountains behind. The higher up you go, the better the view, so it's a very rewarding ascent from this side. Soon after the hut, there is a signposted crossroad, where you could also choose a path that circulates around the peak from the southern side, and then leads to the summit. We continued further up northeast, to go around the northern side.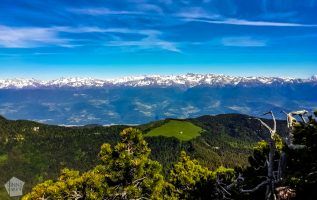 When reaching the cliff, from where the Breche Arnoud climb begins, there is a path following the cliff below it. Walking along it north, it's roughly 1 km until you'll reach a turn to pas du Jardin. It's easy to miss, as it's basically a short climb up the wall, marked with some yellow-painted arrows. If you walk until the path starts to descent, you have walked past it. We did, and were actually looking for an alternative path, which is marked in several maps (we used maps.me app), but couldn't follow it, as there is a deep ravine blocking the way. The climb up along pas du Jardin is not very high, but as there are no ropes or cables, it's somewhat challenging. Jardin de Chamechaude, in the northern end of the mountain, is a beautiful place for taking a break and some more pictures, with Mont Blanc in the background (check the gallery for a pic).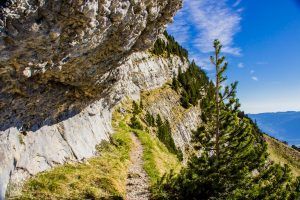 From Jardin de Chamechaude to the western side of the mountain, the path is easy to follow, and leads past a big cave entrance, a bit up the slope from the path. When you get to the western side, the path goes on a narrow ledge, with steep cliff both above and below. It's not particularly dangerous, but maybe not for people with afraid of heights. It's a roughly 1 kilometer long, quite even walk from Jardin to the crossroads of the main path that comes from Col de Porte. From there you can easily reach the summit and make a circular loop up on top of the mountain, with stunning views for sure. We continued downward instead, and to a path that leads back to Le Sappey-en-Chartreuse village. The length of our hike was 12,3 km, with 1047 meters ascent, and it took nearly five hours with short breaks every now and then, and some time wasted on trying to find alternative paths. This hike should be done anticlockwise like we did, as it would be very difficult to climb down from Jardin du Chamechaude. This GPS-map of our hike shows the trails and some statistics.
Additional loop to the summit and back
As we only started our hike quite late in the afternoon, we didn't have enough time to make this part of the hike ourselves, but for those that have the whole day reserved for Chamechaude (or begin the hike closer from the peak), we of course warmly recommend going to the top of it also. A tempting circular loop to the summit and back includes a descent down a 10-meters high vertical wall, but it's assisted with cables and shouldn't be too difficult according to hiking reports. If climbing down is not your thing, you can just walk down along the main path that comes from Col de Porte. For planning your hike to the summit, check out this informative walking guide to Chamechaude, with maps and descriptions of three different hikes up to the summit and around the mountain.
How to prepare for your hike
Hiking around and on top of Chamechaude doesn't require any special mountaineering or climbing gear, unless you want to climb up the high vertical cliffs in the eastern side of course. Hiking shoes are needed, and for mountain hikes, many hikers prefer to use trekking poles, especially when descending. When hiking in mountain areas, always pack enough warm and wind-proof clothes, as the weather can change quickly. During our hike it was perfectly sunny and very warm, so we only needed hiking shorts and T-shirts, but had more clothes in our backpacks. Don't forget to wear a hat or a head scarf, and use sunscreen. In addition, take a plenty of water and some snacks to keep hydrated and energetic. Also always pack a first-aid kit, knife, torch and of course a cell-phone for emergencies and for using map applications.
Chamechaude hike was a very rewarding day trek, and can be warmly recommend if you are visiting Grenoble area. On a clear day the views towards the snow-topped mountains are breathtaking. Be warned though, the scenery can cause an acute hiking-fever. In our case, we would have loved to make longer hikes higher up in the Alps, but the weather was not on our side. Until next time then, but Alps, we'll be back!