Time for new adventures – travel plans for 2018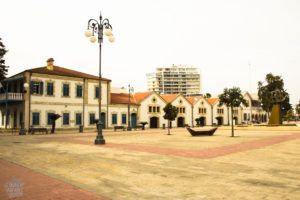 Greetings from Cyprus! After the 6 months road trip in eastern and southeastern Europe in 2017, it was time to ditch our car for a while (it's waiting for us in Athens), and to head for new adventures! Cyprus is an island in Mediterranean Sea, south of Turkey. It is a new country for us, and most famous for being a beach holiday destination. But on top of sandy beaches, there are also gorgeous mountains, historical cities, castles and unspoiled nature. And yes, the island consist of two separate regions, the Republic of Cyprus and the Turkish Republic of Northern Cyprus. You can find all the post related to Cyprus here.
After exploring Cyprus we will fly to our home country Finland for a few weeks visit! The main reason for this is work related, but it's also super nice to see friends and family! In March it will be 9 months since we left from Finland. Haven't really been homesick, but it's still awesome to have a chance for a short stay with our parents and to hear face to face how our close friends are doing. We will be working for couple of weeks in Oulu Music Festival in our former home town, and in addition to that we will enjoy the snowy and hopefully sunny late winter of Finland. Some cross country skiing is in the schedule for sure. In early April our nomad adventure will continue in southern Europe, and regarding that we have some news and plans to share!
AirBaltic ambassadorship
We are happy to announce, that we have just started as airBaltic ambassadors! This co-operation means, that during the year we will be flying to interesting destinations with airBaltic, promoting them in our channels and writing travel guides based on our experiences. AirBaltic is the national Latvian airline, that offers flights to over 60 destinations in Europe and beyond. We are really excited about this opportunity to work with airBaltic, as it has been our choice for low cost flights in Europe several times during the past few years. AirBaltic home base is in Riga, the capital of Latvia, and they also fly from Tallinn in Estonia and Vilnius in Lithuania.
Travel plans for 2018
We don't yet have fixed plans for the whole year, but these below destinations are on our initial itinerary;
Portugal
Round trip starting from the capital Lisbon. We have only visited Portugal on a one day stop-over in Lisbon, so there is a lot to see in this warm and beautiful country in the Iberian Peninsula. Planning to reserve around one month for exploring Portugal.
Minsk, Belarus
Since early 2017 there has been a chance to visit Belarus visa-free for the citizens of 80 states including EU countries, so we are planning to utilize this possibility this spring / early summer. Visa-free stay is unfortunately limited to 5-days (and only through Minsk airport), so we will most probably focus on just getting to know the capital.
Central European road trip
After visiting Minsk, we will fly back to Athens to pick up our car for a road trip in Central Europe in June. We have still three tiny European countries that we have never visited; San Marino, Monaco and Andorra, so we will try to see them all, on top of finding new destinations and hiking routes from Italy and France. We will take our camping gear with us for this trip for sure.
Prague, Czech Republic
In end of June we will head to the capital of Czech Republic, Prague. Our wind orchestra in Oulu, Teekkaritorvet, is traveling there to participate a wind music festival near Prague, and we are planning to join them! That will be a joyous re-union for sure!
Iceland
Iceland is the only Nordic country that we have never traveled to, so it's time to fix that this year. Planning to travel around this stunning island full of nature wonders for around couple of weeks. Hiking and camping will be the backbone of our itinerary in Iceland.
Georgia, Armenia, Azerbaijan, Iran
We have been talking about traveling in Caucasus and Iran for some time already, and with airBaltic we will be able to fly to Tbilisi, the capital of Georgia, and back from Baku in Azerbaijan. Initial plan is to travel couple of months in these four countries by land, mostly using buses.
Tel Aviv, Israel
For the late autumn and winter we don't have exact plans yet, but visiting Israel for few weeks sounds tempting. AirBaltic flies to Tel Aviv, the second largest city of the country after Jerusalem. This coastal metropolis has also been called "the Miami of the Middle East".
Abu Dhabi, UAE
Probably the last destination of the year will be United Arab Emirates, which differs from Israel like day and night I guess, never traveled in either of them before. On top of Abu Dhabi, also Dubai is on the UAE itinerary, and maybe the remote desert dunes as well.
OK, when written down as a list like this, the travel plan sounds quite breathtaking... We have been changing our travel style towards slow traveling lately, but this years itinerary doesn't sound slow by any means. Let's see how we will manage to make this plan reality. It would mean visiting at least 17 countries, out of which no less than 11 are new for us. Welcome to this nomad adventure with us!
What kind of travel plans you have for 2018? Share them in comments!