About life as digital nomads and visiting home
FinnsAway season 2 has just started, and we have a bunch of travel plans for coming months. After five weeks in our home country Finland, it feels great to be on the road again! But let's get back to snowy Finland for a moment here, to answer the common questions about what was our visit all about, and are we planning to get back to Finland permanently anytime soon?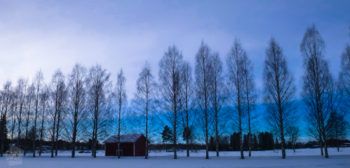 When we informed our families and friends that we are flying to Finland soon, many people for some reason thought that it would mean the end of our "trip" that we started last summer. Quite the opposite, for us this was just one phase of our new life as nomads, and we called the visit a work&holiday in Finland. Coming back home by no means was about permanent return. Actually visiting Finland made us, if possible, even more sure that the FinnsAway journey continues, as this is exactly what we want, to travel the world and to work from the road, to be digital nomads.
Working with Oulu Music Festival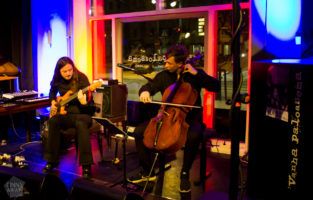 The main reason to go to Finland in March was work related, but it was also a wonderful chance to see our families and visit friends. We had some business meetings related to some web development work that we do for Finnish clients, but the main job was to work two weeks in our previous home town Oulu with the yearly Oulu Music Festival. We were part of the small but efficient festival organization, taking care of concert arrangements and logistics. We had some previous experience of similar tasks already, so it was quite easy to jump into it.
As there were dozens of concerts, the festival days with all the arrangements were pretty long and hectic, but it was rewarding and fun as well! We also had the honor to meet and share thoughts with super-talented musicians and other artists. If you happen to be in Finland in March next year, why not to participate this warm-hearted festival!
Why spring is one of the best times to visit Finland?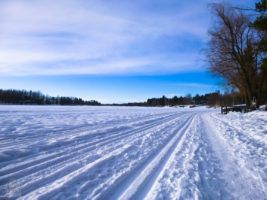 After the music festival was over, we stayed in Finland still three more weeks. In late March – early April the winter is slowly turning to spring in northern Finland. It's actually one of the best times to visit Finland in our opinion, since there is still plenty of snow, but the sun is shining. As you might know, the winters in Finland are long, and they are also quite depressing as there is not much daylight from November to February. However, towards the spring the  days get longer quickly, and the sunlight combined with white snow is just beautiful sight.
Early spring is also the best time for skiing and cross-country skiing. We still have our skis stored in our parents' house, so of course we hit the trails when visiting our parents in Finnish Lapland. If you are considering a visit to Finland, we would recommend Lapland in March-April and some snow-related activities!
Oulu, the growing center of northern Finland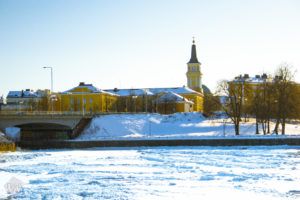 Our home town Oulu is the fifth biggest city of Finland, but not more than a large town in international scale, with population of just above 200 000. It's a university city with relatively young residents, and it's pretty lively outside winter time (when it's cold and dark and next to nobody is hanging outdoors voluntarily). From traveler's point of view, the most interesting areas are close to the city center; walking streets with restaurants, cafes and shops, some picturesque areas with traditional wooden houses, like Pikisaari island, some museums and parks.
Oulu is situated by the sea, and in winter time everything freezes up, including the sea. This is something unusual for many foreign visitors, and offers some interesting experiences like ice fishing or simply walking, biking or skiing on the frozen sea. During our stay we actually were helping to organize an ice fishing contest called Nallikarin Kingi. More about ice fishing and fishing will follow in a separate post where we introduce Rokua Geopark area. Later in spring / early summer it's also possible to try out whitewater rafting near Oulu, which we did last summer before leaving Finland behind.
Digital nomad life – what does it mean?
Our visit to Finland was kind of an end to our tour in East Europe, and we call the new adventures after this as FinnsAway season 2. Now it's also a good time to open up a bit the business side of our life; we are by no means just traveling as tourists on a holiday. When starting this blog, we thought that it would grow into a source of income, but at least so far we haven't really even tried to monetized it, and begin to understand how hard it is to earn with just blogging. Writing travel stories, sharing experiences and co-operating with travel related companies has become more a hobby, though it takes a lot of time and sometimes feels like an actual job.
What do we do then to earn money to travel? Well, to put it short, we are entrepreneurs working through our own company that is based in Finland. We offer services like web design, content creation and digital marketing for Finnish start-ups and other small companies, and work almost on daily basis with customer projects, depending on the workload of course. At times it's more busy, but then we also have the freedom to focus just on traveling when there is not that much projects in hand. The jump from 9-to-5 office employee to a self-employed entrepreneur was a leap of faith, but looking back now, it definitely feels like the right decision.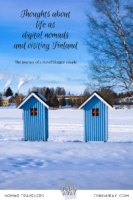 Location independent life is a growing phenomenon, though there is no knowledge of the number of people who count themselves as digital nomads today. It's really interesting to see how the working life changes in coming years, and whether more and more companies will allow their employees to work from home or from abroad instead of from the company office, and how much the amount of self-employed, location independent entrepreneurs and freelancers will increase. For sure this kind of life is not an option or passion for everyone, but there are many people like us, bitten by the travel-bug and willing to combine working and full-time traveling.
Have you ever considered traveling for a longer term, or maybe even working location independently? Feel free to share your thoughts in comments!