Money matters - October 2017
October was the cheapest month so far, since the beginning of FinnsAway journey. But how is it possible that low-cost Bulgaria was the most expensive place for us during the month? During October we traveled further east and back. We stayed for more than a week on the Black Sea coast, and 6 days in Bucharest. We visited the mysterious Transnistria and hiked in the mountains of Bulgaria.
October was not just about being on a holiday. We stayed a bit longer periods in one place (Odessa, Constanta and Bucharest) and worked quite much. We rented apartments with own kitchen and cooked a lot, so our restaurant bill for the month was 150 EUR lower than in September. Groceries and drinks from super markets were relatively cheap in all the countries visited.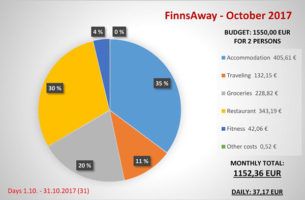 Ukraine was the cheapest destination for us so far, and our average daily consumption in Ukraine was only 36,71 EUR for two persons. Our second stay in Romania in October was very cost-efficient too. Bulgaria in general is a low-cost country, but looks quite expensive in our cost charts. We spent 276 EUR during the six day period in the country, which makes it relatively expensive visit. This is mainly because we settled in the cozy Balkana Family Hotel in Apriltsy for three days. It was just perfect place to relax, hike and exercise. Even if we did get discount in exchange of our collaboration with the place, it was still over our daily budget of 50 € for two. But sometimes you need to spoil yourself and not to worry too much.
OK, back to the sum-up of the month then. Accommodation costs were totally 405 EUR, which is really excellent. It's only about 13 EUR average per night for two, and still the places we have stayed in, have been quite awesome. For example in Constanta we had a nice two room apartment with balcony and a great view with under 10 EUR / night via Airbnb. Actually the price was so low because we were the first customers in that apartment. So sometimes it is good to be the pioneer. Thanks to Andreea for a great stay in Constanta!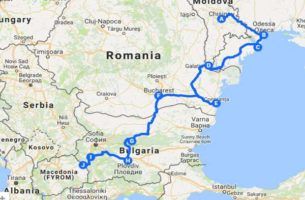 Regarding transportation costs, we drove about 1500 km during October, which somewhat oddly makes it only just a little bit longer journey than driving through Finland from north to south. We started from Chisinau in Moldova, drove to Odessa in Ukraine, back to Romania to Constanta and Bucharest and through Bulgaria to Delchevo in Macedonia. Would say that 132 EUR as a sum of transportation costs is quite okay for that. Diesel was the most budget-friendly in Ukraine and Macedonia, less than 85 cents at the cheapest.
All in all, our daily consumption during October was 37,17 € for two (18,59 € per person), and now the average for the whole three months on the road has decreased to 46 €, which is nicely under the planned budget of 50 €. To all those who claim that travelling in Europe is expensive, we can assure that in the eastern part it isn't, unless you want to spend it of course.
Check out also the previous money matter posts;