ExPloring Minsk, the interesting capital of Belarus
Belarus is a country with violent history and complicated political situation. When you hear something about Belarus in the news, it's often not very positive. This country is hardly on top of any "must visit travel destinations" lists shared in social media. However, Belarus has developed a lot during past few years, and is starting to see more visitors from abroad. We made a five-day trip to the capital Minsk in August 2018. Not really knowing what to expect from the country or the capital, it turned out to be a positive surprise.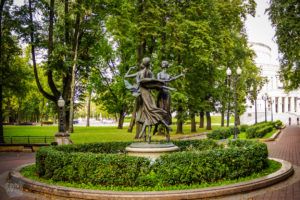 Many Belarusians, especially the younger generation, want to move abroad, and tourists often hear the question "This is Belarus, why would you come here?". The people we met in Minsk didn't seem to be too proud of their home country, or at least they thought that a lot needs to change before it would be desirable for tourists, not to even talk about the citizens.
Don't get this wrong, Belarus is not fully miserable. People in Minsk seemed mostly happy and everyday life goes on despite the challenging political and economical situation or questionable human rights status. From visitors perspective, Minsk looks quite like some other eastern Europe capitals, and people are very polite and friendly towards tourists. For outdoor enthusiasts Belarus may be a bit disappointing, at least if mountains are what you are looking for; the country is very flat, as the highest hilltop is just 345 meters above the sea level. But there are five national parks and the landscape is very green, with countless lakes and large forests.
Arriving in Minsk National Airport and getting to city center
When we arrived in the country, everything in Minsk airport worked like charm. First thing in the terminal was to buy a travel insurance for the length of our stay (if you already have a valid insurance and a document of it with you, you can skip this step), which took like 5 minutes. Then we went through the border control, which was super-quick and polite. In the arrival hall it was easy to find the signs informing where public transportation to the city operates, and to buy bus tickets from a ticket machine. So it's not mandatory to withdraw or change money in the airport (exchange rates tend to be better in the city), but if you'd like to do so, there are ATMs and exchange offices.
Minsk airport is 40 kilometers away from the city center. The cheapest option to get there is by bus 300Э that runs around the clock, roughly every 40 minutes (less often during the night). Timetables are clearly visible in the airport, and also in their web page. Ticket cost 4 BYN plus 0,4 BYN for luggage, so less than 2 euros. The trip to Minsk Central Bus Station took less than 1 hour, through rural landscapes and past new apartment building areas, and then along the wide Praspyekt Nyezalyezhnastsi, also known as the Independence Avenue, to the city center.
We had booked accommodation outside the city center, so the first thing to do was to figure out how to get there. Minsk metro is a great way to move between center and the suburbs, though not in all directions since there are only two lines (third is under construction). Like in Moscow, at least part of metro stations, like the Lenin Square station, are sights as themselves. Single ticket to metro costs 0,65 BYN, so less than 0,3 €, and when buying serial tickets, even less than that. Both times when we entered with all our luggage, Toni had to go through security check (not sure why they didn't bother to check Anne's backpack as well, is it always men who carry forbidden items into metros…?).
Central Minsk is not huge, so it's best explored on foot, but with metro you could head to admire architectural gems along the Independence Avenue further away from the center. Metro is also useful way to reach malls outside the center, if shopping is your thing.
City of Stalinist architecture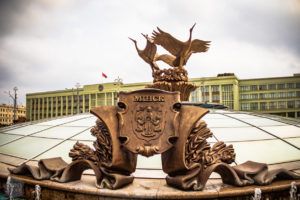 Minsk city center around the central railway and bus stations continues the same architectural trend as the Independence Avenue; buildings are Empire style and massive, roads are wide and squares are large. This is typical for monumental Soviet or Stalinist architecture, and Minsk actually is a unique, living example of this style. The city was largely destroyed in WWII, and then rebuilt during the Soviet era, which explains the notable presence of Stalinist architecture. The whole Praspyekt Nyezalyezhnastsi (Independence Avenue) is lined with majestic soviet-style buildings and squares.
Right opposite the railway station are the Gates of Minsk, two huge Empire style tower buildings, also one landmark of the city. The railway square makes a good starting point for a "soviet-style Minsk" city walk. From there, walk to the Independence Square (Lenin Square) and after exploring it, continue north along Praspyekt Nyezalyezhnastsi.
Sightseeing in Minsk
The Independence Square, formerly known as Lenin Square, truly is impressive. Surrounding soviet-style landmarks include the imposing Belarusian Government Building with Lenin statue in front of it and the State University Building on the other side of the square. These giants set an interesting background for beautiful fountains, sculptures and flowerbeds of the square. Next to them sits also Church of St Simon and St Elena, or the red church, a beautiful, traditional structure from 1910, that somehow looks like it doesn't belong. Below the surface of the square lies a huge underground shopping center.
Another popular squares, all of them along the Independence Avenue, include October Square with Trade Union Palace of Culture and Palace of Republic, Victory Square, Victory Obelisk Memorial monument with eternal flame and underground museum, and Yakub Kolas Square, named after famous Belarusian poet. Oh and don't forget to stop to admire the majestic KGB building, that is one of the most popular sights of the city.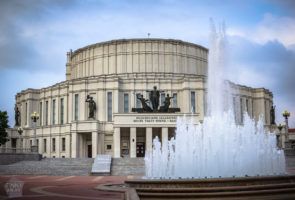 Soviet era buildings, monuments and statues around the city obviously are worth a sightseeing tour, but Minsk also has much more sights to offer. There are several big, green and lush parks, peaceful riverfront with pedestrian and cycling paths and a Botanical Garden. Furthermore, even if there is not much left of the Minsk before wars, not all notable buildings are Soviet style.
Probably the most photogenic area of Minsk is the tiny Old Town called Trinity Hill or Trinity Suburb. It is a riverside quarter with colorful small houses, built to look like Minsk did back in 18th century. Next to the old town is beautiful Island of Tears, with chapel and memorial to soldiers perished in the Afghanistan War. When exploring Trinity Hill, check out also the beautiful National Academic Bolshoi Opera and Ballet Theater building in a park across the busy Maksima Bahdanovica street.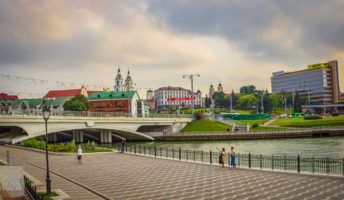 Historical Minsk also includes area called Upper Town on the south side of the river. Upper Town has seen quite of a face-lift during past years, and especially the riverfront actually looks somehow surreal in all its cleanliness and glory. The area is home to historical buildings like Baroque style Holy Spirit Cathedral, Church of St Joseph, and recently restored structures like Art Nouveau style Hotel Europe and the Minsk Town Hall. Behind the riverfront area you'll find few quarters of old but renovated stone houses and narrow streets, part of them reserved for pedestrians only. The atmosphere in this part of the town is something totally different than in the Independence Avenue. It's perfect for evening strolls and having something to eat or drink in one of the cafes or restaurants.
Walking around Minsk is pleasant not just because of architecture or parks, but because it's so clean everywhere! We hardly saw any rubbish during our stay in the city, which was quite surprising. In addition to walking tours you might want to dive in some of the museums of the city, like the National History Museum or the Belarusian State Museum of the History of the Great Patriotic War.
New visa rules and other practical info
When planning our trip to Belarus earlier this year, there already was a possibility to stay in the country without visa, but only when arriving and leaving via Minsk National Airport and for stays up to 5 days. This short period basically limited our trip only to Minsk. However, in late July 2018 a new visa policy was introduced, and nowadays citizens of 74 states, including EU countries, UK and US for example, can stay for 30 calendar days without visa. This still applies only when arriving and leaving via Minsk airport.
Requirements for the visa free stay are; You need to carry passport that is valid for at least 90 days after the trip ends, document of medical insurance (that covers at least 10 000 €) and proof of financial means, meaning that you have to have 49 BYN (roughly 21 €) per day for the length of the stay (can be foreign currency). In practice, no questions about our financial means were asked, but that may not be the case with everyone of course. More information about visa regulations and different visas can be found from Ministry of Foreign Affairs web pages.
Language and currency
Quite interestingly, must of the people speak Russian instead of Belarusian. Both of them are official languages, and actually quite closely related to each other. Younger people also speak English surprisingly well, at least in the capital city, but to survive in smaller places, we would recommend either knowing some Russian or having an off-line translator in use.
The currency used in Belarus is Belarusian ruble, BYN. In August 2018 the exchange rate was roughly 1 € = 2,4 BYN. You might run into weird prices when reading outdated travel guides; Belarusian ruble was re-dominated in 2016, when 1 000 BYR became 1 new ruble, BYN. Carrying some cash with you is a good idea, since even if credit cards are widely accepted in shops and restaurants, it's not possible to pay with card everywhere.
Where to stay and what to eat
There are plenty of accommodation options in Minsk, from cheap dorms to luxury hotels. Most of the tourists lodge in the city center for obvious reasons, but it's not a bad idea to look for affordable options a bit outside it either and use public transportation to get there. We found budget-friendly hostel rooms via booking.com, but ended up renting a whole apartment via Airbnb. It was located roughly 4 kilometers from the center (for us it's still well within walking distance), in a typical soviet style high-rise building. Suburbs are not the prettiest parts of Minsk, but there is certain charm in the gray, run-down, concrete apartment buildings. And in such areas you get to see more authentic life of locals.
We didn't eat out too often in Minsk, since we had kitchen in our apartment. However, eating out in is affordable, and you can choose from traditional dishes to international options. It seems that its trendy to serve burgers, pizza and cocktails, and we read from somewhere there are actually aren't many restaurants focusing only on Belarusian Cuisine. Not all places have menus in English or staff who can translate, so having some kind of translator app or food vocabulary with you certainly helps.
Belarus, especially Minsk has woken up to the rise of craft beer boom during recent years, and there are some very nice pubs with products of local microbreweries. If beer is your thing, check out our post about craft beer pubs in Minsk in Craft Beer Nomads blog.
When and how to get there
Minsk is for sure at its best during summer months. The humid continental climate means warm summers but generally unstable weather. Winters are cold as temperatures drop below zero, and during spring and autumn months weather can be foggy.
Several European airlines, as well as handful of long haul flights operate to Minsk National Airport. Our travel partner airBaltic has daily flights from Riga to Minsk.