From Georgia to Shaki in Azerbaijan
In this travel guide we introduce a cheap and quick way to travel overland from Batumi in Georgia to Shaki in Azerbaijan via Tbilisi and Qax, crossing the border between Lagodekhi and Balakan. If you are in a hurry, this trip can be done in 16 hours, but it's of course fully possible to stop for some time in Tbilisi and explore the Kakheti region on the way.
Night train from Batumi to Tbilisi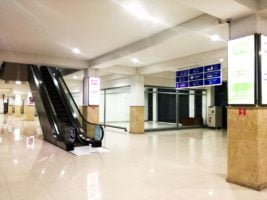 When coming from Batumi by the Black Sea (or from Turkey) and heading to Azerbaijan, it's basically unavoidable to travel via the capital Tbilisi. Since we didn't want to stay overnight in Tbilisi at this point, the most logical option was to take a night train to Tbilisi and continue onward right away in the morning. The train, one of those new, shiny and clean fast trains, left from Batumi at 00:45 and was in Tbilisi around 6 o'clock next morning. The tickets in second class cost 24 GEL, so roughly 8 euros. Otherwise nice, but there was no sleeping carriages, just normal seats, which meant not much sleep that night.
Traveling in off-season, we were able to just buy the tickets from the station before the train left (ticket offices are open from 7 AM to 1 AM), but in summer it's best to book at least a couple of days ahead. To get from city center to the railway station in Batumi, you can use marshrutka 20 or 28 from Chavchavadze Street. The Batumi central station is a shiny new building a few km outside the city center. It looks a bit airport-like, and was nearly empty when we were there. There is a tourist info and a (pricey) cafe, both were open still at 11 PM.
From Tbilisi to Shaki via Qax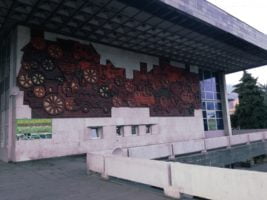 As the station was somewhat unpleasant for hanging around, we waited for the train in a nearby pub, drinking beer (and well, some chacha) with local old-timers. That combined with nearly no sleep in the train, we where somewhat dopey when arriving in the Georgian capital. After a couple of cups of  strong coffee, playing for a while with street dogs and breathing in the crispy early-morning air, it was time to find a way to get to Ortachala bus station. That required taking a metro from the railway station to Liberty Square in the city center, then walking a few hundred meters to Baratashvili Street bus stop, and then taking a local bus number 50 to Ortachala. Sounds maybe a bit complicated (compared to taking a taxi for example), but it was actually surprisingly quick and easy.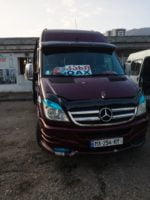 Buses, or rather vans to Qax in Azerbaijan (which is pronounced more like Gakh or Gakhi, so neither with q, nor with x) leave from a parking lot outside the station building, next to Dimitri Gulia Street. The first bus leaves at 8:40, and I think we were in the station around 8, so there is plenty of time to catch this bus if coming by the night train. There are some small shops where you can buy some food and drinks for the journey, and the bus also stopped once on the way in a cafe / shop in Georgian side of the border. Tickets are bough from the driver (12 GEL, 4 €).
Crossing the Matsimi-Postbina border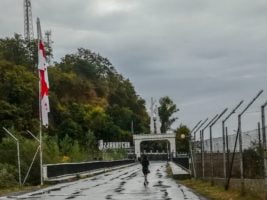 This border between Lagodekhi in Georgia and Balakan in Azerbaijan is much more quiet than the one along the main highway. Views along the way, below the Greater Caucasus mountains, are scenic. We tried to stay awake the whole journey to enjoy the views, but failed (it was also a bit rainy and foggy day, so we didn't miss that much). When arriving in the border before noon, we hopped out of the bus (leaving our luggage in it) and walked over.
In Azerbaijan side passport control we were asked about our visit to Armenia. It's OK to have visited Armenia, as long as you didn't enter Nagorno-Karabakh, the area that these two countries have fought over for decades. If you did, and took stamps in a separate paper, not in your passport, just be quiet about it, and you should be fine. But remember that entering Karabakh is considered as an illegal entry to Azerbaijan territory, so if the truth does come out, you can be in serious trouble. So if you are planning to visit both Azerbaijan and Nagorno-Karabakh, it's recommended to go to Azerbaijan first.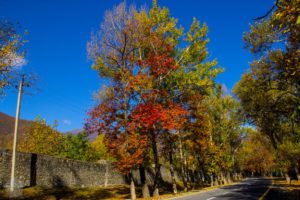 After getting stamped in, our daypacks were scanned, and the officer asked if we have been shopping in Armenia. Correct answer is of course no, as it's apparently forbidden to bring any Armenian origin goods to Azerbaijan. Despite the questions asked, all the border offices were very welcoming and friendly, so it was an easy and laid-back crossing. After waiting for our van to get through the customs, we hopped back in and the journey continued through beautiful landscapes.
From Qax to Shaki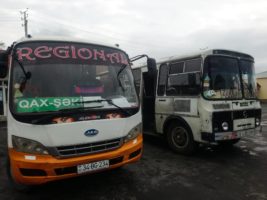 It took around one hour from the border to Qax, where we needed to take another van to Shaki. The next was leaving at 3 PM (there are at least seven daily buses), so we waited in the station for about an hour. There is an ATM for getting some local currency, and some small shops. Ride to Shaki took less than an hour and cost 1 AZN, which is roughly 0,5 €. Shaki bus station is centrally located in the new side of the town, but if you plan to stay in the old town, it's roughly 2,5 km walk there. Taking a taxi (preferably an old Lada of course!) is easy and inexpensive.
This budget-friendly trip from Black Sea coast to Azerbaijan cost altogether 78 Georgian lari plus 2 Azerbaijan manat, so roughly 27 € for two people together. This includes all tickets from central Batumi to Shaki bus station.
Related post: First impressions of Azerbaijan