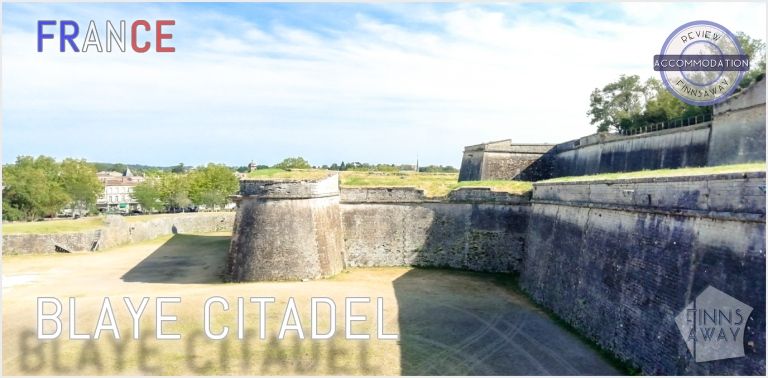 Citadel towns Blaye and Bourg
How does camping or staying in hotel inside a historical, walled citadel sound? During our road trip in Europe in summer 2019 we stayed most of the nights in camping sites. Finding a place to stay in France and Spain was sometimes a bit challenging, since some of the sites were full, some were charging ridiculously much for a pitch, and some were more like amusement parks than peaceful camping areas. But there were some very positive surprises too! In this post we introduce Camping Municipal Blaye, a small and affordable campsite situated inside a fortress in south-western France! Besides a nice place for staying overnight, Blaye citadel is an interesting destination to explore, and would for make a nice day trip from Bordeaux, together with another small citadel town, Bourg, nearby.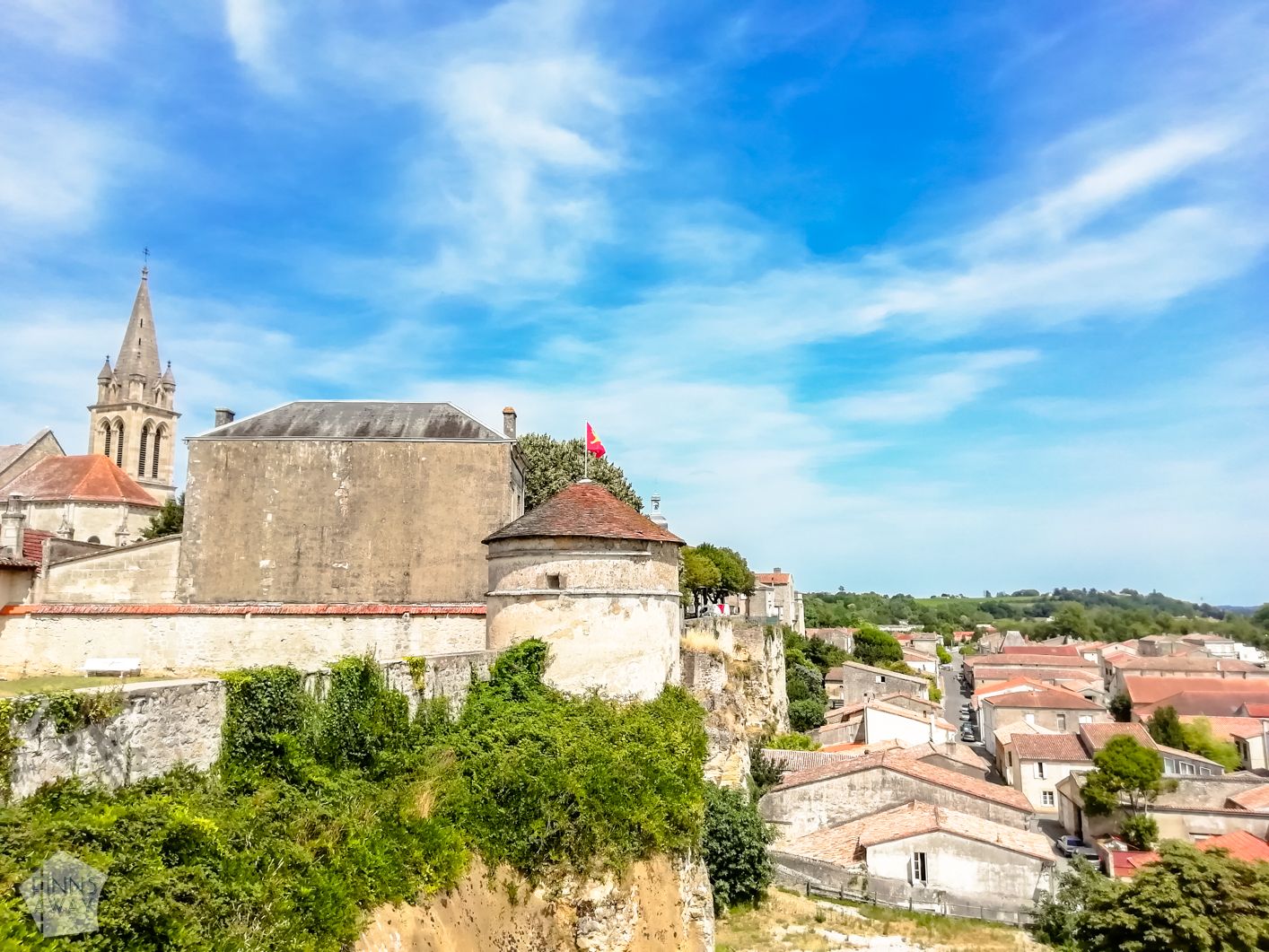 The city and citadel of Blaye
Blaye has a long and interesting history. The city is situated by Gironde estuary, the delta of Dordogne and Garonne rivers, and in ancient times it was a Gallic port. In year 778 the Frankish military hero Roland was buried in a basilica on the site of the current citadel, according to tradition at least. During wars against England Blaye was an important stronghold, as well as in the French Wars of Religion in 16th century.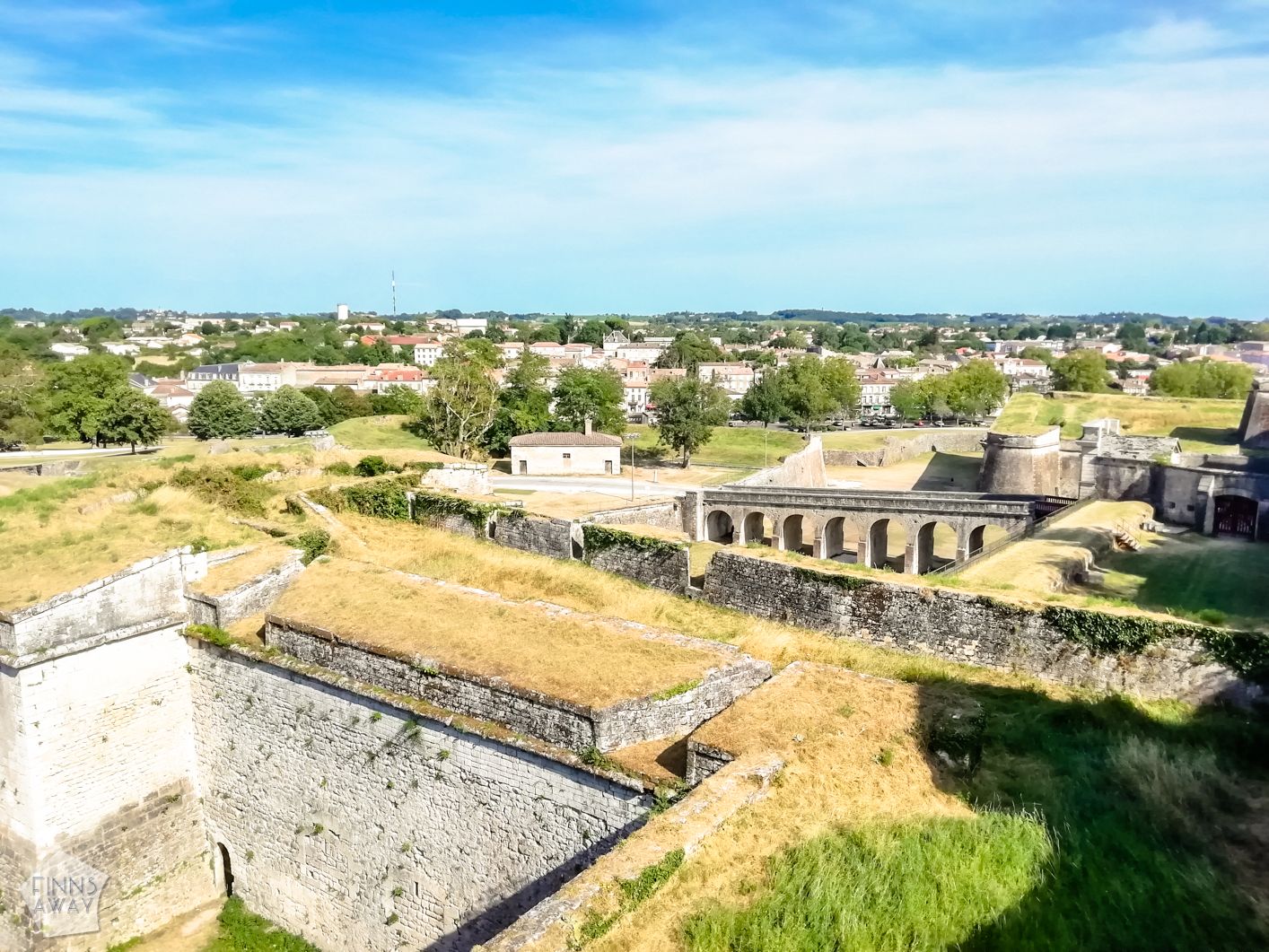 Blaye citadel was built on a rocky foreland next to the town, on a site where already was remains of earlier fortresses. The walled citadel is part of the UNESCO listed Vauban bolt, that consists of three fortifications, the Citadel of Blaye, Fort Pâté and Fort Médoc, all designed in the 17th century by military architect Vauban to protect the city of Bordeaux from enemies coming from the Atlantic. The Vauban bolt then is a part of the larger UNESCO cluster, called Fortifications of Vauban, made up of 12 groups of fortified sites in France.
The Blaye citadel is an imposing sight, with thick walls built in a star-shape with bastions, watchtowers and moats. There are two entrance gates, called the royal gate and the dauphine, and inside the walls there are several historical buildings, including a convent with a church, a ruined castle and a former hospital. The citadel is open for visitors daily, and roaming around it is free. A small amount of villagers actually live inside the citadel, and there is a hotel, some restaurants and boutiques along narrow alleys. There also as a wine shop, that sells wine made of grapes grown in the watchtower vineyard of the citadel. We popped in the wine store of course, and got to taste different wine varieties before choosing what to buy. For those interested to get to know citadel better, to hear about the history and life in the 17th century and to visit the underground passages, there are also guided tours available.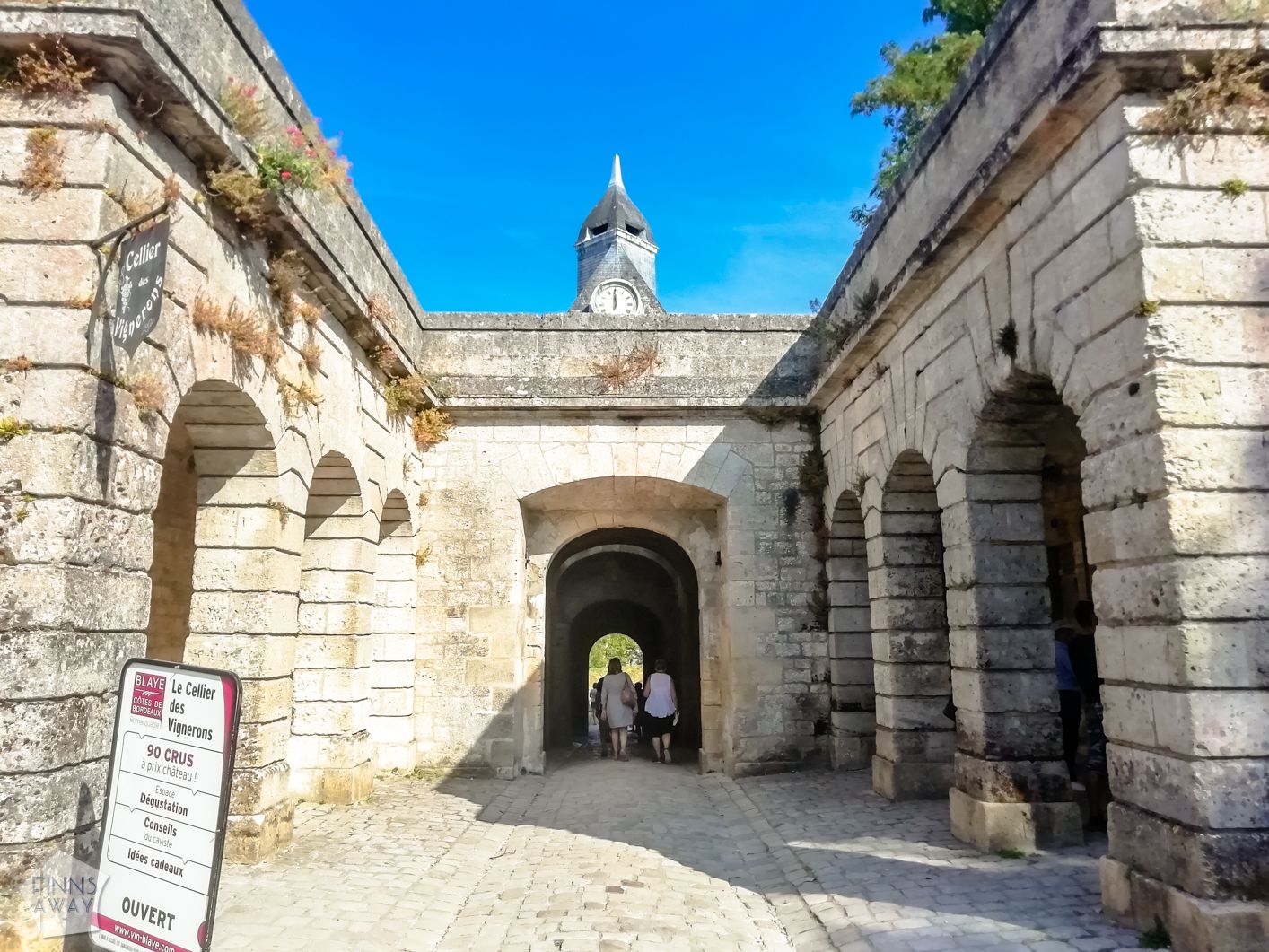 The Camping Municipal Blaye is indeed situated inside the citadel, and it's a lovely place! There are nice shaded pitches and the prices are very affordable, we paid around 12 € for two persons, a small tent and a car. Some pitches have a view towards the river, others are very close to historical citadel walls. Services are quite basic in the site itself, but in the citadel there are several restaurants, and the town is a short walk away. As the access to the site is through the citadel gate, those with a larger camper car need to be careful, and note that the maximum height to fit through the gate is 3,3 meters. For those planning to visit Blaye, please note that the camping area is unfortunately closed for the entire summer of 2020.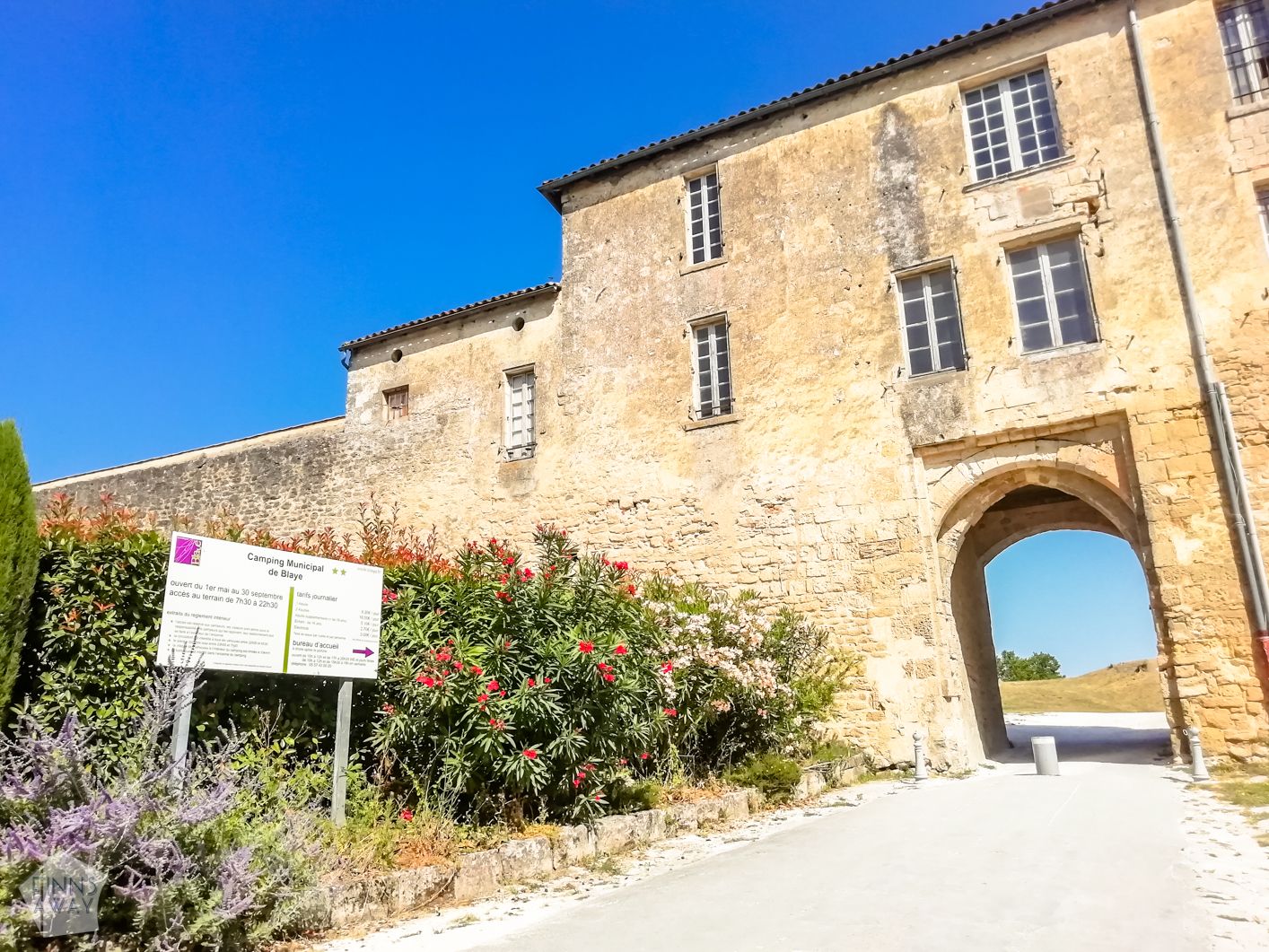 Small Bourg on the banks of Dordogne, south from Blaye, is a picturesque town well worth a short visit at least. There is citadel castle with gardens and a museum, and the village itself, with old houses, is beautiful. Bourg has been built on a rocky outcrop above the river, and there are small staircases between the riverfront and the "upper town". On your way from Bourg to Blaye, don't miss the Gironde cliff road, also called La route de la Corniche or the Captains Road. This winding coastal road offers amazing views, and is lined with old captains houses with flowery gardens, small fishermen huts and of course some vineyards.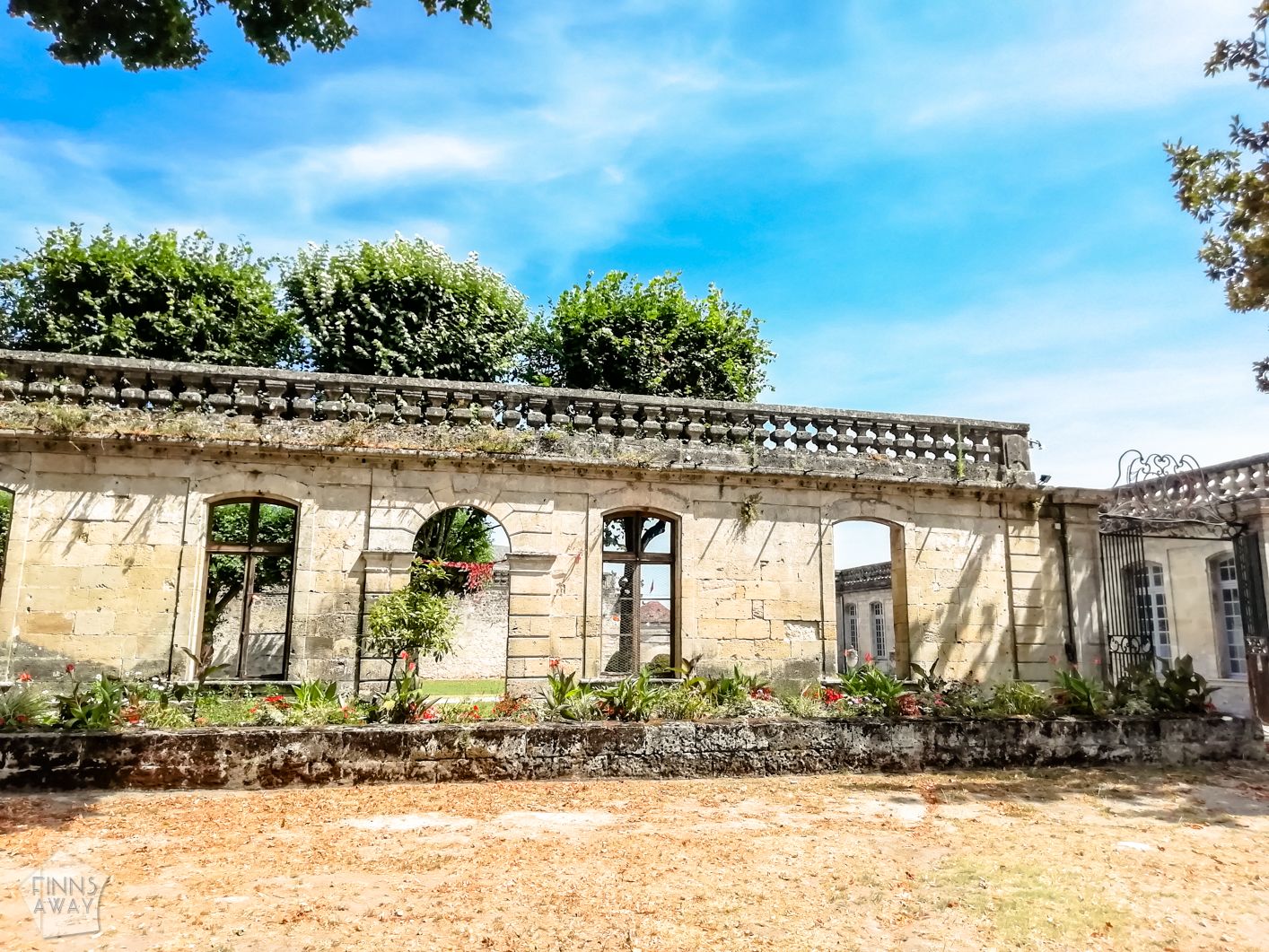 The best way to make a trip to Blaye and Bourg is by a car, so you can freely choose the route and stop whenever you want. Unless you are on a road trip with your own wheels, consider renting a car using AutoEurope tool to compare the prices of different rental companies. If car is not an option, there are also bus from Bordeaux both to Blaye and Bour. For thoses interested to explore the Gironde delta more, or see Blaye Citadel from the river, there is a ferry service grossing Gironde, running regularly between Blaye and Lamarque. If camping is not your thing, but you'd like to stay in the citadel and don't mind paying more, check the Hotel Restaurant La Citadelle, that has very good reviews and even a pool.
Pin this post to save it for later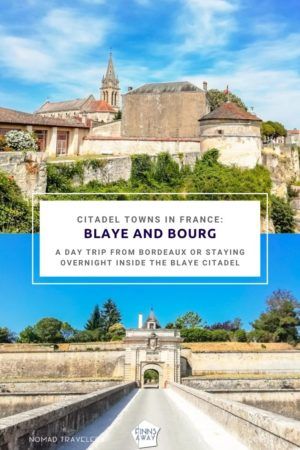 Our resources
and Discounts