First year as nomads – cost sum up
It has been a year since we left Finland and started our life as digital nomads and location independent entrepreneurs. During the first nomad year we traveled in Europe first 157 days by our own car from Estonia to Greece, then 111 days with flights and using public transportation and again 98 days by car from Athens to France. The countries visited during the year were;
Estonia (6 days)
Latvia (2+7)
Lithuania (3)
Poland (10)
Slovakia (11)
Hungary (9)
Romania (23)
Moldova+Transnistria (8)
Ukraine (12)
Bulgaria (6)
Macedonia (15)
Kosovo (2)
Albania (33)
Greece (50 + 2)
Cyprus (24)
Finland (40)
Portugal (35)
Russia (5)
Italy (11)
San Marino (1)
Austria (1)
Czech Republic (20)
Germany (3)
France (27)
Quite a tour around Europe, in 24 different countries, out of which 8 we visited for the first time! We summed up all the costs from the past year, to build a picture of how much this kind of traveling and nomadic life costs in Europe. Before starting this journey and our new life, we set a long term budget target of 50 € per day for two of us together.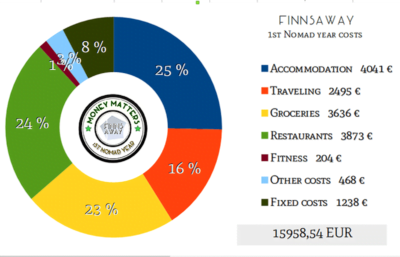 All expenses of the life on the road during the year sum up to 14 720 €. In the cost graph you can see how this splits into accommodation (337 € / month), traveling (208 € / month) groceries (303 € / month), restaurants (323 € / month), fitness (17 € / month) and other costs (39 € / month). There are also all fixed costs like insurances, taxes (car tax) and phone and bank costs included, totally 1 289 € during the year. All this together means that the price tag of the whole year was 15 959 €, which is 1 330 € in a month and 44 € in a day for two of us (22 € per person per day).
This goes nicely under the long term budget target, but there are some factors that have lowered our costs this year. First of all, we have been ambassadors of airBaltic airline since February 2018, which means that traveling costs don't include flight tickets, except for one flight from Athens to Larnaca in Cyprus. Regarding accommodation costs, we stayed for free around 7 weeks when visiting friends and family, and together one month when house-sitting in Portugal and France. On top of that we did some short press trips, like the one to Siberia, without accommodation costs. Counting these cost-free nights out, the average price of accommodation for a night, from camping to hotels, was 14,7 €.
This is of course just a one example of how much traveling and living nomadic life in Europe can cost. It would be possible to spend less for sure, or a lot more if you decide to stay in more expensive cities and require some luxury. In our cost summaries, there are remarkable differences between monthly costs depending on the countries we have stayed in, and the pace of traveling. Staying longer in one place is naturally more cost-efficient than traveling around, and eastern Europe is a lot cheaper than central Europe, not to even talk about Scandinavia and Finland. During the first year, the cheapest countries where we traveled in were Albania, Moldova, Bulgaria and Macedonia.
You can find all our post related to costs and budget in Finances -page.
In early January we will again publish a wider post about year 2018 travels, nomad life and costs. Here you can find summary posts from year 2017;
Travel year 2017; life changes and road tripping