Cost summary: 11 days in UAE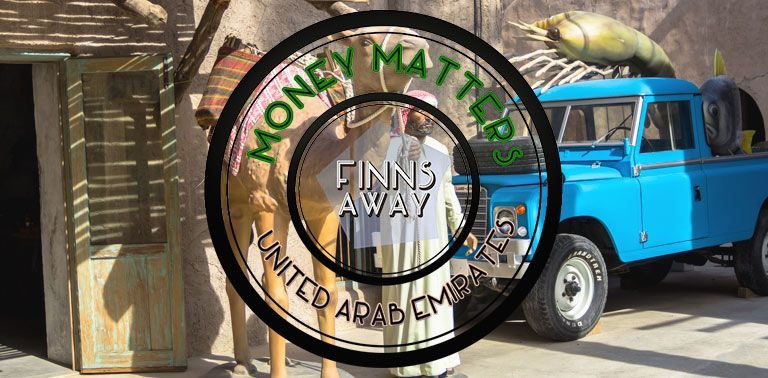 United Arab Emirates is wonderful destination for a winter holiday. Sun and warm weather is guaranteed, and there is plenty of options how to spend your vacation, from luxury resorts and organized tours to self-organized backpacking with budget accommodation. For us it actually was a surprise that it's possible to explore UEA on a budget, and nowadays also flights to Dubai and Abu Dhabi are often inexpensive. In this post we open up all costs of our nearly two weeks visit to this interesting country in Arabian Peninsula.
We flew with our travel partner airBaltic to Abu Dhabi, traveled from there to the Emirate of Ajman, and stayed there for four days exploring Ajman and Sharjah. After that we moved to Dubai for the next four days, staying in Deira and in the Internet City in downtown. The next two days we spent in the Emirate of Fujairah by the Gulf of Oman, and the last day and night in Abu Dhabi.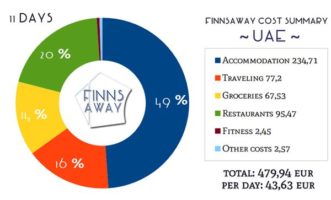 All together this trip lasted 11 days, and we spent 479,94 € (no flight costs). Before flying to UAE, we were pretty certain that our long-term budget target, 50 € per day for us two, is not going to be enough even without flight costs, but we ended up spending 43,63 € per day, so nicely under the budget. This includes everything from accommodation to entrance tickets and from groceries to metro cards.
Accommodation costs
When first checking the accommodation options, we were focused on Abu Dhabi and downtown Dubai, and found out that it's hard to find anything under 20 €. Even the dorm beds for two cost that much. Widening the search to other emirates helped a bit, and the cheapest accommodation, and at the same time the most comfortable, was a double room via Airbnb in Ajman, 19 € per night. The next Airbnb room in Deira in Dubai was also just 19 € per night, but notably smaller and more simple.
The most expensive accommodation was a dormitory in the Internet City in Dubai, 26,34 € per night. In total, accommodation costs for 11 nights were 234,71 €, which means 21,34 € per night. Winter is the high season in UAE, so if you have some certain hotel or area in mind, it's best to book well ahead. Most of our bookings were done in last minute, so that limited the options for sure. All the places where we stayed in, were really clean and nice, of course not as luxurious as hotels, but great for few nights stay. One of the perks was having a kitchen in use in all the places, which enabled cooking.
Related post: Emirates of Sharjah and Ajman
Eating and drinking
As in so many other places, in UAE it's possible to spend a lot when eating out, but also to find inexpensive options. We were actually thinking that restaurants are too expensive, and thus were prepared to make all the meals ourselves. So the inexpensive price level and great quality of ethnic restaurants came as a very positive surprise, and we ate out several times. As majority of the population of UAE consists of immigrants from the east, there is endless amount of Indian and Pakistani restaurants, as well as multi-cultural restaurants offering pretty much every Asian food you can imagine, and of course cheap kebab-stalls as well. It's very easy to find vegetarian options also, and I think we ate the best Indian meals ever in UAE. Expect to pay 3 – 6 € for a meal in oriental restaurants.
Alcohol is very expensive in UEA, and availability is limited to restaurants with a license to sell alcohol drinks. There is no alcohol in normal supermarkets, and even from special liquor stores only residents with a permission can by it. This means that for tourists the only legal options are to bring some booze with you to the country, or buy it from expensive restaurants and hotel bars. We decided to not to drink alcohol at all during the stay. Groceries in supermarkets are quite affordable, but fresh foods like fruits and vegetables are more expensive (well, UAE is mostly desert). All in all we used 163 € for food (14,82 € per day for two), out of which 95,47 € in restaurants and 67,53 € in grocery stores.
Traveling costs
Traveling around UAE is easy, efficient and inexpensive. Public transportation hasn't always been widely available in this county, but nowadays there are intercity buses between the capitals of the different emirates, and local buses in most of the emirates. We traveled by bus between the five emirates and in Abu Dhabi, and used metro and abra boats in Dubai. For example a 2 hour bus ride from Abu Dhabi to Sharjah cost 7,5 €, and a metro ride in Dubai, depending on the length of it, from 0,75 € to 1,95 €.  One abra boat ride over Dubai Creek cost just 1 AED, which is 0,25 €. During the 11 days stay we used in total 77,20 € for transportation.
Related post: From Abu Dhabi airport to Sharjah
Fitness costs and other costs
Going to gym was included in the things-we-probably-cannot-afford-to-do list, but when in Ajman we happened to find a gym with an inexpensive day ticket of 10 AED, so just 2,45 €. Too bad that women were not allowed to go there. To our surprise, the Airbnb dorm in Internet City in Dubai included free access to a small gym and a rooftop pool. So fitness costs only 2,45 €. In other costs are the entrance tickets to Ajman Museum (5,25 AED, which is roughly 1,3 €).
Summary
This travel cost summary should prove that traveling in United Arab Emirates on a budget is not a mission impossible. There are plenty of things to do for free, like admiring the Burj Khalifa and Dubai Fountain, walking around the huge malls, sunbathing on one of the beaches with superb views, roaming around the artificial Palm Jumeirah island and exploring some of the fortresses and mosques.
Related post: Dazzled by Dubai