Sharjah and Ajman, neighbors of Dubai
Majority of the tourists visiting United Arab Emirates stay only in Dubai or Abu Dhabi, the most famous and wealthiest emirates. However, there are all together seven different emirates in UAE, all of them open for visitors. Whereas the smaller emirates don't have as many shiny skyscrapers, giant-malls and luxury hotels, they can show you more realistic way of living in this country, where over 80 percent of the residents are in fact from abroad. In this post we shortly introduce the emirates of Sharjah and Ajman, with some suggestions what to see and do. As usual, there is also a gallery, with bunch of pictures from along our walking tours in these cities.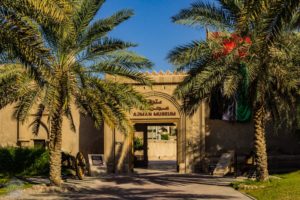 The emirates of Sharjah and Ajman are situated close to Dubai, and easily reached using public transportation, which makes it convenient to fit them in your UEA itinerary. If you are on a budget, consider also staying the nights outside of Dubai to save some money in accommodation costs. In addition, in these more quiet emirates it's easy to find excellent oriental food with just a couple of euros. We stayed for a few nights in an Airbnb room in Ajman, and explored from there also Sharjah before moving to Dubai.
Related post: Dazzled by Dubai
Culture and walking tours in Sharjah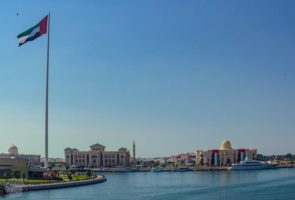 Sharjah is the third largest city in UEA after Dubai and Abu Dhabi, and the Sharjah Emirate is also the third biggest emirate. It's situated just next to Dubai, on the northern side of it. Sharjah has its share of shiny skyscrapers, but it feels not as busy and luxurious, and the central areas are nice to be explored on foot. Sharjah may not be as famous beach holiday destination as its neighbors, but there is a line of beaches still, both private and public. However, what makes the coastline more interesting, are the lagoons and creeks, around which the city has grown. Following the coastlines of Khalid Lake and Al Khan Lagoon makes a great, long day walk with awesome city views and beautiful parks.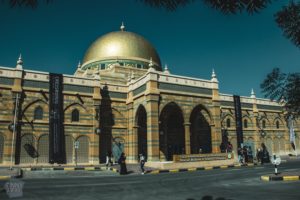 When it comes to sights, Sharjah proudly advertises itself as the 'Cultural capital of the Middle East'. There are plenty of museums, most famous of them being the Sharjah Museum of Islamic Civilization, followed by Sharjah Heritage Museum, Sharjah Arts Museum and Sharjah Archaeology Museum. We didn't visit any of these though, but a walk through Sharjah heritage area called the Heart of Sharjah is kind of like a tour in an outdoors museum. In this area you will find quarters built in traditional style, souk areas, several museums, and the 200-years old Sharjah Fort, that also serves as a fort museum. Other favorite sights include Sharjah's Central Market, Al Noor Mosque, the Eye of the Emirates Ferris wheel and the Sharjah Planetarium.
Small but developing Ajman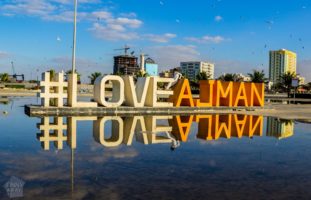 The small emirate of Ajman, north from Sharjah, doesn't have too much to offer for visitors interested in sightseeing, but there is a nice coastline with beaches, a beautiful mosque, a dhow ship building center and a handsome old fort that serves as a museum. Ajman Marina by the Ajman Creek is a part of developing Al Zorah luxury community that includes hotels, apartment buildings and leisure facilities. The most beautiful beaches in Ajman are reserved to luxury hotels, but there are also some public beaches. An evening walk along the coastline is rewarded by nice sunset views. Ajman port and free zone by the creek are important players in UAE economy. The free zone has capacity to host 1500 companies, and they export to 65 different countries.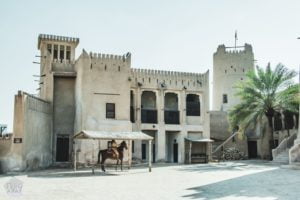 Ajman Fort, that has been turned into a museum, once served as the first line of defense of Ajman, then as a royal palace and later as a police station. The original fort dates back to late 18th century, but it was destroyed in 1820, and rebuilt around 1840. The latest renovations were done in the late 1980's, and the fort is in very good condition. To explore the fort from inside, you need to by a ticket to Ajman museum (5,25 AED so roughly 1,3 €), that is well worth a visit. Ajman Museum holds interesting exhibitions, that mostly focus on the traditional local lifestyle, and the fort forms a wonderful venue for the museum.
To sum it up, we really enjoyed exploring the central areas of these two less-known Emirates just next door to hugely popular Dubai. If you have more than just a few days in UAE, we recommend to adding these two (and why not all the other emirates as well) in your itinerary! It's possible to explore them making day trips from Dubai, but consider a bit longer stay. Sharjah and especially Ajman can be much more budget friendly than Dubai, as it's more easy to find budget accommodation and cheap meals in these smaller and not as fancy emirates.
Related post: 11 days in UAE – cost summary