From Abu Dhabi to Sharjah and Ajman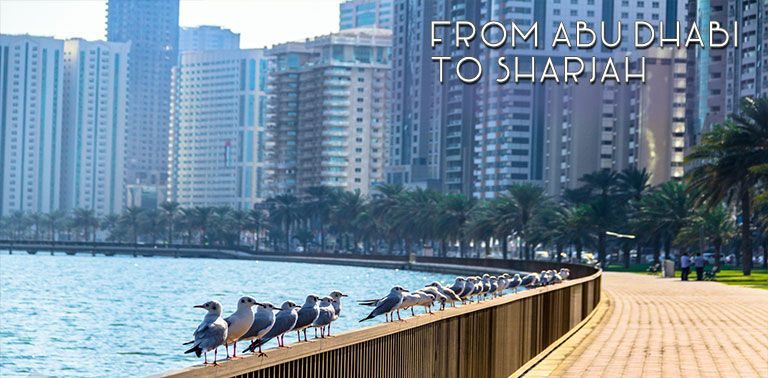 Are you planning a trip to UAE, with a flight to Abu Dhabi International Airport, but not willing to stay in the capital? Some the best accommodation prices can be found from the Emirates Sharjah and Ajman, on the northern side of Dubai, but how to get cheaply and quickly from Abu Dhabi through Dubai to these small, more affordable Emirates? Finding solid information online about this topic was quite challenging, so we put up this short travel guide on how to travel this route using public transportation. Prices in the post are in AED, which can be turned to Euros by dividing with four (1 € = 4 AED, Dec 2018).
From Abu Dhabi Airport to Abu Dhabi bus station
It seems that in UAE fast transfer from point A to B are appreciated, and thus long-distance buses don't stop much on their routes. That is why you can't just jump in the intercity buses from every bus stop along the route. To catch a bus that drives all the way to Sharjah from Abu Dhabi, it's best to first travel from the airport to Abu Dhabi central bus station, even if it's kind of in the wrong direction.
How to use buses in Abu Dhabi then? When in the arrivals hall in the airport, find a stall that sells bus tickets, or a ticket vending machine. To be able to use buses in Abu Dhabi, you'll need a bus card called Hafilat. There should be two types suitable for tourists; a gray card for temporary use (5 AED, valid for 14 days) and a green card for more permanent use (10 AED, valid for 5 years). The first mentioned is recommended for short stays, but for some reason we could only by permanent cards from the airport, or the ticket machines we used.
In addition to the card, you'll need to load some value on the card's rechargeable "T-purse". The basic fare in Abu Dhabi city is 2 AED, and from/to suburbs 2 AED + 0,05 per km. The trip from airport to bus station took a 3,50 AED from our cards, so when you buy your card, take care that you load at least that much. When you have your Hafilat ready, hop on a bus number 290 or 300 in front of the terminal. According to many websites, including the airport official site, also airport bus A1 should drive the same route with these suburban buses, but we never saw any of them. When entering the bus, validate the bus card by holding it in front of a ticket machine by the door, and don't forget to check out the same way.
The trip from the airport to the central bus station took around 45 minutes. You should ask the driver to notify about the correct stop, or use a GPS to be sure when to hop off, since at least bus 290 didn't go to the station, but stopped in a bus stop next to it, on Sultan Bin Zayed the First Street. Free 2GIS map application proved to be very good for navigating in UAE, and has bunch of information not just about bus routes but also about points of interest, restaurants, shops and so on.
From Abu Dhabi to Sharjah
To catch the bus to Sharjah, go inside the central bus station. For this bus, operated by the Sharjah Roads and Transport Authority SRTA, you don't need a bus card, as it's possible to just buy a regular ticket. There is a clearly marked booth selling tickets to Sharjah. Trip costs 30 AED, and the bus number 117 departs every 30 minutes from a platform just outside the station (number 4 in Dec 2018). The trip to Al Jubail bus station in Sharjah takes roughly 2 hours, and the bus runs right through Dubai downtown, so there is a great chance for some sightseeing through windows on the way.
From Sharjah to Ajman
Sharjah main bus station (called Al Jubail), is centrally situated on the north side of the Khalid Lake. To continue more north to Ajman Emirate, simply hop in a bus number 112, and buy a ticket to Ajman bus station, also known as Al Musalla Station, from the driver. Ticket price is 5 UAE, and the trip takes just about 20 minutes, depending on the traffic.
Related post: Exploring Sharjah and Ajman
Overall, public transportation in (most parts of) UAE is nowadays pretty efficient, easy and also very affordable. It's often said in travel guides that you need taxi to get anywhere, especially in Dubai and Abu Dhabi, but that's not true, as it's also possible to use local transportation, combined with some walking of course.
Read more: Guide to public transport in UAE
AirBaltic flies from Riga to Abu Dhabi four times a week, check out the flights and start planning your trip!